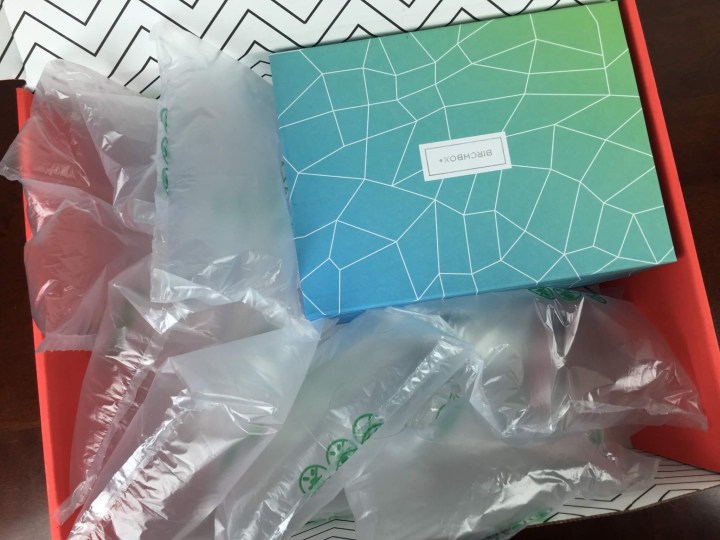 The Birchbox Limited Edition New Naturals Box is stuffed full of high-end ingredient conscious beauty products! A promised $215 value, this box focuses on natural beauty products that help bring out your radiance.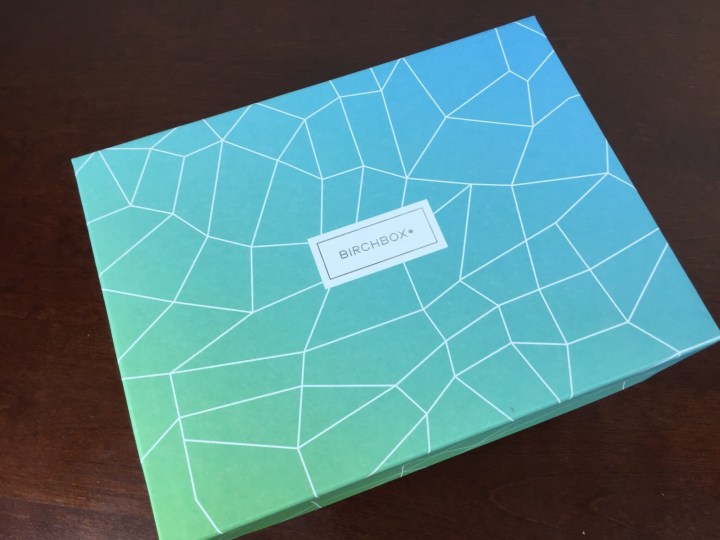 This box is $59 and available for a limited time from Birchbox!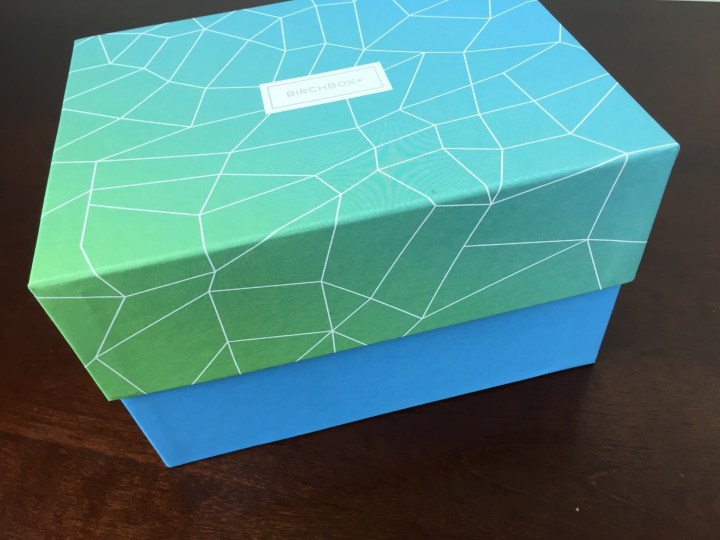 The box is definitely designed beautifully!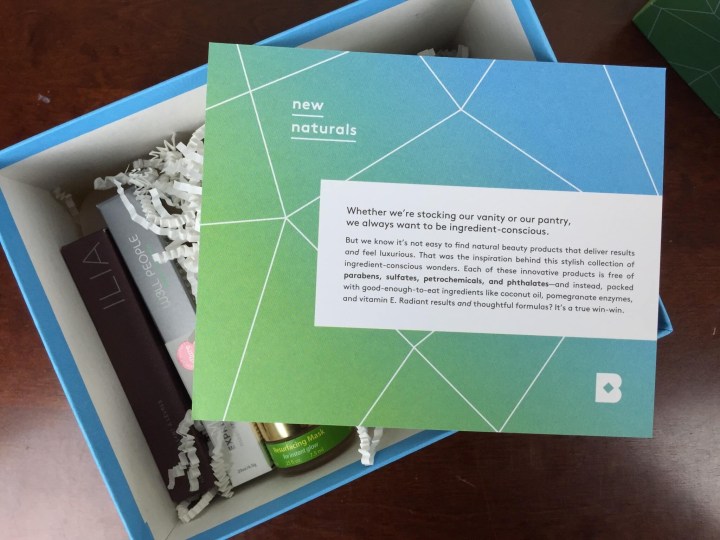 Whether we're stocking our vanity or our pantry, we always want to be ingredient-conscious. But we know it's not easy to find natural beauty products that deliver results and feel luxurious. That was the inspiration behind this stylish collection of ingredient-conscious wonders. Each of these innovative products is free of parabens, sulfates, petrochemicals, and phthalates—and instead, packed with good-enough-to-eat ingredients like coconut oil, pomegranate enzymes, and vitamin E. Radiant results and thoughtful formulas? It's a true win-win.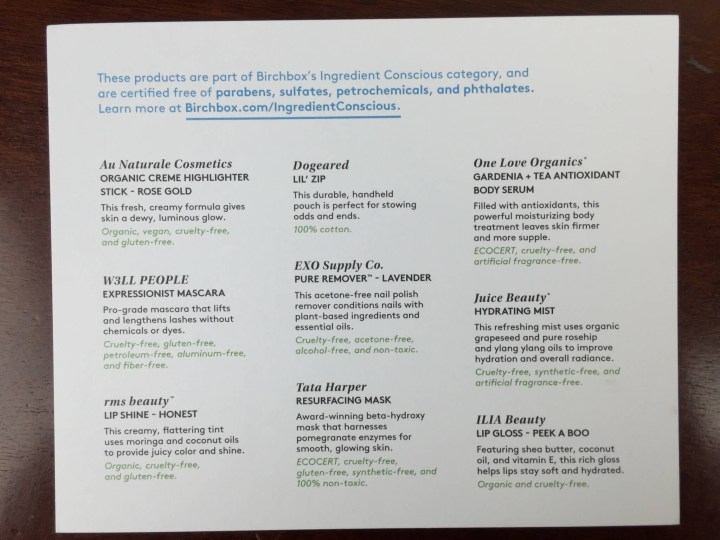 The card details all the items – all free of parabens, sulfates, petrochemicals, and phthalates. See all of the Birchbox ingredient conscious products here.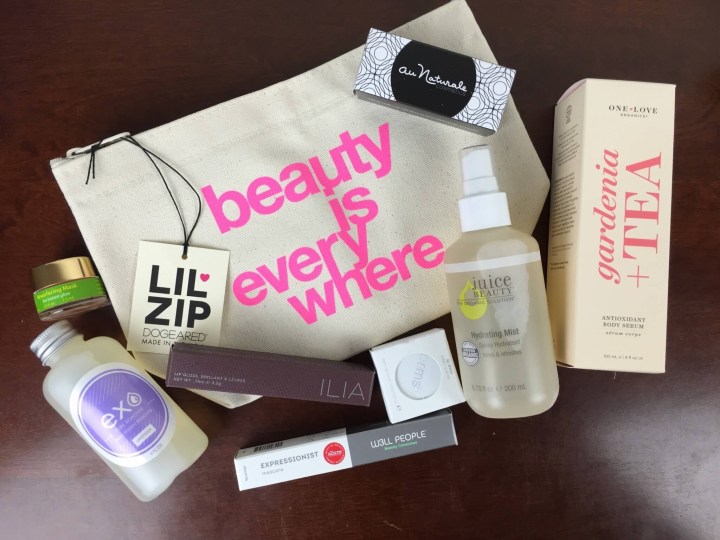 Everything in the box!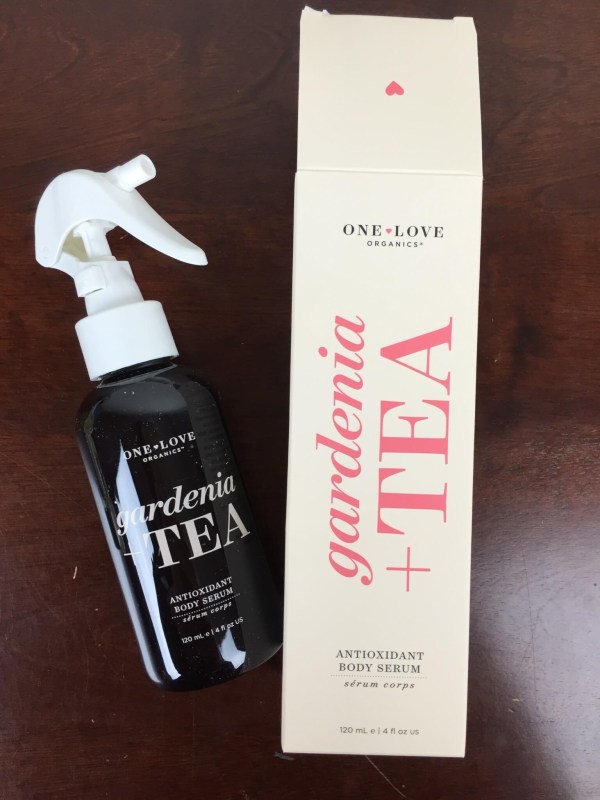 One Love Organics Gardenia + Tea Antioxidant Body Serum ($39) This is the third or fourth time I've received this product and every time I do I say YAY! It is perfect for hydrating after a shower without dealing with lotion and I love the scent as well as the results! I am always happy to get this product at a discount! This product really makes a difference on my dry legs.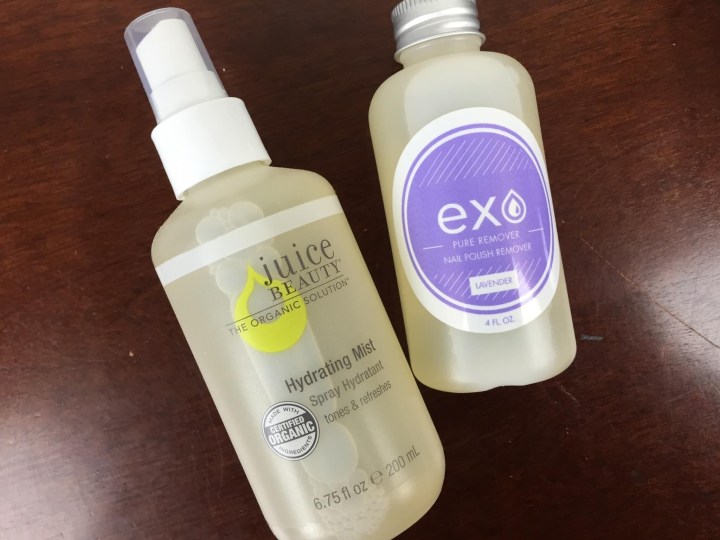 Juice Beauty Hydrating Mist ($22) This is a HUGE container – the largest face mist I think I have ever had! It's certified organic and I love suggestion from Birchbox to keep this full-size spray in the fridge – what a great skin-friendly cooling idea! This uses organic aloe and a blend of rosehip, ylang ylang, and grapeseed oils to nourish skin!
EXO Supply Co. Pure Remover in Lavender ($16) Another full size product! This acetone free polish remover works well and smells like lavender. Great product for box addicts too that don't need more polish, but we all need remover! Can I say one more time that this works really well? Because it does!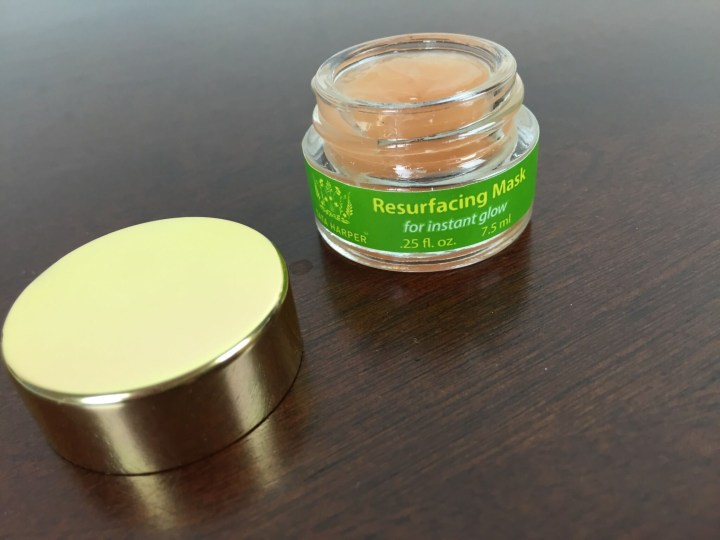 Tata Harper Resurfacing Mask ($14.50) This mask is really interesting because it works to hydrate with aloe as well as targets excess oil – and exfoliates too! Tata Harper is pricey and this is the only product in the box that isn't full size, but it's worth it because of the results. It really left my skin smooth!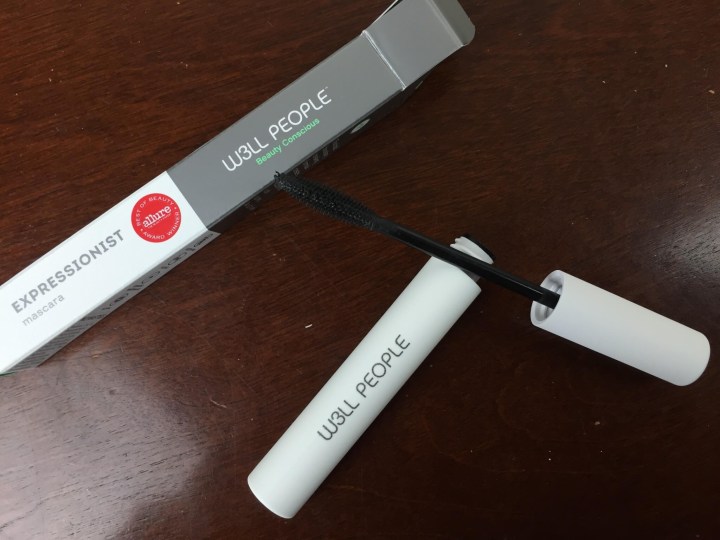 W3LL People Expressionist Mascara ($23.50) Is it terrible that I want to describe this mascara as adequate?  Some people (like me) don't care for it, but it has pretty good reviews on Birchbox, so I wouldn't say that you shouldn't try it yourself but it flakes off on me.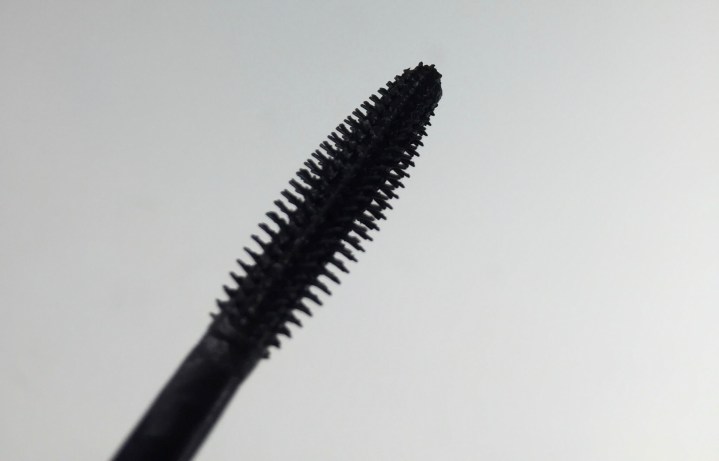 The brush does allow application on the teeny end lashes really well.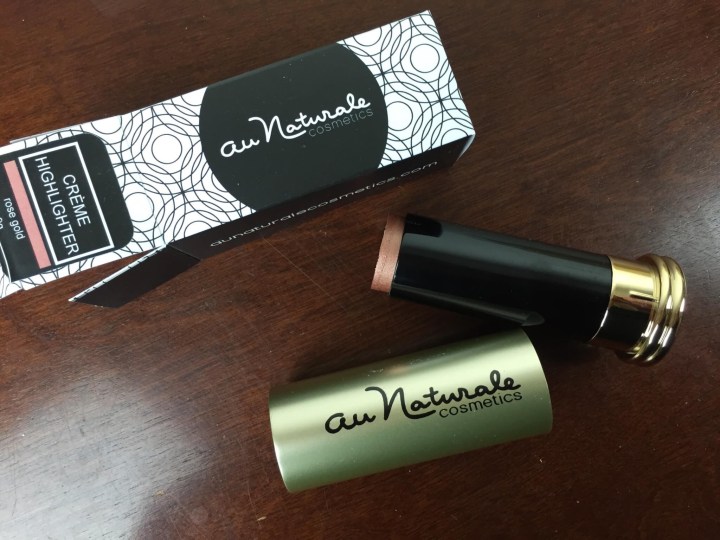 Au Naturale Cosmetics Organic Creme Highlighter Stick in Rose Gold ($32) What a gorgeous product find! I even liked the box for this beautiful product, which is blendable but is full of highly pigmented rose gold goodness.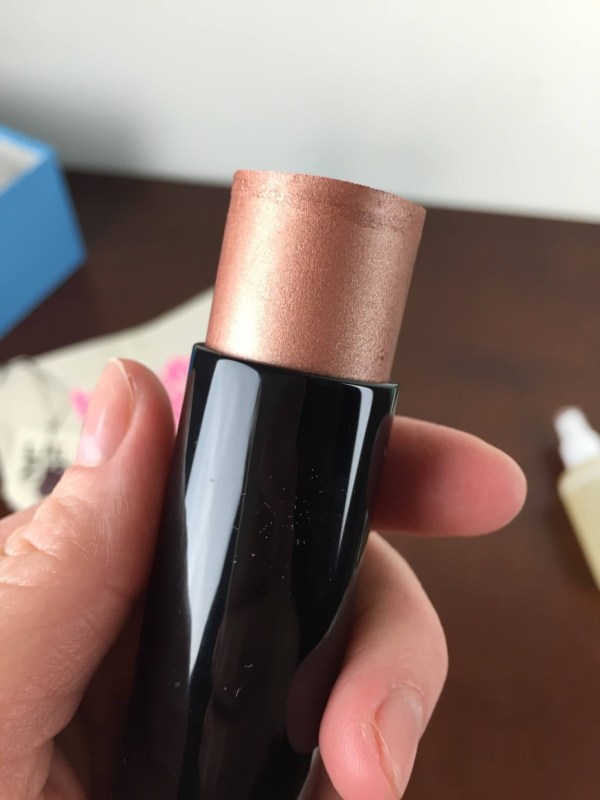 I wish there was more in the tube! You really don't need a whole lot of this though. It uses coconut and jojoba oils so it's not drying at all.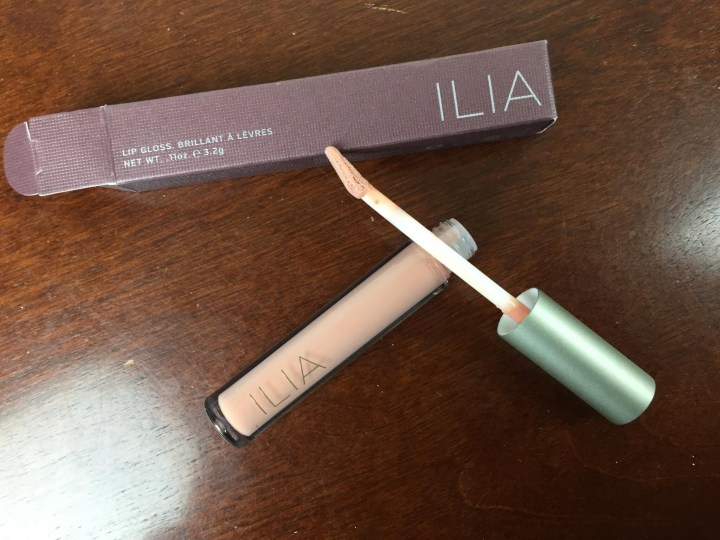 Ilia Beauty Lip Gloss in Peek A Boo ($24) A really moisturizing gloss in a pretty nude color! Not sticky and the perfect doe-foot applicator.
rms beauty Lip Shine in Honest ($25) I ended up liking this color a lot more on than in the pot! RMS uses moringa and coconut oils plus mineral pigments to create a beautiful tint that you can use in place of balm.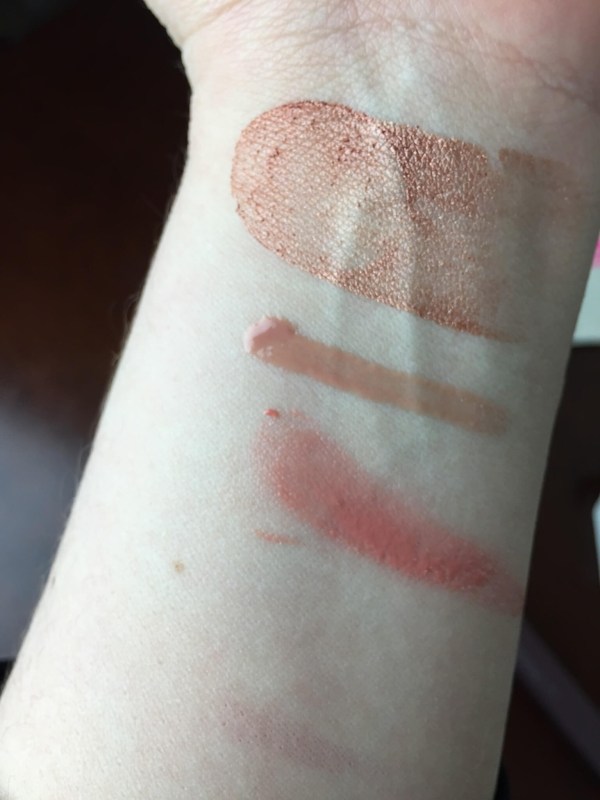 Here are the swatches for the highlighter, lip gloss, and lip shine!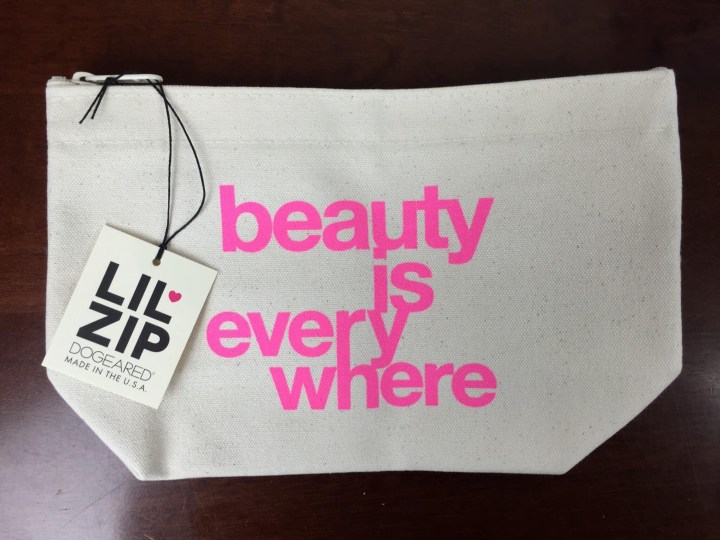 Dogeared Lil Zip Beauty is Everywhere Pouch ($24) This is a substantial makeup bag – both in size and material – it's made of 100% cotton canvas.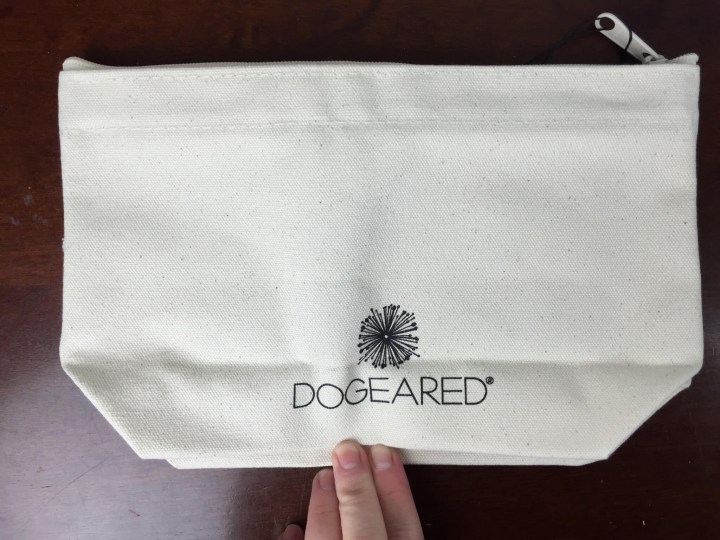 The back view of the pouch.
I was super impressed with my mystery sample pack this time around!
Neil George Conditioner ($4.50) Even my husband let out a big cheer – CONDITIONER!
Too Cool For School DINOPLATZ HIGHLIGHTER ($5.5) What a gorgeous little bottle! This is a South Korean brand and it's a fantastic highlighter in "Baby pink clam."
Another perfect gift for Mother's Day! I was really floored when I added up the value – about $220 (not including the mystery sample pack) – this is more than the Birchbox promised value, which has never happened! The number of full-size natural-focused products in this box is really amazing!
You can pick up Limited Edition New Naturals Box here. Let me know what you thought of the box in the comments!