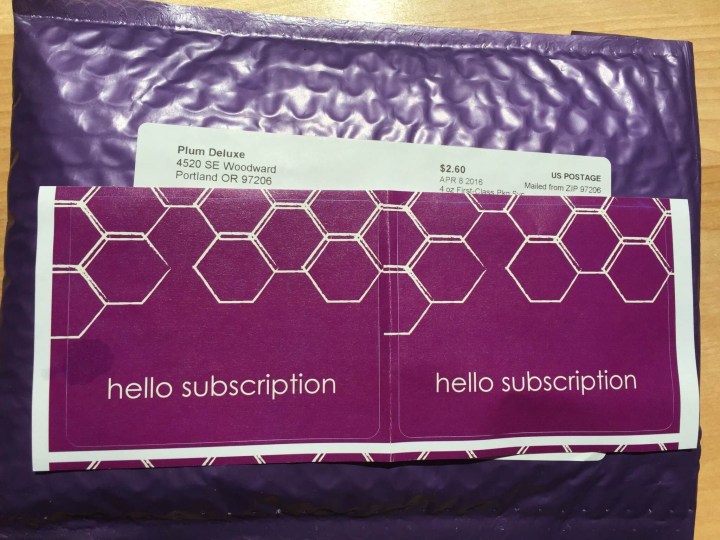 Plum Deluxe is a monthly organic, non-GMO, fair trade tea service that delivers loose leaf tea to your doorstep. Teas are hand-blended shortly after an order is placed. They are then shipped out from Portland, Oregon, within 2-4 days via USPS First Class Mail. Although the tea arrives in an otherwise nondescript purple package, when you pick it up, even before you open it, its amazing scent wafts through the air.
Once you become a member, you get to join a special community where members plan meetups, ask each other questions and make suggestions about future limited-edition blends. Members also receive discounts on extra teas and supplies and may receive other specials throughout the year.
When I opened up the box, I was so excited! Tea! And not just any tea–organic, fair trade tea! Hand-crafted in Oregon, the tea of the month club delivers limited-edition handmade teas that you can't even buy in their online store. The only way to get them is to be a member. Monthly subscriptions cost $10 for a 1-oz bag of tea plus a sample of another tea or $16 for two 1-oz bags of tea plus a sample of a third tea. I received two bags plus a sample. Each 1-oz bag makes roughly 15-20 cups of tea.
My package arrived along with the business card of the founder and creator.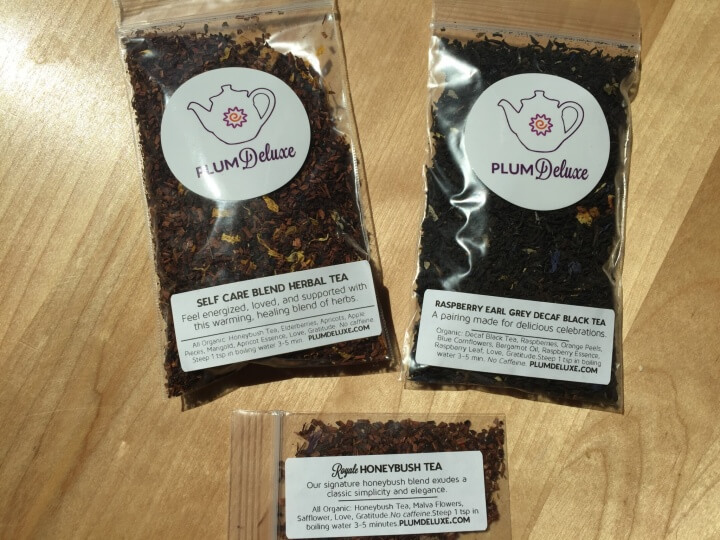 Although I love most teas, I'm not supposed to have caffeine. I'm delighted that Plum Deluxe offers a caffeine-free subscription for people like me! This month's package contained Raspberry Earl Grey Decaf Black Tea, Self Care Blend Herbal Tea and a sample of Plum Deluxe's Royale Honeybush Tea from their new Royale line.
I like how Plum Deluxe coordinated the release of their new Royale line of unflavored teas with Queen Elizabeth's birthday.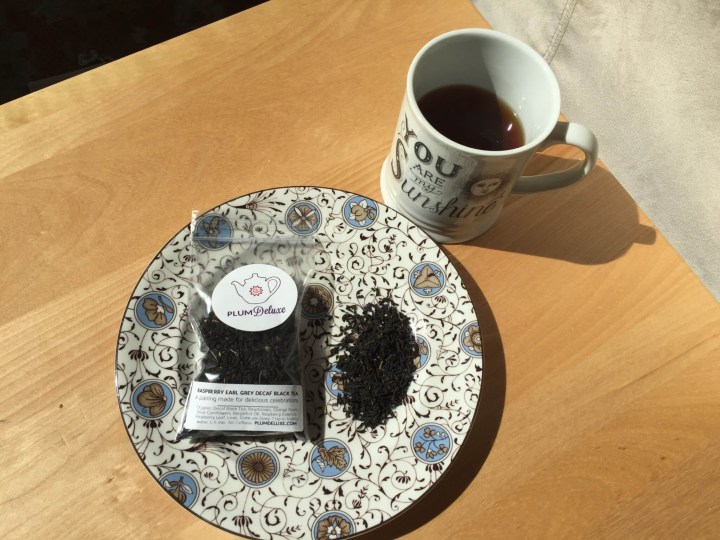 Plum Deluxe's Raspberry Earl Grey Decaf Black Tea ($7) smells of rich, sweet raspberries. I could smell them before I even opened the package in the mail. Yet, when I tasted this blend, it surprised me. Not overly sweet, the raspberry cut through the bitterness I so often associate with Earl Grey. It was a treat to get the Earl Grey flavor without the bitterness in a caffeine-free cup.
I loved the Self Care Blend Herbal Tea ($7)! It had a honeybush base and had notes of apricot, apples and elderberries. It possessed the perfect balance of sweetness and tartness and was utterly smooth. I could drink this happily all day every day. Intrigued, my son asked if he could try some too. This was his first tea ever, and he was a huge fan! I only wish we had a 10 oz bag of this to share!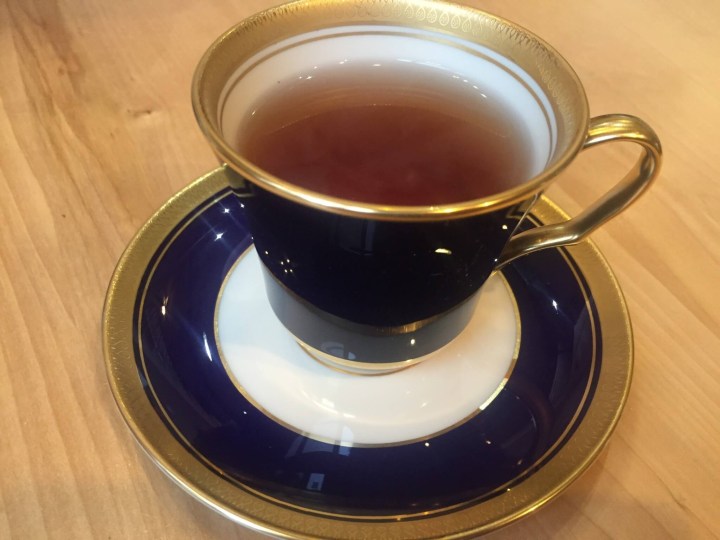 I was very excited to try this month's special sample: Royale Honeybush Tea ($7/oz, but this was only a sample)! It was only fitting to serve it with my Palace Royale china. This tea was delicious! I especially enjoyed comparing and contrasting it with the honeybush-based Self Care Blend. I would drink either one happily any time. Like the previous two teas, I enjoyed this one warm, without any sweeteners added.
I had so much fun trying all three of these delicious, organic, non-GMO, fair-trade teas this month! I love that they are hand-made in Oregon, and I think it's really cool that one of them is only available to subscribers. Each of the caffeine-free teas this month couldn't have been more different, yet they were all absolutely delicious. I can't wait to see what they send next month!
Visit Plum Deluxe to subscribe or find out more!
The Subscription
:
Plum Deluxe
The Description
: Always have a fresh, thoughtfully chosen, seasonal tea on hand. Each month you'll receive your tea along with brewing instructions and tips for peak enjoyment.
The Price
: $10.00 per month