This is my birthday month and right on my birthday I received this great box of beauty products from Target. This month's theme is "Vacay Vibes." Target periodically sells non-subscription Target Beauty Boxes – depending on the contents, they are themed and cost $5-10, and sell out quickly! This box was priced at just $5 this month!
This box contained items that would make you feel like you were at a spa on a tropical island. The items included in the box : Hair Food Moisturizing Shampoo and Conditioner, Not Your Mother's Texturizing Sea Salt Spray, Sinful Colors nail polish, Laneige Water Sleeping Mask, Banana Boat Sunscreen, Nugg Deep Hydration Facial Mask Treatment, You Are Amazing Juicy Grapefruit Body Lotion, and Caress Adore Forever Body Wash.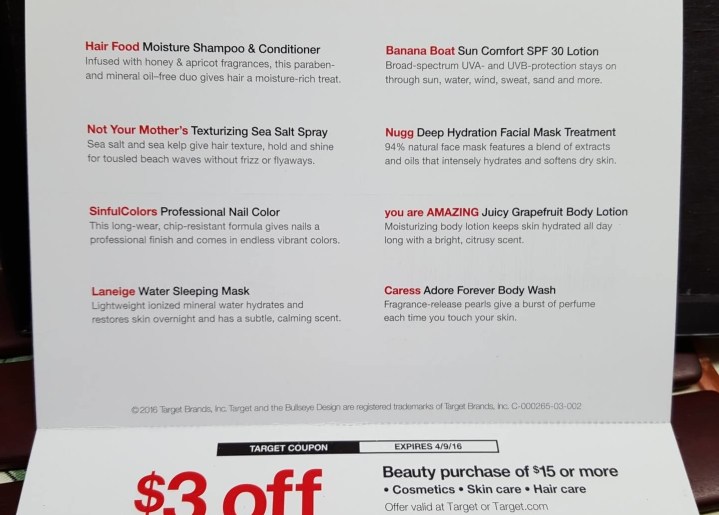 The box includes a short information list as well as a $3 off $15 coupon for beauty at Target!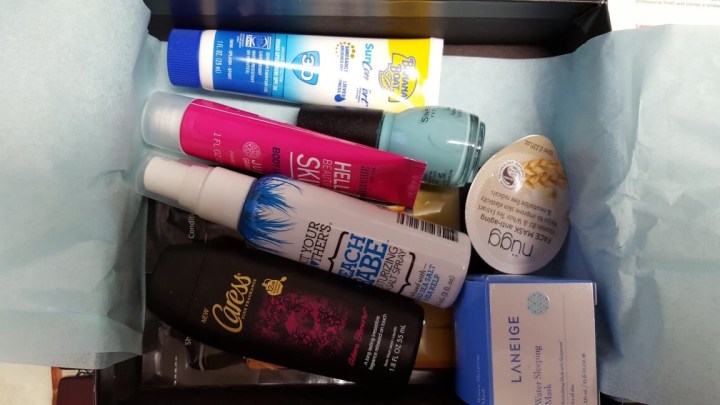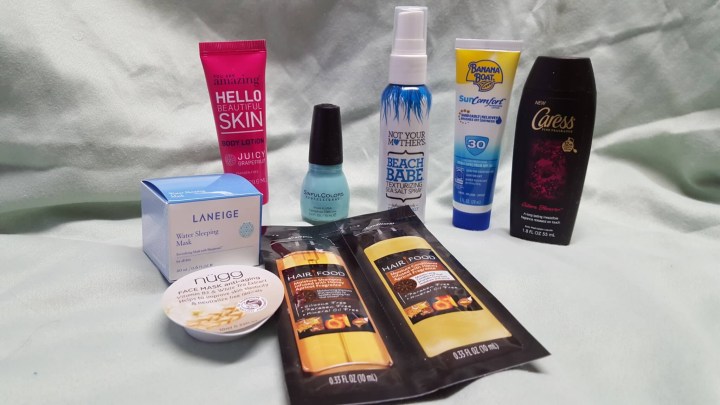 Let's start with the hair care items.
First there was the Clairol Hair Food Shampoo and Conditioner. This was a nice product. It made my hair feel soft and strong. These normally come in a 17.9 ounce bottle for $$9.99 each. I received the tear samples. I recommend this for hair that needs a good repair. Then there's the Not Your Mother's Sea Salt Spray. This spray gives your hair that "just out of the salt water" look. Quite nice for those that enjoy their time on the beach. Seeing how beach weather is not quite here, this was a welcomed addition to this native Floridian. This comes in a 8 ounce bottle for $4.79. I received the 2 ounce bottle making my sample around $1.19 or so. Great price for both items.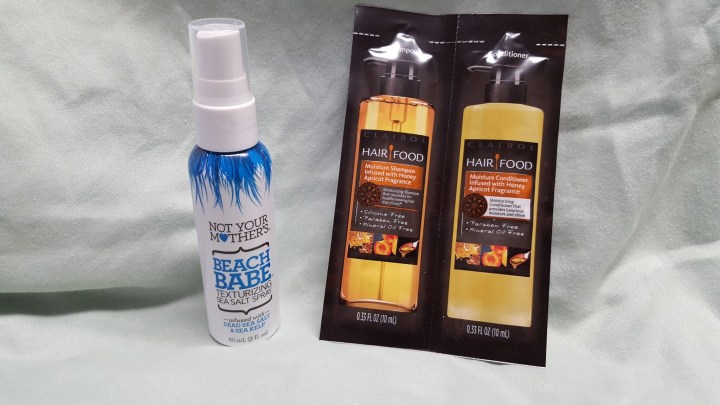 To add to the beach feel there was a small tube of Banana Boat Sun Screen. Mine was SPF 30 which is great as I am pasty white from the winter and do not feel like having that "red lobster" look when the sun finally decides to come out and play. Normal retail price is $7.11 for the spray can. I advise everyone to put on sunscreen this year and this is one of the better sunscreens out there.
To add to the smoothness of the skin is a sample of You Are Amazing Juicy Grapefruit Lotion. This product is something new to me as in I have not heard of this brand. It has a nice soft scent of grapefruit and does not leave too much of an oily feel to your skin when applied. At this point, I am imagining I am on a tropical beach under an umbrella sipping on a Mai Tai.  "Garcon, one more, por favor." This product retails for $3.99 for 8 ounces.
Now that I am trying to grow out my nails, I am enjoying painting them different colors and this box contained Sinful Colors Nail Polish.
The color I received was Wonder Mint. It reminds me of the color of the ocean on a nice summer day. This was a full size sample and retail price is $2.02. I love the color and it holds up pretty well.  I painted a little heart to show you what the color dries to be.  Do you hear tropical music playing too?
Now for the items you use for when your day at the beach is done and you want to relax at the spa.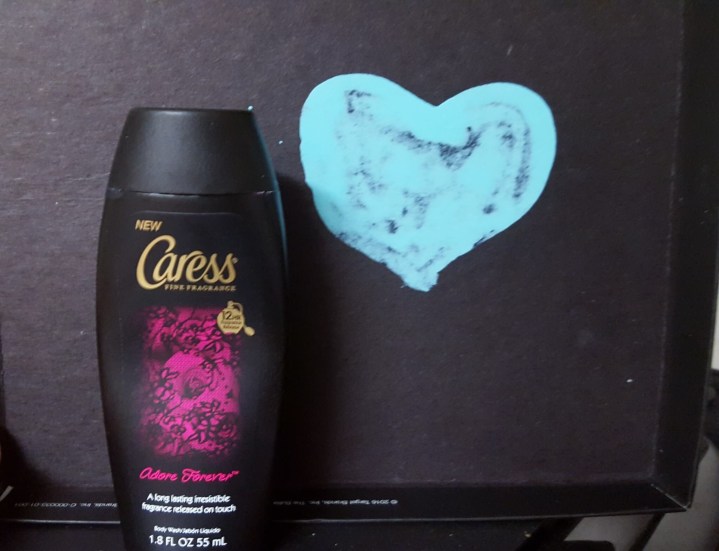 The Caress Adore Forever Body Wash to wash away the sand from the beach. You know we love the beach but the sand…that's a different story. This body wash has a soft musk scent to it that last 12 hours. I really liked this one. I am going to go buy the full version this week. It comes in 13.5 ounce bottle for $ 3.99. Great value for a good product. You will enjoy this one. My sample was about $.50.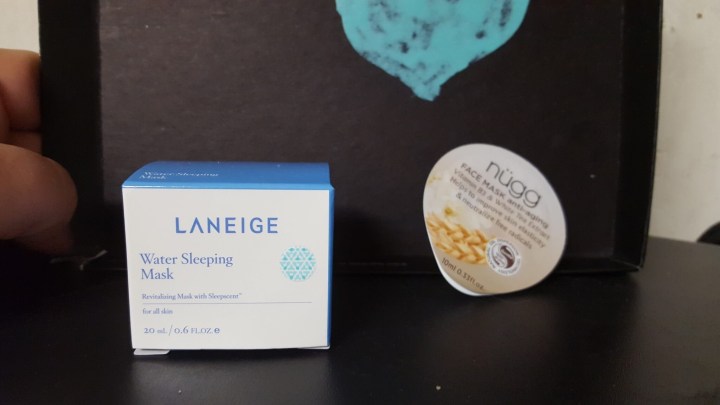 I received two face care items in my box. Laneige Water Sleeping Mask is a revitalizing facial mask that goes on clear and you leave on overnight to rinse of in the morning. I am still getting used to using face creams and masks. This had a pleasant scent and came off quite easily. I'll keep using this to see if I see any youthful returning to my old self. This product comes in 70mL bottle for $ 24.00, my sample was 20mL making my sample $8.
Nugg Anti-Aging Facial Mask Treatment is the last thing in my box. This normal comes in the container in the picture but the box will contain 5 of them for $16.45. This facial mask is to help clean your face and to improve the elasticity in your skin. It is made with Vitamin B3 and White Tea Extract. You place the white cream that smells wonderful on your face and leave for 5 to 10 minutes then wash off. It left my face feeling smooth and clean. My sample was worth $3.29. I am going to add this one to my shopping list.
So now my mini vacation in a box is done. Next is a real vacation to somewhere tropical. Anyone willing to send me to a tropical island to review it for them? LOL!! I hope you enjoy the items as much I did.  Can't wait to see what next month brings.
Enter to win a Target Beauty Box below – comment with your favorite tropical beauty item for the extra point (must also check the box in the form)!
Visit Target Beauty Box to find out more!
The Subscription
:
Target Beauty Box
The Description
: Try your favorite beauty products with the Target beauty box. Receive 5 sample size beauty products each quarter.  Try them, tote them, take them with you – we're sure you'll love them as much as we do. This box is available sporadically.
The Price
: $7.00 per box