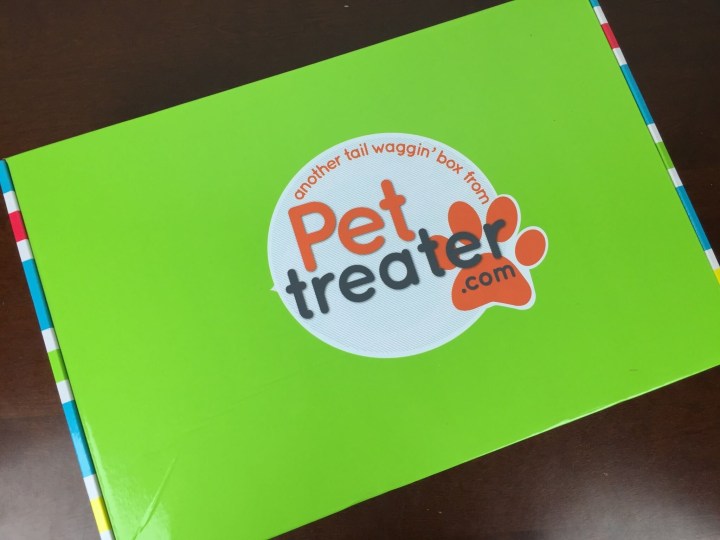 You lucky dog, a Pet Treater box just in time for St. Patrick's Day!  Pet Treater is a monthly subscription that provides high-quality treats and toys for your beloved canine.  When you use the code provided below, the first box ships with a complimentary dog bed, which you can see in our first review!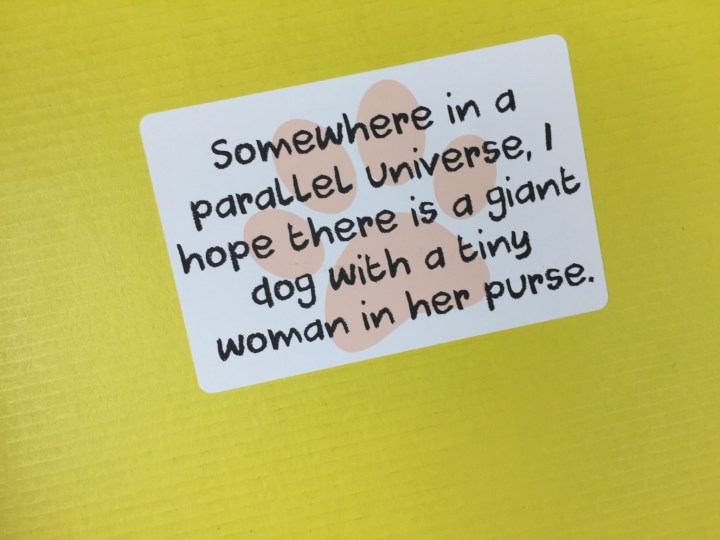 The box is definitely put together by dog people (and their dogs) — it shows in the carefree styling and attitude of the box.
Our box came with a personalized letter to our puppy, written by Curly, one of the pups at Pet Treater.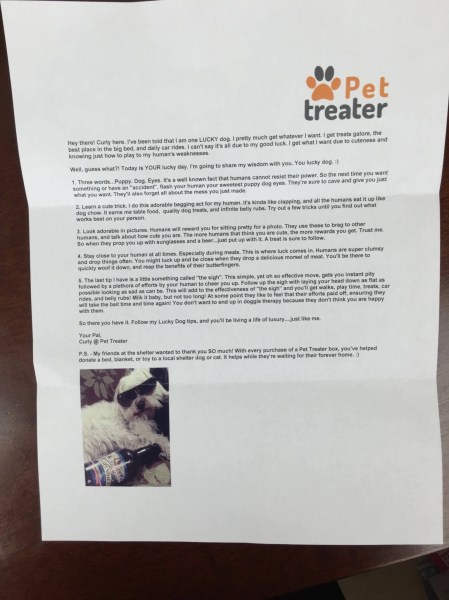 Written from a Curly's perspective, the letter lets our dogs in on a few of Curly's tricks for getting what he wants out of his human.  It also reminds subscribers that every box purchased results in a toy, bed, or blanket being donated to a shelter pup!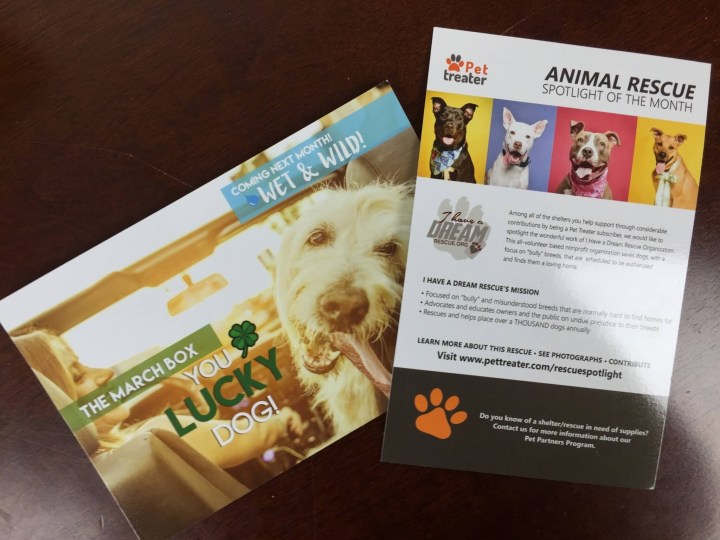 The theme for February is You Lucky Dog!  Next month is Wet & Wild, just in time for April showers — the themes tend to track the holidays and/or seasons.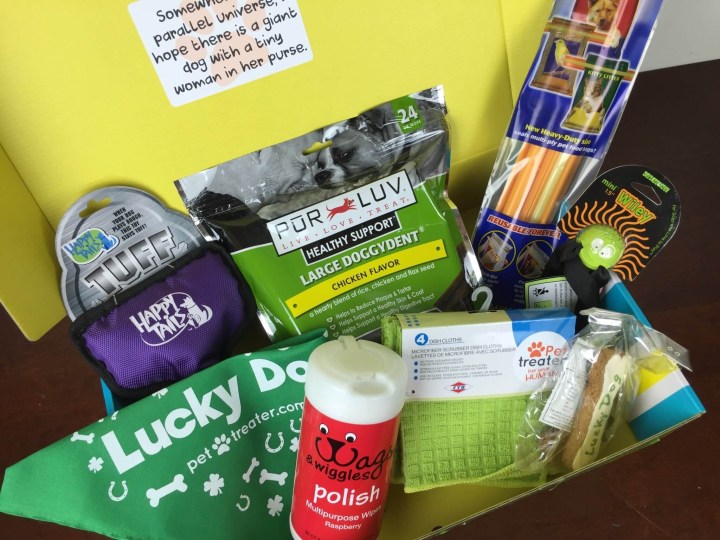 All the goodies in the box.  Instead of a smattering of many tiny treat samples, Pet Treater tends to have one or two big bags of treats.   There was lots of other good stuff, too!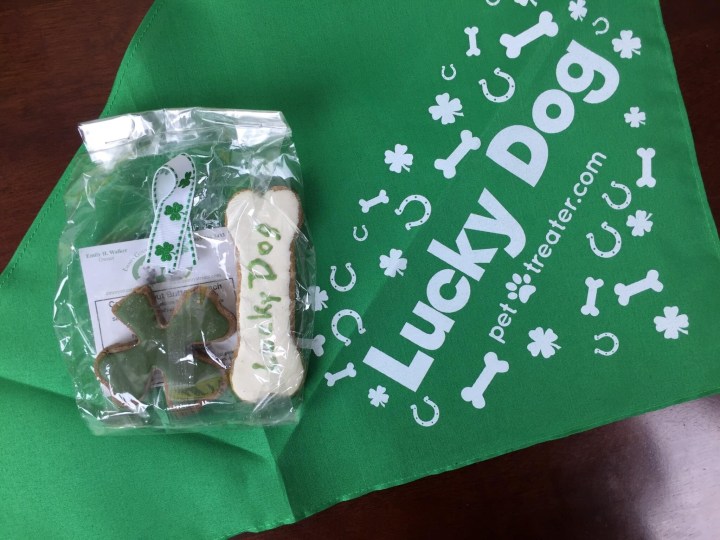 There were some nice St. Patrick's Day themed items this month.
Scarf-of-the-month ($2?)  It was a lovely green and covered with good luck charms (and bones, of course).
Emmy's Gourmet Canine Creations ($2.5)  Beautifully decorated crunchy cookies. Our dog begged and begged until these were all gone!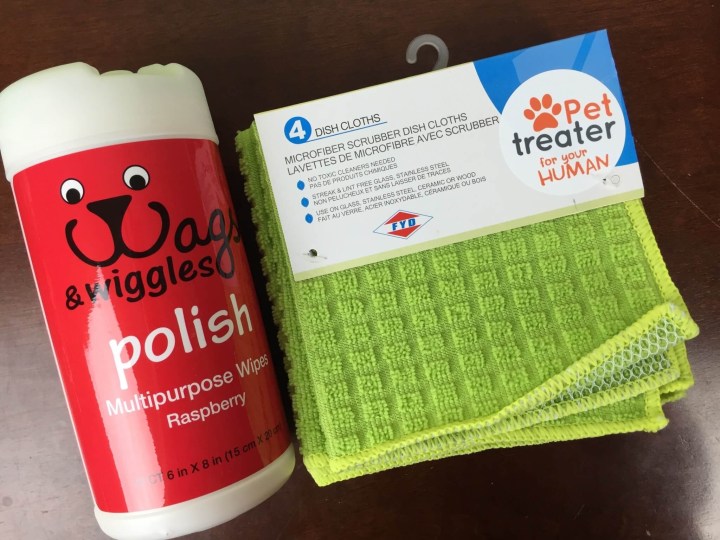 Wags & Wiggles Polish ($4.90)  Raspberry scented, these wipes are designed for wiping the grime from your pup and are safe for head to toe (avoiding eyes).
FYD Microfiber dishcloths ($10?)  A four pack of handy cloths, perfect for wiping up a mudtrail or filthy paws.  This is the Pet Treater "For Your Human" item, one of which is included each month.
Hugglehounds Wiley ($7.49)  This shifty little guy is great for playing tug.  The spiked ball are firm and durable, and the head is softer rubber and capable of holding a small treat.  The whole creature is connected by seat belt webbing, with the various balls able to shift along the belts.  The many arms mean there will always be a splayed limb you can grab onto.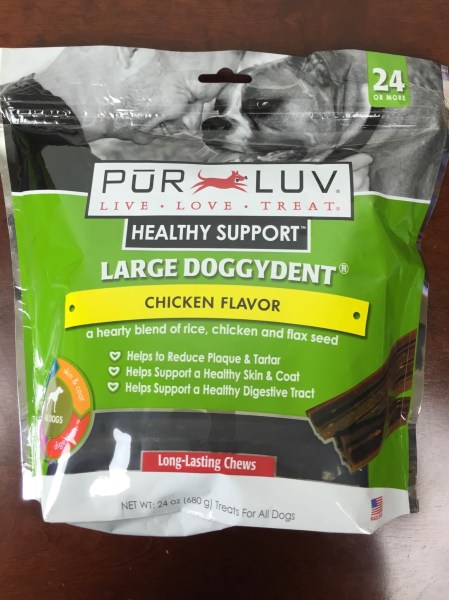 Pur Luv Large DoggyDent ($9.59)  This mega-sized dental chew is chicken flavored and helps your dog keep his teeth clean through healthy chewing.  The flax also contributes to a healthy skin and coat.  These chews are huge for chews, measuring about 5″ in length. Lindy loved the Pur Luv treats last month, but these are really extreme in size for a 14 pound dog. August 2016 expiration date.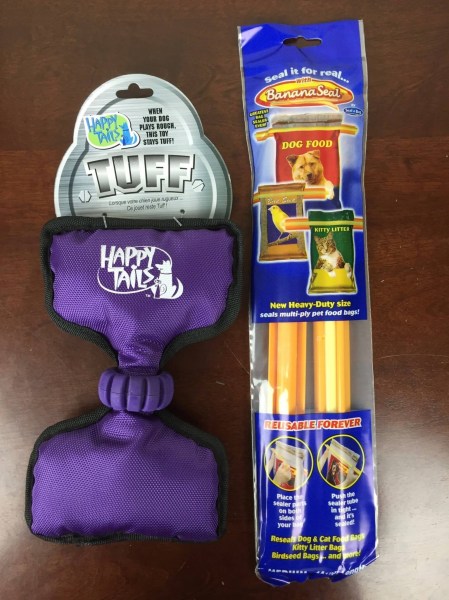 Happy Tails Tuff Chew ($9.99)  A superbly tough toy, this tug is made out of nylon canvas and reinforced with nylon webbing at the seams.  A flexible, grooved ring encircles the middle.
Banana Seal Two Pack ($6.99)  These are great!  I end up putting little chip bag clips on my dog's 25 lb bag of food, and they don't stand a chance.  These huge (14 1/2″!) clips snap tight and can seal the largest of bags — across a corner if it's really big.  I'm glad they sent a two-pack, since I am very tempted to steal one for sealing human snacks.
Pet Treater is a fun pet subscription.  The treats come in big portions, and they are always fresh and made in the US varieties.  The toys are tough and varied in design month-to-month.  I love that they even throw in a nice gift to the human who is picking up the tab, and each box supports the donation of a comforting item to a pet shelter! However, we felt the items in the box this month were a little too large for our dog. The total value this month was about $53 or so!
Visit Pet Treater to subscribe or find out more! Get a free pet bed with your first box! Use coupon code PT-BED or save $5 on your first box with coupon code LOVE-PT5.
The Subscription
:
Pet Treater
The Description
: Pet Treater is a monthly
dog treat
, toy and accessory box. We pride ourselves on bringing incredible value and quality per month. Our members enjoy not only the convenience of new items every month, but actually saving money compared to buying the items themselves. Also, each box shipped results in a bag of treats, toy or accessory donated to a shelter in need. Feel free to reach out to us to suggest your local shelter to be included in this program.
The Price
: $24.99 per month