LYFnow (Love Yourself First now) is a monthly subscription box aimed at young women (14+), providing a "fun and inspiring monthly reminder to love yourself first."  Each box will contain 4-6 fun, exciting, and functional items that will "inspire and guide young women to be the best they can" by loving themselves first.  The subscription cost is $29/month, with discounts for prepaying for multiple months.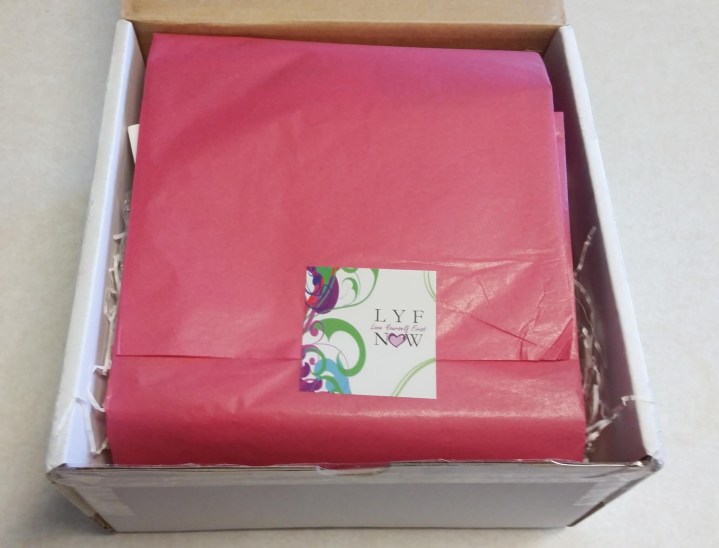 I reviewed this box with the help of my teen and tween daughters (aged 11 and 14).  Just like last month, I think that the message of this month's box (find your zen) and the company's overall message of boosting self-esteem is appropriate not just for my older daughter, who is in the age range suggested by the site (14+), but also for my younger daughter.  Let's find out what's wrapped up in this pretty pink paper!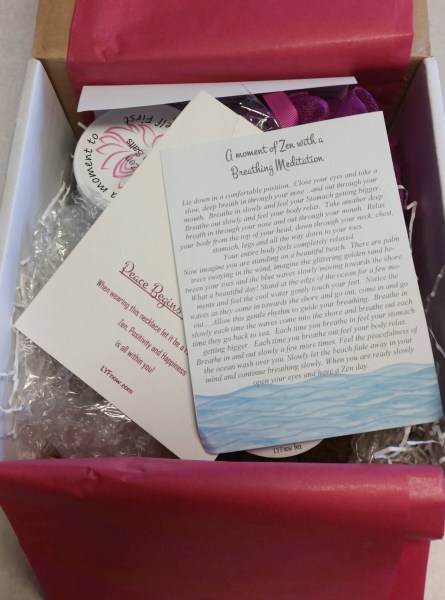 Here's what we saw when we opened the box…Zen!  Peace!  Meditation!  This is going to be an interesting box!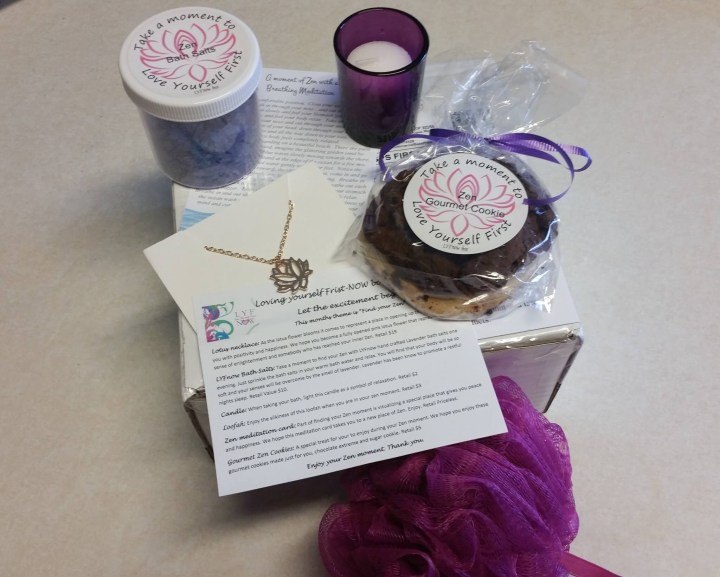 Here is a picture of everything in the box.  The theme this month is "Find Your Zen."  Lots of peaceful purple and pretty smells greeted us when we took the items out of the box.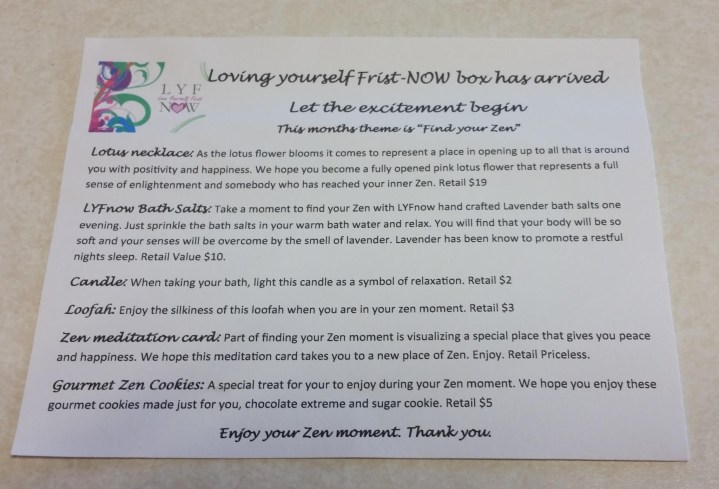 There is a helpful card listing off the items in the box, their retail prices, and hints for using the items…not that my girls needed any help with the goodies in this box.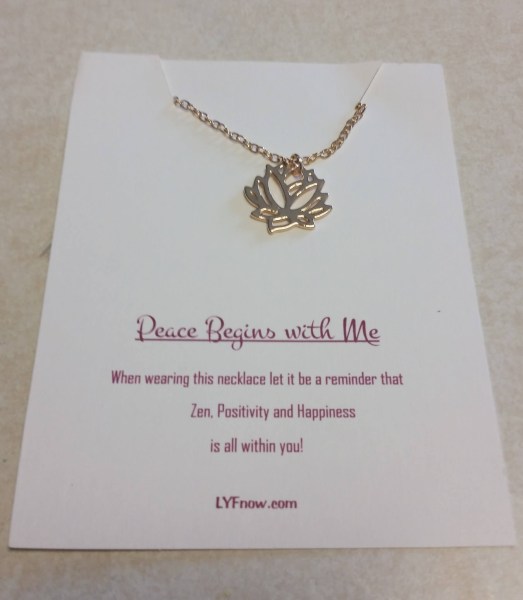 Lotus Necklace:  As the card says, wearing this necklace is supposed to remind you that zen, positivity, and happiness is within you.  The chain is fairly short — the pendant hit my daughter just above the neckline of her cami, but the pendant is so pretty.  Both girls were excited about this item.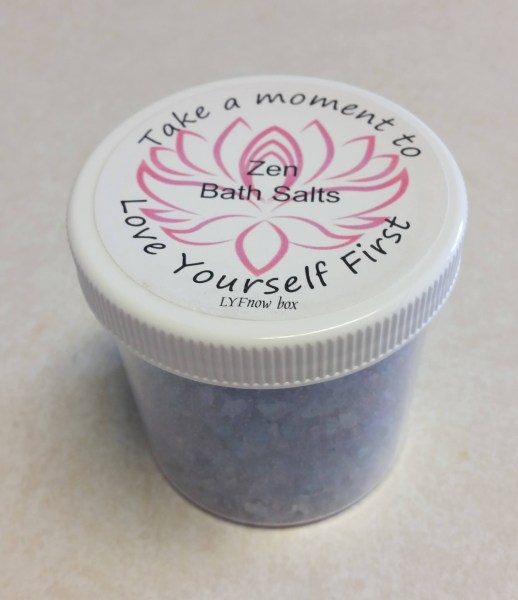 Bath Salts:  This is a nice sized container of bath salts.  They are a pretty purple color and, best of all, are scented lavender.  So relaxing!  The girls don't usually have time to take baths…busy girls means they mainly shower…but they both said they're going to try to make time to soak sometime soon so they can use this item.  I'm sure they will really enjoy this!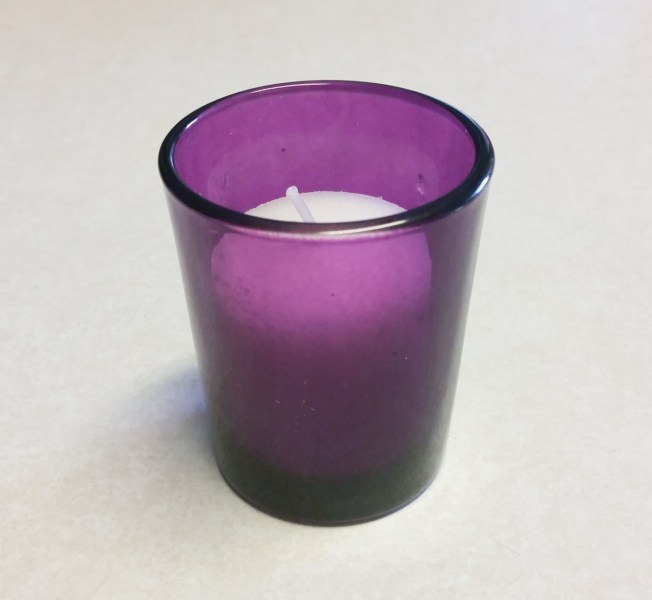 Candle:  This is a pretty purple candle holder with a simple white candle.  I love candles myself, so my girls know how nice candles are to set the mood.  That said, I'm not sure I would let either of them take the candle up to the bathroom.  Maybe I'm a overly careful when it comes to fire or maybe this is the first item that really is meant for older teens, but I'm happy to let the girls use the candle where I can supervise for now.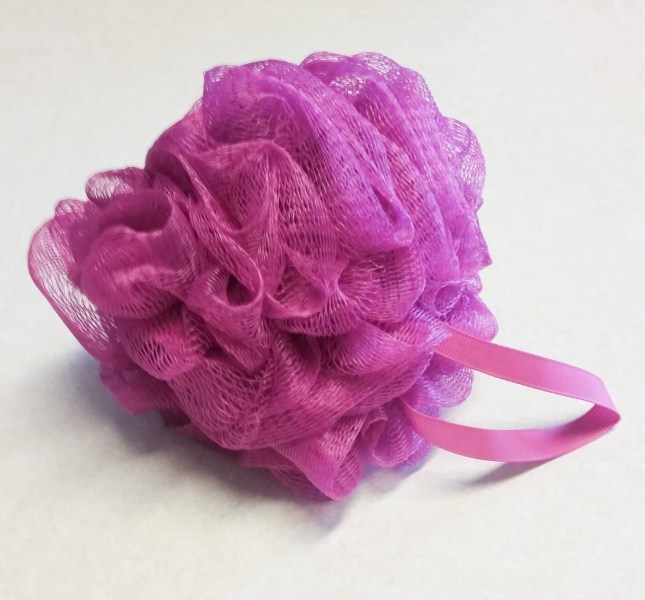 Loofah:  Keeping with the purple theme of this box, the next item was a purple loofah.  We use loofahs all the time in our house; I think my younger daughter called dibs on this one to use next.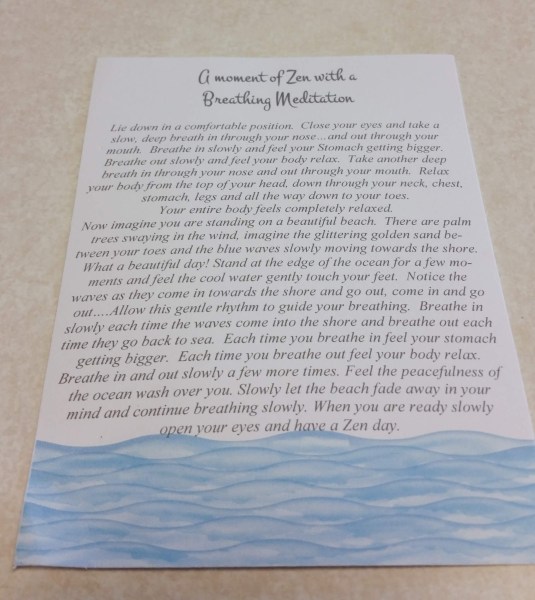 Zen Meditation Card:  This is a nice little addition, providing a guided meditation exercise.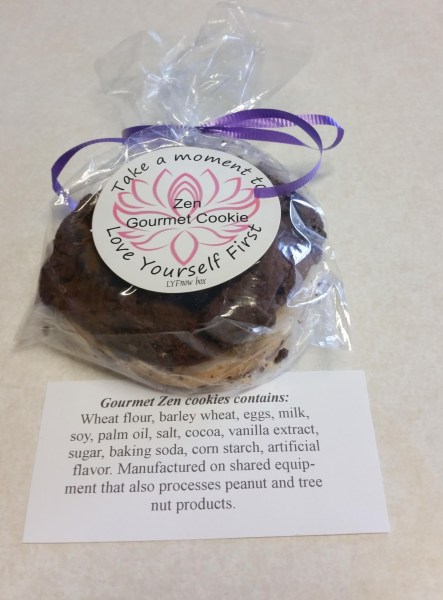 Zen Cookies:  Not surprising, given they're my girls, the cookies were the highlight of the box.  I'm not sure if the cookies made the girls more relaxed, but they certainly were happier after munching on the cookies.  I like the idea of putting a treat in the box, even if it isn't completely in line with the theme.  The way to a teen's heart is definitely through the stomach.
My daughters and I (as a mom) both like the LYFnow (Love Yourself First) boxes.  The items included are age appropriate and fun.  I personally like the monthly message – "Find Your Zen" and relaxing is definitely something that teens today need.  The girls have been really excited to open boxes from LYFnow and they have continued to use the items well after the box arrives – they're still using the bracelets and jewelry plate from last month on a regular basis.  I think this says a lot about what the girls think about the box!  LYFnow is a good choice for tween/teen girls!
Visit LYFnow to subscribe or find out more! Save 20% on your first box! Use coupon code  HELLOLYF.
The Subscription
:
LYFnow
The Description
: This fun and exciting box is filled with functional products like jewelry, makeup and inspiration to LOVE YOURSELF FIRST-now. This box will equip you with the tools that will remind you how AMAZING you really are within on a daily basis and for a life time.
The Price
: $29.00 per month