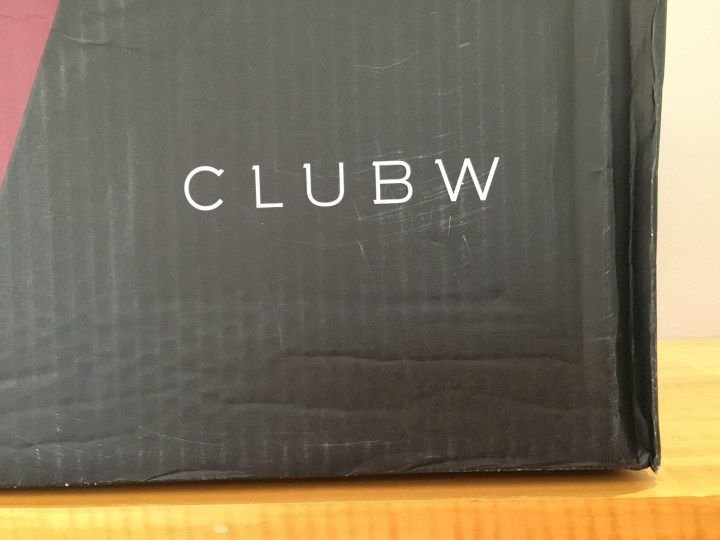 Club W is a wine subscription service that sends wine directly to you each month based on your personalized palate profile.  A "global winery," Club W advertises that it has "direct relationships with vineyards and farmers to make exceptional small lot wines at prices impossible to achieve at retail."
If you're like me, you find yourself buying the same wines every time you go to the store–you've found those bottles you like, and it seems too risky and expensive to buy something else just to try it.  Plus, those store employees are either clueless about wine or make YOU feel clueless about wine.  Club W is the perfect solution!  You fill out a quick survey about what tastes you like–black coffee, citrus, etc., and Club W makes a customized recommendation of 3 bottles that fits what you like.  Then, for $6 flat shipping (or free if you pick a 4th bottle), it comes to your house!  What could be easier than that?
It's spring here in the South, and I was ready for some light, delicious wines to enjoy as the weather warms up.  Time to get out of the winter cave and drink some wine (which I also drank in the cave, so. . .yay, wine).  This month's box contained 4 bottles, adorably and securely packaged in a classy-looking box.  This thing doesn't scream "I get wine sent in the mail!" so it's safe for receiving at work.  Keep in mind that someone 21+ will have to sign for it.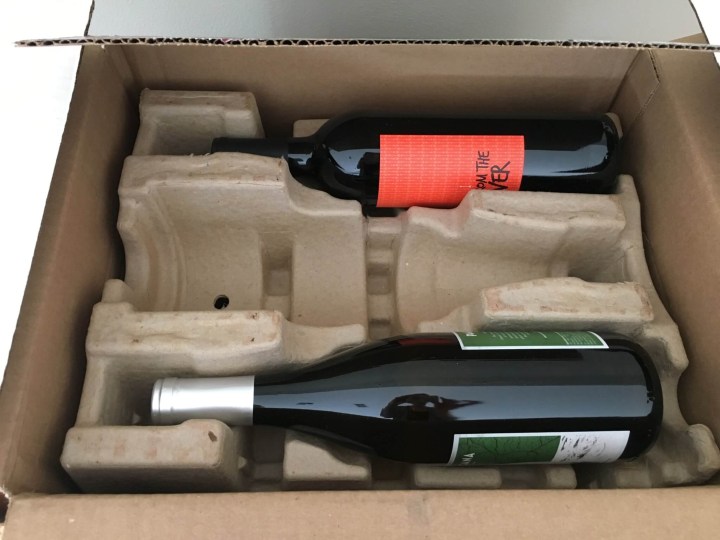 My box had 2 whites and two reds to try.  Because I updated my profile on the Club W website after trying the wines last month, these wines reflected those preferences.  Personalized service is awesome.  All 4 wines had cool information cards about each wine, with coordinating recipes on the back.  I had a mostly different set of girlfriends from last month to taste all the wines at once, a sacrifice we made for you, dear reader.  (Also, offering free wine will make you popular).  Everyone brought an app to share, which meant we had lots of hummus to go with our wine.
We decided to try the wines from lightest to heaviest.  The first wine was the 2015 WKND sparkling Chenin Blanc.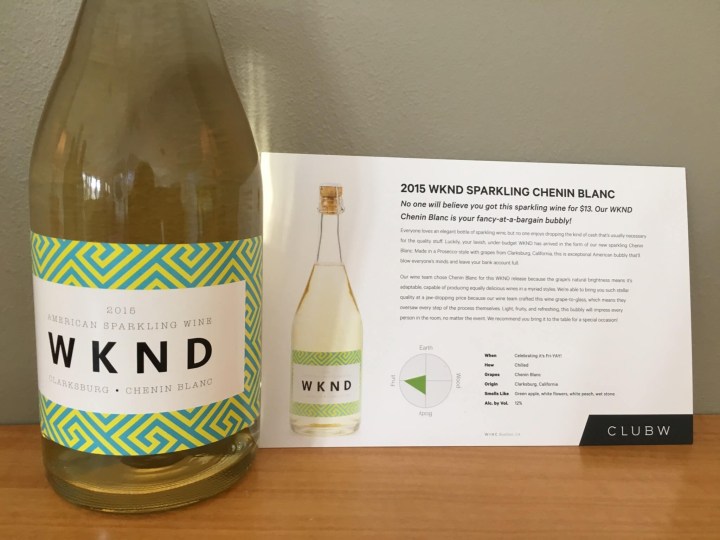 In addition to an apparent dislike of vowels, this wine advertises its high quality and ease of drinking.  This particular wine is a bright, fruity sparkler with lowish alcohol content, so you will still be able to feel your face after a couple of glasses.  The wine is a pretty pale gold and fizzes nicely on the pour.  The bubbles are sharp and abundant, more like a Prosecco than a Vinho Verde.  It's a touch sweet, like peach candy, with a nice lemony finish that keeps it from being cloying.  Delicious with, you guessed it, hummus, especially the accompanying raw veggies.  We drank this in the night but it was still fresh and bubbly the following afternoon; even a little better for having mellowed.  Take this one on a picnic to the hills or your friend's pool party.  Drink it as cold as you can.
The next white was the the 2015 Pacificana Chardonnay.
I loved the Sauvignon Blanc from this line last month (and would have bought it again if I weren't reviewing wine!  Cue the tiny violins).  This wine was a bright golden color in the glass and had a thin mouthfeel.  I am a fan of unoaked Chardonnay, so I enjoyed this more than the fat and creamy Chard we had last month.  This wine benefits from warming up in your glass; it starts a bit subtle but opens into an austere grassy flavor with a tart apple finish.  It complemented the basil hummus and would go well with shellfish or a chicken salad.  Drink it warmer than you think you should.
The first red we tried was the 2014 Supercluster Cabernet Franc.
We called this one the "space wine," both for the obvious reason of the cool label art, and also because Club W touts the process for making this wine.  It's "carbonic maceration," which is how Beaujolais is made–the whole grape is actually fermented in carbon dioxide before it's crushed for juice.  Sounds like something Mark Whatney would have done on Mars if he'd had time to make wine.  This wine is a gorgeous purple color and has a soft mouthfeel, a bit like a Pinot Noir.  Unlike a Pinot, however, this wine is spicy and tart, with a nice tannic finish that keeps everything bright and fresh.  This is a very drinkable wine; it went great with our spicy hummus, and it would also suit casual grilled meats, tacos, or Thai.  I think this was our favorite of the bunch.  We drank it off-chill, and would have finished the bottle if we hadn't had more wines to drink.
Our last wine was the 2015 One from the Quiver Malbec.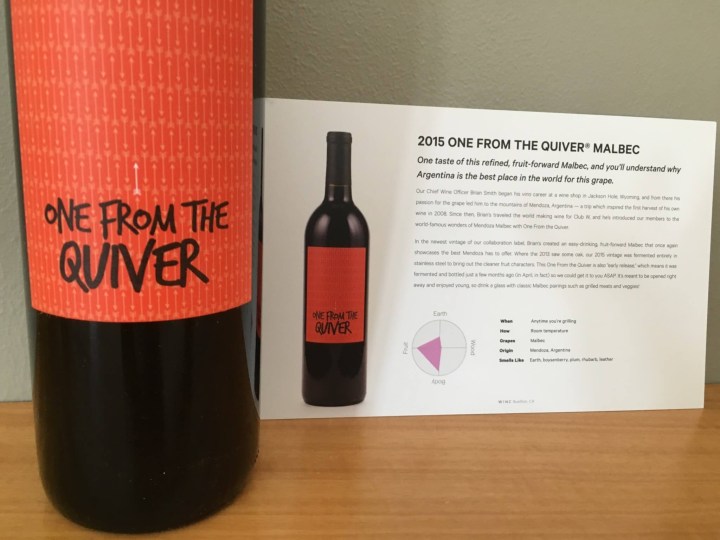 My head is always wrong about Malbec–I don't know why, but I always expect it to be tart and thin.  Obviously, I need to drink more Malbec, so here we are.  This was a nice example of mid-range Argentinian Malbec, with a dark color and rich body.  It was a bit tannic to start but warmed up to an interesting blend of tobacco and cherry with a clean finish.  You could have this with a steak (or hummus!) but we enjoyed it with dark chocolate.  It mellowed the next day and lightened up a bit, almost into a completely different experience.  Drink this one at cool room temperature.
And that's it for March!  We had a bunch of fun and got to try some new things.  I think we are all set for finishing out those winter reds and moving onward to spring.  I can't wait to see what we get next month!
Visit Club W to subscribe or find out more! Just use this link for 50% off your first three bottles – no coupon code required! ($25 total for 3 bottles)
The Subscription
:
Club W
The Description
: Each month Club W will make new recommendations for you based on your 5 question Palate Profile and previous wine ratings. Go with their suggestions or make your own selections from the ever-changing assortment. Club W works directly with wine makers. There are no middlemen, which means you get better wine for less.
The Price
: $45.00 per month