Is this not the prettiest toothbrush you've ever seen?!
I have a love hate relationship with toothbrushes. I love having clean teeth and healthy gums but I have to admit – I dislike most toothbrushes I have ever used! They either don't fit into my hand correctly or are too big for my mouth or the bristles are too hard. And they are kinda ugly!
So I was super excited to check out the Foreo ISSA! I've seen Foreo and was interested in trying out their sonic cleaning tech but I just hadn't quite taken the plunge even though the features are really fantastic!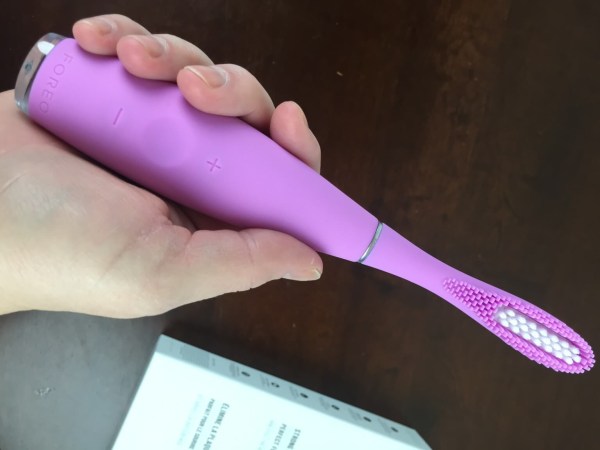 This is really a cool and totally beautiful toothbrush that fits in with my lifestyle.  FOREO ISSA has two models – the regular and the Hybrid (both $199).  There's also a Mini model that's perfect for kids ($119) – it even has a smiley face for rewarding dental care regime completion!
Weight & Shape

: Both adult toothbrushes share the same ergonomic design, so it's not heavy to hold and it's easy to use. It's much lighter than my current electric toothbrush and really really smooth. I love the texture and feel of holding this in my hand. It sounds ridiculous to say about a toothbrush but it does really have a unique sensory feel.

Cleaning Technology

: Both versions clean your teeth with sonic pulse technology that helps remove plaque (which obviously prevents cavities!). The ISSA works by sonically vibrating the silicone bristles and removing gunk via friction instead of scratching all around your mouth.. There are seven speeds so you can find the speed that's right for you.  I haven't used it long enough to test it out, but the sonic cleansing should also diminish stains, which is awesome.

Silicone Brush & Body

: The ISSA also has a unique silicone design that helps clean your gums. The Hybrid model includes a silicone and PBT polymer brush (that's the white stuff in the middle) that is stronger on plaque but gentle on gums. I certainly didn't notice any roughness with this brush. I haven't been able to compare the two models but I would probably go for the Hybrid one if you want to really focus on plaque removal, and perhaps the regular model if you want to avoid toothbrush bristles entirely.

Built-in Timer

: And just like a sonic facial brush it will beep at you every 30 seconds so you can brush each quadrant of your mouth for the correct amount of time!
Less Bacteria

: Here's a shot of the regular brush, which has a silicone-only head. One of the things I really love about this brush is that the silicone bristles carry up to 10,000x less bacteria than regular toothbrushes – it's nonporous!

Replace Heads 1-2x a year:

 Replacement heads for this are about $20, and you only need to replace it twice a year, which is crazy (only once a year with the regular model). Replacements for the regular brush and the mini are about $25.
You can even get a tongue cleaner to add on to your brush!
Foreo's ISSA toothbrush can be used in the same way you use a manual toothbrush, but its 3D head will give you more flexibility in getting to hard-to-reach places in your mouth compared to a normal toothbrush.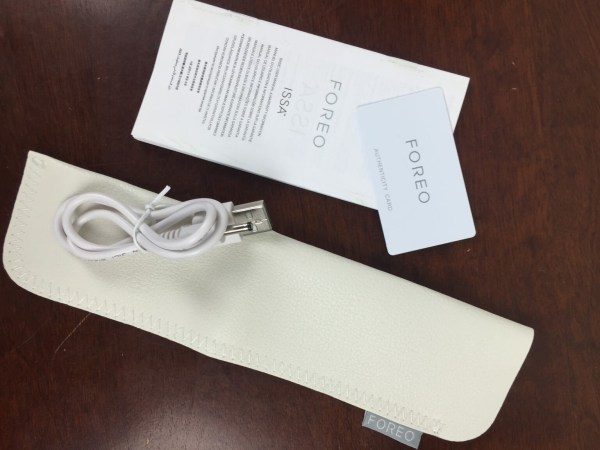 Each FOREO ISSA electric toothbrush comes with a USB charger and pouch, an authenticity card, and a user manual and warranty information booklet (2 years!).
Basically No Charging Time

: However, you barely need to charge it – it keeps its charge (which takes only an hour) for 365 uses, which is 6 months of two times a day brushing!

Waterproof

: And YES you can take this brush into the shower just like a manual toothbrush, which is perfect, because I always brush my teeth in the shower – just make sure the charging port is sealed.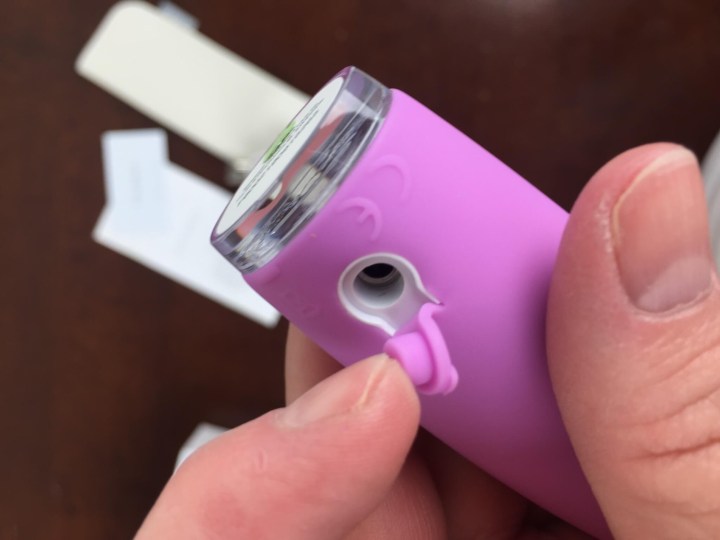 Here's the charging port of the toothbrush.  This came in Lavender, but it is also available in Cool Black, Mint, and Cobalt Blue.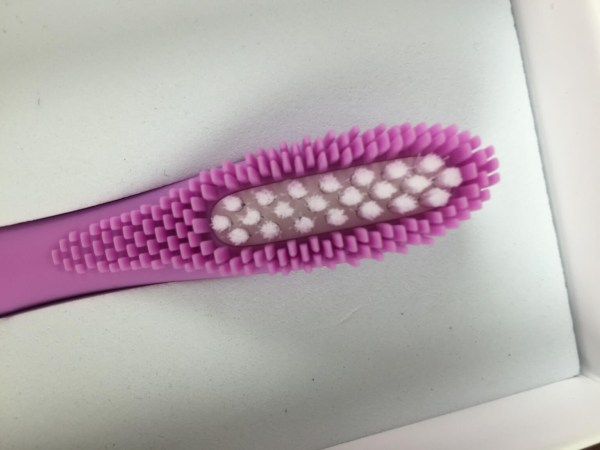 One of the really neat things about the Foreo brush head is the extended bristles, which work to get every crevice (and you can exfoliate your lips with it!). The brush head is larger than a standard electric brush, which covers more area but doesn't feel as hard and clunky in your mouth!
It is an awesome toothbrush, and it's the cleanest my teeth have ever felt – really really clean. It's easy to use and I really love everything about it – especially that it's an efficient and stylish solution to an every day routine! What are your thoughts?
You can check out FOREO ISSA here.  Currently you can save 15% off the ISSA and ISSA mini + get free shipping with code BBISSA15 through 4/30/16!
Hello Happies is where we review things that aren't in subscriptions, or otherwise make us happy!