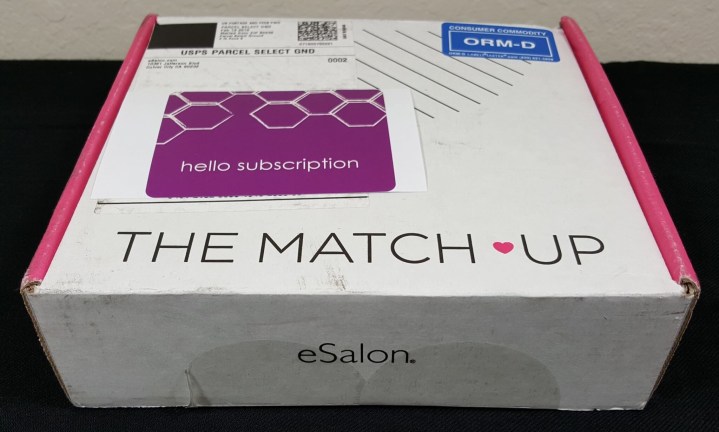 The Match-Up is a subscription box by eSalon.  Receive your choice of 3 hair care, styling, or brow and accessory items for only $30 per order (plus $4.95 S&H), saving you up to 45% off retail prices on all non-hair color products.  Also, add up to 2 bonus items for an additional 25% off each add-on.  All products have a 100% guarantee.  You can control the frequency of your Match-Up deliveries (from 4-12 weeks), modify your ship date, or skip any upcoming order.  Try your first Match-Up for $15!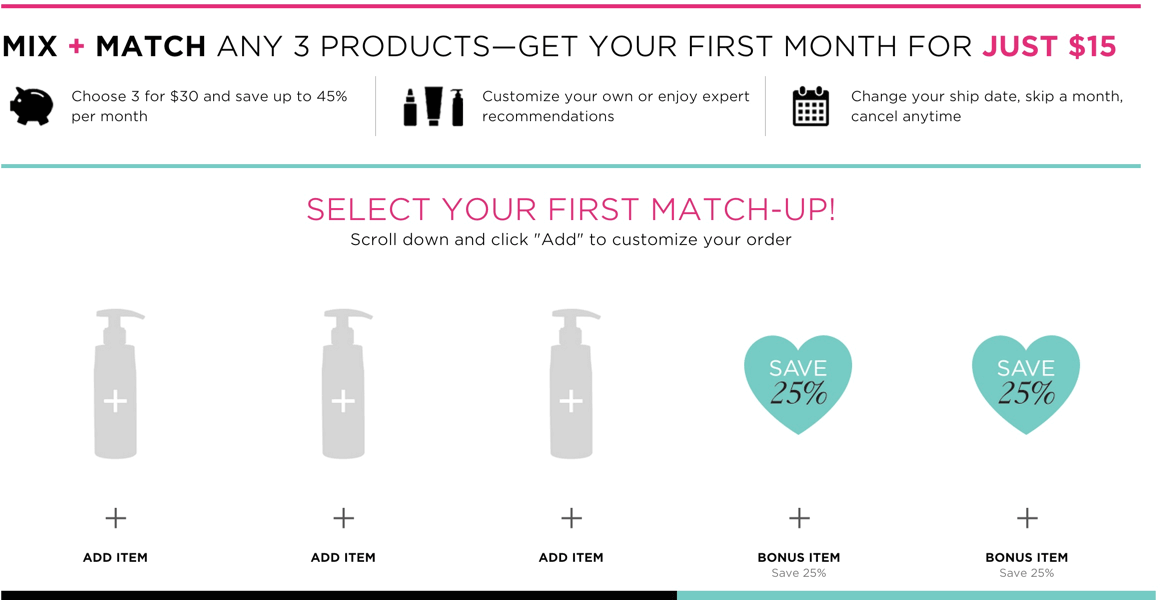 Choose between two options.  Your Pick allows you to personally mix & match your own products every order.  With Expert Pick, the hair professionals at eSalon make tailored suggestions based on your hair care needs and styling habits (you'll create a hair profile).  Through your account page, you can switch between modes anytime before your products are due to ship.

My customized product information card which included a brief description of the items I'd selected and my savings on the order.  This card seems a bit silly since I made the picks, but honestly, I'd forgotten what I ordered.
All of the items were wrapped in tissue paper and packed into this reusable cloth bag.  Tip:  These bags are great for packing shoes in when traveling.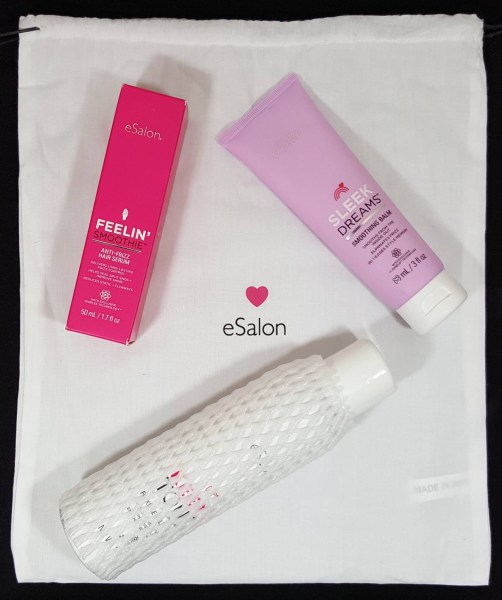 Everything in my bag!  Last month, I noted several products that caught my eye, and here they are.  I wanted to show the extra care that was taken to pack my aerosol hairspray, so I left the protective wrap on for this picture.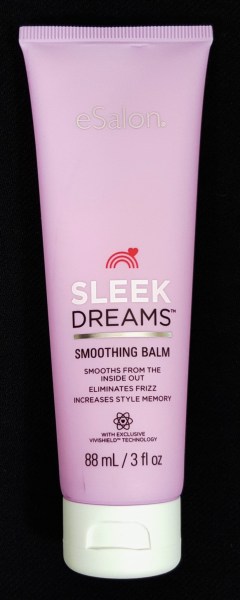 Sleek Dreams Smoothing Balm ($14.00):  With the cooler/dry weather we've been having in Florida, I've been able to blow out my hair more often.  This is supposed to smooth the hair cuticle for a tamed and polished look.  It should also cut down on drying time and protect against heat styling.  I used this alone when blowdrying, and it did cut down the time but didn't completely hold the straight style.  It was more effective when used on dry hair following the Feelin' Smoothie serum.
We know frizz-prone hair needs a little extra reinforcement. Our lightweight gel-creaam helps to tame, subdue and humidity-proof your strands so you always look polished (but never greasy).  It smooths your hair cuticle from the inside out and is activated by heat — so you can cut down on blow-drying time and effort.
Feelin' Smoothie Anti-Frizz Hair Serum ($18.00):  It's been a while since I've used an anti-frizz serum.  Lately, I've been using oils after applying stylers to tame frizz.  This serum is said to deliver superior frizz control, reduce static, and add instant shine.  I liked it, and it reminded me of another frizz easing serum I used to use.
It's our version of a luxuriously concentrated skin serum — 1-2 drops works silky wonders. We dispense this supple oil to our thick or curly hair clients; calming frizz, upping moisture and helping to seal up split ends. Prepare to reap the glossy, smooth, soft-touch rewards.

Keep In Touch Flexible Hold Hairspray ($15.00):  A brushable spray that delivers a sheer, flexible hold while enhancing shine. I prefer a flexible hold hairspray to avoid helmet hair (did not realize that was in description below until too late).  Also, I've had issues with firm hold hairsprays flaking, and that is not a look that anyone wants.
We know you don't always want to be locked into one style. That's why we created our flex hold hairspray: to set your hair in place when you need it, easily brush out when you don't. It's super sheer so you don't get that lacquered down, helmet feeling, but ultra-layerable for when you need extra safe-guarding against a frizz-prone day. Win-win!
The value of this box was $47, meaning that I saved 26% by using the subscription service instead of purchasing each item individually.  From my view, the average cost per item is under $12, making them a deal when compared to some salon and mass market brands.  Plus, I like the convenience of having these delivered to me.
Visit The Match Up to subscribe or find out more! Try your first box for half off – just use this link! You can now get a free trial – use this link and pay $4.95 shipping.
The Subscription
:
The Match Up
The Description
: Receive your choice of three hair care, styling, brow and accessory items from eSalon!
The Price
: $34.95 per month