NatureBox is a monthly snack subscription box. Every month you'll receive 5 snacks and can add on additional premium snacks (or sometimes sale snacks!). You can create a "pantry" of snacks that will dictate what snacks you receive. We recently resubscribed to this box after a hiatus (as one of the oldest subscriptions out there it was one of our first boxes) because we enjoy the snacks so much!
We didn't receive an information card this month, but it doesn't really matter, since we picked out our snacks ourselves. The amount of snack varies depending on what you select — our selections came in 3 to 5 oz packs.
 Having selected our own assortment of snacks, we knew that we liked everything we ordered.  After you've tried a bunch of their huge selection of offerings, you can order up a box with confidence that it will be 100% awesome!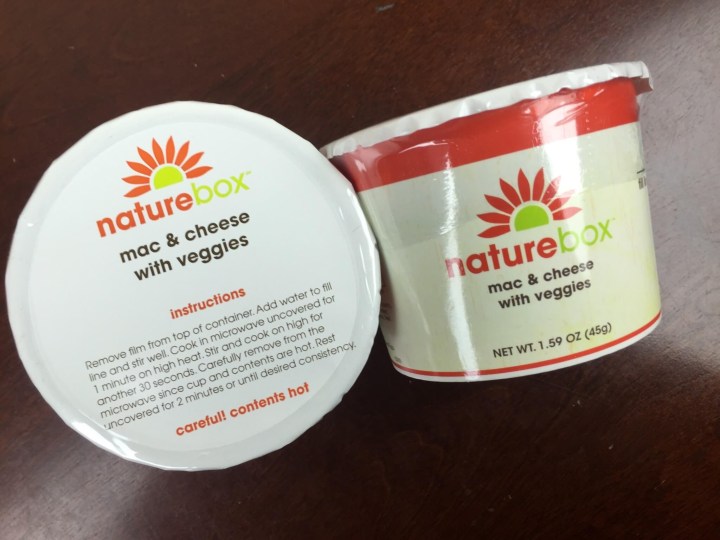 Mac & Cheese with Veggies:  These are perfect little meals to keep at work!  They are tasty and quick easy to make — you only add water and cook for a minute and a half.  This snack is all natural and even has some peas, carrots, and bell pepper pieces, too. It was super tasty when we tried it out and caused no boilovers!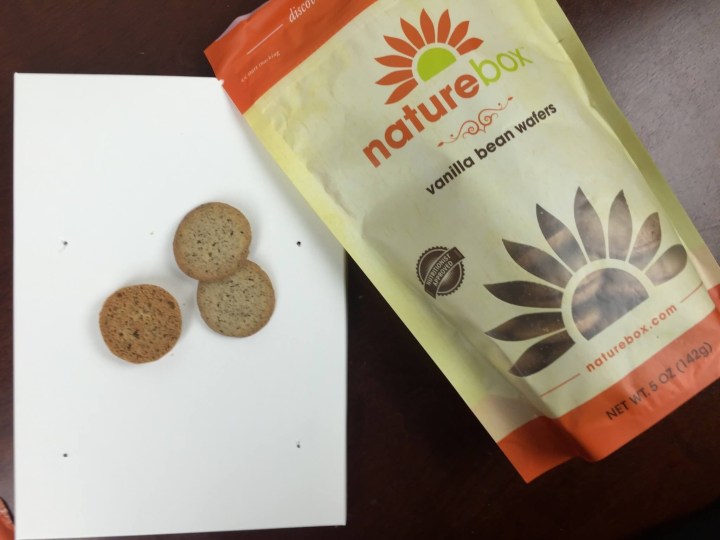 Vanilla Bean Wafers:  A healthier take on the classic vanilla wafer, these are made with unbleached flour, real butter and vanilla beans, and a touch of flax and whey protein. It was hard not to gobble them, but our baby enjoyed them so much we saved most for him!
Garlic Bread Cheese Crisps:  These crunchy slices are thicker than a cracker and much more fun.  Made with garlic and real cheese, these are almost too good to put anything on, we tend to just stuff them in our faces!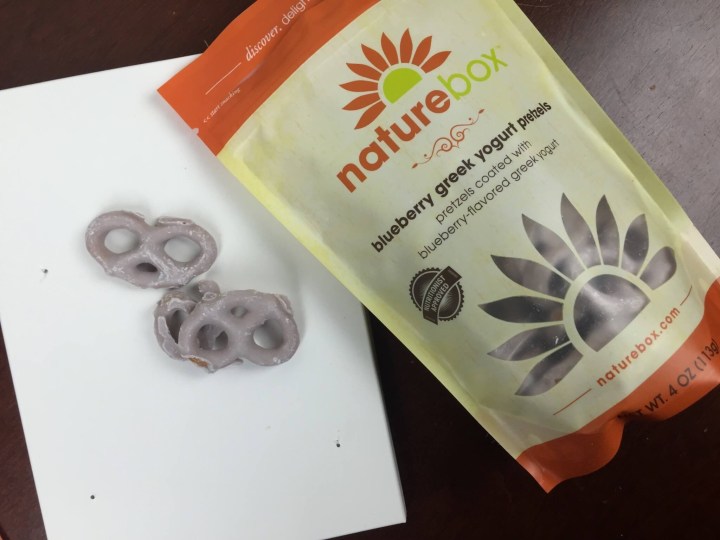 Blueberry Greek Yogurt Pretzels:  Yogurt-covered pretzels are a great way to satisfy so many snacking needs at one time — sweet, salty, crunchy, creamy — these add blueberry flavor to keep things interesting.  Our daughter loved the strawberry version of these, and our son goes crazy for this blue version!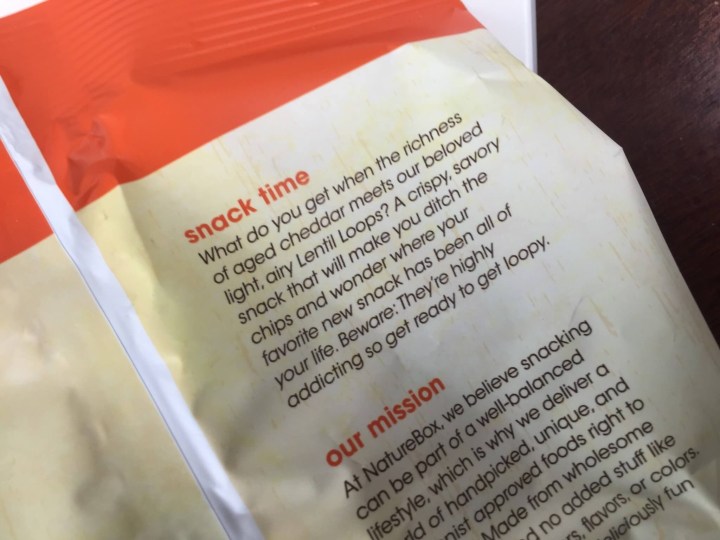 Aged Cheddar Lentil Loops:  A new try for us, these fit the profile of a typical NatureBox snack — they blend healthier ingredients and classic, complementary flavors into a delicious, and good-for-you snack.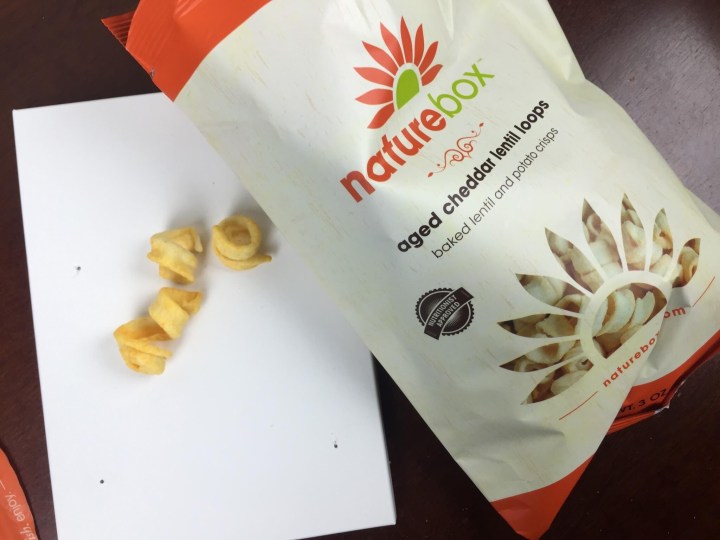 These seem to be inspired by the many Indian snacks that use lentil flour to achieve a super-crunchy and umami result.  The cheddar goes very well with the flavor of the lentil and potato.
Nature box modifies its catalogue of snacks, adding new snacks all the time.  We look to check if anything new speaks to us, as it's always nice to discover new favorites.  This time, we discovered a great new anytime lunch for when you can't get out of the office for a bite!
Visit NatureBox to subscribe or find out more! You'll save half off your first month with this link – no code required.
The Subscription
:
NatureBox
The Description
: In each Naturebox Discovery Box you get 15-20 servings total from 5 different seasonally themed natural snacks. No HFCS, no artificial sweeteners, colors, or flavors! No partially hydrogenated crap.
The Price
: $20.00 per month