Baklavva is a monthly subscription that delivers fresh, authentic Mediterranean treats directly to you.  Each month will have a different mix of varieties of baklava, each varying in filling, shape, composition, and adornment.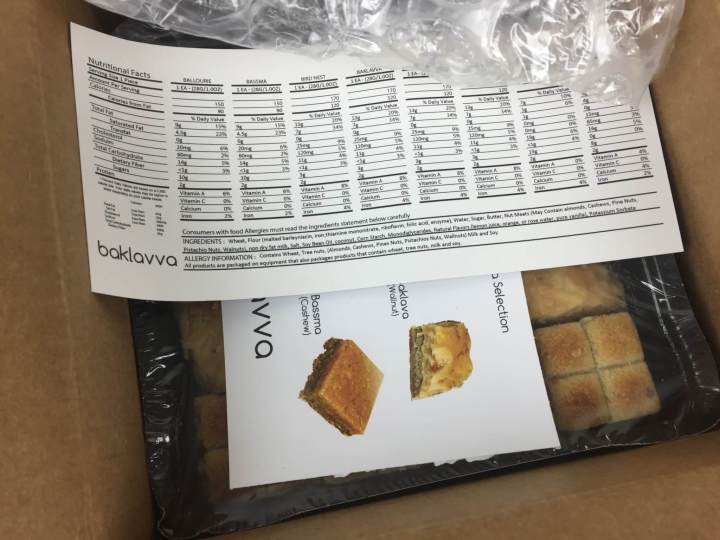 The outer box was wrapped in plastic to maintain the freshness, and the interior was also padded with bubbles.
The info card helps put a face to name, so to speak, but it doesn't list the particular composition of each treat.  This month's card went a little further than those of past months, as it listed the main filling ingredient of each item.
The nutrition card lists the possible contents of all the treats together and nutrition info for individual types of treat, but it is anyone's guess as to which nuts and seasonings go into each treat.  The nutrition info covers several types of baklavva that may or may not make it into a particular month's assortment — the card didn't have info on the Mamoul,  so it wasn't helpful with regard to that item.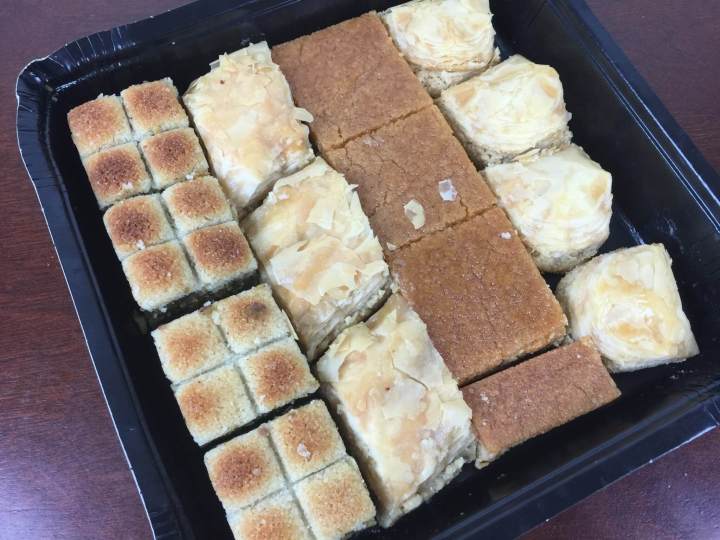 The inner pack was also hermetically wrapped, and the pastries were nestled together very tightly.  The items that appeared to be the most delicate survived shipping in superb condition!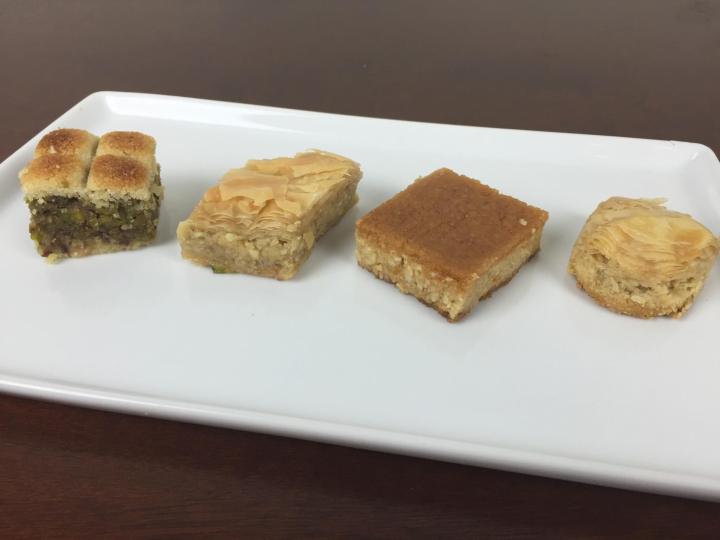 From left:  Mamoul, Baklavva, Basma, and Mini Rose.
Mamoul:  We've received Mamoul before, and it had a thick date filling.  This version has tons of pistachios instead (similar to the filling we've seen in Balouri before), and the date, if any, is negligible.  The crust is unique from the others, as it doesn't seem to be a phyllo derivative.  It has a crunch and flavor similar to a mild graham cracker crust.
Baklavva:  This is a traditional baklava, with a more tightly packed phyllo and a darker complexion.  Hunks of walnut are strewn throughout the filling.  This was baked very lightly, so it retained a very soft texture.
Bassma:  The center layer is full of cashews, with a dense layer on either side textured similar to a chewy graham cracker crust.  The chewiest and heartiest of this selection.  My favorite selection, as it has a sweet crispness and great crunchy/tender balance.
Mini Roses:  These are folded gently over a mashed filling and look like a little Pacman or lopsided taco.  These are the lightest and most delicate of the pastries, with a pale phyllo and a finely chopped cashew filling.  Based on the name, I believe this is flavored with rosewater, but the flavor is delicate and hard to positively identify against the sweet backdrop.  My daughter loves this one!
We never know what to expect with this box — the list of pastries on the nutrition card is not exhaustive, so who knows how many there are to try!  I continue to be amused and delighted by the variety of flavors and textures that can be created using phyllo, nuts, and sugar.  The contents of the box change every month, and even the composition of some of the pastries changes, such as the very different Mamoul filling this month. We were very excited that our kids were interested in the baklava this month too – it's such a taste experience!
Visit Baklavva to subscribe or find out more! Save 50% on your first box with code MY50.
The Subscription
:
Baklavva
The Description
: Monthly subscription of authentic Mediterranean delicacies. Choose from one of three monthly plans: 1lbs box plan, 2lbs box plan, 3 lbs box plan. Baklavva mix will vary from one box to another. Each box will include a variety mix of baklavvas that may include Burma, Ballourie Mini Roses, Bassma, Baklavva, Bird Nest, Fingers and Ghourib.
The Price
: $18/one pound, $32/two pounds, $48/three pounds