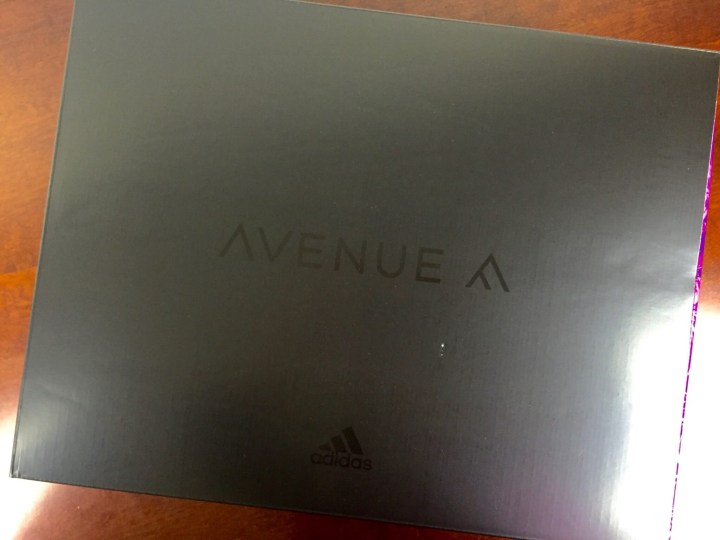 Adidas Avenue A is a quarterly subscription box designed for women who are active and always on-the-go. The box contains premium running and training items – both apparel and footwear – that are handpicked by a well-known fitness experts and fashion trend-setters. It costs $150 per quarter to subscribe, and each box will be delivered right to your door.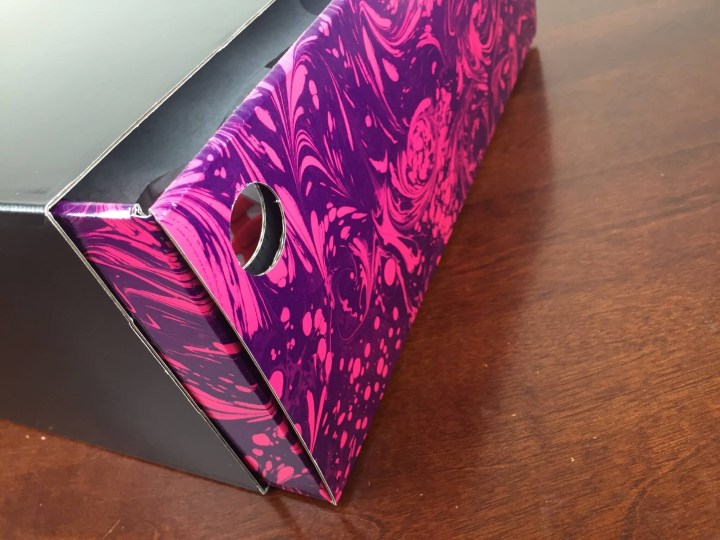 This giant box arrived in an outer cardboard box. I'm thinking the box itself will be perfect to reuse underneath a bed!
Avenue A by adidas box promises to bring items that meets style and performance at the same time. Looks stylish to me! Instead of coming in a shoe box the shoes came in a divided section of the outer box. (This way you can't return your crazily discounted shoes for a refund.)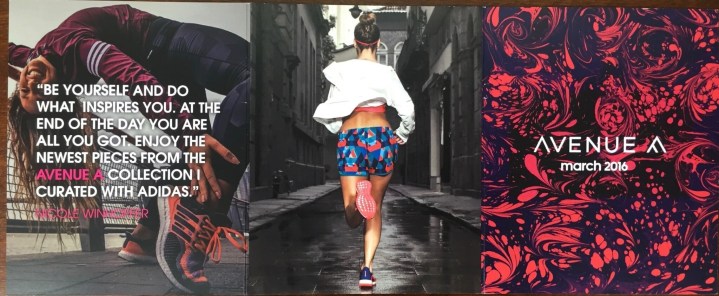 This quarter, the box is designed and curated by New York fitness artist, Nicole Winhoffer. She handpicked premium urban gear from adidas to help every women "express their inner creativity."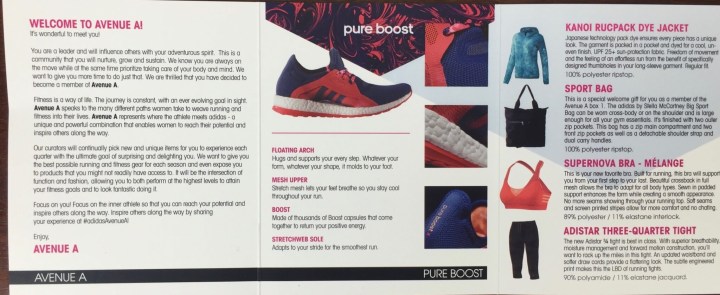 When you sign up you have the opportunity to specify each size for every item. Shoes go up to size 12, apparel goes up to XL.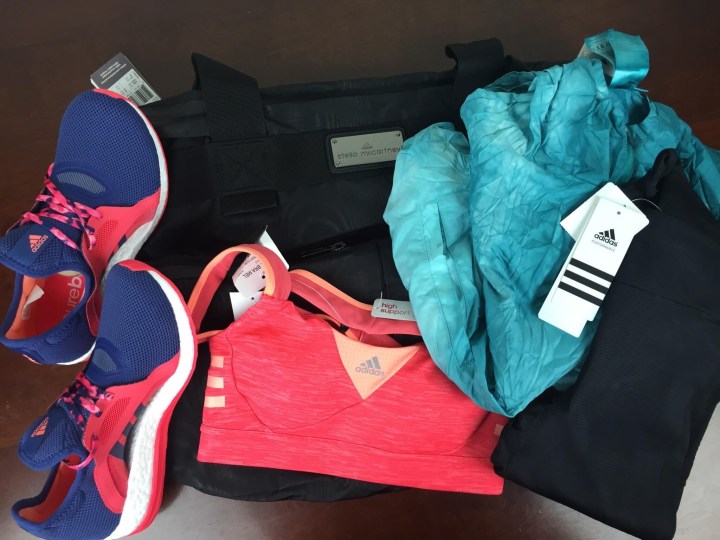 Here's all the loot in the Avenue A by adidas box for Spring 2016.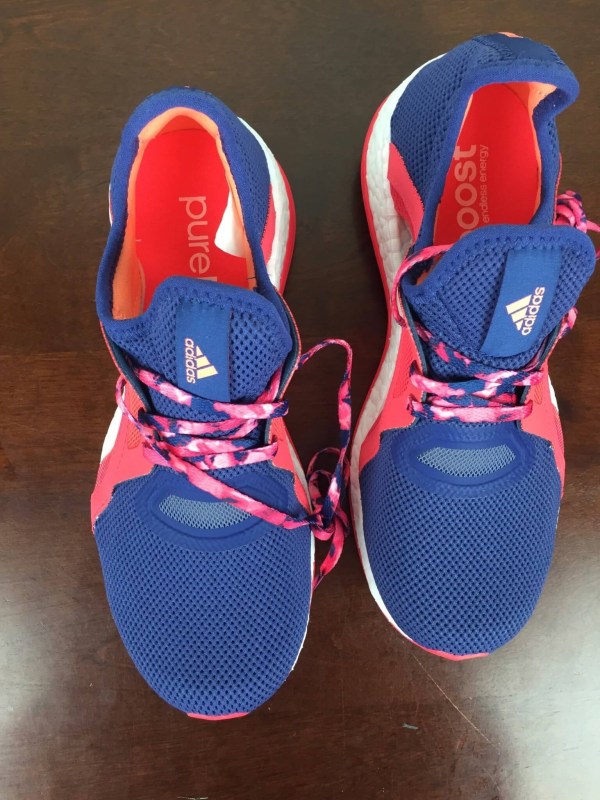 PureBOOST X running shoe ($120) well these shoes are unique! They feature a floating arch and you can stick your finger right under it. Perfect for someone like me. I have wide feet and was totally afraid they wouldn't fit but I am wearing them today and they're super comfortable. They have a giant forefoot area and are really roomy in the toe.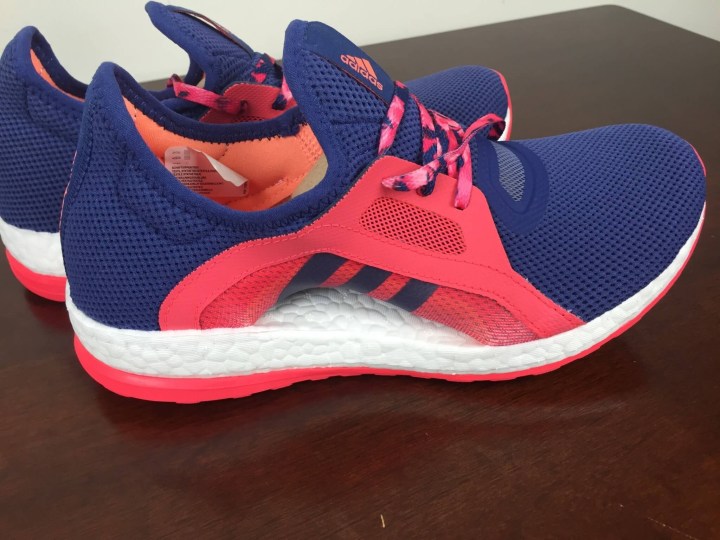 They're comfy and super light weight. The no tongue design was also new to me! I haven't yet tested them on a long run so I can't tell you about all their amazing running features but you can see user reviews from actual runners on the adidas website.
I was really surprised to find that the apparel all had retail tags on them as the shoes didn't include a box.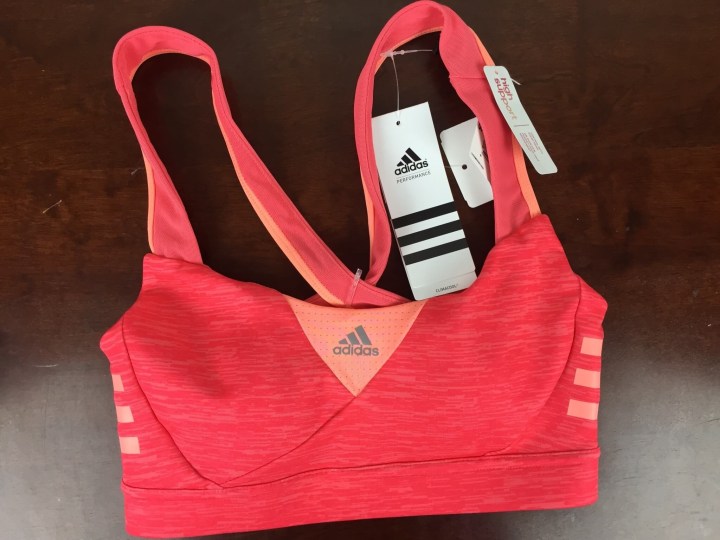 adidas Supernova Mélange Bra ($40) Oh now my bra can match my shoes! This bra has a cross back (to avoid strap slippage) and has sewn in padding/lining. I half wished it was removable but then it would probably come out when you were running. I am pretty sure adidas knows what it's doing when it comes to workout gear so I went with it. This is a high support bra and features climacool wicking technology. Yay for reducing underboob sweat.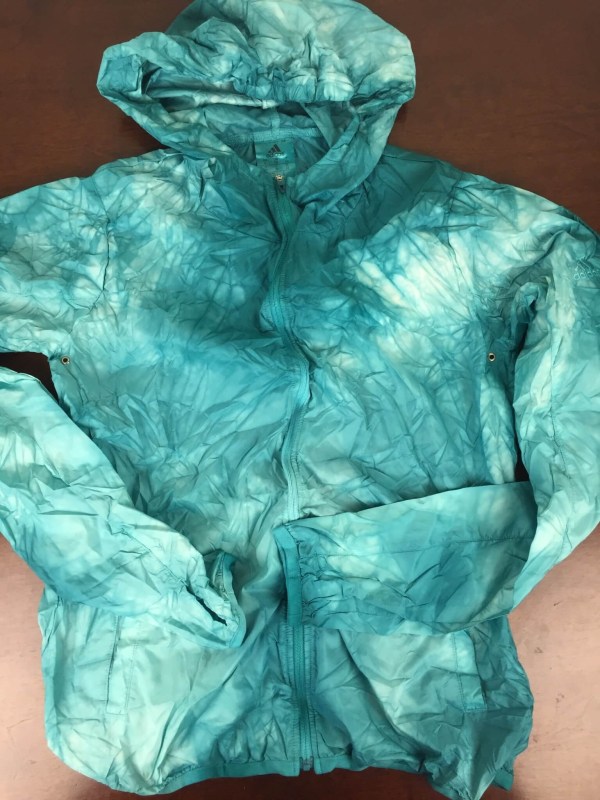 Adidas – Kanoi RunPack Dye Jacket ($90) So fun and gorgeous! I loved that the design of the jacket is beautiful but also designed to mirror its functionality. The fabric is meant to be wrinkled and the mottled dye treatment follows that idea.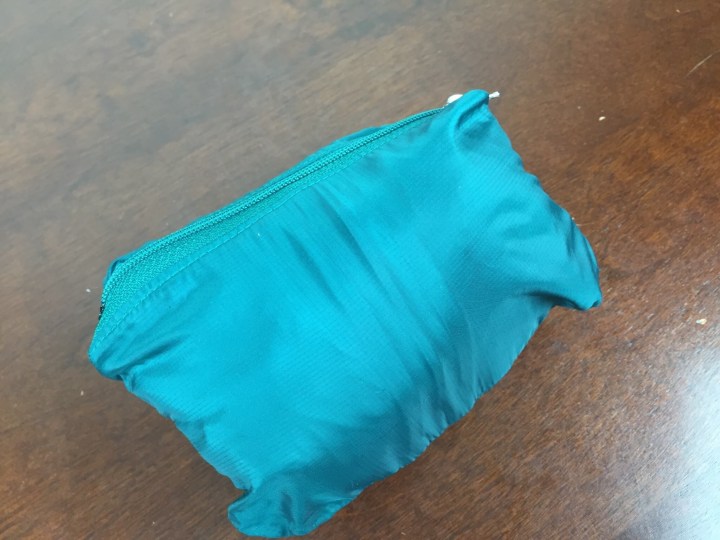 It comes with a pouch for storage – sewn right in! You just stuff the whole jacket into a pocket on the back and zip! This is perfect to keep in your bag for when the weather turns. It also weighs just about nothing.
adidas Adistar Three-Quarter Tights ($90) These are some pretty fancy workout clothes and engineered to the hilt. They have compressiony fabric, seaming to help keep everything in place, and a sweatproof pocket in the back. Oh and more sweat wicking fabric!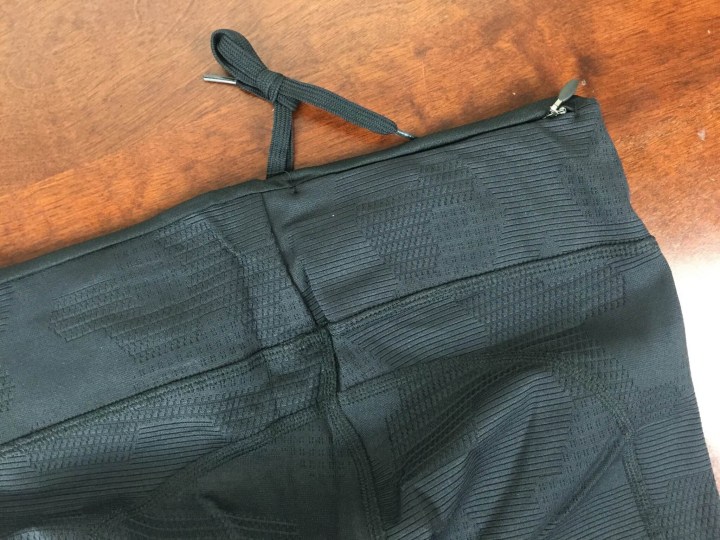 A look at the backside of the tights.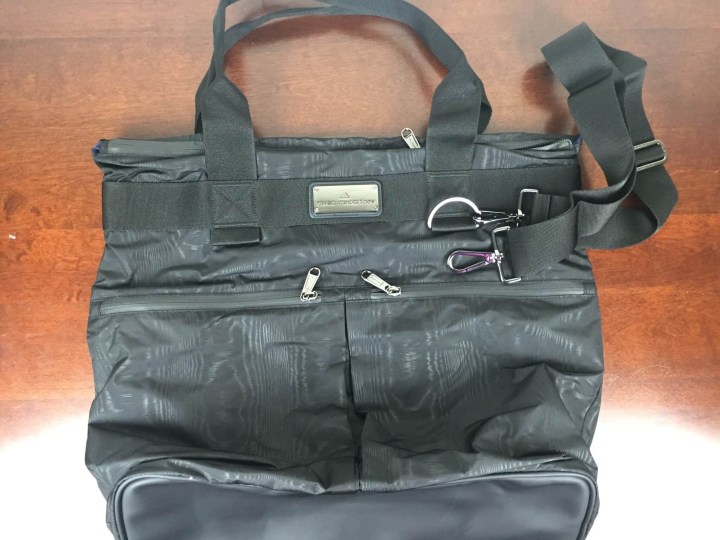 Women's adidas by Stella Mccartney Big Sport Bag ($190) This is an OMG seriously item. It's gigantic! And SO pricey! It's also a special item just for the founder's box, so I think it's likely that future boxes won't be quite so wow.
The bag itself is 17×17 and will hold an entire week's worth of gym gear. I would seriously question its functionality as a gym bag, but I know someone out there is packing this bag in her mind right now with a day's worth of gym stuff for her equipment-intensive sport, so I'll just say that this is a multi-day business trip bag for me. I could carry everything in it (and indeed, this bag is larger than what I typically take for a 5 day trip!).
Here's what the inside of the sports bag looks like. It has a fun stella dot print on the inside with lots of organization.  I liked that it had a handle carry as well as a strap. The bottom itself was a really thick vinyl sort of thing that was super sturdy and looked like it would keep the contents of my bag safe from a gross floor.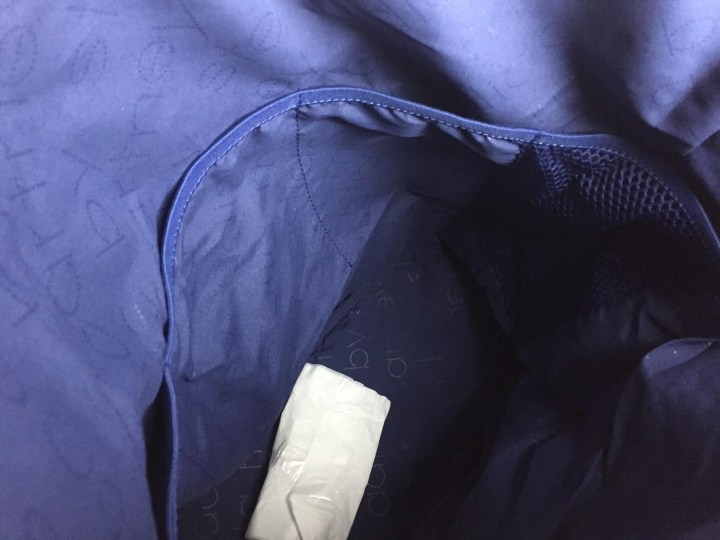 This box was ridiculous – about $530 in value. I absolutely loved that it contained an entire outfit and a gymbag and I think Nicole selected really fun items that let you express your creativity while working out – all the items were really fun with awesome designs. Based on this box if you like adidas anything (like really, any of the items), you're bound to get your money's worth because I think it's more than likely anyone will be happy with at least 2 of the items in the box.
The only thing I'm not really sure about is the idea that these products are part of a limited release – they're certainly not exclusive to the box, because I found all the items online. Perhaps they are thinking of producing exclusive items as the subscription grows, or they are referring to the fact that they're seasonal items, I'm not entirely clear on that part yet. But I can't really fault this subscription on anything. It was really amazing right down to the packaging!
Did you subscribe? What did you think about your box? The Summer box is currently on pre-order, so if you want it, grab it now.
Visit Avenue A by adidas to subscribe or find out more!
The Subscription
:
Avenue A by adidas
The Description
: Avenue A is a quarterly women-only subscription service that offers a curated box containing premium running and training products. adidas will collaborate with fashion-forward trendsetters and trainers to hand-pick an array of products for each shipment that exemplify style and performance.
The Price
: $150.00 per quarter