If you love Japanese snacks, but Pocky doesn't even make your top ten, then Snakku may be the box for you.  Snakku is a monthly authentic Japanese snack subscription box. It's quite different than all the rest of the candy and snack boxes from Japan that we've reviewed – that is evident when you open the box to find a sweetly wrapped parcel covered in soft muted tones. Snacks in Snakku boxes are both savory and sweet from local Japanese snack makers. Every box includes a featured snack from a local artisan using local products and recipes that have sometimes been used for hundreds of years. Every box contains about 10-15 snacks total. Snakku has a brand new mini version available now, too!
This wrapping is the traditional Furoshiki, which is just a wrapping cloth, but used to wrap absolutely everything. Subscribers on a 3 month plan will receive an actual cloth furoshiki in their first box (get 2 with a 6 month subscription!), monthly subscribers receive their box in a paper one.  I think this is a nice bonus for prepaid subscribers!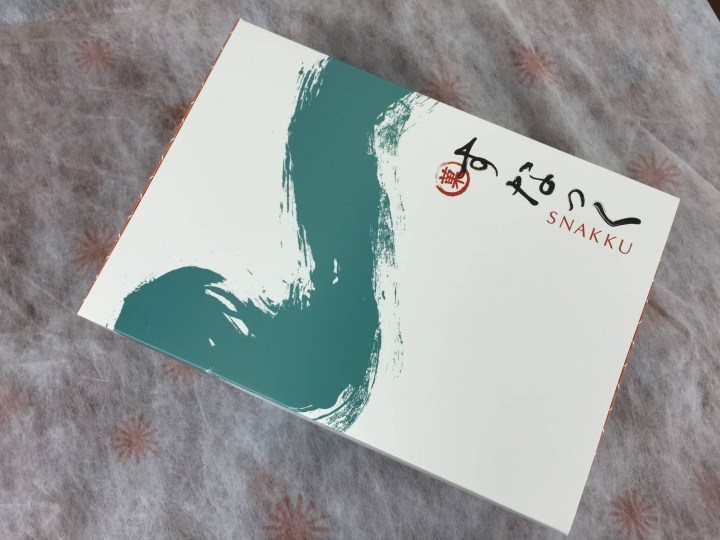 Within the furushiki is an equally lovely box.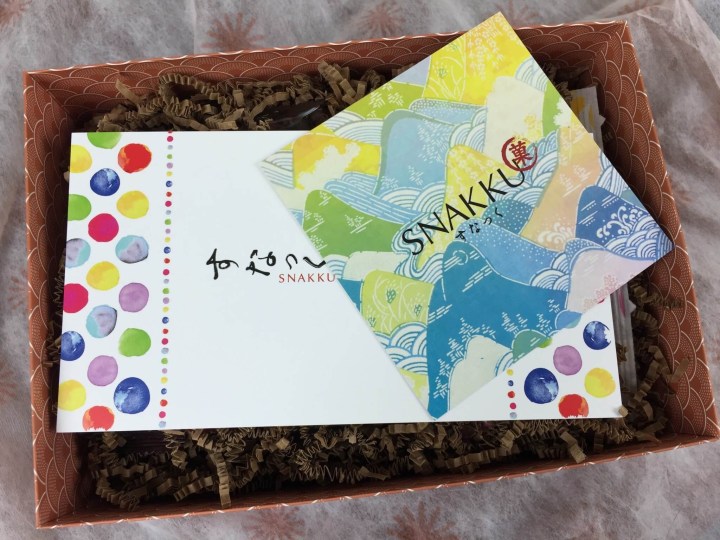 The cards are gorgeous. There are few Japanese snack cards that we'd consider hanging on our wall, but this is so attractive.  Each month features a unique design in a traditional or contemporary Japanese style.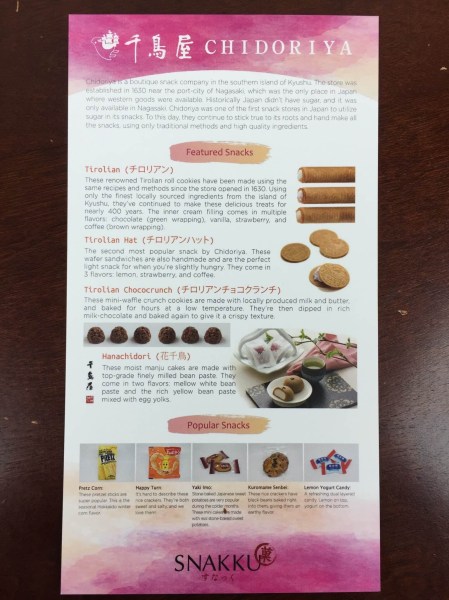 The info card is really thorough and give an excellent sense of the character and significance of each item.  The theme for January's featured snacks was Chidoriya, a shop opened in 1630 (yes, 1630) near Nagasaki, the only city with readily available Western goods, including sugar.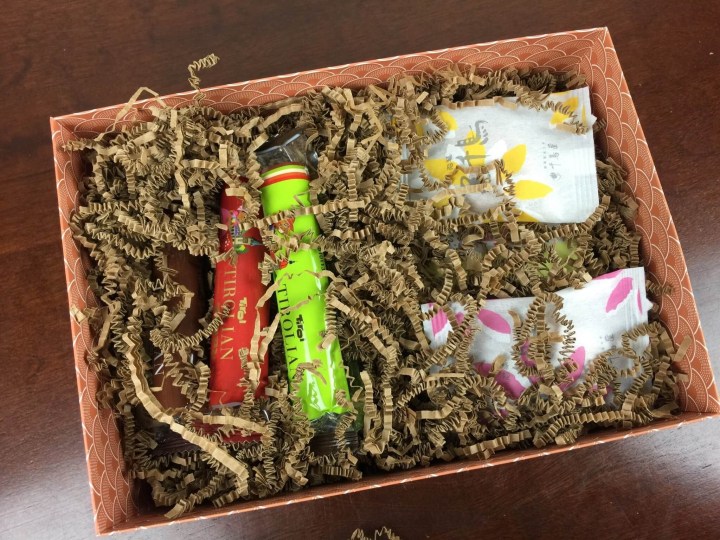 Everything is safely packed in paper crinkles.  Most snacks are cakes, crackers, or wafers (inherently brittle items), but they always arrive in top condition.
Everything in the box.  Snakku feels more upscale than other Japanese snack boxes.  This month was focused was on a particular boutique shop, but the box always leans toward the more traditional, classic, and upmarket items.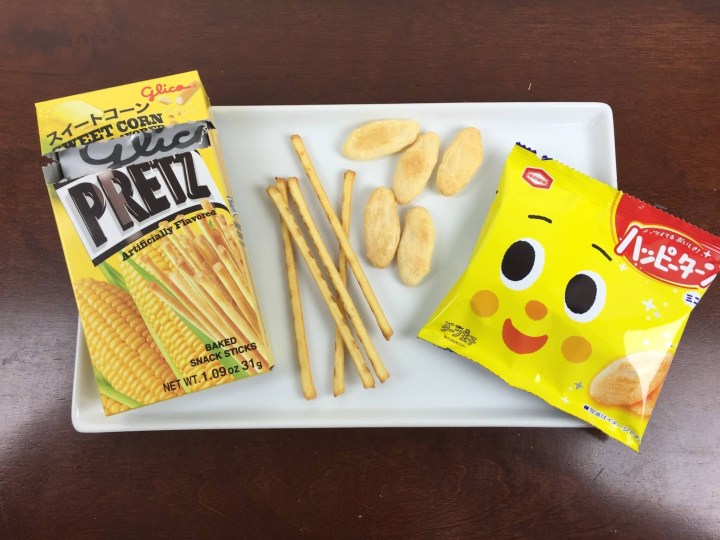 That being said, Snakku always includes some popular snacks along with its featured items.  These tend to have more modern and silly packaging.
Glico Pretz:  More like a pocky stick than a pretzel, despite the name, these have a flavor that taste exactly like Green Giant canned corn.  For some reason, Asian countries all seem to celebrate canned corn flavor as "sweet corn," a far cry from the fresh sweet corn seasonally available throughout the temperate U.S.
Kameda Happy Turn:  Salty-sweet corn puffs in oblong and heart shapes.  Very crunchy, these are a tasty, industrially-produced senbei.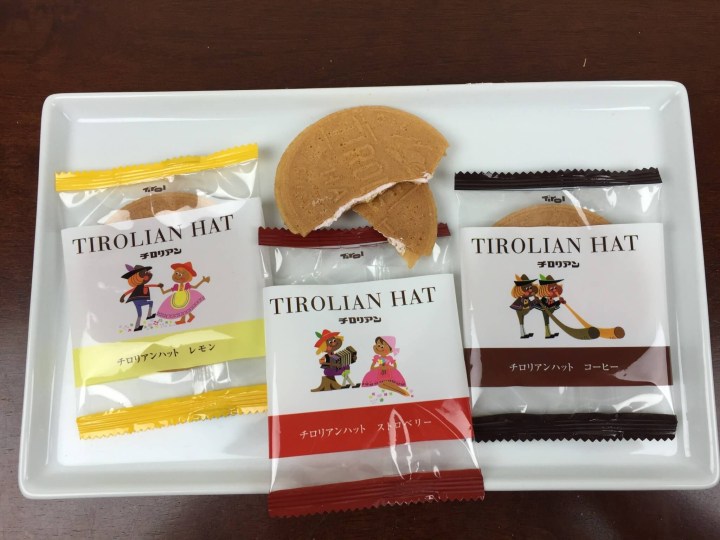 Tirolian Hat:  We received all three flavors made by Chidoriya — lemon, strawberry, and coffee.  The cream is very light and sweet, held between very crisp crepe dentelle-style wafers.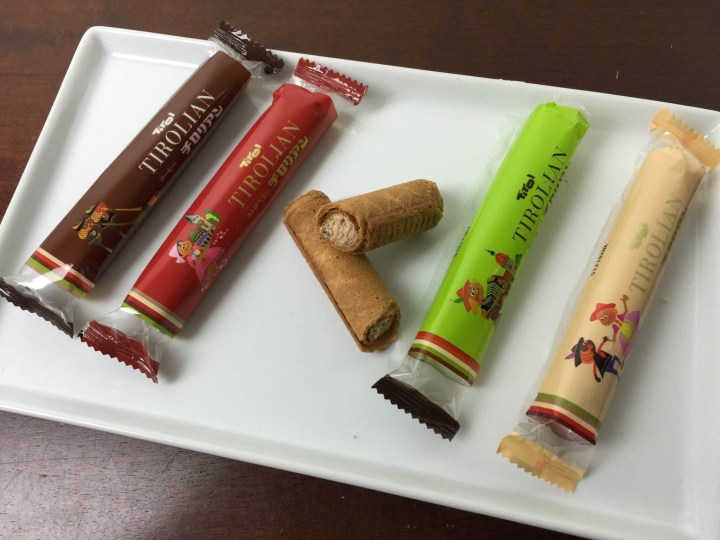 Tirolian Roll Cookies:  made using the original 1630 recipe, these crepe dentelle-style rolled butter wafers are filled with light and sweet creamy filling.  They come in chocolate, strawberry, coffee, and vanilla, each with a very delicate flavor.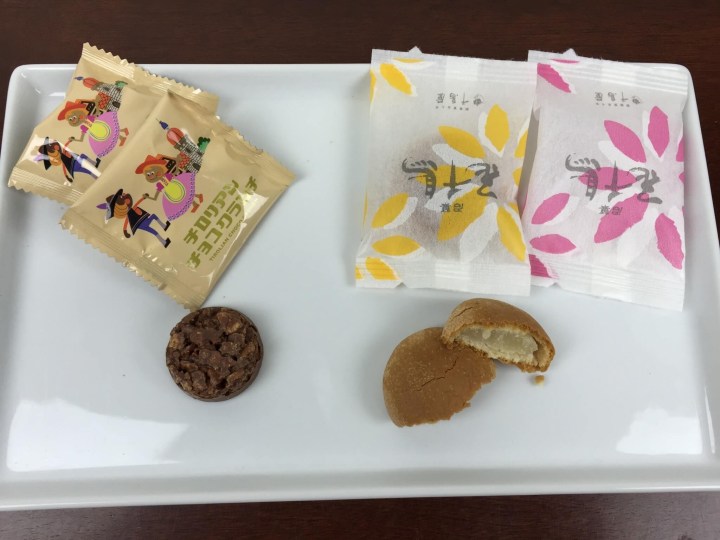 Tirolian Chococrunch:  A bit like a no-bake cookie filled with cereal crisps.  The have a nice gentle crunch and a good ratio of chocolate to cereal.  The info card notes that that they are made using a very lengthy double-baking process.
Hanachidori:  Super moist white cake surrounding very smooth bean paste.  It comes in regular white bean, and also a richer, egg yolk infused version.  The bean paste is so creamy and mild that it could easily be mistaken for a thickened custard or soft confection.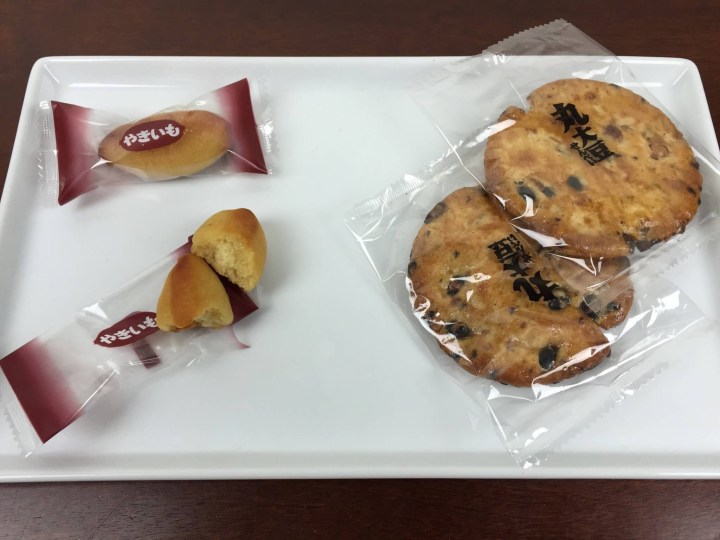 Yak Imo:  Made with Japanese sweet potato, these are incredibly tasty.  The vegetable content adds a rich background flavor that adds a fullness in much the same way vanilla is used to enhance Western baked goods.  The texture is really unique and delightful — the ultra-moist cake clings to your mouth as you eat it, with an ever-so–slight granular texture that is fun to taste.
Kuromame Senbei:  A traditional very crunchy sense studded with black beans.  The beans are no crunchier than the senbei, so they add burst of flavor without disturbing the crackly, then creamy, texture of the senbei.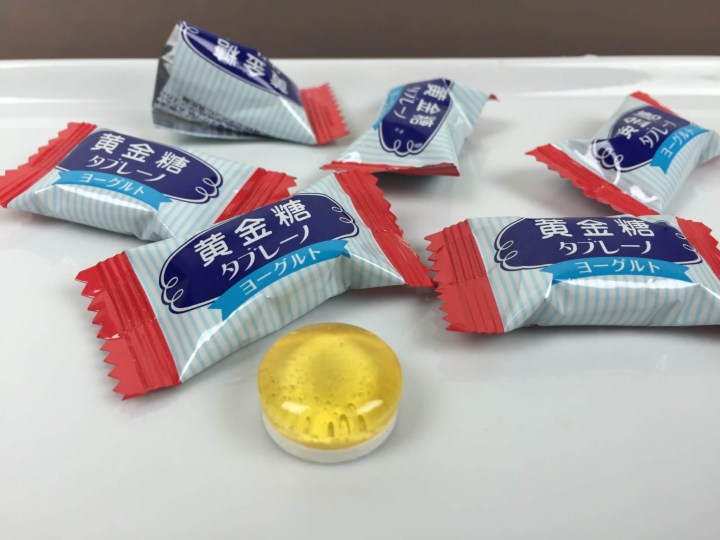 Lemon Yogurt Candy:  a brightly flavored translucent lemon candy paired with a creamy and slightly tangy disk.  A very elegant candy in both appearance and flavor.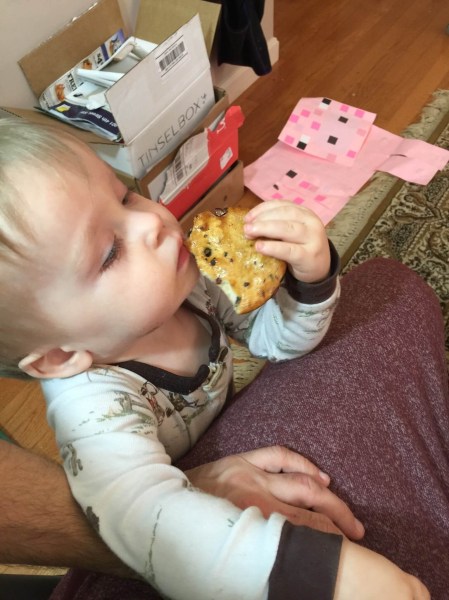 My son became a little obsessed with the senbei, deciding that it made an exemplary teething biscuit.
Snakku is a fun and impressive snack subscription for fans of Japanese food and culture.  Every box has a combination of featured traditional snacks — items that are often made for centuries-old recipes and are hard to acquire outside of Japan — and also popular snacks with more modern origins.  This box doesn't focus on pop culture-driven packaging, rarely including such items, even among the popular snacks selections.  Instead, the emphasis is on traditional, local, and artisan snacks with great history.  Many subscriptions offer a wonderful selection of popular and unique Japanese snacks, but Snakku has distinguished itself as a curator of the most elegant selection.
Visit Snakku to subscribe or find out more!
The Subscription
:
Snakku
The Description
: Get a collection of hand-picked snacks that you can only find in Japan, along with a selection of familiar & delicious Japanese snacks delivered every month
The Price: $38.95 per month
The Coupon: Use coupon code HELLO10 for 10% off!