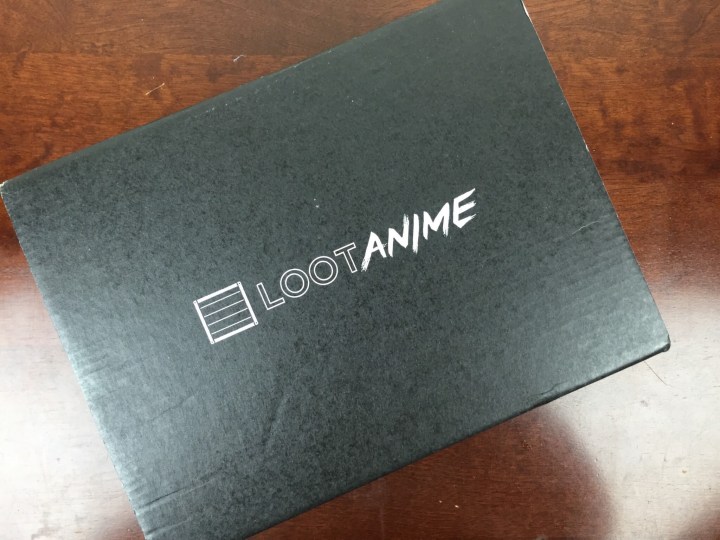 Loot Anime is a monthly subscription box from Loot Crate, just for Anime and Manga fans! Every month you'll get $60 worth of figures, collectibles, manga, apparel, accessories and more.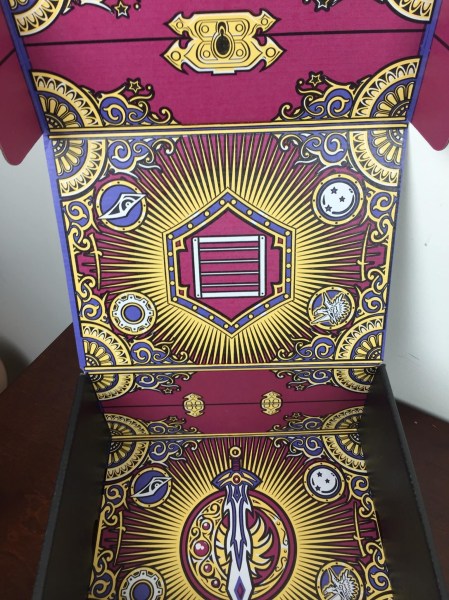 Aside from the eye-candy artwork that makes up so much of anime, other various elements help make the many worlds of Japanese animation exciting.   In this Loot Anime box, the various weaponry or special items used by iconic characters are focused on for the EQUIP theme.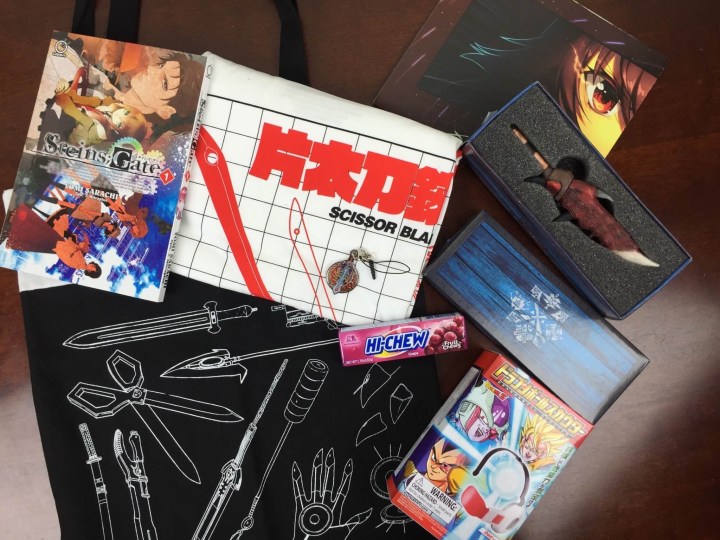 Everything in the  January 2016 EQUIP crate!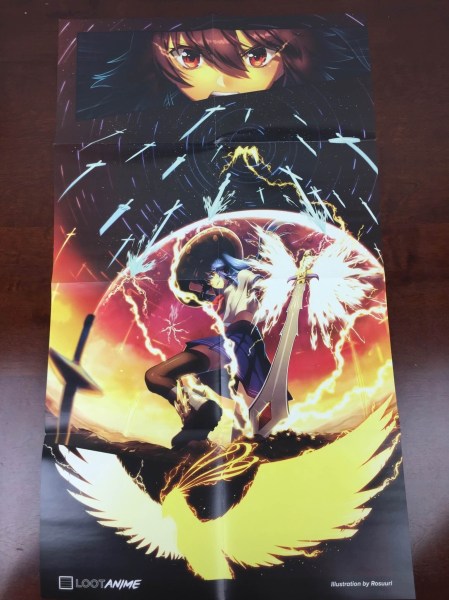 The colorful poster and item info sheet keeps up by featuring the beautiful work of freelance illustrator and comic artist, Rosuuri.  The artist is easily found on Facebook where more wonderful art is on display. 
The back of the poster is the information card.
Hi-Chew Candy Obviously, if you have a favored weapon or item, then likely you've put some effort into mastering it.  Be it physical or mental expenditure, you're going to need to fuel that purpose of yours and our first item in this month's box might just help you in that area.  Hi-Chew is an aptly-named Japanese candy that came about, interestingly enough, because of a cultural taboo.  Taking food out of your mouth once it's in there is considered impolite in Japan, so Hi-Chew's creator, Taichiro Morinaga decided to make a chewing gum that could be safely swallowed instead of removed. 
Though its beginnings are with gum, today's Hi-Chew is most definitely a candy.  Each small rectangular piece has a white exterior and a core that is colored depending on the flavor (purple in this case for the grape flavor included in this box).  The packaging declares, "Stay active, eat Hi-Chew!" and whether the admonition is directed at an overall healthy lifestyle or the workout that your jaw will receive while consuming the candy is unclear.  Hi-Chew is soft, as advertised, but that doesn't mean that it's going to be consumed without some effort.  I would caution those with TMJ or other similar conditions to exercise some caution while consuming this as it will give your jaw muscles a working.  If you're worried about how this might affect you, then I recommend throwing a few pieces or even the pack into your pocket for a little bit before consuming so that it can warm up and become even softer. 
The grape flavor was pleasant, not overpowering at all, and the initial smell reminded me of the square grape-flavored bubble gum that I used to buy as a kid.  Though many unique flavors exist in the candy line, only around six are currently available in the United States; including: Grape, Strawberry, Mango, Banana, Cherry, and Green Apple.   Most of these variations are easily found in WalMart, Wegman's (on the East Coast), or also on Amazon.  Chew on!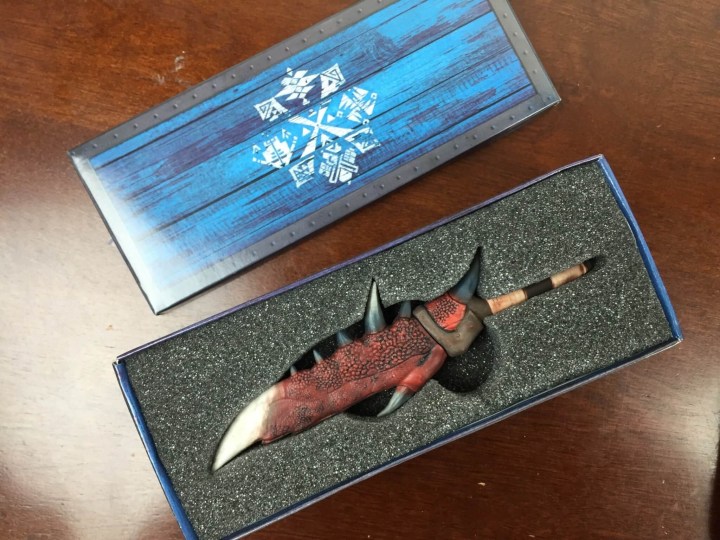 A true warrior is always prepared for whatever task befalls them- even that of writing.  Monster Hunter is an action fantasy role-playing game found on the Playstation 2 and 3, Wii and other consoles.  The player is a hunter of monsters and builds their character by crafting new weapons from collected items and even from the very hides of the monsters they dispatch.   The offering in this month's box represents this game well:  The Rathalos Sword pen is a ballpoint pen shaped like one of the swords of the game and looks as if a player has fashioned it out of some monstrous dragon (indeed, the Rathalos is a dragon-like monster in the game).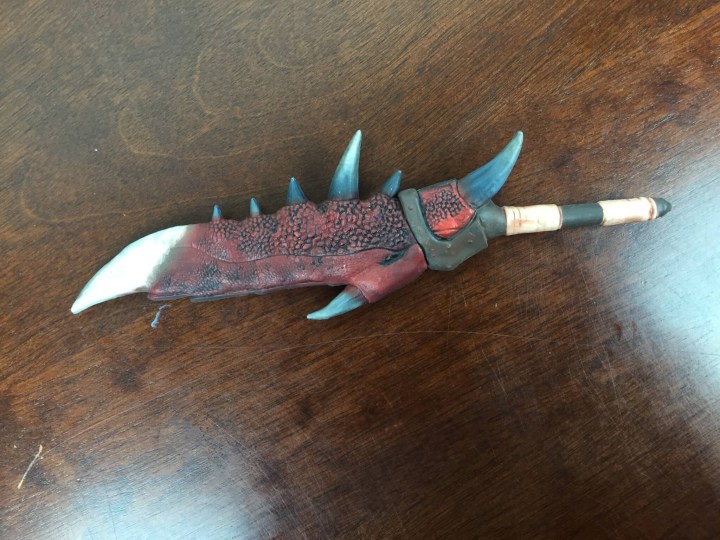 The 'scabbard' of the pen is in the shape of a huge claw, and while the poster shows a vibrant blue, mine was more of a gray.  The handle simply pulls out to expose the pen tip while the ink reservoir assumedly extends back into the handle.  The pen part itself is short, but not to the extent that it is unusable.  The ink is black and it pen functions well.  The entire assembly is extremely light in weight and I honestly had way too much fun just holding it.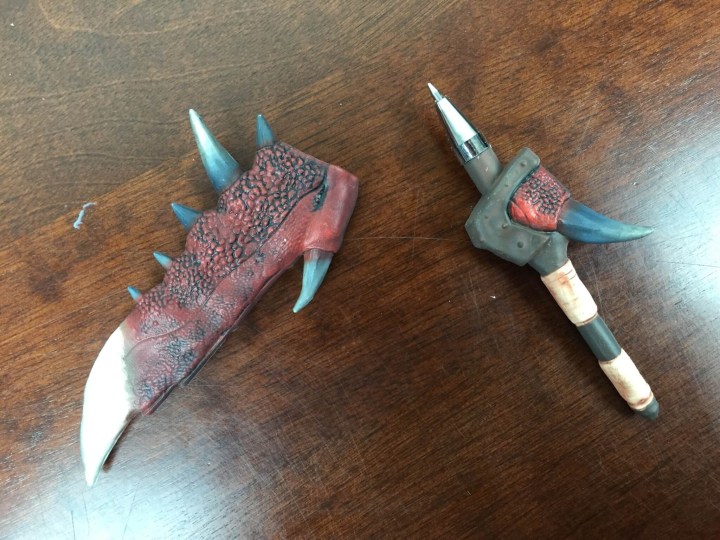 The item comes in a box that artfully resembles a wooden chest and is nestled in a foam liner.  A fun and unique addition to the Loot box to put otherworldly bravado into the hands of mere mortals!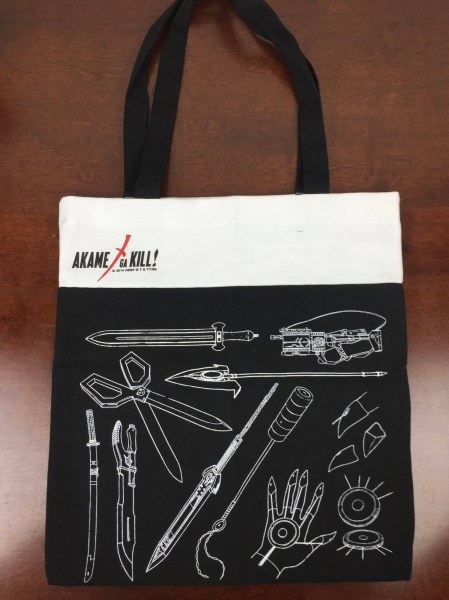 Akame Ga Kill Tote Bag (Loot Anime Exclusive!) Another necessity of being equipped is having the all-important space to store things.  Our favorite character may be able to make items disappear into their mysterious inventory or into a hidden pocket just inside of a tunic or cloak, however you and I must typically rely upon more visible means of item transportation.  Whether you need to carry the latest manga volume you just bought, lunch for the day, school goods, or anything else your adventuring mind might conjure, the Akame ga Kill! tote is anything but humble and will easily keep you ready for the day's tasks.   The bag is made of sturdy canvas and is a smaller yet respectable size. 
The front showcases some weapons from the story, including a huge pair of scissors used by one of the main characters, Akame.  The story itself is a dark fantasy known for its graphic content and centers on Tatsumi, a man who leaves his poverty-stricken village to find work in the capitol.  After some unfortunate events, he is recruited by an assassin group called Night Raid which is led by the female warrior, Akame.  The story, written by Takahiro and illustrated by Tetsuya Tashiro started as a manga (for sale on Amazon) which is on-going, and also an adaptation in anime which is completed. 
Dragonball Z Scouter ($10) The next item made my 1990's heart squeal.   A truly equippable item that should have made some cosplayers out there happy, the Dragon Ball Z Scouter was a nice, nostalgic addition in a world of modern anime.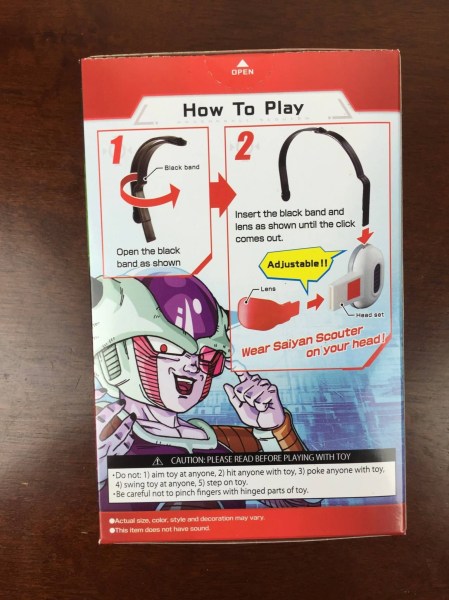 The sequel to the original Dragon Ball series, D.B. Z, is the story of the hunt to locate and assemble all of the mythical, scattered dragon balls in order to be granted a wish and all of the fights that occur in between. Used by characters in the Dragon Ball world to get a numerical reading of their opponent's power level, the Scouter is as iconic as is was necessary to the story line.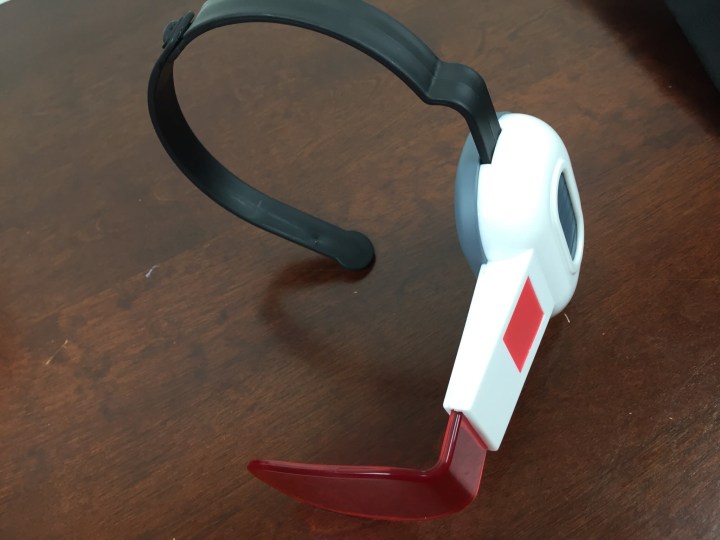 The colored screen that covered one eye would scan your opponent's power and convert it into a number so that you could see just how much of a beating you could expect to receive. You could end up with either a red or green version and the item itself is a simple, yet sturdy affair to assemble.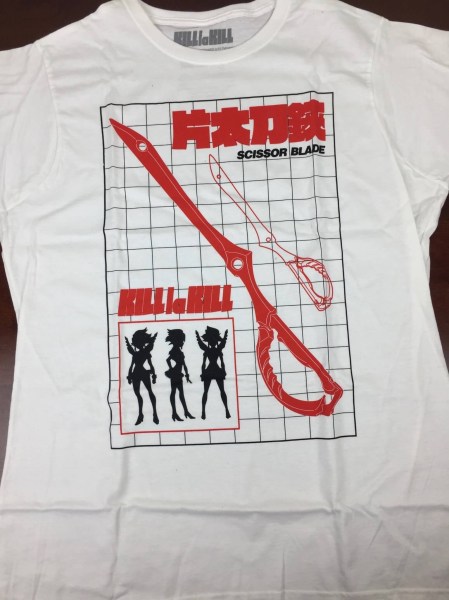 Kill La Kill T-Shirt (Loot Anime Exclusive!)   The shirt of this Loot Anime box is aptly based off of the hit anime, Kill la Kill.  Written by Kazuki Nakashima, the story of one girl's quest to find her father's killer is a unique one.  Ryuko Matoi transfers schools in a bid to hunt down clues relating to her father's murder.  The sword that she wields is actually half of a pair of scissors originally made by her father; the other half of the weapon being stolen by the one who killed him.  The scissors are unique in that they are able to destroy one of the basic articles of clothing in the storyline, Goku Uniforms.  The uniforms are made out of a substance called Life Fibers and the garment bestows its wearer with superhuman abilities.
The Kill la Kill shirt is good quality and sports Ryuko's scissor blade and a relief of her in the lower corner.  It should be noted that the women's sizes run pretty small- consider getting a size up, or just jumping into the men's sizes altogether.  While we can't guarantee that this shirt will give you any special powers, it will garner the attention and appreciation of other Kill la Kill fans while you're out on the town. 
EQUIP Phone Charm (Loot Anime Exclusive!) Another installment to the phone charm series in Loot Anime.  It again focuses on the theme of the box in a stylish sword design and can be used by either plugging into the headphone jack or using the small loop to go through any other hole on the phone.  If your phone doesn't happen to have a handy place for displaying this, the thin loop could be secured through your phone's case or displayed on a key ring.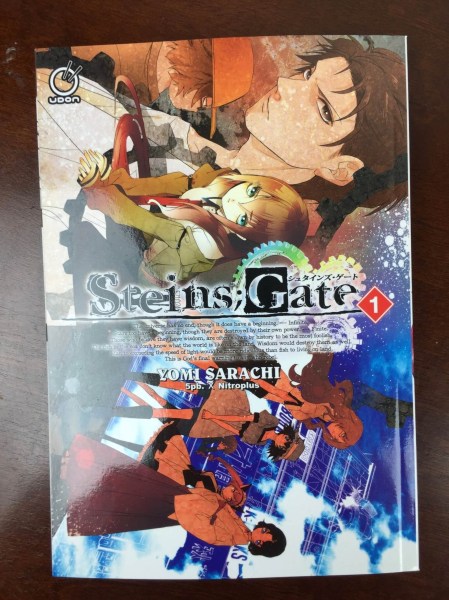 Steins;Gate Volume 1 ($10)  They say that the way to some people's heart is through their stomach.  Not this girl!  One of the best avenues to my heart is by way of a book; go a step further by making it a manga no less, and I'm a goner for sure!  The last item in this month's box is a volume one of the manga series, Steins;Gate.  Originally a Japanese visual novel (or interactive game; not to be confused with graphic novels) Steins;Gate the manga is based off of the game and tells the story of time travel and cause and effect as the main characters travel back and forth into time to try to change the future and prevent World War III.  The manga offering is a good introduction to the world of Steins;Gate and should you find yourself wanting more, its various formats are for sale on Amazon. 
Visit Loot Anime to subscribe or find out more!
Save 15% on any subscription plan when you use this link and coupon code HELLOSUBSCRIPTION15.The box cut-off is on the 27th – see Loot Anime spoilers here. Please note that this box has sold out every month – and some shirt sizes before others.
The Subscription
:
Loot Anime
The Description
: Loot Anime is a monthly mystery bundle of figures, collectibles, manga, apparel, accessories and more from some of your favorite anime and manga series with a new theme every month! $60+ value in every crate! From Loot Crate!
The Price
: $29.95 per month