I am always excited to see my Gwynnie Bee box in the mail. This time around I have four dresses to review, one of which I was really hoping to receive in time for a work trip – hooray for good timing!
Gwynnie Bee is a clothing rental subscription service. My body shape makes me a perfect candidate, as they specialize in sizes 10-32, and I am a 14-16.  When I started I added about 25 items to my closet (it's a lot like creating a Netflix queue back when DVD subscriptions were their main business model, except there is no specific order) and they sent me the first three that were available. They recently added a feature that lets you prioritize items, so I have some control over which items are more likely to show up. Then, when I return items they send more!
I really like that I have a lot of control – I pick the specific items that are in my closet.  I can go outside my comfort zone if I feel like it, or I can stay well within it. Overall, I put several items that would be a stretch for me in my closet, but also put plenty of items I think I will like so that any given shipment is likely to have something in it that I will wear.  
Karen Kane Cascade Print Wrap Dress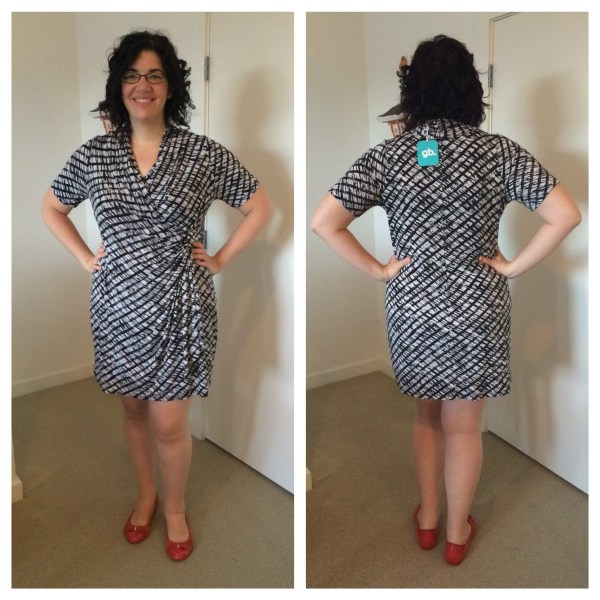 This is one of those dresses that needs to be on a person, not a hanger or laid flat, to really get the gist of it.  I liked how it looked on the model, and I was happy when it showed up this time around – it is just the type of thing I like to have with me on work trips.  It is a nice stretchy material, the print and cut are forgiving, and black and white are easy to pair with cardigans, boots, etc. from my closet. It was a smidge shorter than I prefer, but with tights and boots, it is fine. For reference, I am 5'10".  Be warned, the crossover on the front can be a very deep V, even though it sits closed and modest on me, do you might want a cami under this if you plan on leaning over.
This one ended up being a little larger on me than expected, but I think I know why… I have been working out a lot since I put things in my closet, so most everything in there is a 14W or a 16. Yesterday I got some new measurements from the gym, and even though I haven't lost weight, I have lost inches.  So, YAY for that, but oops – I need to go check the sizes of what is in my closet and possibly downsize a few things.  This is actually a great example of why I like Gwynnie Bee – I don't need to buy a whole closet of new clothes (yet – I do enjoy shopping….) while I am downsizing.
Taylor Dresses Fit and Flare Dress in Circle Print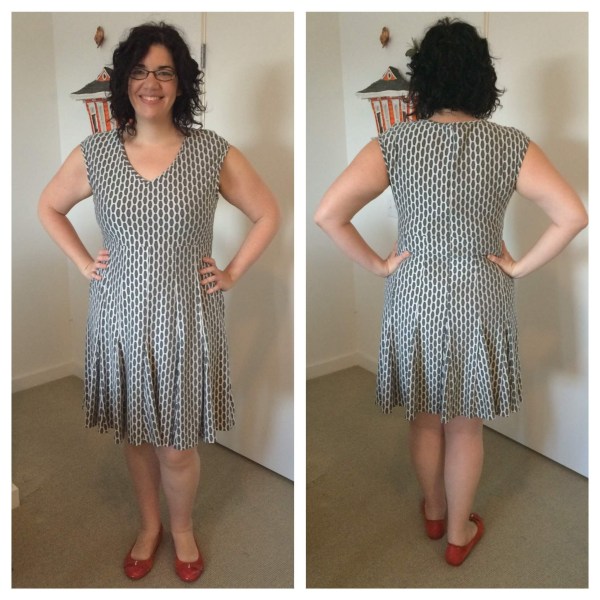 I looooove the fabric of this dress. It feels significant, but not too heavy. It's a nice charcoal grey, but doesn't read too dark.  It feels like it would make a good transition season piece for Spring or Fall. This is a 14W – for reference, I typically wear a 14 top and 16 bottom, so 14W's usually work, but can sometimes be cut a little too roomy for me.  This one felt pretty good. I like the cut of the strap/sleeve area (it isn't really a strap and it isn't really a sleeve…) and the print has a little of a zebra quality in that it moves around enough to distract from the lumps and bumps.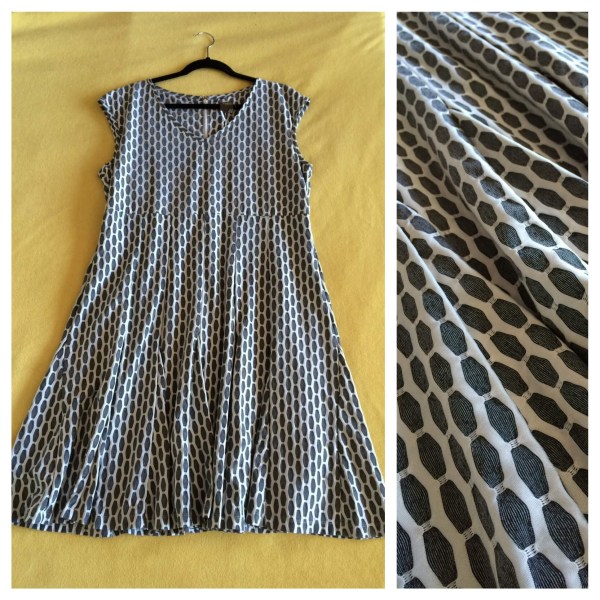 Jessica Howard twisted Fit and Flare Dress in Polka Dot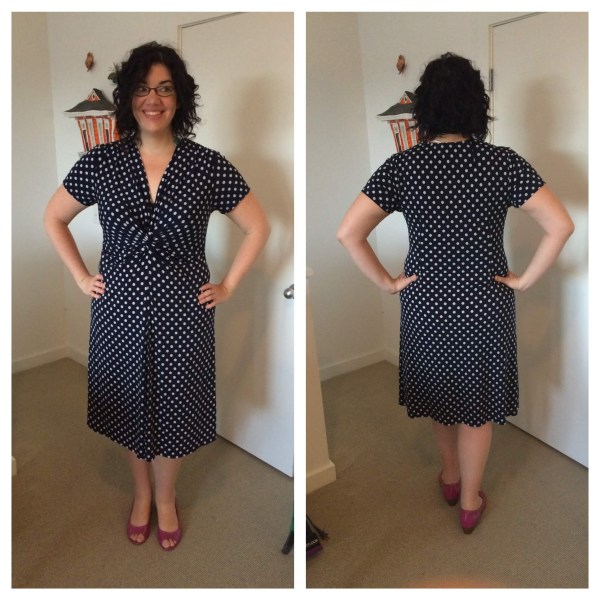 This one is actually a lot like a dress I have in my closet, but which is a bit snug, so I figured I would like it and already have stuff around that matches.  Polka dots are awesome, twisted cuts usually work for me, and Navy blue is one of my go-to colors for dresses.  I think this dress ended up being another casualty of the working out – it is a bit big. Again, it is a 14W, so it is probably that the cut of a W dress size is a little too big for me these days.  I wore it once and sent it back. I was going to re-closet it in a smaller size, but alas, 14W is as small as this one gets.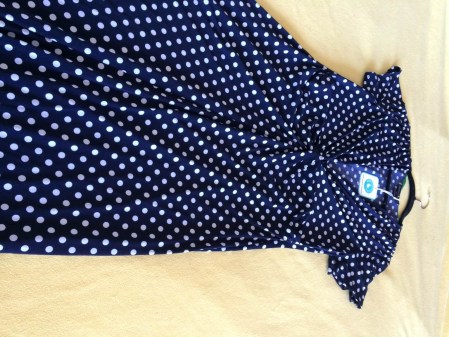 Anna Scholz Illusion Dress

This is the dress I was waiting for – I had it marked as a priority.  I love the color of the sleeves! It matches one of my favorite pairs of shoes for work trips (I have to walk around a lot, so big heels usually don't make the cut when I am packing). Alas, it did not do for me what it does for the model.  I think if I really filled it in, it would be flattering, but the side panels, just hung there too loosely. Sadly, it went back without being worn.  This goes to show that sometimes I have no idea what is going to look good on me, so the lack of commitment here is really good for me.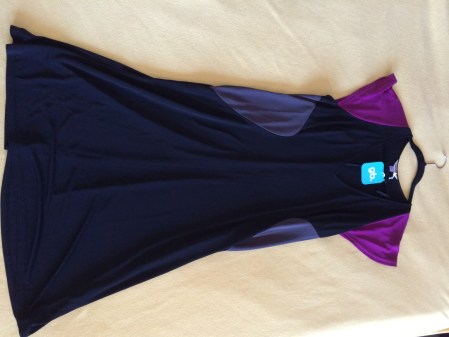 This batch of Gwynnie Bee came just in time for a work trip and had lots of good, packable options!  I am going to go check out the size of what's in my closet and take advantage of borrowing clothes while I keep losing weight (well, inches)!
Currently when you sign up for Gwynnie Bee you can get your first month for FREE, (no code needed, just use the link) which is an awesome way to just try it out and see if you love it.
Visit Gwynnie Bee to subscribe or find out more!
The Subscription
:
Gwynnie Bee
The Description
: Plus size clothing subscription rental service. Unlimited exchanges, free shipping & returns. Hot brands for curvy ladies sizes 10-32!Because this is a rental service, this is not quite a plus-size Stitch Fix. However, you can purchase the items you love, usually at a significant discount. We recommend trying it out for a month!
The Price
: $35.00 per month
The Coupon
: Currently when you
sign up for Gwynnie Bee you can get your first month for FREE
, (no coupon code needed!)
A couple things to remember (besides free laundry!):
you can mark your shipment as outgoing so your items ship out faster
you can purchase items that you love at huge discounts
use the community at Gwynnie Bee to help you select the best items for your body and the right size for that garment.
All the garments are inspected and I've never really had an issue with anything I've received in terms of condition.
 It's also worth a mention that the clothes are higher end clothes, so they all have better construction and fabric than what you might normally purchase for yourself.
The plans are as follows:

1 item/ $49 per month
2 items/ $69 per month
3 items/$95 per month
5 items/$139 per month
7 items/$179 per month
10 items/$199 per month