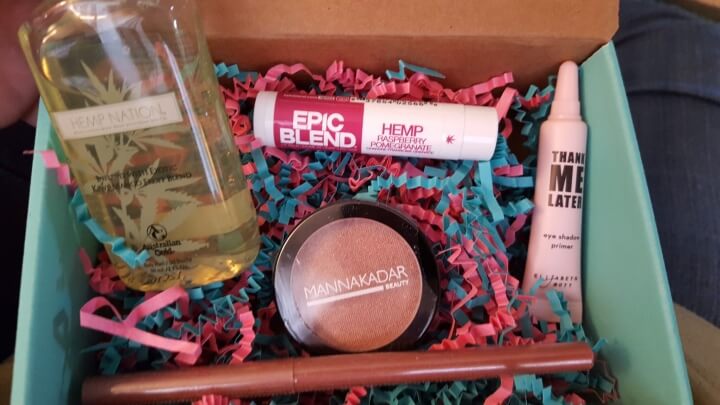 I was so excited to see I received two Beauty Boxes this week!! Yeah me!!! For those that truly know me, know I was not one for getting gussied up. I fought my mom tooth and nail about make up and hair.  But as I have gotten older and nature has taken over, the more make up and other beauty items the better.  This box is called Birthday Sweets as this box is celebrating  Beauty Box 5's birthday.
Beauty Box 5 is a monthly beauty box with 4-5 deluxe beauty samples (sometimes full size) in every box.  You'll get makeup, nail polish and accessories, haircare, skincare, and more.
The information card gives the details on each product, the retail value, and whether or not the item is full-size. 4 out 5 items in this box were full size items. I received Manna Kadar Beauty 3 in 1 Shadow, Highlight & blush, Elizabeth Mott Thank Me Later Eyeshadow Primer, Starlooks Custom Lip Liner, Epic Blend Lip Balm, and Hemp Nation Kiwi- Mango Body Wash.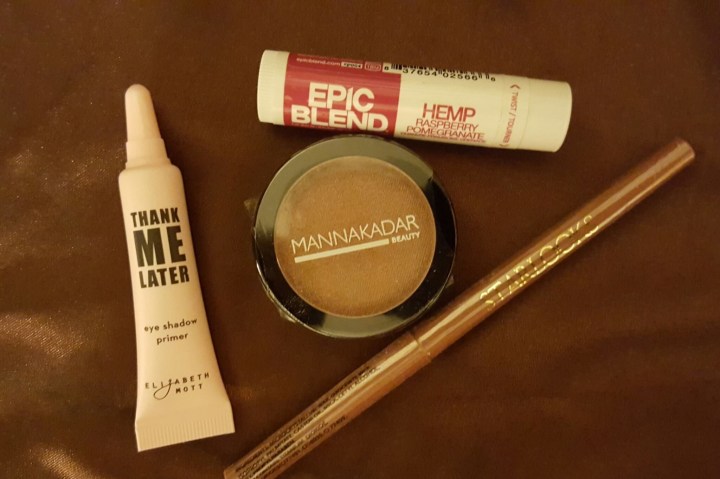 So needless to say it did not take me long to try these items out. The Manna Kadar Beauty 3in1 Shadow, Highlight & Blush came in a rose gold pigment called Fantasy. It was so cool to have this item. Not having to choose the right blush to go with the eye shadow was nice. It is a good winter color for those who follow that. This full size sample cost $19.
To help out with my new 3in1 is the Elizabeth Mott Thank Me Later Eye Shadow Primer. This is used before the eyes shadow is applied to keep the shadow from creasing. Before this, I never knew of such a thing. It works and makes the shadow easier to apply. This was a sample item. The full item retails for $20.
The Starlooks Custom Lip liner that was in the box came in a Sultry Sangria. You can use this as a liner or as a full color. I did both and was not disappointed. It was easy to apply and it came in retractable pencil.  This full size item retails for $16.
The Epic Blend Premium Lip Balm came in a raspberry and pomegranate flavor. Loved this. The scent and flavor were not overwhelming. This full size product is retailed at $3.49.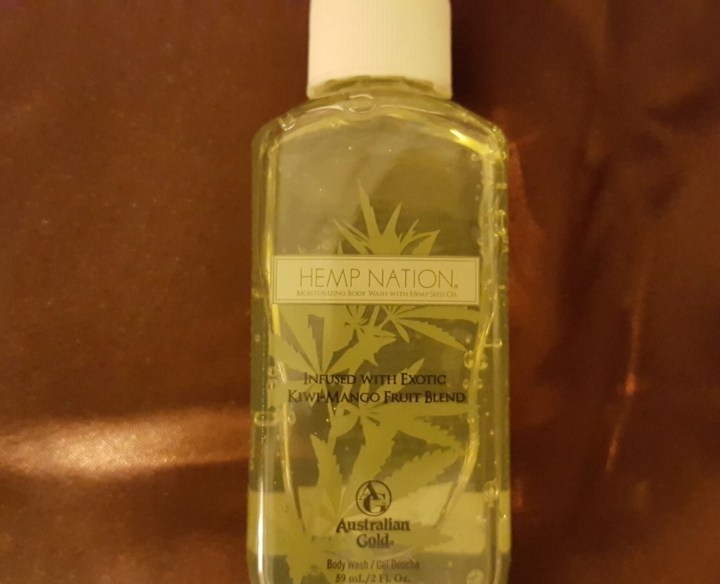 The last item in this box was the Hemp Nation Kiwi – Mango Body Wash by Australian Gold. This was a full size sample retailing at $7.99 but with an actual value of $2.50. It can be added to your loofa or into your bath water. I admit I am not a fan of either kiwi or mango but the scent in this product is light. Of course it does a good job of lathering and washing.
So this box was a blast to open and sample and I received about $41 in products! What do you think of Beauty Box 5?
Visit Beauty Box 5 to subscribe or find out more!
The Subscription
:
Beauty Box 5
The Description
: Beauty Box Five is a beauty and makeup subscription box that delivers 4-5 samples to your door. Products are usually quite unique and different from other boxes
The Price
: $12.99 per month