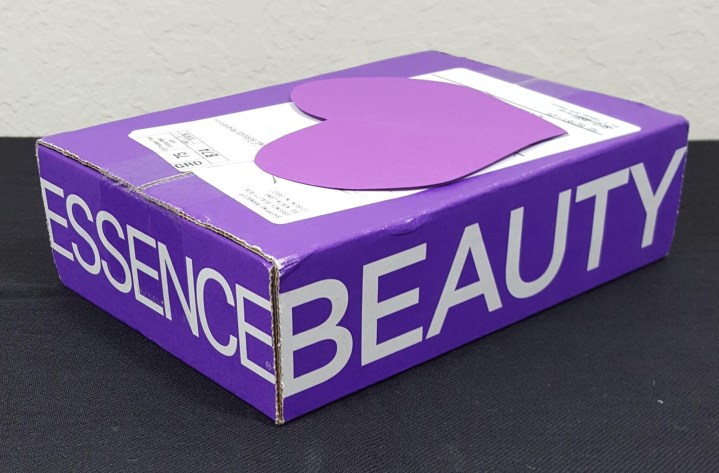 The Essence BeautyBox theme for February is Shine Like a Star.  Essence BeautyBoxes are curated by their trusted beauty experts and deliver 5 luxe samples to your door each month starting at $15 for a single box.  For recurring 6 or 12 month subscriptions, the price drops to $12.50 per box.  You'll have the opportunity to test some of the latest and most innovative products, as well as proven favorites.  Additionally, to honor and support beauty entrepreneurship in the Black community, Essence BeautyBox also strives to feature a product from a Black-owned business in each box.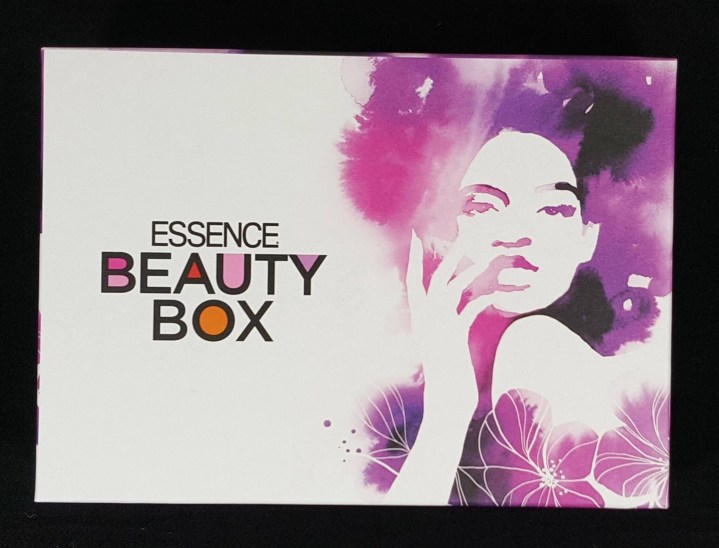 The vibrant colors of this box make me smile.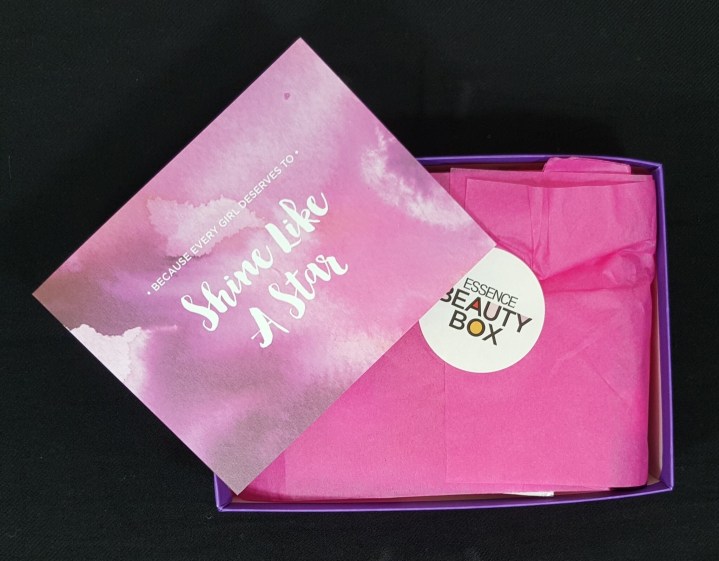 Love that everything is coordinated – box, info packet, and tissue.

The information packet contains a note from the Essence BeautyBox Team explaining the theme, as well as information on each item and the Essence beauty editors who chose it and why.
So what if we told you the paparazzi were outside your front door, waiting for you to walk a red carpet to your car.  Would you be ready?  No?  Good thing, because they're all out in Hollywood for awards season (whew!) but for a second you felt pretty special, right?  Why not feel that way every day?"  

"We often wait for special occasions to show off our beauty, but there are so many everyday opportunities to remind yourself how stunning you can be.  Whether it's a day of brunching with girlfriends, or date night with your special guy, our February box has the lashes, lipstick and luscious curls you need to be picture-perfect for any occasion!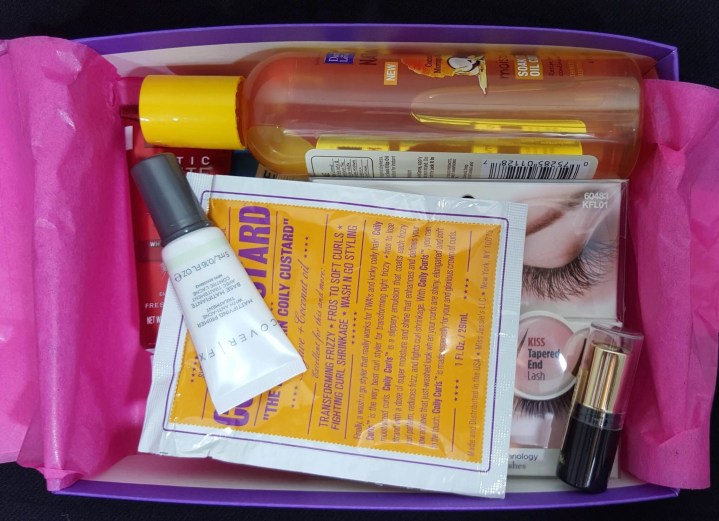 My first peek in!  Can't wait to get my shine on.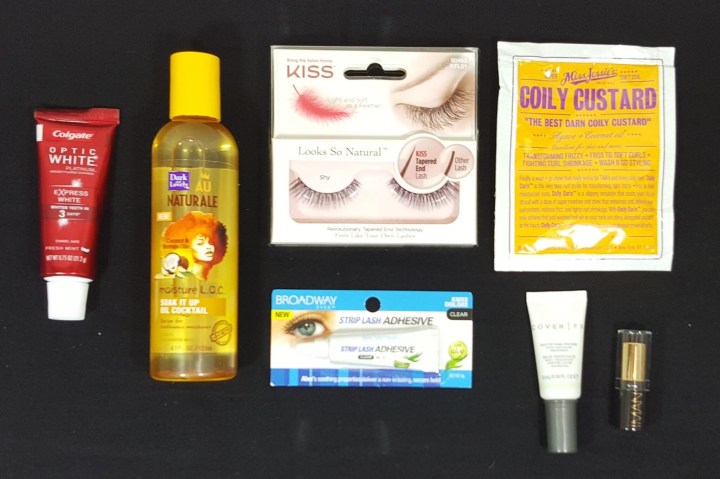 Everything in the box (except a couture gown and heels to complete my star transformation).
KISS Looks So Natural Lashes – Shy ($3.99):  These lashes feature Tapered End Technology to deliver real-like lashes that blend seamlessly with your own.  The look and length of these feel very natural.  Essence released several teasers online for these before the box shipped.  They also posted a quick tutorial on how to apply these.  However, to me, putting on lashes is an art form that I have yet to master.  Maybe I'll get some help from my personal glam squad (aka my sister).
Broadway Eyes Strip Lash Adhesive ($3.99):  And to make sure you can put on your lashes, Essence made sure to include adhesive.  This one features aloe to provide a soothing, yet secure, hold.  They really did think of everything.
Dark and Lovely Au Naturale moisture LOC Soak It Up Cocktail ($9.99):  This is the second step of the LOC layering method of moisturizing hair (liquid leave-in/oil/cream).  This rich oil should be applied to damp hair to provide curls with instant moisture and shine, without a greasy build up. It features coconut oil and moringa oil (said to fight dandruff and strengthen hair).  I love the fresh, sweet scent.  The beauty editor that chose this liked its versatility and uses it as a hot oil treatment and a pre-heat styling primer.  I used it on my day 2 blowout to tamp down some minor frizz and add shine.
Miss Jessie's Coily Custard ($2.00):  I have been a longtime fan of Miss Jessie's products (love me some Pillow Soft Curls), so I was happy to see the Coily Custard, even if it was only a deluxe sample packet. This is said to be excellent for transforming frizzy 'fros to soft curls, fighting curl shrinkage and wash-n-go styling.  I can't wait to see if this will be another Miss Jessie's win for me.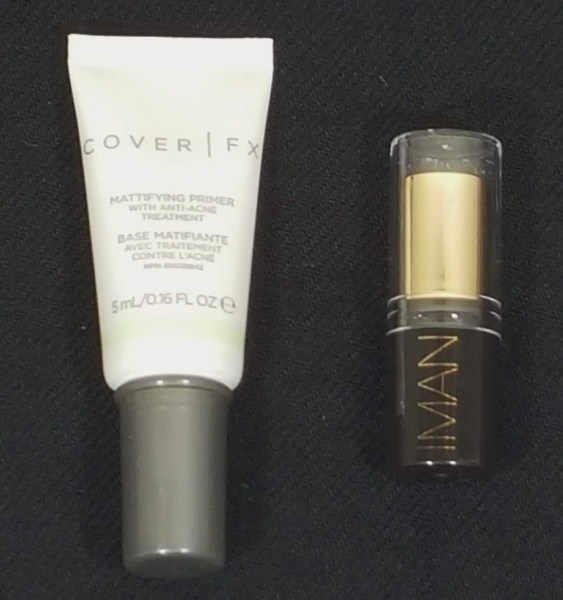 Cover FX Mattifying Primer with Anti-Acne Treatment ($5.33):  The 15 mL tube of this was $16, and I used that as an estimate for the value of this sample.  This primer contains 1% Willowbark Derived Salicylic Acid to prevent and heal blemishes while banishing pores and shine.  The primer is vegan and free of parabens, talc, mineral oil or gluten.  I generally don't wear foundation, so I used this under my powder and only needed to use a blotting paper on my nose towards the end of my work day.  
The primer is a lightweight gel.
IMAN Luxury Moisturizing Lipstick – Taboo ($?):  A full-sized tube retails around $10, not sure what this is worth as the sample was labeled not for resale.  This is a semi-matte lipcolor with a long-lasting finish.  Taboo looks like a dark cosmic purple in the tube, but wears more of a deep berry.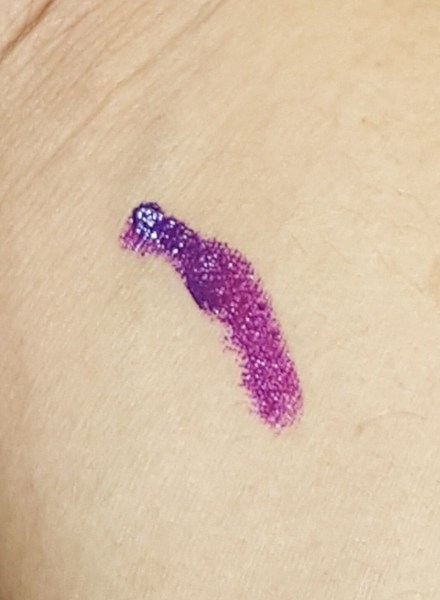 This is not a color I would normally wear, but I decided to be bold… And I LOVE IT!  Some subscribers received an IMAN Luxury Lip Shimmer instead of the lipstick.  Which did you get and what colors?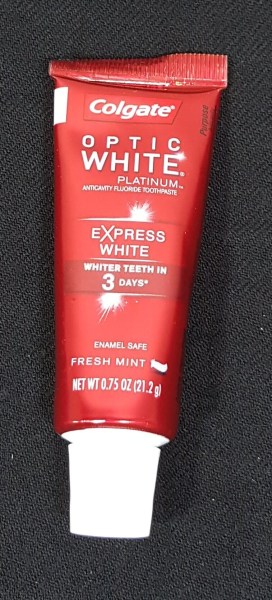 Colgate Optic White Platinum Toothpaste ($2.00):  This was a bonus gift!  Really, who doesn't mind a brighter smile… and in just 3 days?  Um, yes, please.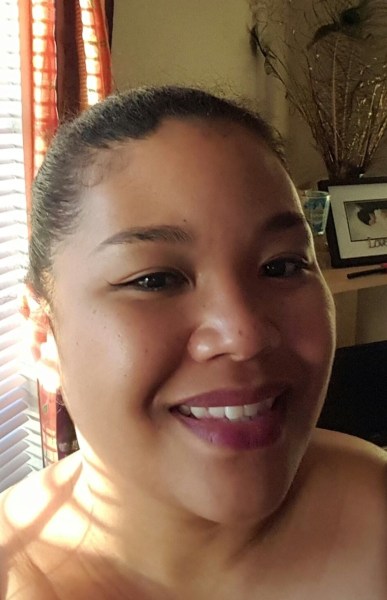 Ready for my close up.  Actually, this is 9 hours later, and the Color FX primer has held up.  My IMAN lipstick is a little worn, but you can see how long it has lasted.  I probably should have touched up before taking the selfie.
The Essence Beauty team did a good job of curating this box – it had close to a $30 value.  I like the variety of products and feel that I am able to pull them together to let my inner star shine.  Anybody else got Earth, Wind & Fire's Shining Star in their head now?
Visit Essence Beauty Box to subscribe or find out more!
The Subscription
:
Essence Beauty Box
The Description
: The ESSENCE BeautyBox celebrates your unique beauty and delivers coveted beauty finds directly to your door each month.Receive 5 luxe samples monthly, along with beauty info, tips and tricks from the ESSENCE experts.
The Price
: $15.00 per month