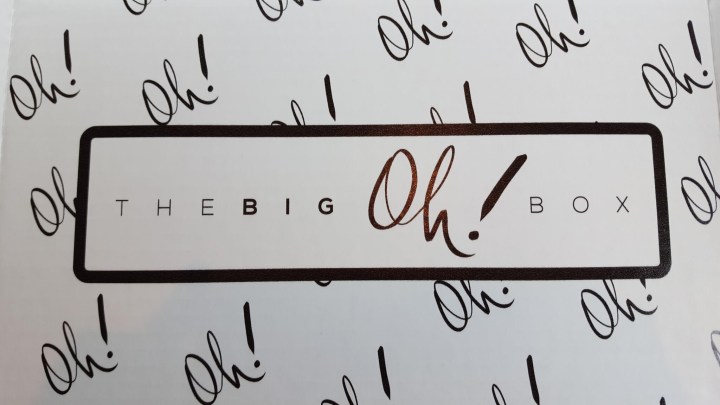 Big Oh! Box is a quarterly box of adult fun.  This came in a nice plain black box so not much to see on the outside but once you open it up you can tell what it is right away.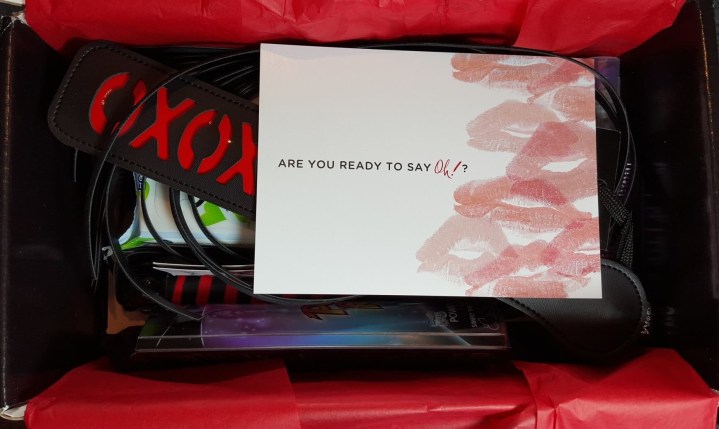 First look and I was impressed with everything I could see. It looked to be a very full box.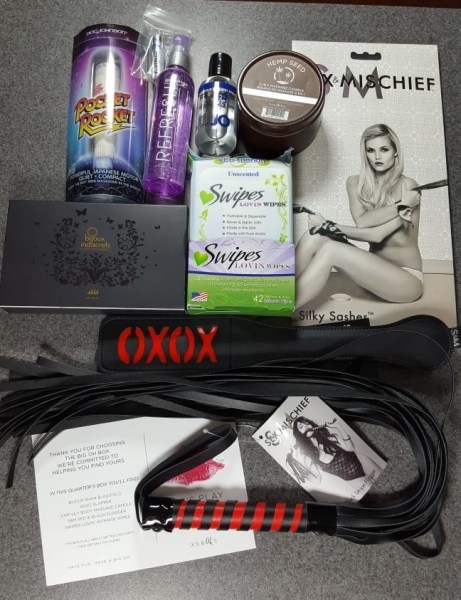 Everything in the box this quarter.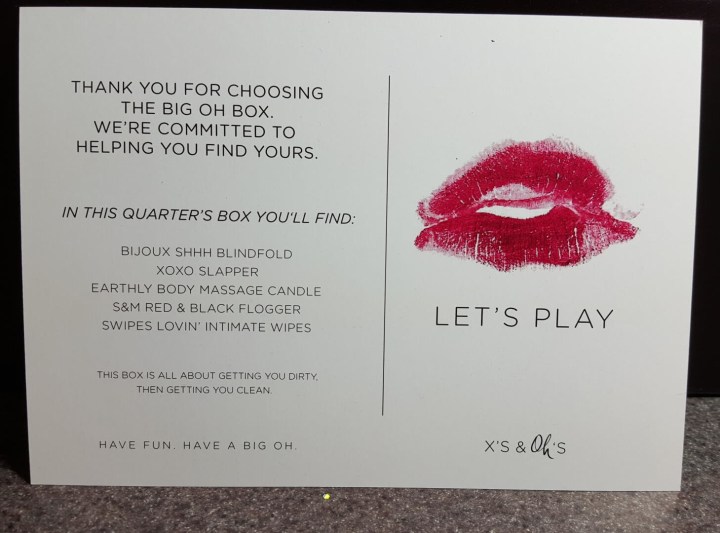 The box came with a short little card with a list of the contents in the box.  It says that this box is about getting you dirty, then getting you clean and I would agree with that statement.
Sex & Mischief Silky Sashes ($17.97) – These are 2 silk sashes that can be used for restraints.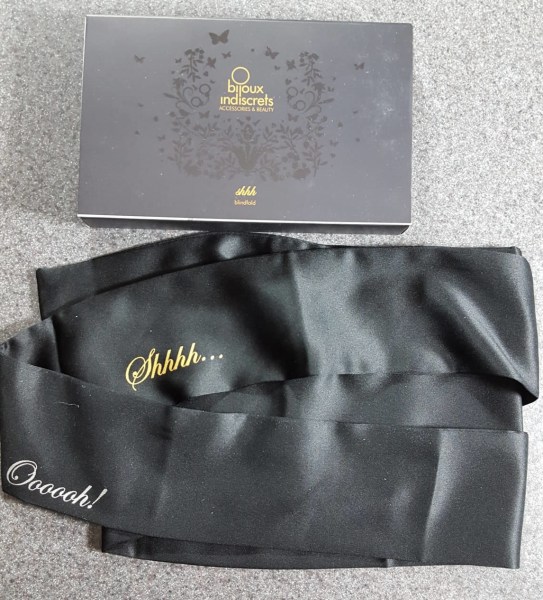 Bijoux Indiscrets Blindfold ($15.99) – A black satin blindfold that says Shh on one side and Oooooh on the other. I really like the writing on these and the little added touch. This is pretty long to so you will be able to wrap it around your head or use it for many other uses.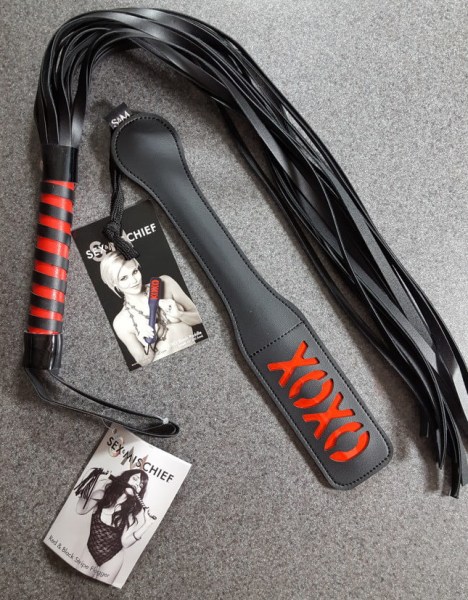 Sex & Mischief Red & Black Striped Flogger (12.89)- This is a faux leather flogger is 32″ with a great handle in red and black stripe just like the description says. It appears to be a really nice quality especially for the price. I was very surprised that is was so inexpensive.
Sex & Mischief XOXO Slapper ($11.09) – Oh my you have to see the info on the tag with this one. It pretty much makes it the toy of the box just by reading.
"I like signing my name with the addition of a few X'x and O's. Who doesn't enjoy playful hugs and kisses?  Lucky for me, with the help of my favorite paddles, I can also leave my signature mark on my lovers' receptive body. Of course it's not just about the "impression" my paddle leaves behind. The feel of the grip in the palm of my hand sends a thrill through my body.  The sound it makes when it contacts my willing partner and the sound they make while receiving my attention, makes me hot with desire.  The patterns the X's and O's form on the skin are erotic and become an ever-changing work of art to my eyes.  The connection and power I share with my lovers remain in my mind much longer than the hugs and kisses stay on the skin"
Pocket Rocket ($33.59) – This is the original mini massager which is small enough to fit into your pocket but stong enough to massage through the tight spots.  The Oh Box also include the required battery for this in a small bag which I thought was a great touch. By keeping the battery out you don't run the risk of your box making some interesting noises while being mailed.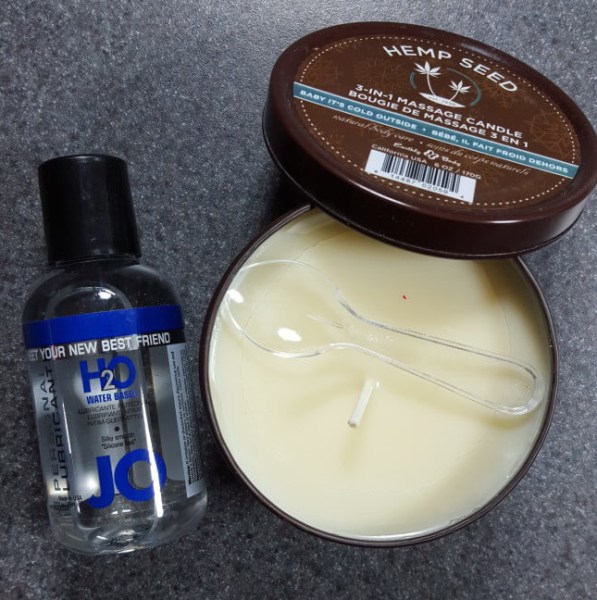 JO H2O Personal Lubricant ($9.34) –  A water based lubricant that feels silky smooth like silicone, is long lasting and never gets sticky or tacky, is latex safe and washes off easily.
Hemp Seed Massage Candle – Baby It's Cold Outside ($12.99) – This smells really good. Directions say to burn candle until partially liquid and then spoon or dump onto your hand. Then it can be used as a warm massage or as a daily moisturizer.  I can seeing using this as both it smells so great.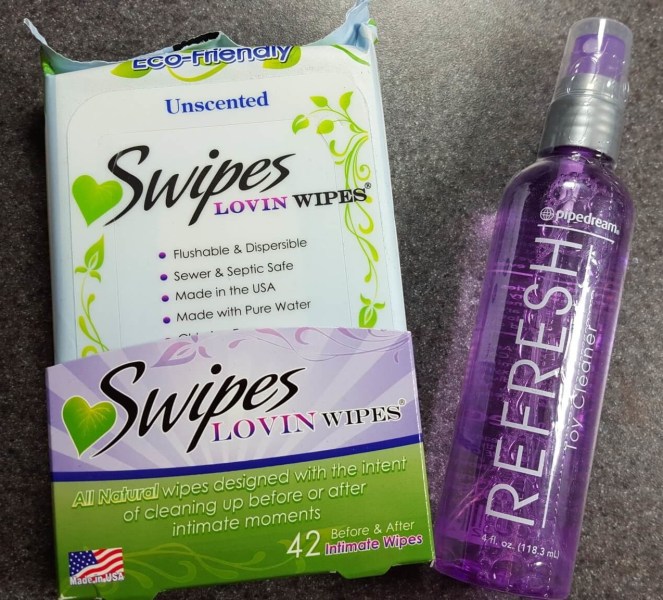 After the fun with the above toys and getting you dirty like the card says it is now time to get you clean.
Swipes Lovin Wipes ($6.98) – All natural wipes for use after your most intimate moments
Refresh Toy Cleaner ($5.59) – A spray on cleaner for keeping your favorite toys clean.
I really enjoyed opening up this box. It was very discreet on the outside and loads of fun on the inside. I felt like I kept pulling things our and smiling at them. They definitely had a theme to them and will make for some fun evenings.
Visit Big Oh! Box to subscribe or find out more! Save 20% on your first quarter with coupon code hello20
The Subscription
:
Big Oh! Box
The Description
: Every quarter you will receive a unique box of quality adult toys and accessories that will cater around a special theme for you and a partner to enjoy. Your sleek and discreet black box will contain an assortment of items that relate to a kinky theme or fetish to let you explore new ways to play. The items in each box will retail for a total of $110 or more and shipping is always free in the United States. From sensual play to BDSM and beyond, The Big Oh! Box will make you say Oh!
The Price
: $119.00 per quarter