Style Your Life Sprinkles is a monthly subscription box for tween and teen girls full of cute accessories and beauty items. You can pick between boho and girly style profiles. If you love Audrey Hepburn, Sparkle, Pink, Lipstick, Bows, and Kate Spade, pick the girly box. The bohemian box is for you if you like Urban Outfitters, Free People, Floppy Hats, and Coachella. We picked the boho profile, though the girls seem to change their look daily!
Note from Brandy: For some crazy reason I had this sent to me, took the pictures, and then realized it was in the wrong place!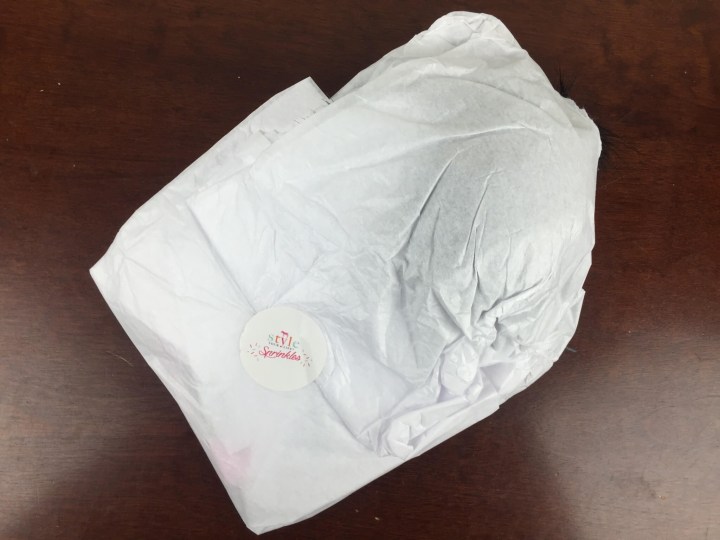 The contents were wrapped in tissue to protect them and preserve the surprise.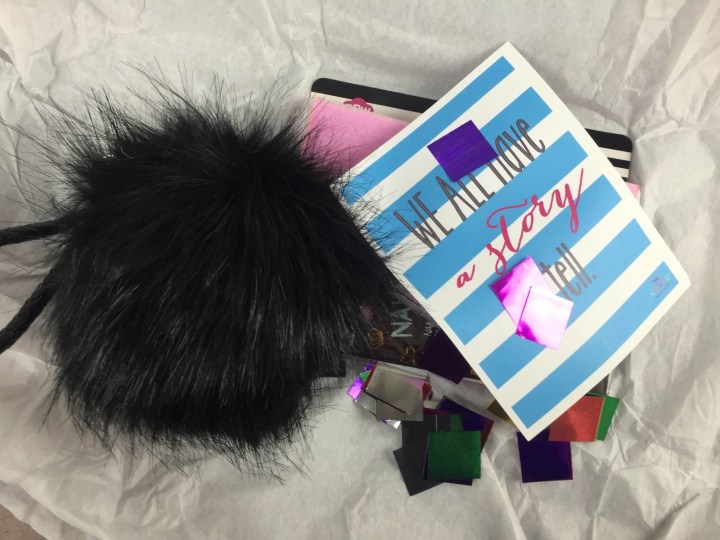 With tissue and confetti, the inside packaging is so cute!  My daughters (ages 11 and almost 14) shared this box – they both liked the theme "We all have a story to tell."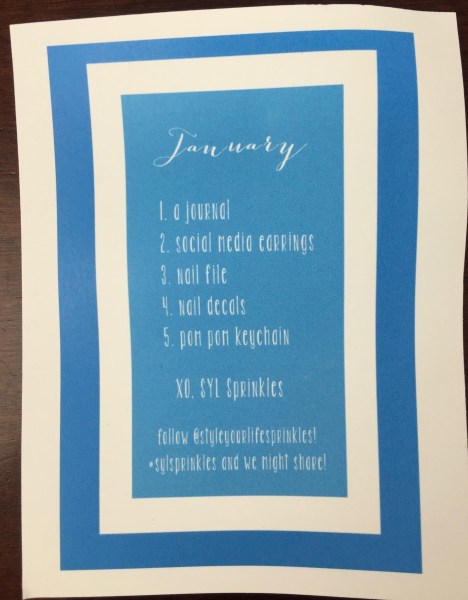 On the back of the theme card is a list of contents – but my girls didn't need any help figuring out what everything was.  They really enjoyed digging into the package and finding all of the goodies.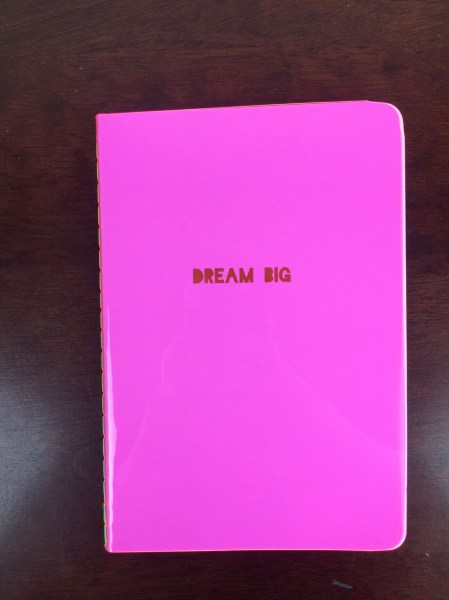 The first item was a journal…going with the theme that "we all have a story to tell."  It's hard to tell from this picture but it is NEON pink and super cute.  My older daughter snagged this item and said, that even though it was small, she loved the color and the "Dream Big" statement on the cover.  She loves to write and journal, so I know she'll have fun with this.
The next item was social media earrings.  My younger daughter grabbed these – she loves to mix and match earrings so these were right up her alley.  (Both of them had fun with the bubble wrap…what can you expect from teen/tween girls bored from too many snow days!)
Next came the pink mustache Mo' Nail File.  This was a big hit and they agreed to share it.  They love to do their nails and hey, who doesn't love mustaches?  There were a lot of laughs as they played with the mustache and held it up to their faces.  Despite the silliness, they will also definitely get some use out of this – plus it is fun.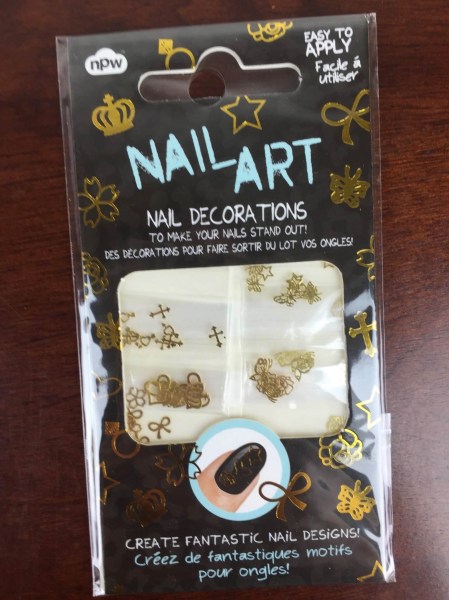 The Nail Art decorations came out next.  My younger daughter, whose fashion aesthetic is a little more zany, was super excited about these.  It didn't take long before she had applied a few of them to her neon pink nails.  She thought they were easy to use, but they didn't stick down quite as much as she had hoped.  That said, I thought they looked nice on her and added a bit of fun to her look.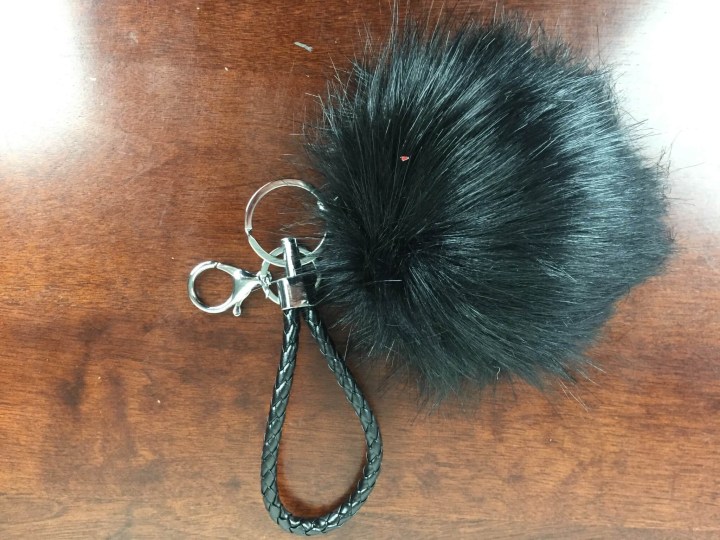 The last item was a pom pom key chain.  My older daughter wasn't interested, but my younger daughter loves, loves, loves key chains.  (I'm not sure how she even carries her backpack, as laden as it is with key chains.)  Unfortunately, the pom pom on this key chain is, in the words of my daughter, "strangely huge."  You can see its size in proportion to everything else in the box in the picture above.  It looked a little like a rabbit's foot, too – maybe going for the retro vibe.  My daughter tried to make it slightly less huge by cutting down the pompom, but still decided this wasn't going to be an addition to her backpack key chain collection.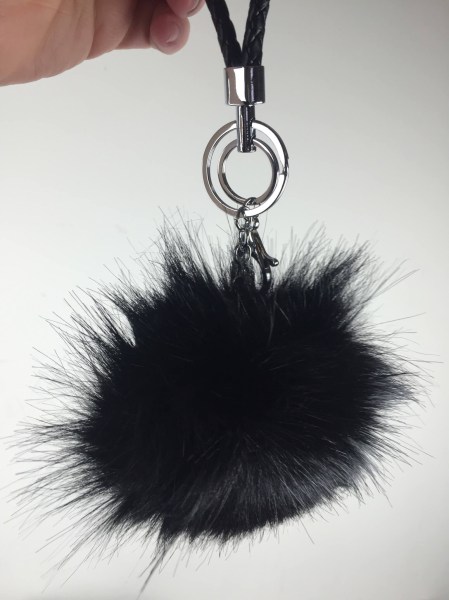 Other than the key chain, I would say this box was definitely a big hit with my teen/tween daughters.  The items were fun and funky, with the right mix of girly, to suit their different personalities.  And even the key chain, if it weren't so "strangely huge," would have been spot on with the younger one.  This is a great box for teen and tween girls.
Visit Style Your Life Sprinkles to subscribe or find out more! Save 25% on your first box with coupon code LOCAL
The Subscription
:
Style Your Life Sprinkles
The Description
: A monthly box of style for teen and tween gals each month your favorite gal will receive her Style Your Life "Sprinkles Box", which will contain unique jewelry, accessories and beauty items!
The Price
: $25.00 per month