Mac & Mia is a personal styling service for babies, toddlers, and little kids. It's similar to Stitch Fix in concept – a stylist sends you five pieces of clothing to try on at home, except with no styling fee. Shipping is free both ways. This isn't a subscription- you order each time you'd like a new box.
UPDATE: 3 days after I posted this review Mac & Mia sent out an email:
Mac & Mia will begin shipping via the U.S. Postal Service to make life just a little bit easier. Put your return envelope in a blue box, give it to your Postal Carrier or drop it at the nearest post office. So easy!

You've told us our stylists rock and we agree! To continue providing a personalized experience by a real live stylist who selects items specifically for your children, we are implementing a $20 styling fee. When your stylist begins packing your box, the credit card on file will be charged $20, which will be waived if you purchase two or more items. If you return your entire order, you will only be charged the $20 styling fee.

Love everything we sent? We love you too, so let's celebrate that perfect match with 15% off your entire order when you purchase a full box.
Summary:
$20 styling fee
refundable on purchase of 2+ items
15% discount for full box purchase
returns are now done via USPS (yay, it was a pain to get FedEx to pick up the return package).
Mac & Mia uses socially conscious criteria to select their brand partners: Crafted from natural materials, no toxic chemicals, manufactured under honest wages and safe working conditions, and made in the USA. All the clothing lines stand for environmental responsibility as well.
I signed up and sent notes to my stylist about my child's extremely large head, which causes issues when we shop for clothes for him, along with my style preferences.  I found that the level of interaction I had with my stylist pretty unusual – she sent me her Instagram and we had several emails back and forth. That was pretty neat!
The box arrived pretty quickly and I was eager to dig in.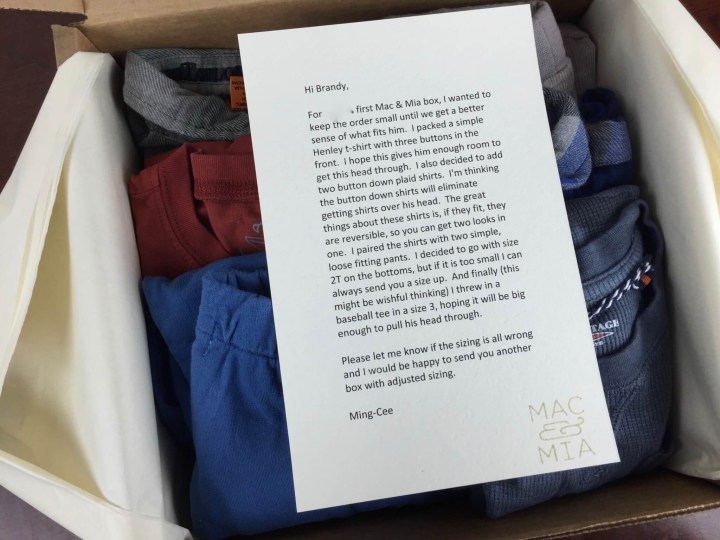 My stylist's note was responsive to the information I'd given her – especially about my child's noggin size and being a generally large child that is still shaped like a baby but outgrowing everything.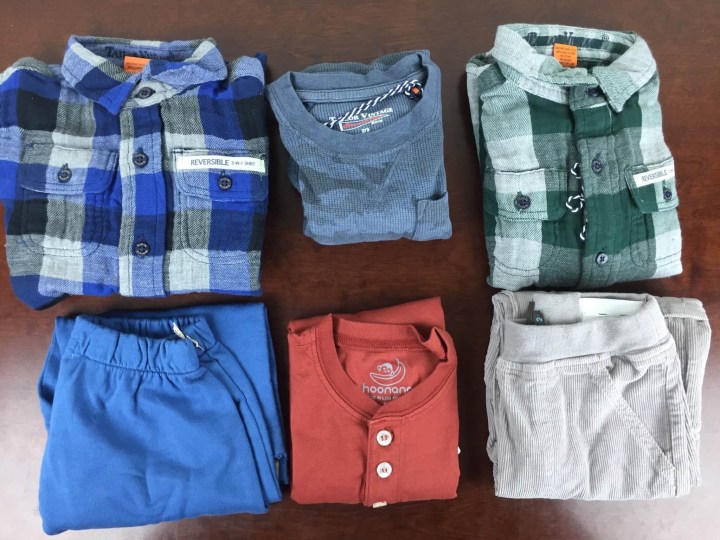 We received six items in my box. I was pretty surprised to see multiple colors of the same item (and half the items were from the same brand). When poking around on the Mac & Mia website at the sets of clothing they had previously styled, I realized that this wasn't unusual for them. You might expect the same thing to occur in your box. Since Mac & Mia had told me you receive 8-10 items in your box, I was surprised to find only 6, though it didn't bother me too much because there isn't any styling fee.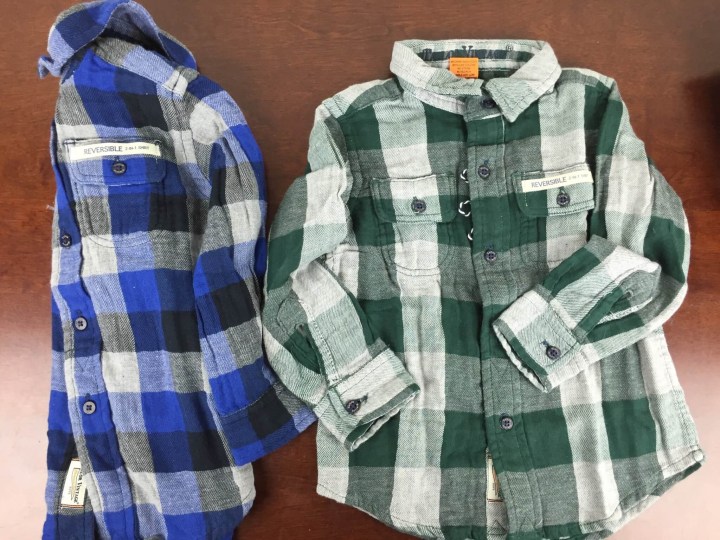 Tailor Vintage Reversible Plaid Button Down – For some reason one of these is $39 and one is $45. I am not sure which! These are a neat idea because you can turn them totally inside out for a new look – and they are super duper soft.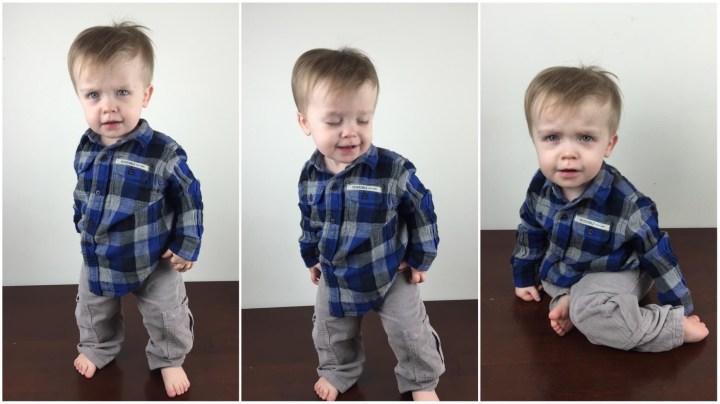 Baby F practiced some serious Blue Steel in this one.
Apparently Tailor Vintage makes boyswear and menswear. It would be cool to get matching shirts for all the boys.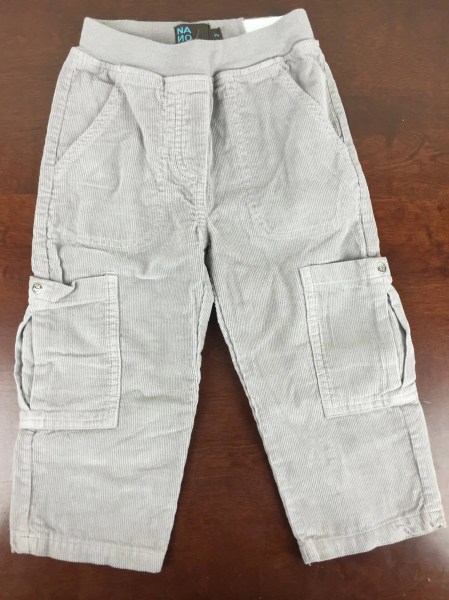 Nano Corduroy Pants ($34) I loved the pull-on style of these pants! As has happened with all my kids – they were a bit long but a smaller size would be too small. I liked how they coordinated with everything and easy to pull on and off. Nano designs its clothes to be comfortable but also to last.
Tailor Vintage Camo Waffle Baseball Tee ($39) Since this shirt was the same brand as the two above I was pretty surprised that it was so big, although often the non-structured shirts do run larger in all lines.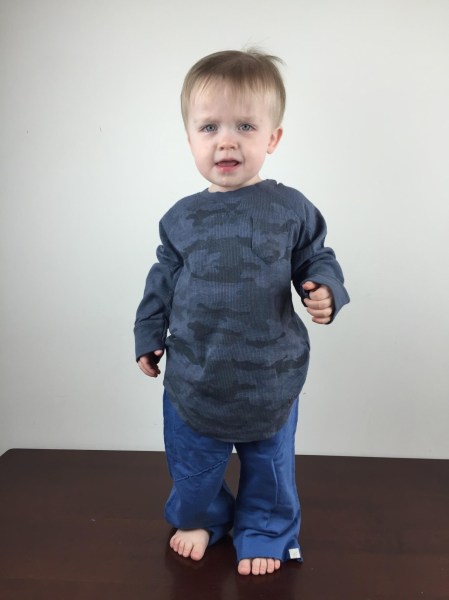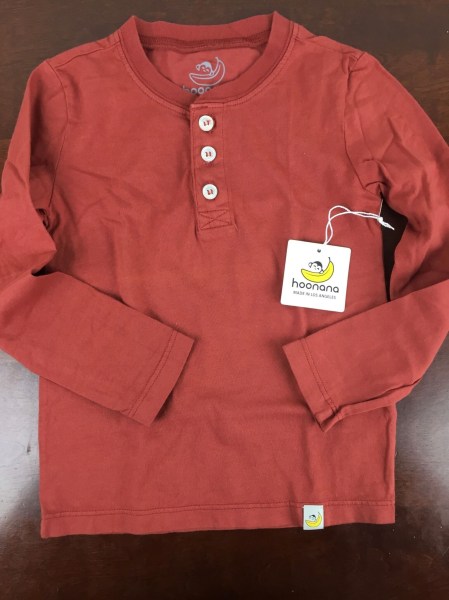 Hoonana Three Button Henley in Terracotta ($24) This fit well and was nice and soft. Once again I appreciated the attention to my particular style notes about head size. I don't know if I have ever heard of this brand before, which focuses on comfortable clothing exclusively for boys.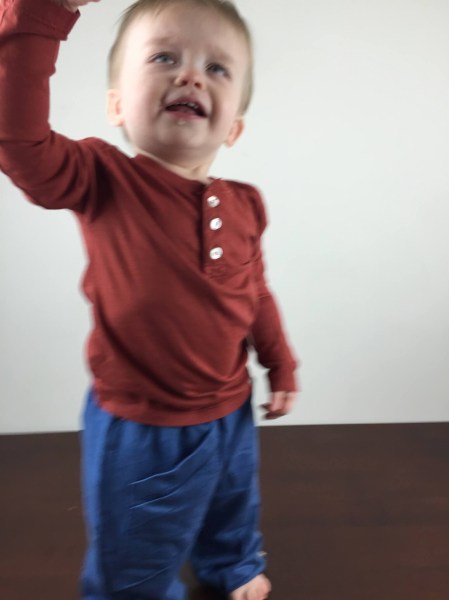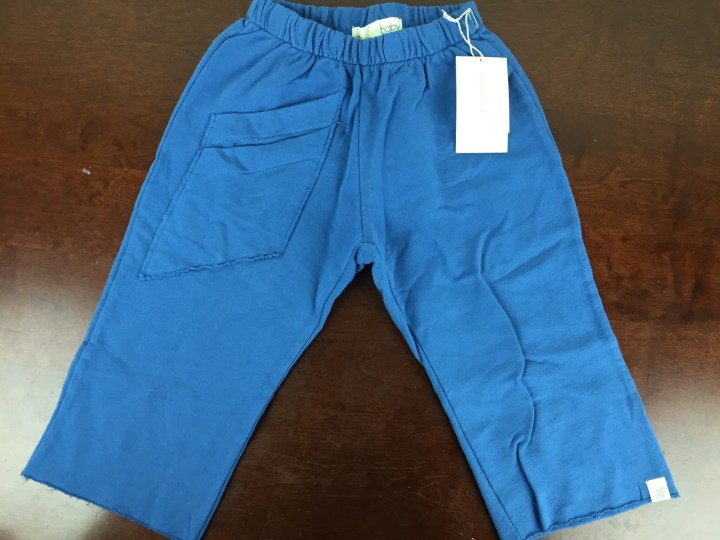 Go Gently Baby Blue Double Pocket Pants ($31) These were sort of comically large, especially given the style. Boutique baby and kids clothing is often larger than "regular" baby clothes. Go Gently isn't one of my favorite brands, and I think I'll make a note of that with Mac & Mia.
My stylist did a good job trying to respond to our admittedly unusual needs for baby F – which is that he has a head that's larger than an off-the-charts five year old's head! The clothes were a little plainer than I expected, I definitely prefer cute designs/screens on the shirts and I wasn't totally keen on receiving duplicates.  This box didn't have any items that I fell in love with or had to have, which was fine, because I wasn't worried about losing a styling fee. Now we also have a better sense of how our baby fits into the brands they send and I can order another box without any mall trips or even guessing at what I want to order!
Have you tried Mac & Mia or have difficulty finding clothes for your kids (or time to shop for them!)?
Visit Mac & Mia to subscribe or find out more!
The Subscription
:
Mac & Mia
The Description
: Mac & Mia is a curated children's clothing service with a social mission. Their personal stylists create unique looks for children aged 0-6 and ship them to you for free. You pay for only the items you wish to keep and can return the rest for no charge
The Price
: Free! per box