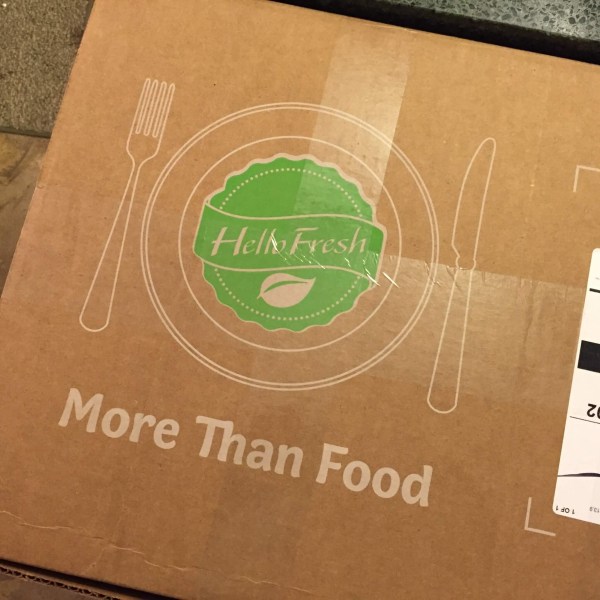 Hello Fresh is a meal kit subscription box where you'll get the recipes and ingredients to make 3 meals for two (or 4) every week. Hello Fresh is a subscription, but you can pause your deliveries whenever you'd like. They offer both vegetarian and regular (omnivore) boxes – this is the vegetarian box! We aren't vegetarian but we cook vegetarian meals three times a week for our health.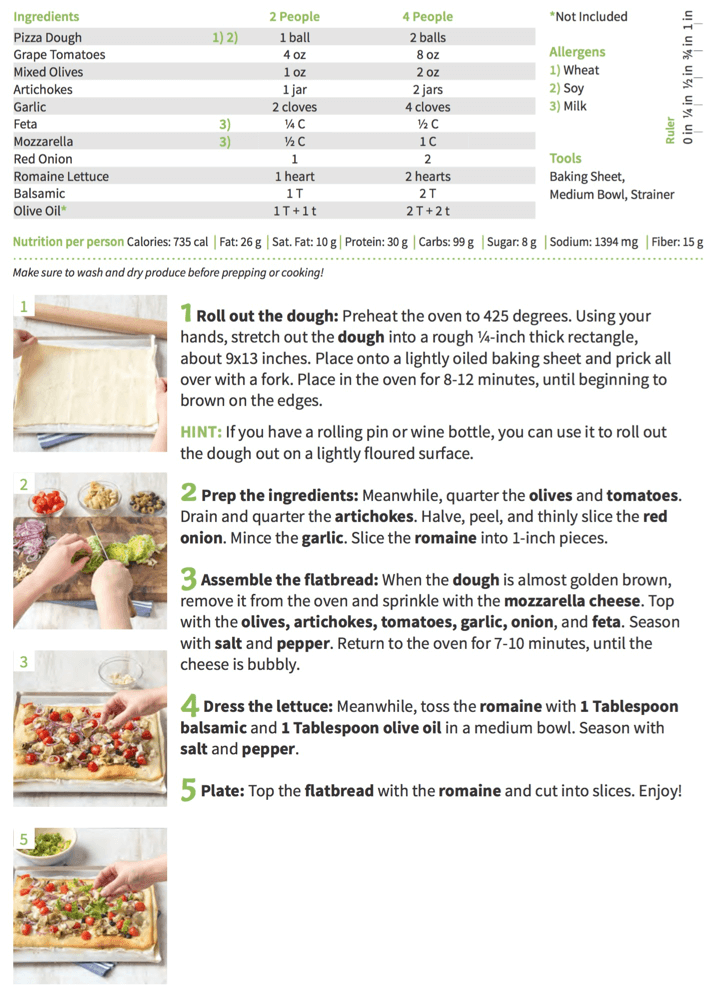 Hello Fresh instructions have very nice illustrations, are clearly written, and even lets you know nutrition info, prep time, and which recipes are best to make first. Even a novice cook can follow them.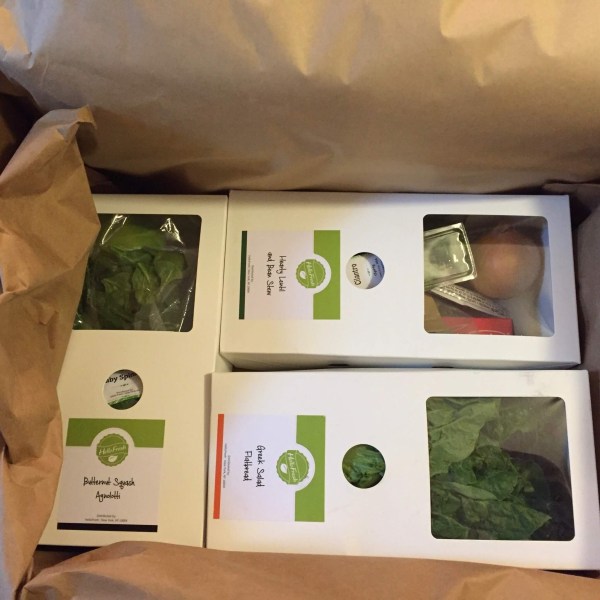 Hello Fresh usually sends all the sauces and seasonings in individual serving packets or in off-the-shelf brand name packaging; although it means a little more packaging, they survive shipping better than the plastic cups used by Plated. I like that the outer packaging of the box is recyclable and they use individual boxes to organize everything in your fridge.
Hearty Lentil and Bean Stew with Ginger, Cilantro, and Basmati Rice. 30 mins, level 1, 698 cal.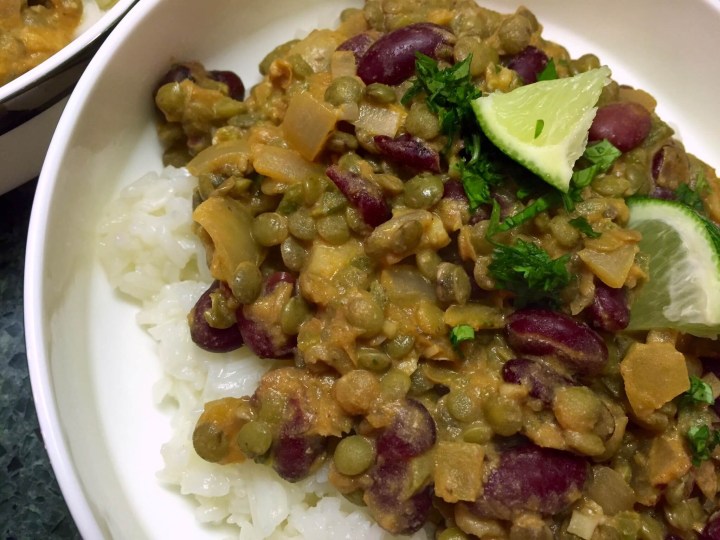 It was a cold, wet day for here in northwest Florida (don't be haters you northerners with snow!). Our temperatures were in the low 60's but it rained off and on, so it seemed cold to us.  So, we were looking forward to a good hot stew and we weren't disappointed.  This was a wonderful blend of spices, ginger, tomato paste, cilantro and lime.  I added in all the spices they sent including all of the jalapeño, so many wonderful flavors mixed together.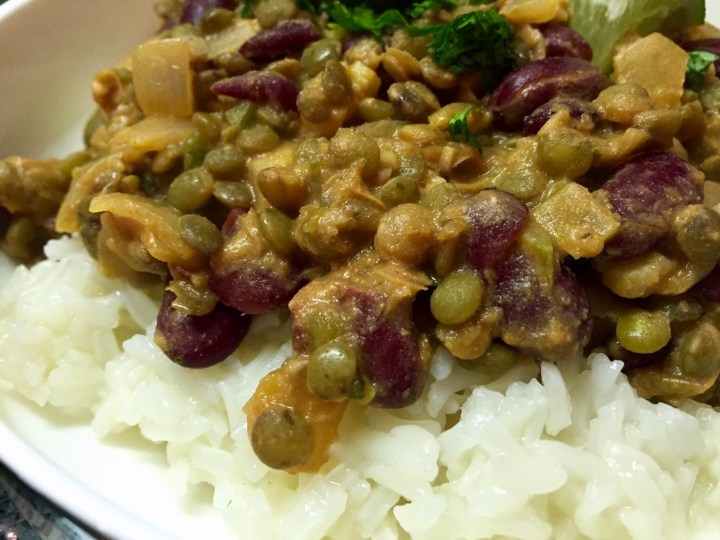 Our only comment, not really negative just critiquing, would be to have more liquid, maybe 1 cup of vegetable broth.  When we think of stew we think of it with more liquid and that's why I served this dish with spoons.
My husband said this was a keeper and we rated it a 9.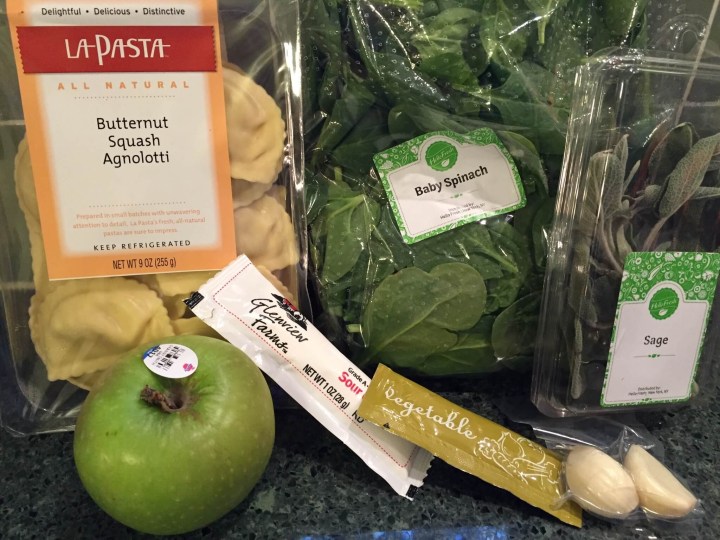 Butternut Squash Agnolotti with Apples, Spinach, and Sage-Brown Butter Sauce. 30 mins, level 1, 490 cal.
I case I haven't mentioned, my husband and I are certainly not gourmet chefs and continue to be astonished at how easy it is to add so much flavor with fresh herbs and spices rather than the dried ones I have on hand.  Hello Fresh's chefs know how to do this!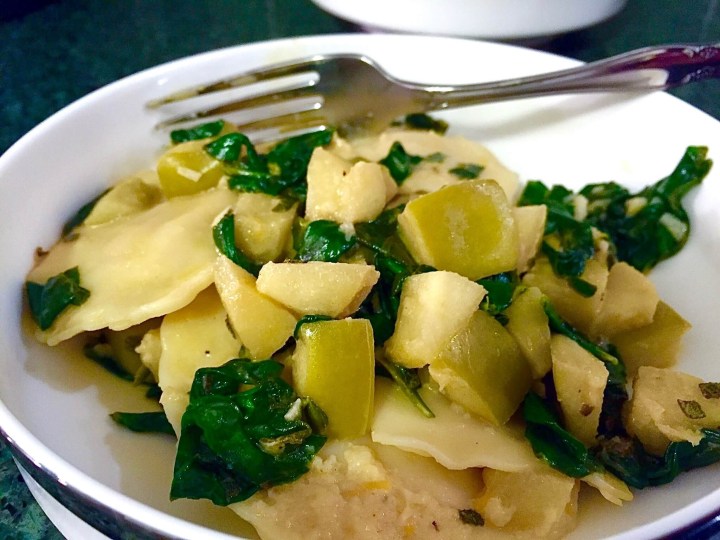 I've always been leery of cooking with fruit when making the main dish, I know it doesn't make sense but that's just the way I've been.  Well, let me tell you – I've been missing out.  This recipe with the Granny Smith apple was just wonderful.  We loved the sweet flavor the apple gave to this recipe.  I must admit, I did not peel the apple as the recipe called for.  
Cooking the agnolotti was new for me.  So let me tell you what I learned: use a soft boil, some of my agnolotti filling fell out.
Our compliments to the chef, this rated 9.5.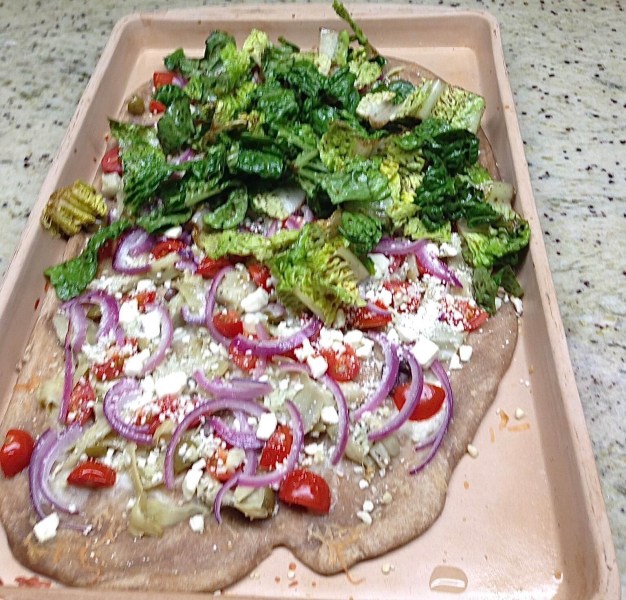 Greek Salad Flatbread with Olives, Artichokes, and Feta. 35 mins, level 2, 735 cal.

Although I'm writing this up I didn't get to eat this dish!  I'm going on a trip with my husband beginning tomorrow so I had to use this up and prior commitments meant I could make it but wouldn't be around to eat it.  Darn!
My parents and husband went to visit a elderly friend and her daughter.  My mom takes the food and the friend provides the wine.  When I received the box of meals this week I knew this would be a perfect dish for the friend's house.  Our elderly friend has trouble with arthritis so eating with utensils has become burdensome.  Greek Salad Flatbread solved this problem – she can eat it with her fingers and so could you for a fun casual meal.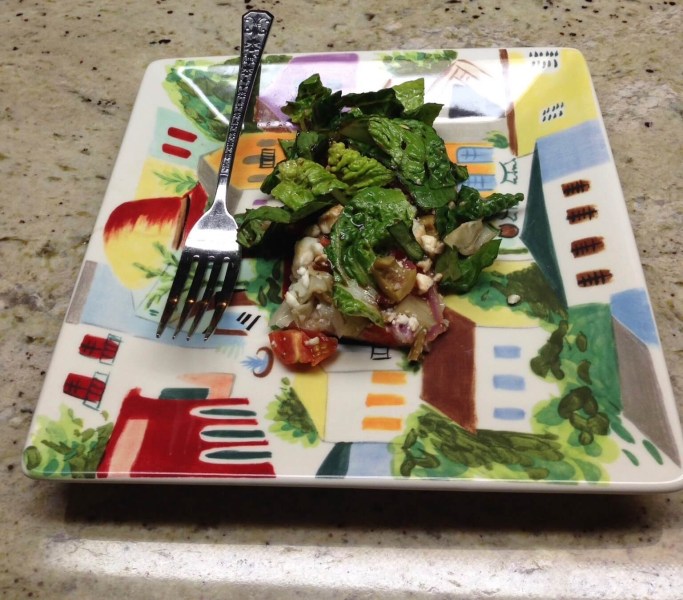 It was quite easy to make.  The hardest part, if you can call it hard, was rolling out the flatbread dough.  I loved the selection of items that topped the flatbread and would have loved to have just one little piece.  Comments on this recipe were:  tasty flatbread, good ingredients, healthy, and great vinegar (balsamic) taste.
The group rated this an 8.5.
[Note from Brandy: I think my 82 year old grandpa did a great job taking those last 2 photos! He's so cute!]
Visit Hello Fresh to select your box for next week!  Take $40 off your first box with coupon code 7UT7K8.
The Subscription
: 
Hello Fresh
The Description
: Each week Hello Fresh delivers beautifully photographed step-by-step recipe cards, with the exact fresh ingredients needed to create a selection of new recipes.
The Price
: $69 per week for 3 meals (59 vegetarian)