ALOHA is a nutritional enhancement company offering subscriptions on their unique supplements that help you maintain a healthy lifestyle. ALOHA products are vegan and free of gluten, wheat soy, dairy, soy, nuts and peanuts, GMOs and the Top 8 Allergens. ALOHA doesn't include dyes, sweeteners, natural and artificial flavors, artificial colors, maltodextrin or fillers of any kind. I think the easiest thing to say is that if Honest Company made food, this would probably be it.
I ordered the Ultimate Tea Kit! The cost is $39.90 (save 10% when you subscribe), and you'll get 4 boxes of tea plus their Coconut Water Powder. This was about a $6 savings over buying the items individually.  They have a free trial where you can try them all – check it out here.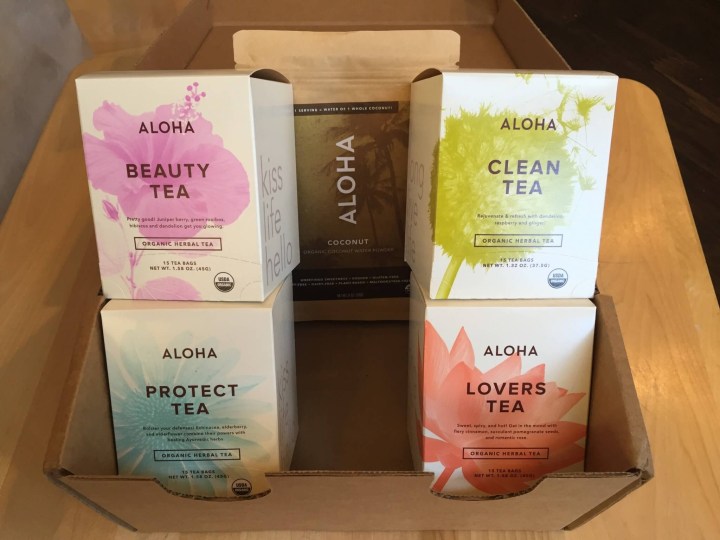 ALOHA
's Product Philosophy
We believe that the best nutrients come from whole foods, but even the most health conscious among us aren't able to get everything our body needs from food alone. ALOHA provides the nutritional support you need to help maintain your already healthy lifestyle — plus a little extra all-natural oomph just for good measure.
ALOHA currently manufactures:
Vitamins: The Foundation – A 5-capsule vegan daily vitamin & mineral supplement including omegas & antioxidants. Be Brilliant -plant-derived vitamins, botanical extracts and essential minerals to give your body a real advantage.  Give your cognition a boost with Ayurvedic herb bacopa and get your skin glowing with French melon extract. Be Protected – Amp up your body's defenses with the Vitamin C in acerola joice and get healthy with turmeric, a potent anti-inflammatory agent.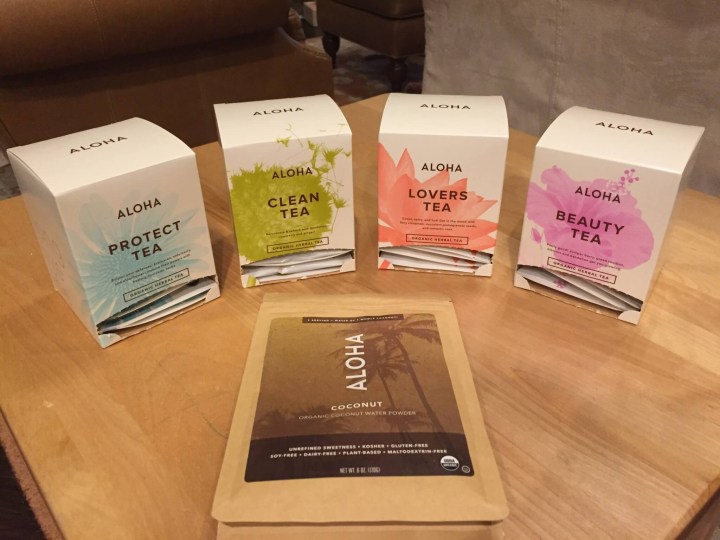 This shipment contained four 15-bag boxes of organic teas along with a bag of dehydrated organic coconut water. All of the teas came in individual tea bags made from a "compostable, plant-based nylon-type material." They were very attractive. The tea bag envelopes were compostable as well.
Although ALOHA's Clean Tea is labeled an organic herbal tea, it is in fact a green tea. One serving contains 8.35 mg of caffeine. While I love green tea (and especially enjoyed this green tea!), under doctor's orders, I'm trying to avoid caffeine. I was disappointed to realize I should have avoided this delicious tea after I had finished my glass (Beforehand, I actually told my husband, "this herbal tea tastes just like a green tea. How cool!"). For those who can indulge, this tea's name was apropos: it had a nice, clean finish.
ALOHA's Lovers Tea startled me at first, but as I drank more and more of it, I began to appreciate its depth of flavors. The first flavor I picked up on was the mint. After that first sip, though, the mint gave way to the fruit. The cinnamon and nutmeg were very subtle. Although I enjoyed this tea very much, I might have preferred increasing the cinnamon and nutmeg flavors while reducing the spearmint.
ALOHA's Beauty Tea has the largest bouquet of any tea I've ever smelled before. The sachet was overpowering straight out of the bag. It smelled of gin, which surprised me even though the tea's principal ingredient is listed as juniper berries; the juniper berries I've encountered on hikes have never had a particularly pungent smell. The Beauty Tea tasted like a hibiscus herbal tea with an aftertaste and aroma of gin. Since I'm a huge fan of both hibiscus tea and gin, this was a win for me. It's an added bonus that this tea is designed to make your skin shine and glow.
ALOHA's Protect Tea is intended to help you bolster your defenses and calm your mood when feeling under the weather. It contains echinacea, elderberry, elderflower, ginger root, lemon myrtle leaf and tulsi leaf. This soothing tea has a pronounced spicy ginger finish; I would not hesitate to drink a cup if my stomach were upset. Elderberry is perfect for this time of year; my son's pediatrician has recommended taking it preventatively during winter's cold and flu season.
Although I typically take my tea plain, I was excited to be able to try something new: herbal tea with coconut water powder. I was intrigued to learn that coconut water powder can be used as a 1:1 substitute for cane sugar; it contains more naturally occurring minerals and fiber than regular cane sugar; and can add an extra boost of hydration when combined with tea, coffee or water. When added to a glass of the Lover's Tea, it gave the tea a subtle sweetness, with no discernible coconut taste. It was delicious. I look forward to experimenting with this as a sugar substitute in my baking.
I enjoyed trying these new organic tea offerings from ALOHA and look forward to tasting their other teas in the future.
Visit ALOHA to subscribe or find out more! You can get a free trial with all four teas plus the coconut water powder ($2.99 shipping) – no code required, just use this link. Be sure to read the terms on the website, as always, the free trial will enroll you in a subscription, which you can cancel. Here are more free trials from ALOHA:
Plus, They currently have a buy one month get a second month free of their vegan chocolate and vanilla protein powder. Just visit them here for the offer and use code FREEMONTH! (Expires January 31)
The Subscription
:
ALOHA
The Description
: Offers a range of super-food based supplements: daily nutrient pack, superfood powder and superfood chocolate bar. No specific diet to follow, can be used to enhance a whole-food based diet that focuses on avoiding artificial sweeteners. New products include superfood snack trail mix, multiple flavors of chocolate, and dried coconut water powder!
The Price
: $49.00 per month