Henny & Roo is a monthly subscription box of chicken love.  Each box is filled with treats for your flock, chicken related items for human use,  flock maintenance items, an informative magazine and coupons.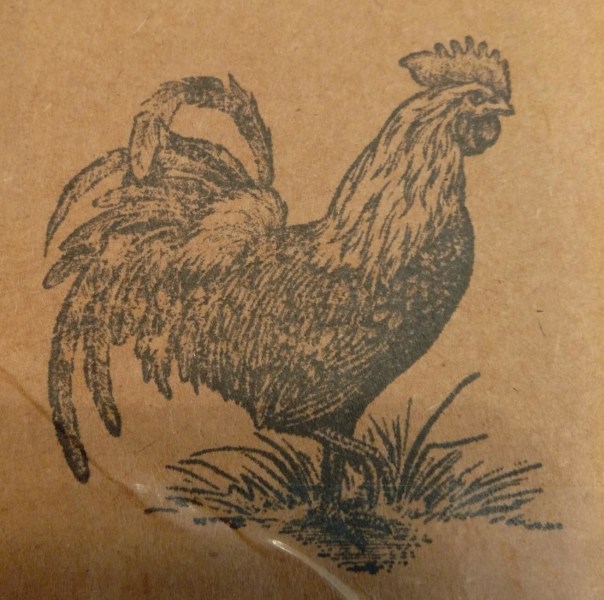 The box was stamped with this regal rooster that I would have been tempted to frame if the post office hadn't put tape over him.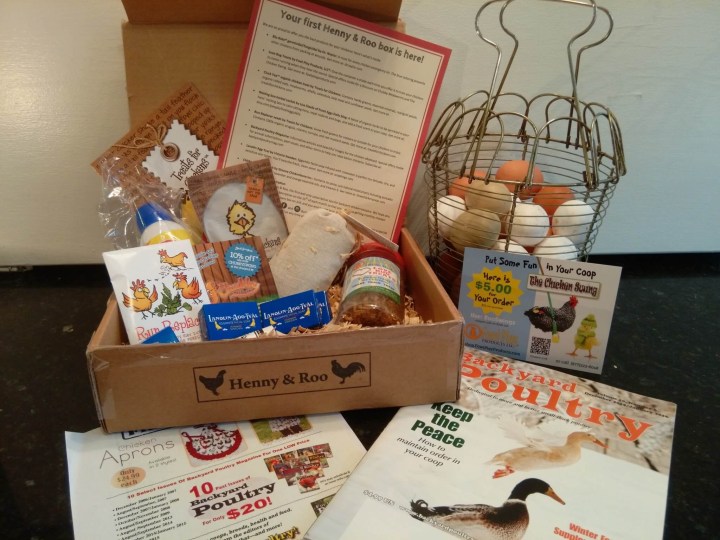 The box is filled to overflowing with chicken goodness.  (Eggs and basket not included.)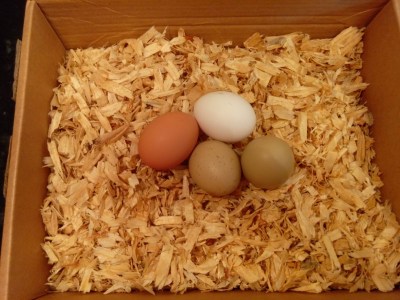 In an ingenious move the contents of the box are packed in wood chips which are meant to be recycled into nesting box material for your girls.  How cool is that!!??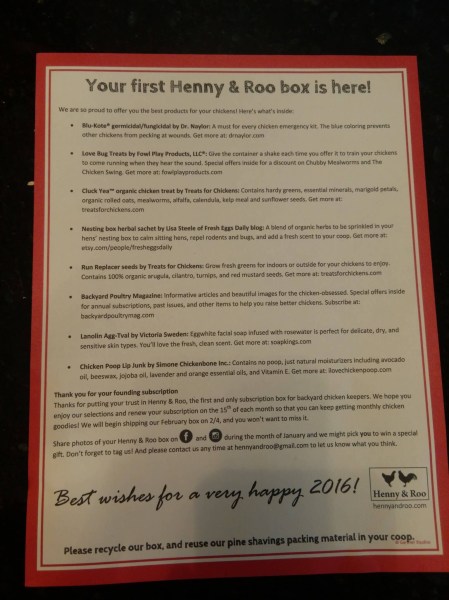 There is a handy product information sheet that tells you a little about every item in the box and how to use it.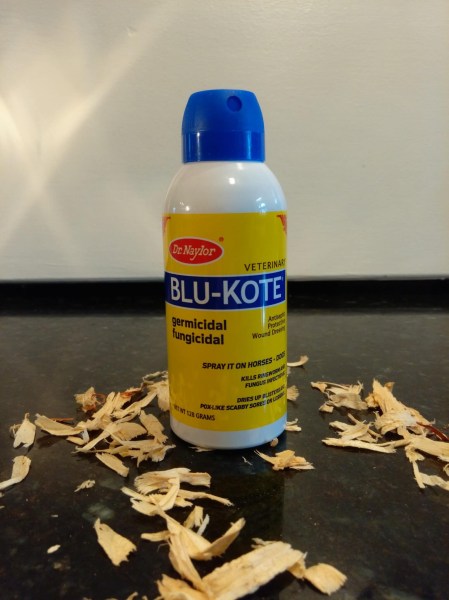 Each box will contain at least one item for your chicken emergency kit.  This month's medical item was this handy spray bottle of Dr. Naylor's Veterinary Blu-Kote germicidal fungicidal spray.  A $6.75 + shipping value, the information sheet says, "A must for every chicken emergency kit.  The blue coloring prevents other chickens from pecking at wounds."  This is a huge problem when you have a wounded chicken.  The other birds in the flock can do more damage than the original wound.  I didn't have a wounded bird to try it out on, but our 'barn' cat did show up with a cut behind his ear and was immediately sprayed with Blu-Kote.  Be forewarned the blue color comes from gentian violet and it does not wash off easily.  You may want to wear gloves when using it.  But, I am in love with this product.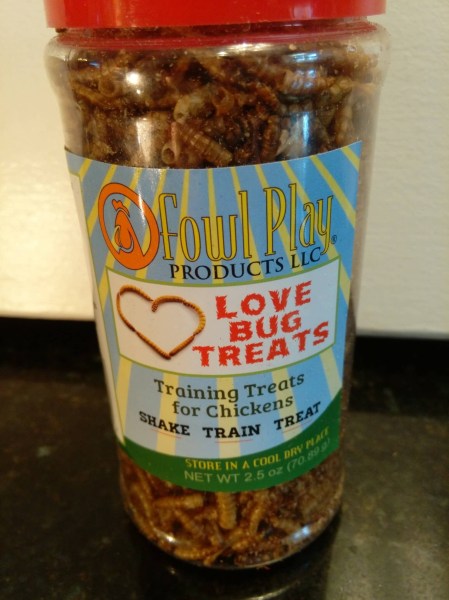 Love Bug Treats by Fowl Play Products, LLC is a delicious chicken treat in shaker container.  Shake the container and your chickens will come running.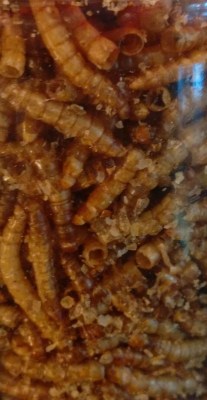 These are actually dried mealworms, but they did freak me out a little.  I swear they were moving.   But, the chickens did love them.  They are $5.25 For one or $5.00 each if you order 3 or more.  You can also order refills for the shaker from Chubby Mealworms, one pound is $17.99, and there is a 10% coupon included in the box.
There is a sample of Cluck Yea organic chicken treats by Treats for Chickens. This is a sample size.  The full size bag is 1lb 13oz and is priced at $17.99. I haven't tried this one yet, but I'm sure they'll love it.  Ingredients include the following:  hardy greens, essential minerals, marigold petals, organic rolled oats, mealworms, alfalfa, calendula, kelp meal and sunflower seeds.   Except for the mealworms I'd be tempted to try it myself.
This stuff is divine.  It's a sachet of herbs for your nesting boxes by Lisa Steele of Fresh Eggs Daily blog. They are priced at 3 sachets for $15 or a little less if you buy more.  It repels rodents and bugs, calms sitting hens and adds a fresh scent to your nesting boxes.  There is a strong scent of lavender with other herbs I couldn't identify.  It smells so good that it may go to my lingerie drawer instead of a nesting box.  (Don't tell the chickens.)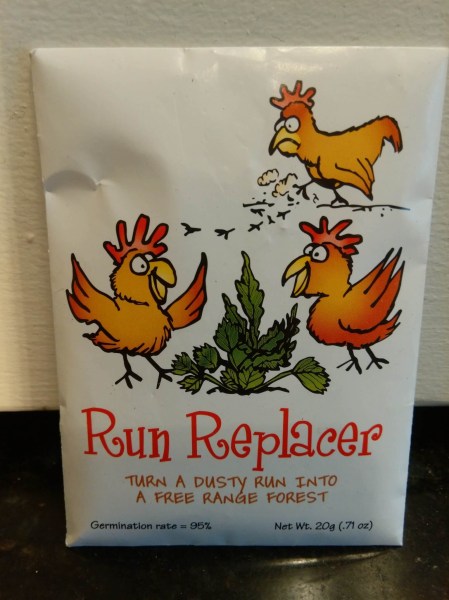 A seed pack of Run Replacer by Treats for Chickens is included in the box.  The pack is priced at $3.99 on their site.   You can grow these ahead of time inside for your birds or fence off an area outside to let the plants get established and then release the birds into it after you have a few inches of growth on the plants.  The mix includes 100% organic arugula, cilantro, turnips, and red mustard seeds.  Again, not sure if the chickens are going to get this one.  They might have to share.  Sounds like a delightful spring salad mix to me.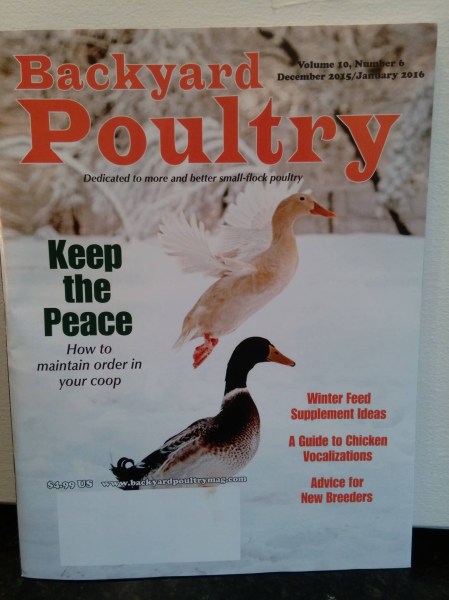 This month's box contained Backyard Poultry Magazine which my husband has claimed as he is the true chicken aficionado.  The magazine if filled with informative articles, relevant advertisements for things you didn't even know that you needed and pictures of beautiful birds of all poultry keeping sorts. 
There was also offers for back issues of the magazine for the bargain price of 10 issues for $20, in the box.  You can get the US one year print edition (6 issues) for $24.99.  They also offer the subscription in a digital edition for $19.99.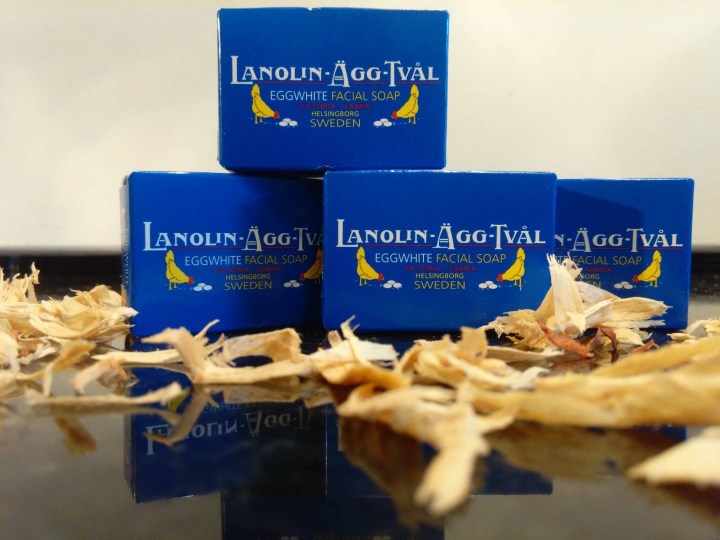 There were four bars of the cutest little facial soaps, Lanolin Agg-Tval by Victoria Sweden, in the box.  This size bar is $1.  They also offer a larger 50g bar for $4.  This is lanolin facial soap that has been infused with rose water. It is very lightly scented.  These are going to be perfect for my daughter's sensitive hands, heavily scented soaps tend to irritate them.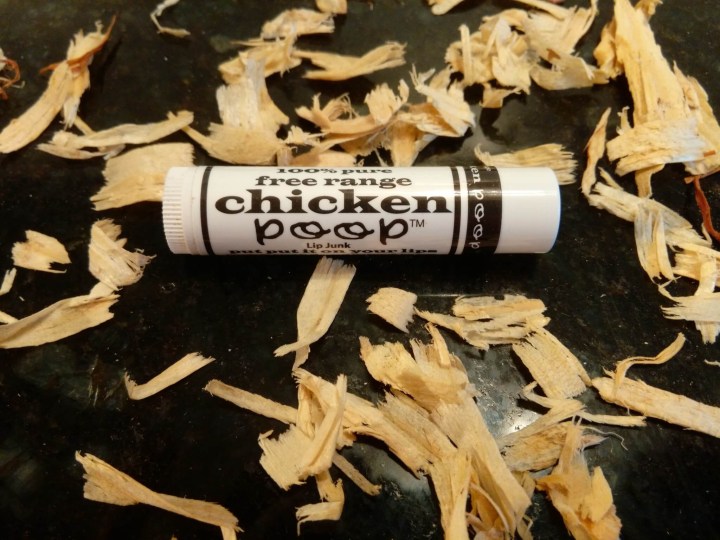 This is another human treat included in the box, Chicken Poop Lip Junk by Simone Chickenbone Inc.  THIS ITEM CONTAINS NO ACTUAL POOP.  Just so that is clear.   A quote from their site," Grandpa says:  If ya got dry lips put chicken poop on 'em so ya won't lick 'em."  It is actually a very nice moisturizing lip balm that contains avocado oil, beeswax, jojoba oil, lavendar and orange essential oils, and Vitamin E.  It is offered at $4.00 a piece on the site.
This Henny & Roo subscription box is brand new and they have done an outstanding job.  Chicken products that you really needed and some you will really want, shipped right to your front door.  Your chickens will love you for it.   This subscription box of fowl related goodness is obviously what the chicken crossed the road to get to.
Visit Henny & Roo to subscribe or find out more! Save 10% on every box with coupon code FEBBOX!
The Subscription
:
Henny & Roo
The Description
: Gift your flock with treats, coop maintenance and health products. Gift yourself with chicken-inspired gifts, and magazines. Henny & Roo is the first and only subscription box for backyard chicken enthusiasts. Each month, you'll receive fun and useful items for you and your flock, like emergency medical and health products, treats, supplements, coop care items, magazines, and chicken-themed gifts.
The Price
: $35.90 per month