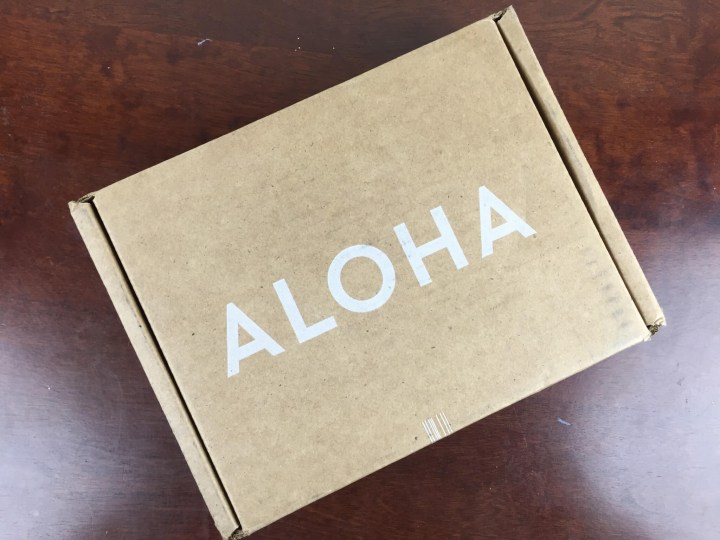 ALOHA is a nutritional enhancement company offering subscriptions on their unique supplements that help you maintain a healthy lifestyle. ALOHA products are vegan and free of gluten, wheat soy, dairy, soy, nuts and peanuts, GMOs and the Top 8 Allergens. ALOHA doesn't include dyes, sweeteners, natural and artificial flavors, artificial colors, maltodextrin or fillers of any kind. I think the easiest thing to say is that if Honest Company made food, this would probably be it.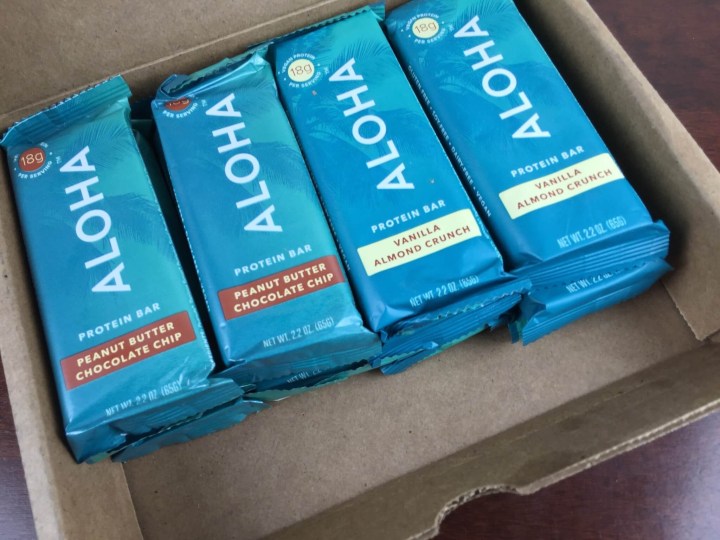 ALOHA
's Product Philosophy
We believe that the best nutrients come from whole foods, but even the most health conscious among us aren't able to get everything our body needs from food alone. ALOHA provides the nutritional support you need to help maintain your already healthy lifestyle — plus a little extra all-natural oomph just for good measure.
ALOHA currently manufactures:
Vitamins: The Foundation – A 5-capsule vegan daily vitamin & mineral supplement including omegas & antioxidants. Be Brilliant -plant-derived vitamins, botanical extracts and essential minerals to give your body a real advantage.  Give your cognition a boost with Ayurvedic herb bacopa and get your skin glowing with French melon extract. Be Protected – Amp up your body's defenses with the Vitamin C in acerola joice and get healthy with turmeric, a potent anti-inflammatory agent.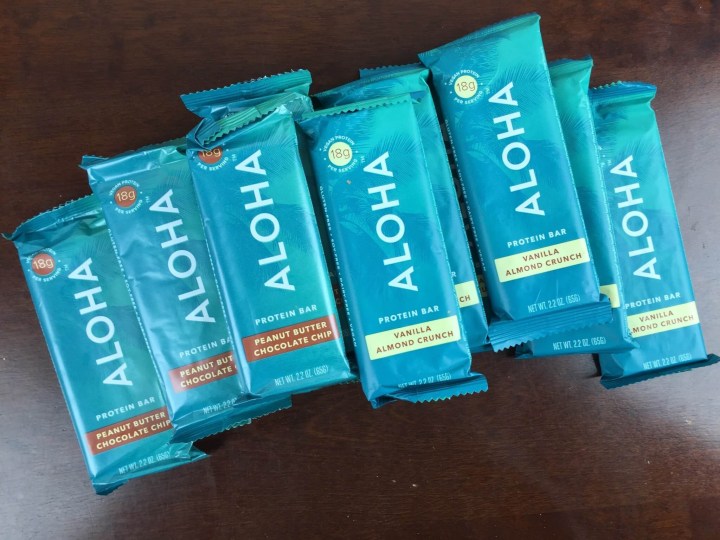 One of ALOHA's newer products is their protein bar! It's available in two flavors – Peanut Butter Chocolate Chip and Vanilla Almond Crunch. A 12-pack of bars is $32.90, but you can subscribe and save 10% ($29.50). Or you can buy individual bars at $2.90.
These protein bars contain 18g Grain-Free Plant-Based Protein and 6 grams of fiber! They have absolutely nothing artificial in them. Here's the ingredients for the chocolate variety:
Organic Peanuts
Organic Tapioca Syrup
Organic Pumpkin Seed Protein
Organic Pea Protein
Organic Dark Chocolate
Organic Pea Crisps
Organic Agave Inulin Syrup
Organic Pumpkin Seeds
Organic Agave Inulin Powder
Organic Vanilla Bean Powder
Sea Salt
Monk Fruit Extract
Peanut Butter Chocolate Chip: Decadent dark chocolate paired with savory peanut butter for the ultimate taste experience. Pumpkin seed protein and whole seeds pack a powerful protein punch.
Vanilla Almond Crunch: Satisfying, filling and slightly crunchy, the organic vanilla bean pairs perfectly with wholesome pumpkin seeds.
I really liked both of these bars and they will definitely be part of my regular "what bar should I eat for breakfast" routine (I'm really not that exciting in the morning). I loved the natural crunch in both bars from the pumpkin seeds and I thought it was totally neat that these bars rely on varied plant proteins – pumpkin seed protein and pea protein. The bars kept me full from the fiber, but weren't dense/rock-like in my stomach.  They were definitely satiating and I attribute that the to the fat content (13g chocolate, 16 in vanilla) plus the protein. The fat seemed a bit high for a 270 calorie bar (290 vanilla), but I didn't mind it paired with 18 grams of plant-based protein. I wish the information was on the label but as I suspected, pumpkin seed protein is a rich source of vegetarian omega-6 EFA and omega-9 fatty acids, so I think most of the fat is very likely healthy fats. For me, this bar is in the meal replacement category – it's very substantial! I keep a ziploc bag next to my desk when I want to save half for later. I also loved that this bar contains 20% of the RDV for iron. They were above all nutritious and tasty (in a nutritious way), which I was glad to find out, because I bought an entire box!
Visit ALOHA to subscribe or find out more! You can get a free trial ($2.99 shipping) – no code required, just use this link. Be sure to read the terms on the website, as always, the free trial will enroll you in a subscription, which you can cancel. Here are more free trials from ALOHA:
Plus, They currently have a buy one month get a second month free of their vegan chocolate and vanilla protein powder. Just visit them here for the offer and use code FREEMONTH!
The Subscription
:
ALOHA
The Description
: Offers a range of super-food based supplements: daily nutrient pack, superfood powder and superfood chocolate bar. No specific diet to follow, can be used to enhance a whole-food based diet that focuses on avoiding artificial sweeteners. New products include superfood snack trail mix, multiple flavors of chocolate, and dried coconut water powder!
The Price
: $49.00 per month