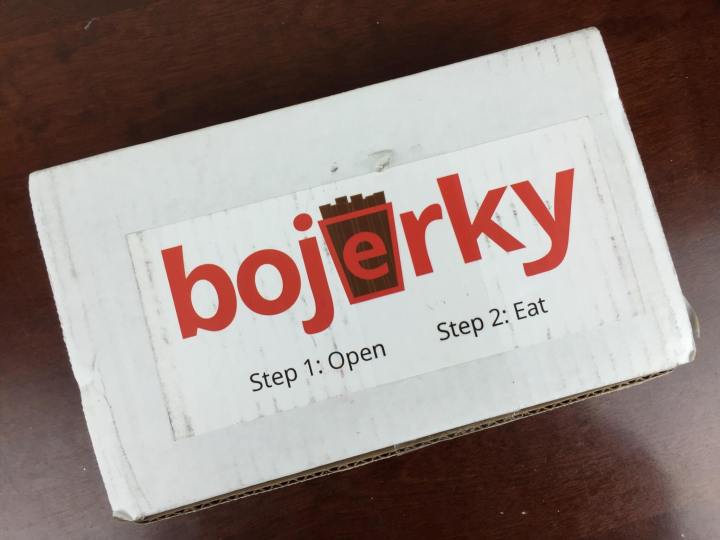 Bojerky is a monthly craft jerky subscription. Every month you'll receive 3+ounces in a half subscription, or 6+ ounces in a full subscription. Bojerky concentrates on finding the coolest indie jerky and sending them to you (some jerkies aren't even available online and of course you would pretty much have to pay shipping for all of them). This review is for the full Bojerky subscription.
The four bags of jerky were snugly folded into the box.  Bojerky is always a little casual on the packing, but the jerky doesn't seem to mind, and presentation is not what we are craving here.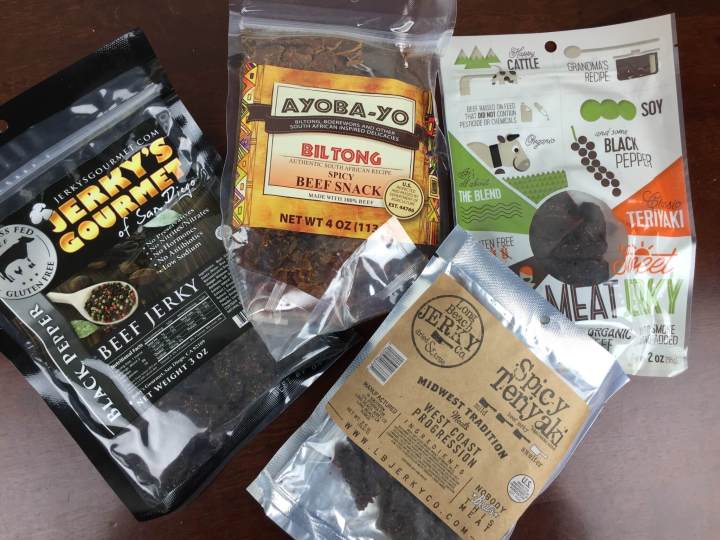 We received 4 flavors in this box! No information sheet this month.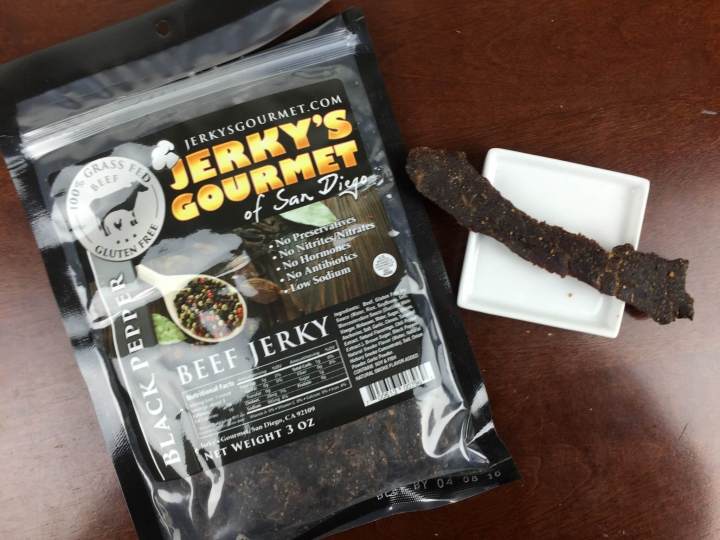 Jerky's Gourmet of San Diego Beef Jerky – Black Pepper ($8.99):  This jerky is on the drier end of the spectrum, with tender, but fairly strong chew to it, a characteristic common to grass-fed beef.  The flavoring is relatively mild at first, with less aggressive sweet and Worcestershire and sugar than expected.  The pepper was innocuous to start, but it left some nice heat in its wake.

Ayoba-Yo Biltong Spicy Beef Snack ($8.99):  slightly spicy, this biltong differs from typical jerky in several respects.  The meat retains a redder color, and it is sliced into sheets, which then crumble.  The texture is tender, but has a certain density to it, like a cured salami.  The taste is also similar to salami — although it has many of the same ingredients as jerky, the balance is quite different.  Coriander is the most prominent flavor, giving the snack a pastrami-esque sensibility.  This biltong is also saltier tasting than the jerkies.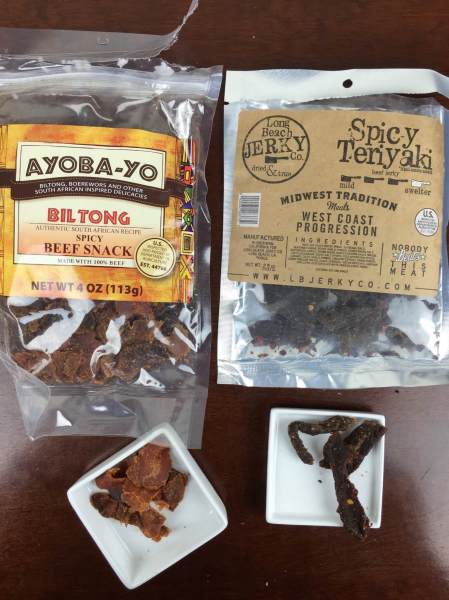 Long Beach Jerky Co. Spicy Teriyaki Beef Jerky ($5.99):  A sweet teriyaki with a moderately hefty dose of spiciness.  The meat appears to be cut cross-grain in 1/4″ slabs, giving the jerky a very dense feel and long chew.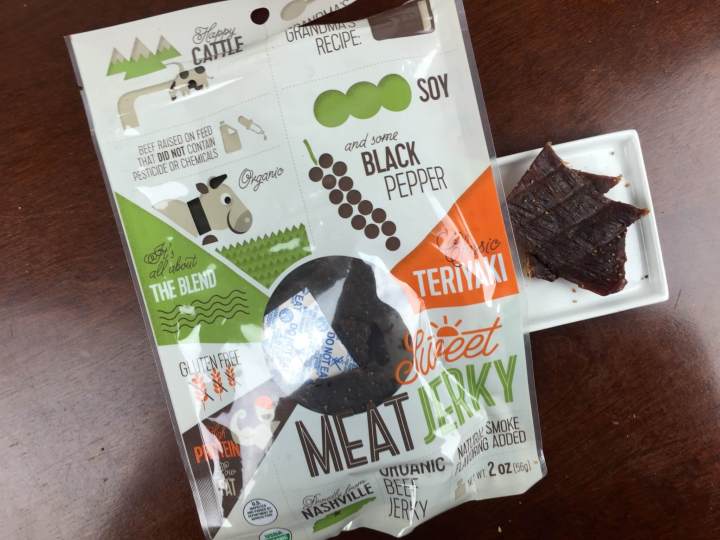 Sweet Meat Jerky – Classic Teriyaki Beef Jerky ($6.99):  My favorite of the bunch, this organic beef is incredibly tender.  I could eat it as sandwich meat without any difficulties — that's the level of tenderness.  The flavor is also very nice, with a mild and sweet teriyaki character.
The four selections this month were all stand-up jerkies in their own right, with the Sweet Meat Jerky winning my vote through an appeal to my fondness for tender jerky.  There was something for everyone, with chewy jerkies well-represented, and a biltong thrown in for good measure.  Not only are the jerkies tasty, but Bojerky is a nice way to explore and discover your preferred "jerky profile" – and you save a ton on shipping from individual producers.
Visit Bojerky to subscribe or find out more! Save 30% on your subscription. Use coupon code FALL.
The Subscription
:
Bojerky
The Description
: Bojerky is a subscription to craft jerky. You're going to get 4+ flavors of jerky each month with a full order and 2+ ounces a month with a half order of the coolest indie jerky from around the US sent straight to you.
The Price
: $15 (small) or $30 (large) per month