Sweet Latvia is a monthly subscription box that ships a wonderful variety of Latvian sweets straight to you.  Selections vary from timeless classics to trendy new flavors.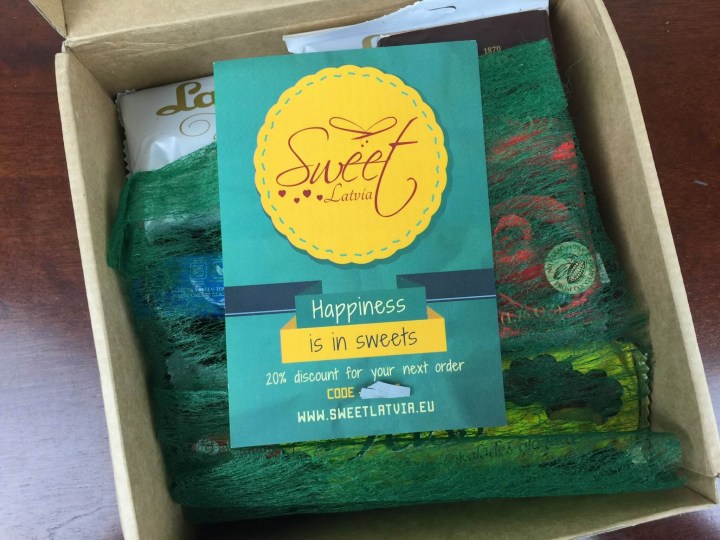 The box is nicely packed, with a green shroud gently tucking in the sweets.  A discount on future orders is included in the box.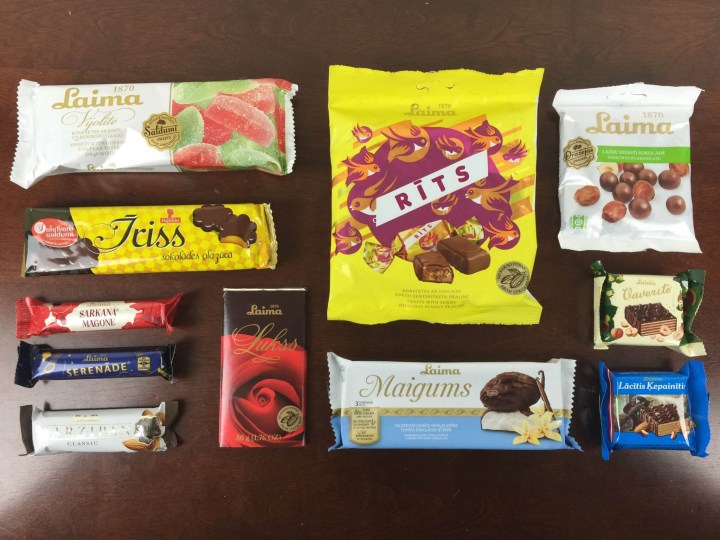 Everything in the box.  A great selection — and lots of chocolate!  Unless noted otherwise, all items described below are made by Laima.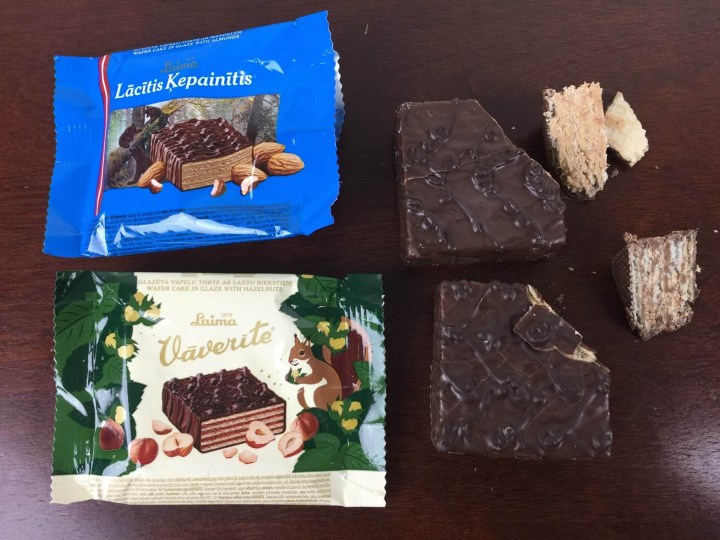 Lacitis Kepainitis:  A chocolate coated wafer square.  Sweet and crispy, with  a nice almond creme layered throughout.
Vaverite:  Similar in construction to the Lacitis Kepainitis, but with a much darker flavor.  The rich hazelnut creme carries the distinct and powerful flavor of coffee.
Rits:  Sweet peanut crème enrobed in chocolate.  These came in a large 160 gram bag.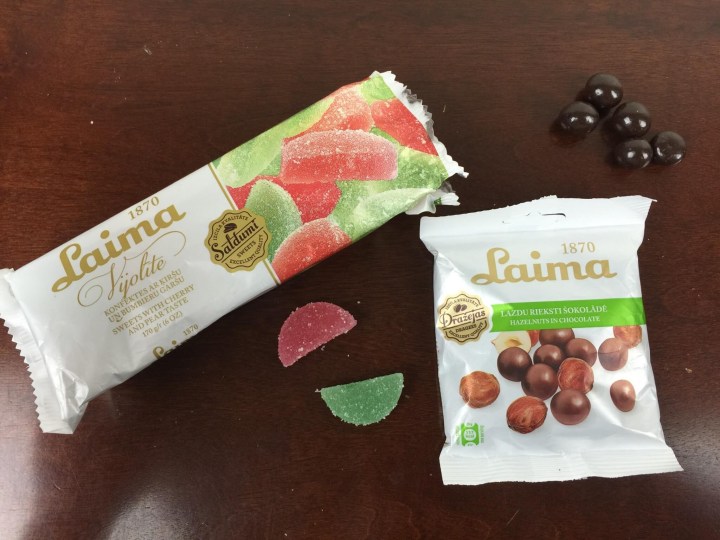 Lijolite: Pear and Cherry jellies.  These are very tender and have bright fruit flavors. They are more like an artisan jelly than anything mass-produced.
Lazdu Rieksti Sokolade:  Whole hazelnut and chocolate dragées. These have a great pure taste of just hazelnut and chocolate – high quality.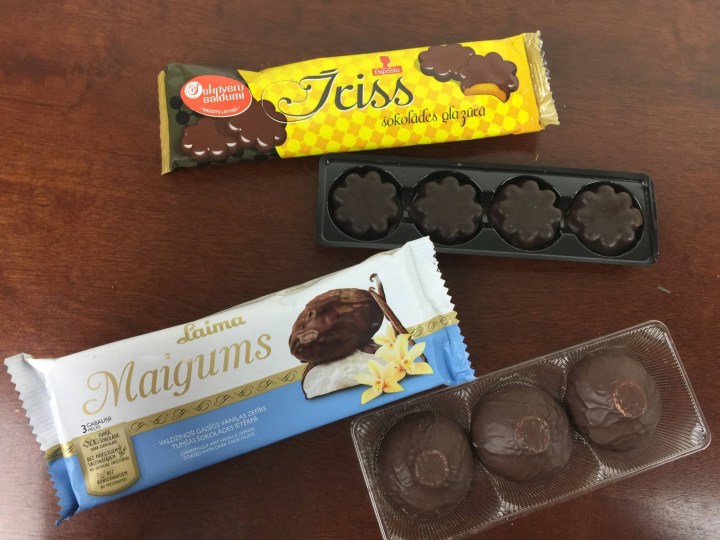 Aspasia Triss:  Enrobed in dark chocolate, the center of these flower shaped coins contains a tan nougat that tastes of sweet caramelized milk, but has a texture midway between the interior of a York Peppermint Patty and a Reese's Peanut Butter Cup.  This is the only item not from the Laima company.
Maigums:  A very soft and delicate vanilla marshmallow creme with a moderately dark chocolate glaze.  I thought these had a lovely texture and taste, even though I am not a marshmallow fiend. They didn't have quite as much resistance as a regular marshmallow.
Marzipan Classic:  Sweet almond paste covered in chocolate. I love marzipan!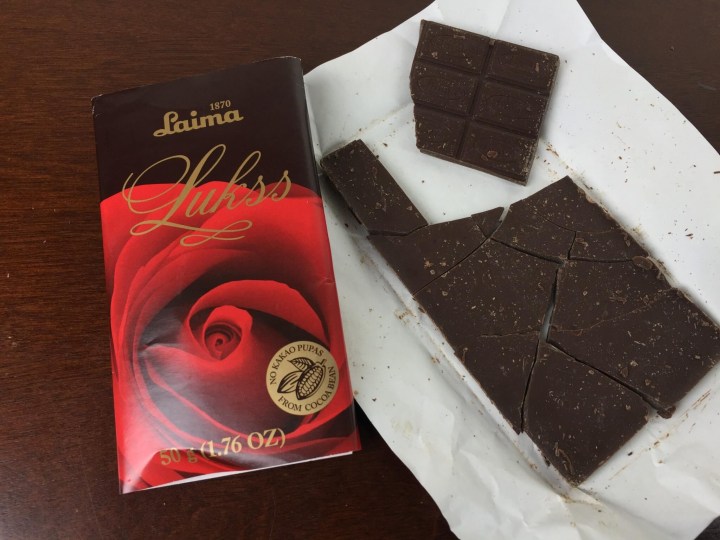 Lukas:  A nice, straightforward dark chocolate bar.  We love sampling the favorite chocolates of every country.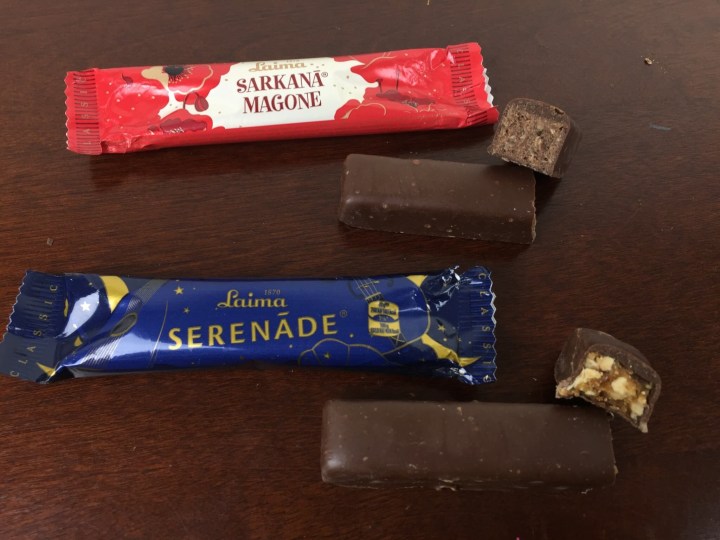 Saran Magone:  A "poppyseed" style chocolate chiffon coated in chocolate.  Almonds and hazelnuts permeate the baking soda bubbled interior.
Serenade:  Big chunks of hazelnut are joined by apple and apricot purees inside a chocolate coating.
This was a really wonderful selection of sweets and chocolates.  It was great quality chocolate — the texture was smooth, but it also didn't melt instantly as some Southeastern European chocolate glazes.  The filled items showed some characteristics of the Soviet era candy culture, with uniquely Eastern Bloc selections like the "poppy" bars, Swan's milk style Maigums, and soft-style jelly candies.  I'm eager to see the next box — Laima played such an important role in this box, I am curious as to whether they will also dominate the next or if we will be sampling from other producers.
Visit Sweet Latvia to subscribe or find out more!
The Subscription
:
Sweet Latvia
The Description
: When you subscribe to Sweet Latvia, you will get a gift of trendy new as well as old-time favorite sweets in a curated box. The box will contain a lot of interesting mix of sweet with (all over 200 tastes in our collection) ranging from gummy, sour and nostalgically classic amongst others. €29 (free shipping)
The Price
: $33.00 per month
The Coupon
: Save 20% on your first box. Use coupon code  
SWEET20
.