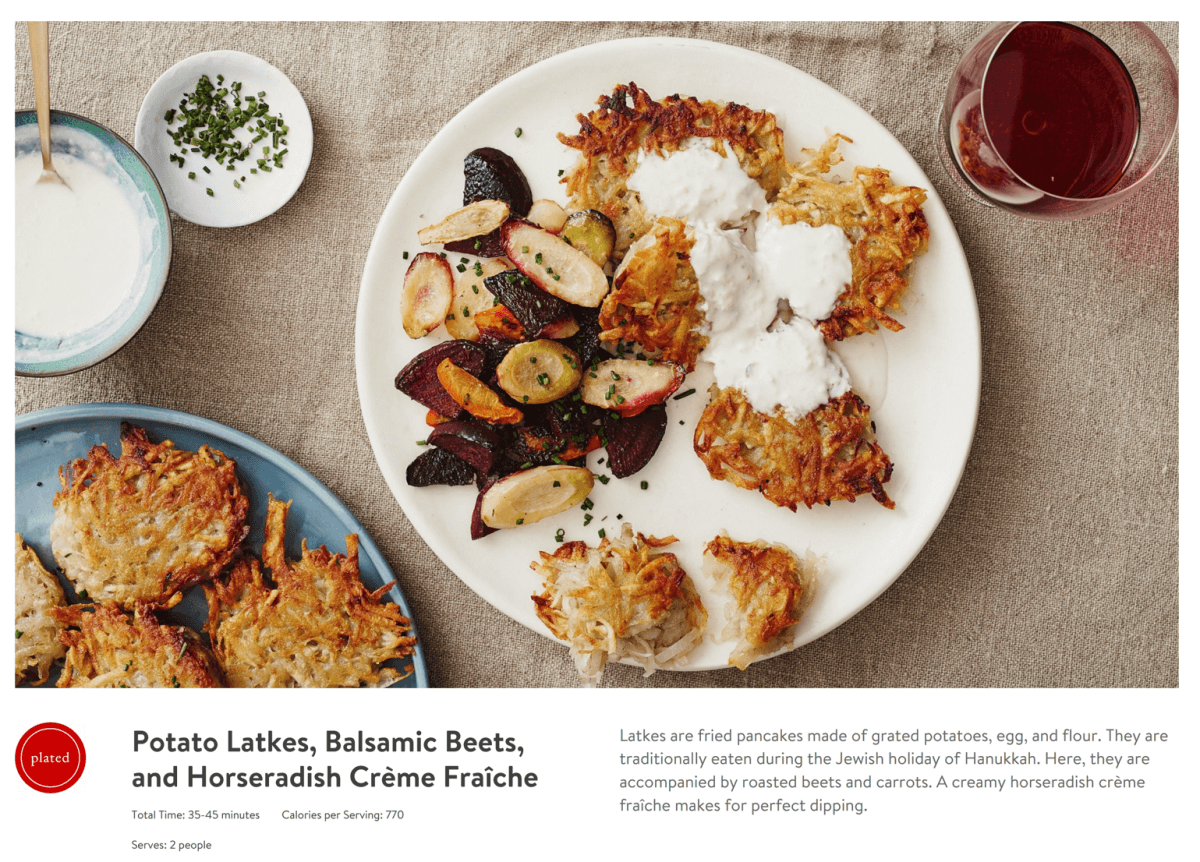 This week, we tried a traditional Jewish holiday recipe, as well as some delicious international dishes (including a dessert)!  Plated sends weekly dinner kits with high quality ingredients and chef-created recipes. Each week you'll choose from a variety of dishes that range from meats, chicken, seafoods, and purely vegetarian options. There's enough selection to please all palates, and the recipes are seasonally focused. We love the way each meal incorporates only a couple key herbs or spices; the flavors shine through, and the recipes remain easy to follow. We love getting boxes most week to try new recipes, and we save the must make again recipes – although they're also available in your account. Plated's recipes rely on mise en place and then cook, and to be honest, we often mix up the steps from how the recipe is written, but we're both experienced cooks and know what can be accomplished while something else cooks. So, read your cards if you need the step by steps.
Important to note: whereas Plated has been a subscription, you could previously turn off auto-shipments. You can no longer do that. No big deal for us, because we like to go in and select what recipes we're receiving anyways.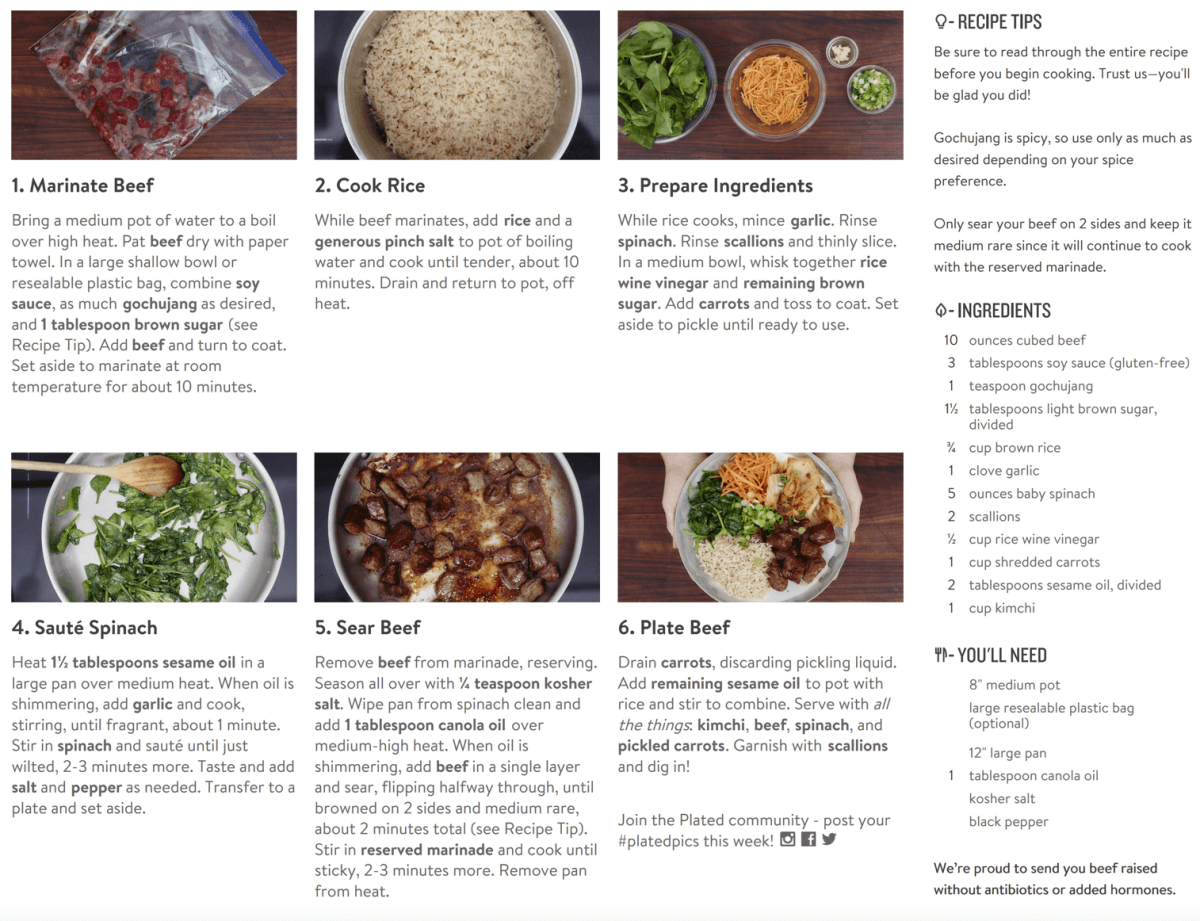 The recipe card was updated earlier this year, though we wish it would indicate the ease of preparation on the card so we can decide what we're making first without looking it up. When your box is sent out you'll get an email indicating the pantry items you'll need (this week:Black Pepper, Canola Oil, Egg, Kosher Salt, Olive Oil).
This week's email was pretty bare and did not include information about our meals. Brandy sent in feedback about it – we didn't like it (we often don't remember what we'd ordered), plus there's now no reminder of the ease of preparation. We think the recipe cards should include it anyways, but at the very least the email should let you know which is easiest. The link to our box details only showed the current recipes, so it was unhelpful.
We get asked a lot – Sometimes we order Plated and sometimes Hello Fresh. It just depends on what meals we're interested in. [Hello Fresh: Take $40 off your first box with coupon code 7UT7K8] We have also started ordering Home Chef. We love all of these boxes – try them out and pick your favorite.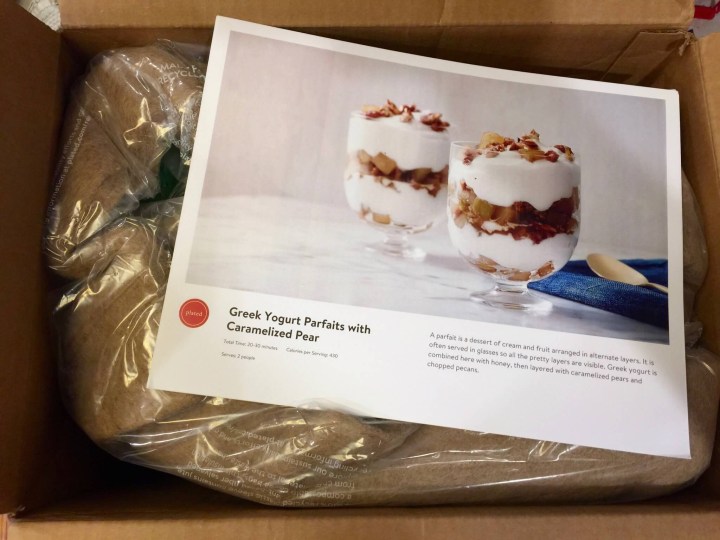 The jute packaging is back!  I've determined that there is no real rhyme or reason to the choice of outer packaging, as it changes monthly.  No herbs this time, so I don't know if they still pack them in an envelope to protect them from the ice. Boxes are always packed with the meat on the bottom, underneath a few big ice packs — the rest of the food is set on top with more ice.
Potato Latkes, Balsamic Beets, and Horseradish Crème Fraîche. 35-45 mins, 770 cal.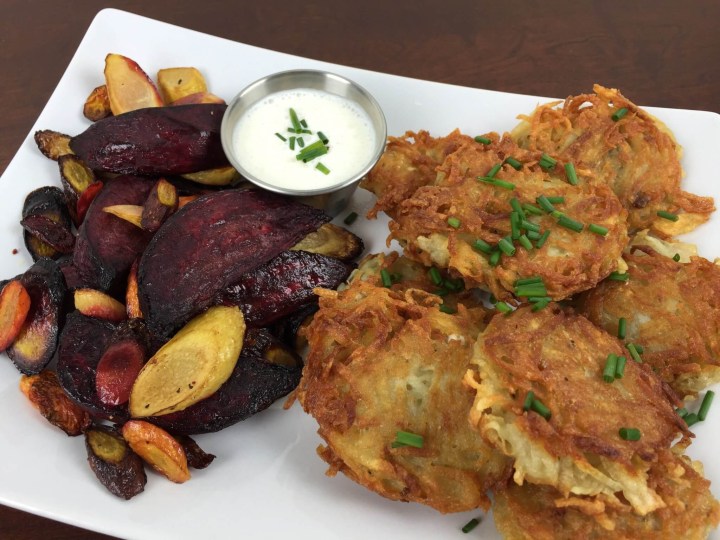 We had a foodie friend in town with substantial experience making latkes when we prepared this dish.  She said the recipe was a little different than the one she typically uses, but it worked quite well (getting as much moisture as possible out of the shredded potato is the secret).  The latkes were excellent, both crispy and tender.  The veggies took a long time to roast (we prefer recipes with precooked beets), so they were very firm, but tasty.  The sauce was great — I keyed off of the lemon, thinking it would make an excellent sauce for fried fish — our friend was enamored with the horseradish, calling the sauce "a revelation."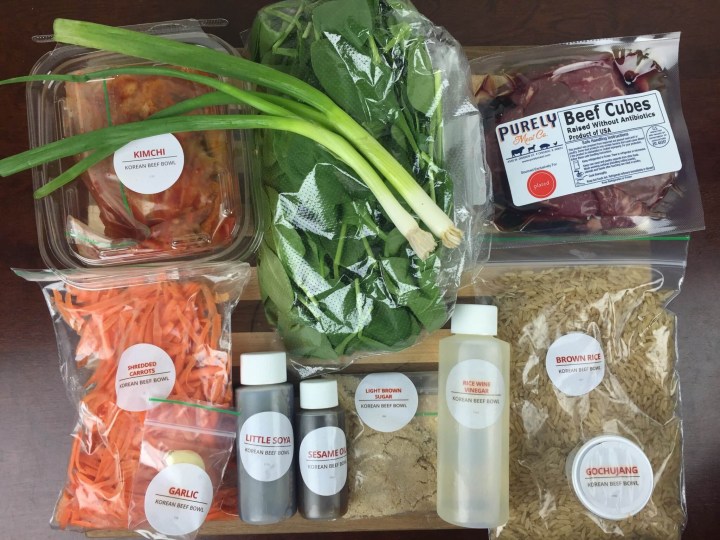 Korean Beef Bowl with Carrots, Spinach, and Brown Rice. 30-40 mins, 650 cal.
I love Bibimbap, and this dish had a similar feel to it.  The meat was glazed with a teriyaki sauce, so it was a bit of Japanese-Korean fusion.  It was tender and very delicious.
There was so much going on here.  Everything was cooked separately, so it did take a while to prepare.  Thankfully, the carrots we're pre-shredded to save some time.  They were pickled quickly — I am usually not crazy about the quick pickle, as it typically results in merely adding some vinegar to your dish — this time, however, the carrots acquired a wonderful texture and flavor from the seasoning.  I attribute this to the thin, even shred.  The hearty rice made this a nice, complete and delightful meal.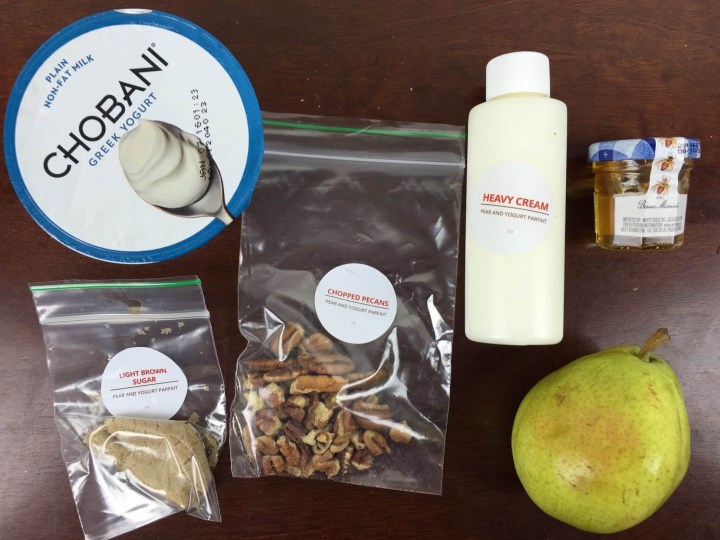 Greek Yogurt Parfaits with Caramelized Pear. 20-30 mins, 430 cal.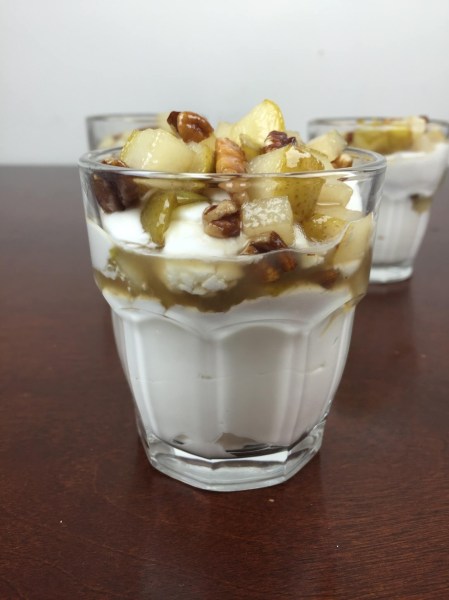 What a great dessert!   Very simple to make, and very decadent.  I loved the combination of yogurt and whipped cream, making the dish creamier and tastier than the yogurt breakfast parfait you see in bagel shops, yet a little lighter in fat than a full whipped cream version (and denser in texture due to the 0% Greek yogurt, similar to a dessert incorporating a soft cheese).  Served with the sauce still slightly warm, this was magnificent.
We love having Plated to make our mealtime simpler and more delicious, and its great to be able to have a unique and delicious dessert that is easy to make.
Visit Plated to find or more or to subscribe. Currently you can get 2 free plates when you buy 4 when you sign up with this link (no coupon code required).
The Subscription
:
Plated
The Description
: Ingredients for chef-designed meals delivered to your door. You select the chef-created recipes on the Plated.com website and Plated sends you a box of food and recipes.
The Price
: $12 per plate – must order in multiples of 2 and your box ships free with $50 in product. If you want only 2 meals, go for a Chef's Table + a regular, or 2 regular plates plus a dessert!