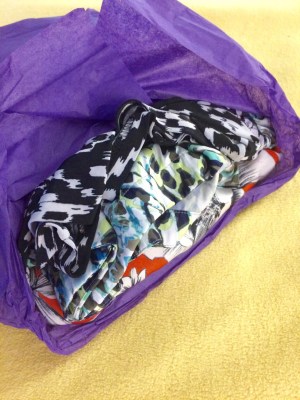 So excited to get this Gwynnie Bee box.  It arrived just in time for my holiday trip home. I am excited to have some fun things to bring with me so I don't spend the whole week in my high school drama club sweatshirt (this has happened before).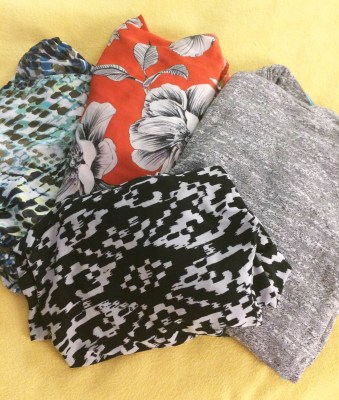 Gwynnie Bee is a clothing rental subscription service. My body shape makes me a perfect candidate, as they specialize in sizes 10-32, and I am a solid 16.  When I started I added about 25 items to my closet (it's a lot like creating a Netflix queue back when DVD subscriptions were their main business model, except there is no specific order) and they sent me the first three that were available. They recently added a feature that lets you prioritize items, so I marked a bunch of winter-ish tops as priorities. Then, when I return items they send more!
I really like that I have a lot of control – I pick the specific items that are in my closet.  I can go outside my comfort zone if I feel like it, or I can stay well within it. Overall, I put several items that would be a stretch for me in my closet, but also put plenty of items I think I will like so that any given shipment is likely to have something in it that I will wear.  
Karen Kane Etched Floral Peasant Top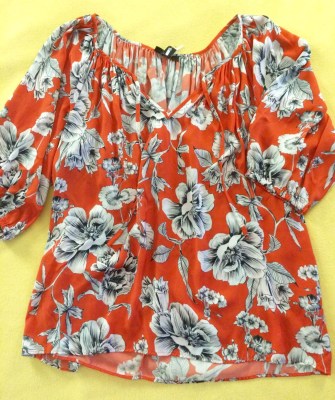 I love orange, I love black and white, I try to be open-minded about floral.  This one was shown on the model with a black pencil skirt and looked cute.  I am not a fan of it on its own…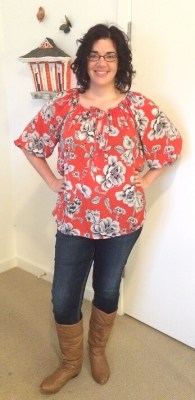 But I do like it better when toned-down under a cardigan.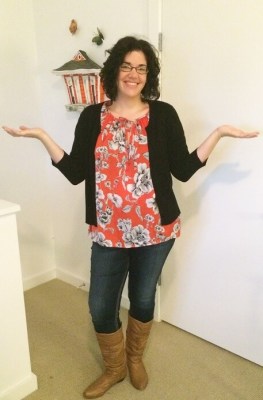 Three Dots Slub Cowl Sweater Tunic
This one feels like the least risky of the bunch.  It's a light to medium weight slub knit, so it should be good for when I am at home, given the unseasonably warm temperatures we are experiencing. Also, the boy said he liked it, so that's a nice endorsement.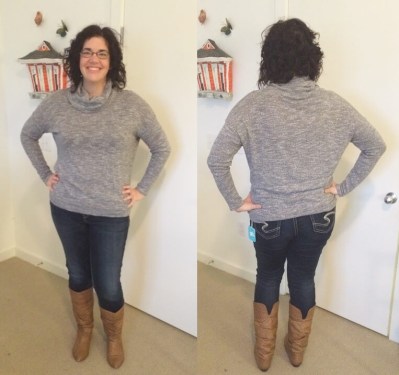 Spruce and Sage Black and White Draped Front Top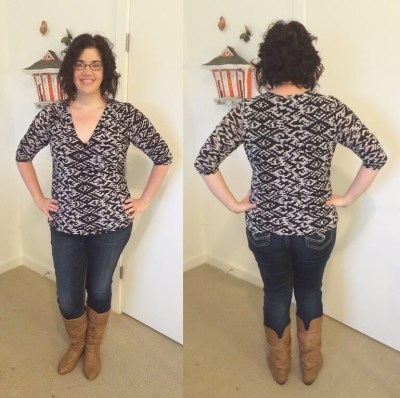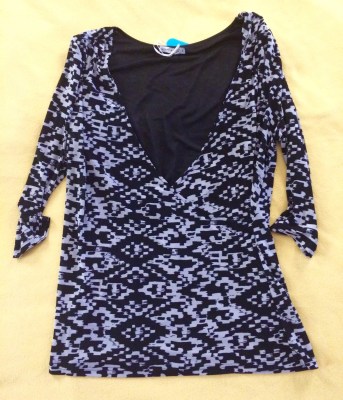 The shape of this is one of my go-to's for comfort and tummy flattering! The pattern is a smidge busy, but not so much that I won't wear this a few times. The boy remarked he felt like he was played Space Invaders. Can you blame him?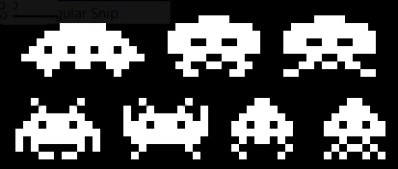 Mynt 1792 Boat Neck Blouse in Green Python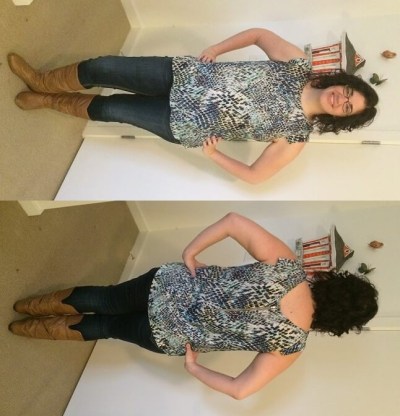 Yeah, the pattern has a lot going on, but I sort of somehow still like it.  Definitely more busy than anything I normally pick up, but I love a soft green blue, and this has a lot of that in it.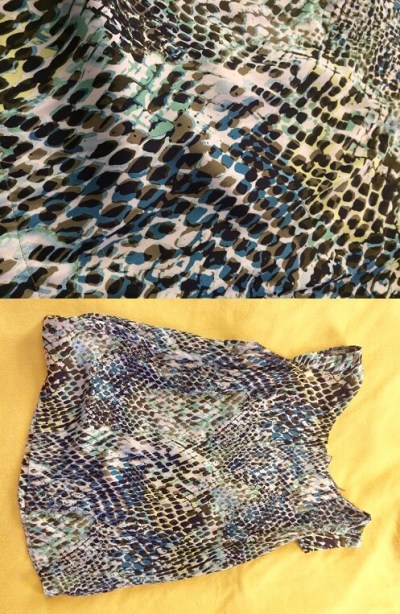 But, it felt a little wild, so I tried toning it down with a cardigan.  This one is a bit short, but I like the colors together. Maybe if I tuck in the top with a skirt…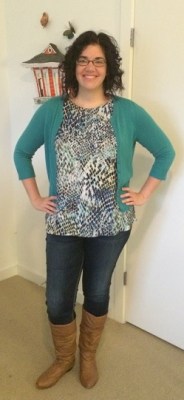 This batch of Gwynnie Bee was a great one for mixing and matching with my current wardrobe.  The prioritizing feature is a great addition – two of these were marked as priorities, and here they are!
Currently when you sign up for Gwynnie Bee you can get your first month for FREE, (no code needed, just use the link) which is an awesome way to just try it out and see if you love it.
Visit Gwynnie Bee to subscribe or find out more!
The Subscription
:
Gwynnie Bee
The Description
: Plus size clothing subscription rental service. Unlimited exchanges, free shipping & returns. Hot brands for curvy ladies sizes 10-32!Because this is a rental service, this is not quite a plus-size Stitch Fix. However, you can purchase the items you love, usually at a significant discount. We recommend trying it out for a month!
The Price
: $35.00 per month
The Coupon
: Currently when you
sign up for Gwynnie Bee you can get your first month for FREE
, (no coupon code needed!)
A couple things to remember (besides free laundry!):
you can mark your shipment as outgoing so your items ship out faster
you can purchase items that you love at huge discounts
use the community at Gwynnie Bee to help you select the best items for your body and the right size for that garment.
All the garments are inspected and I've never really had an issue with anything I've received in terms of condition.
 It's also worth a mention that the clothes are higher end clothes, so they all have better construction and fabric than what you might normally purchase for yourself.
The plans are as follows:1 – $35 per month
2 – $59 per month
3 – $79 per month
5 – $99 per month
7 – $129 per month
10 – $159 per month