LOLA Tampons are 100% hypoallergenic cotton feminine care with no additives, synthetics, chemicals, or dyes. They offer a monthly customized subscription in your choice of regular, light, and super tampons.
The packaging is discreet and you'll get 18 per box.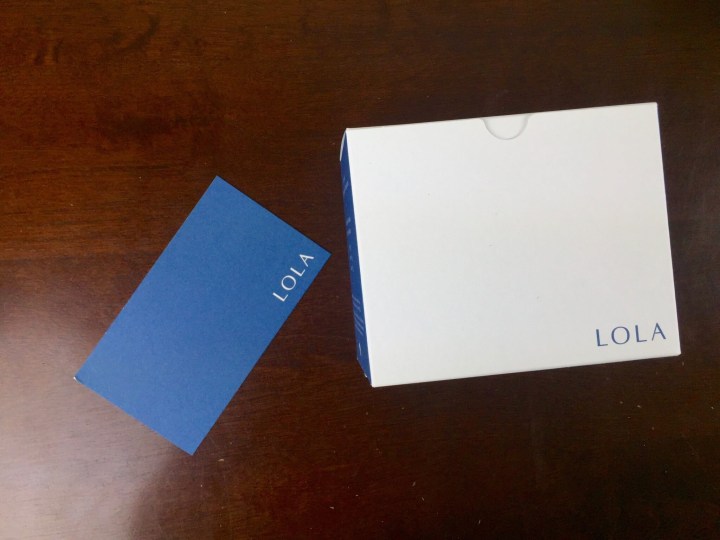 You can skip, cancel, or adjust your subscription at any time, and get 1 or two boxes monthly or every other month.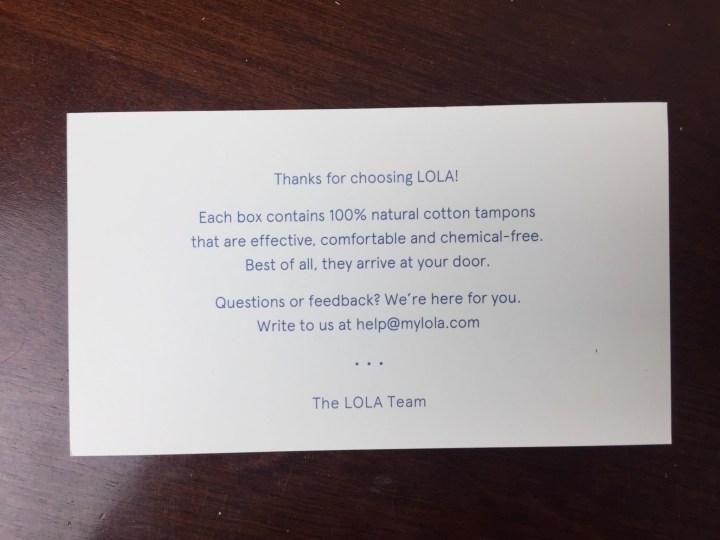 All the box packaging is recycled and there aren't a lot of extras – just your required monthly supplies.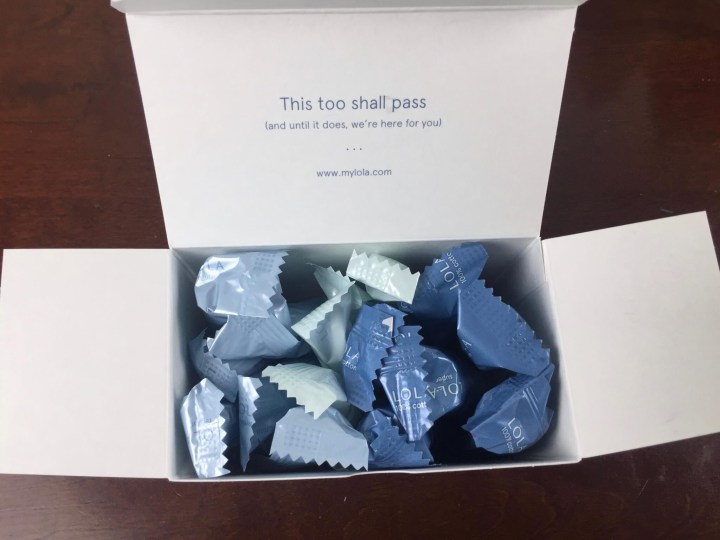 In addition to being made with natural 100% hypoallergenic cotton, LOLA doesn't add any chemicals, dyes, or synthetic fibers.
My box included a mix of regular, super, and light tampons.
The tampons are manufactured in industry standard absorbencies.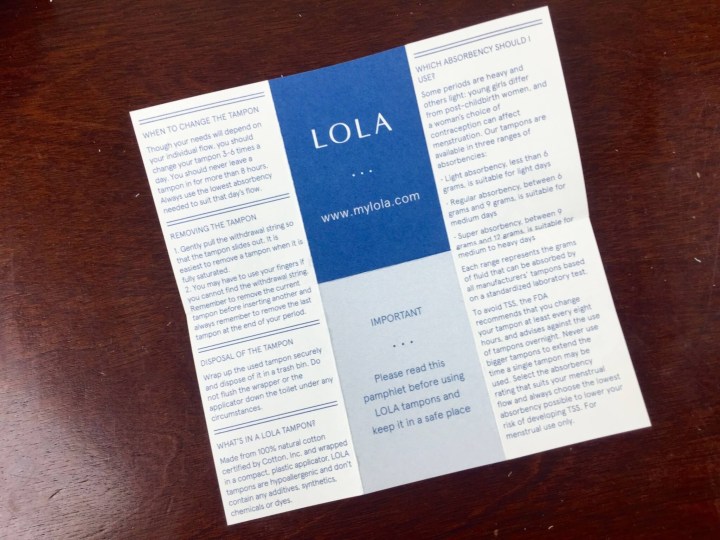 The box comes with the standard tampon usage pamphlet including information about avoiding TSS.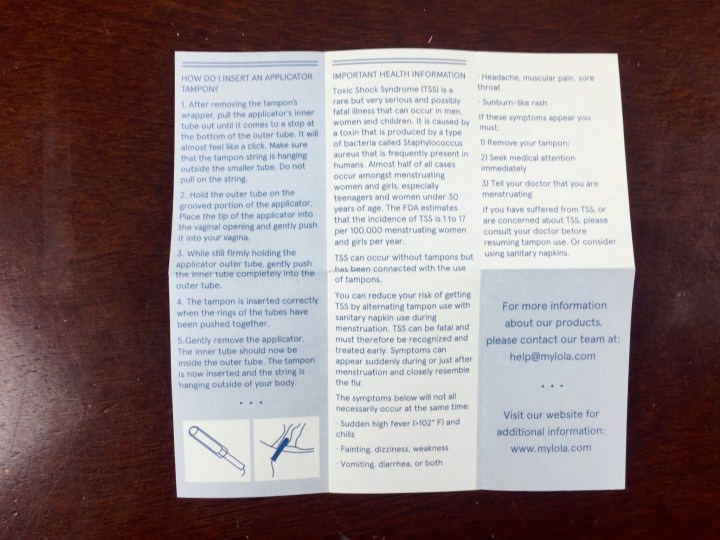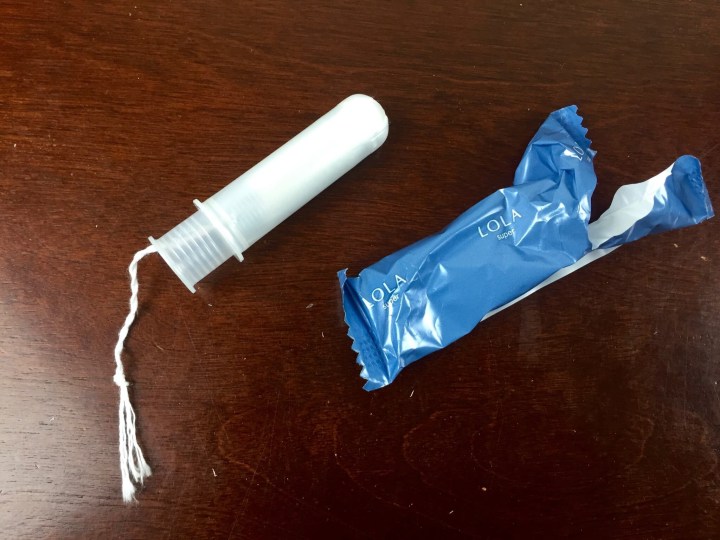 The compact plastic applicator is BPA-free! I don't know about other brands but I did look up Tampax and their plastic doesn't contain BPA. Tampax and other major sanitary product manufacturers do use a cotton-rayon blend, which LOLA does not. I could tell the difference immediately on the tampon "tail" – it looks fuzzier than normal.
The LOLA tampon expands width-wise instead of lengthwise for enhanced leak protection. I tried them out and had zero problems with leaks! For up to a year (or really even longer, it's different for everyone) your post-baby period can be wonky and heavy, and I have been using super-plus tampons. LOLA doesn't make super plus but that didn't seem to affect my leak protection levels, so I was really happy with that!
If you are looking for an easy to procure 100% non-synthetic tampon choice, I think LOLA is a great option. The subscription is easy to manage and you're really just getting one simple option every month. The introductory offer is a great way to see if using these tampons improves your wellness too, because you'll get 2 months or more worth of tampons to test out. They are a little pricier than some of the competing brands on the market but about on par with Seventh Generation. Ultimately tampon selection is a (really!) personal choice and you'll probably want to try out a few brands when switching to an all-natural tampon to see which you like best.
Normally LOLA tampons are $10 per box, or 2 boxes for $18, but you can get your first two boxes for $9 total – just use this link, no code required.
Visit LOLA to subscribe or find out more!
The Subscription
:
LOLA
The Description
: Forget about those frantic drugstore runs. We deliver exactly what you need when you need it. LOLA tampons are 100% natural cotton with BPA-free plastic applicators. They're breathable, comfortable, adaptable, and soft. LOLA tampons offer superior leak protection, without the additives. 100% hypoallergenic cotton, Compact, BPA-free plastic applicator. Light, Regular, and Super.
The Price
: $10.00 per box