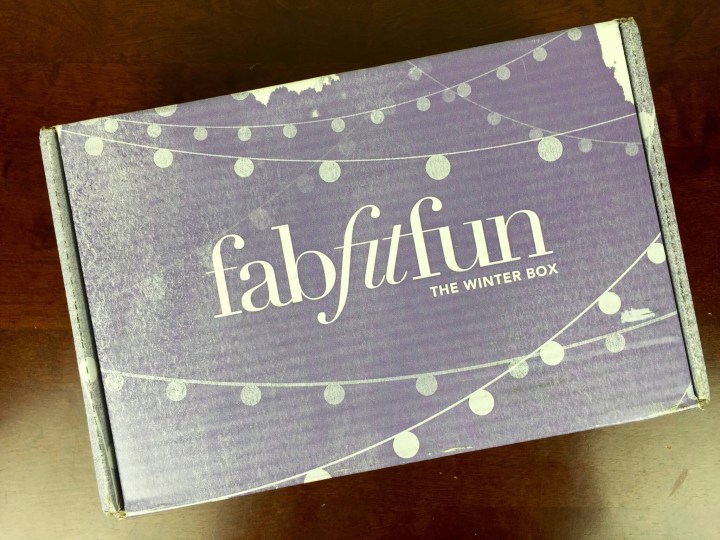 I am loving the FabFitFun reboot – it's always been one of my very favorite subscriptions and just gets better each quarter – the Winter box was awesome!  FabFitFun Box is a quarterly women's subscription box that promises fabulous beauty, fashion, and fitness items every quarter. The box itself featured different colors this quarter, all the boxes were designed by artist Jocelyn Edin.
A large format mini-magazine comes in the box – it provides all the details on the products, plus fun lifestyle articles too!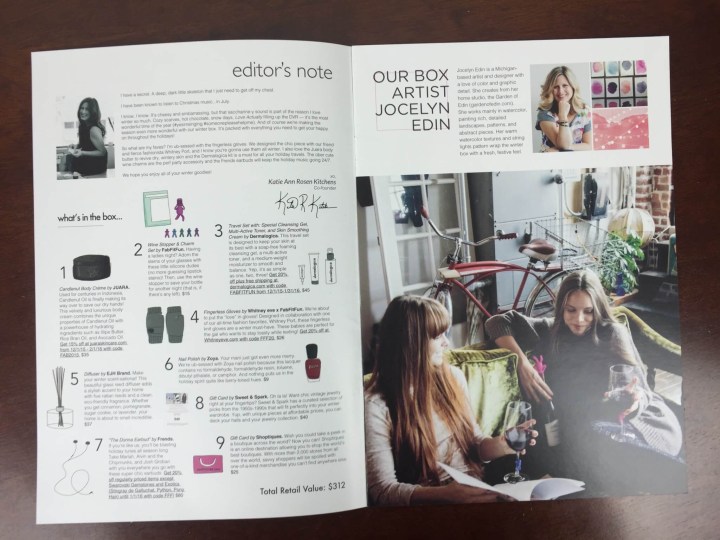 Product information, editor's note, artist information.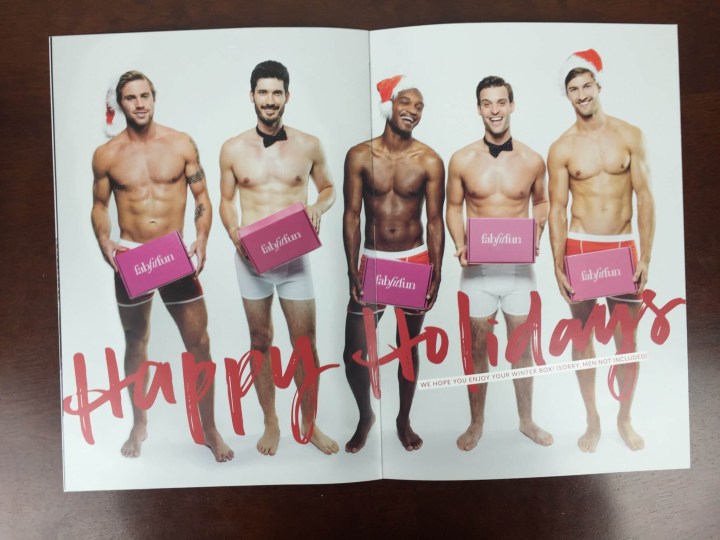 Happy Holidays indeed!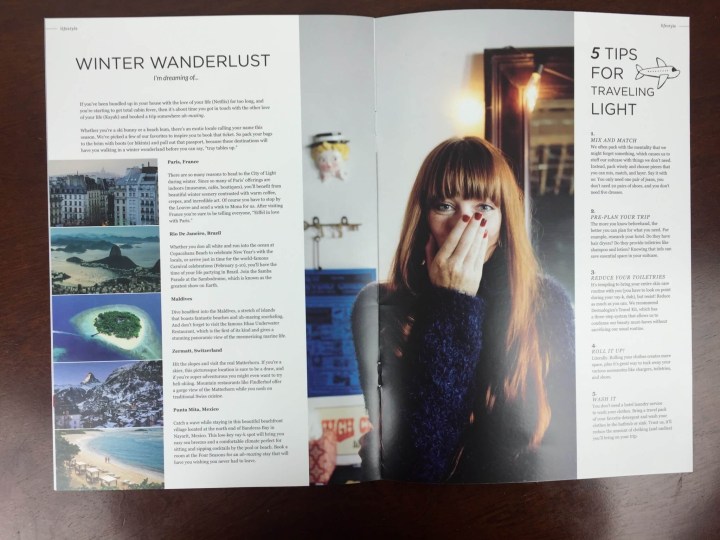 Travel tips!
Everything in the FabFitFun VIP Box for Winter 2015!
Before I get to the items – please note that there are scent/color variations for some of them. FabFitFun Select Members (aka annual subscribers) have a selection window in which they can choose between the offered ones. I subscribe annually so I can get exactly what I want!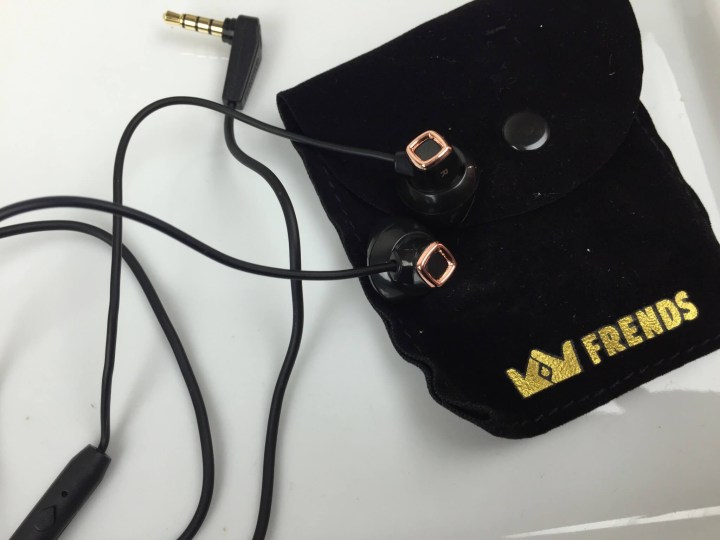 FRENDS "Donna" earbuds  ($80) Usually I think earbuds are overdone in subscription boxes (and they were in the FFF Winter box 2 years ago), but I was actually in need of another pair and I love the FRENDS ones because they're so classy. And also my husband never steals them! I liked these even though they weren't adjustable for my ears.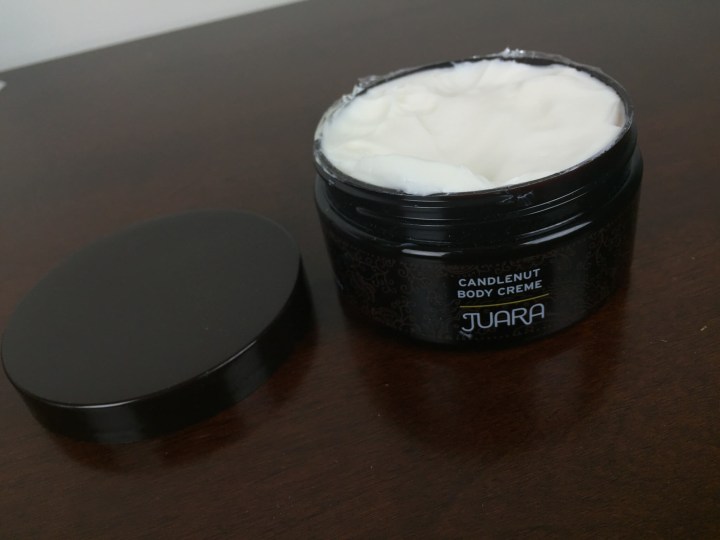 JUARA Candlenut Body Creme ($38) This container was impossible to open – I got body creme absolutely everywhere after the five full minutes it took me to remove the foil seal. It's rich and emollient and heavily scented – tropicalish like lime and verbena maybe? Although the magazine said to use for your hands, this awesome creme is really for your body.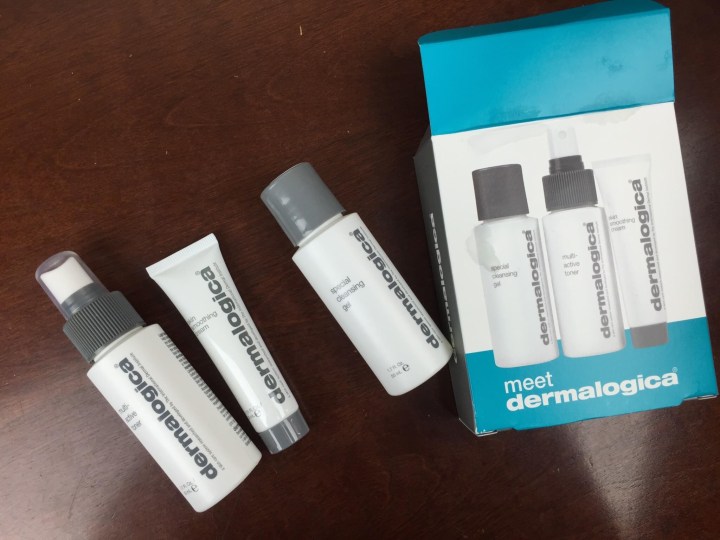 Dermalogica Skincare Travel Set ($45) Includes special cleansing gel, multi-active toner, and skin smoothing cream. This is perfect to use over the holidays to clean and calm your skin – and even better if you travel like I do over break. I love the simplicity of a 1-2-3 skincare system.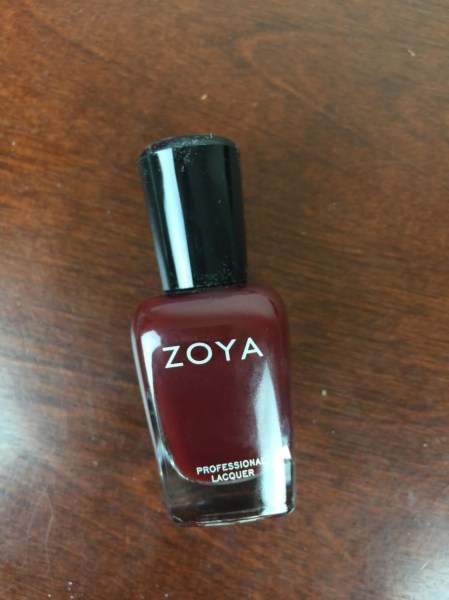 Zoya Nail Polish ($9) Zoya is a great polish formula! My polish came in Dakota – a dramatic dark cherry creme with a very subtle hint of brown. Great color for the holidays and all subscribers received a party-perfect holiday tone.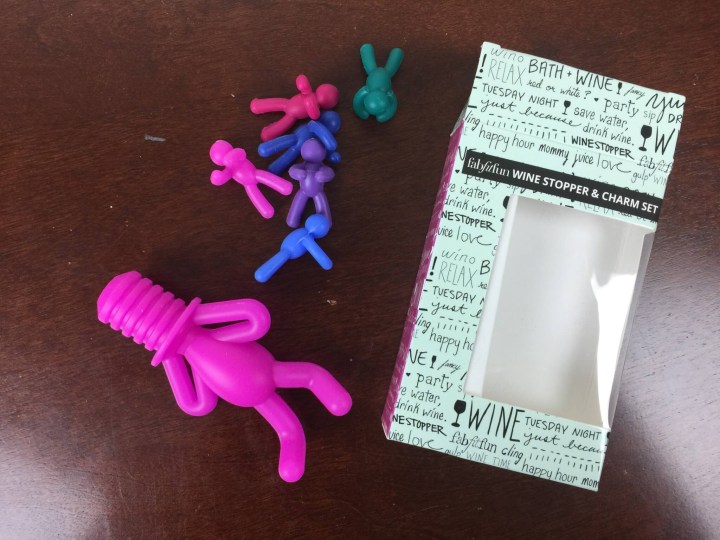 FabFitFun Wine Stopper and Charm Set ($15) This is a fun and super cute silicone stopper and charm set. I love the little figures! I'm bringing this with me for our Christmas party!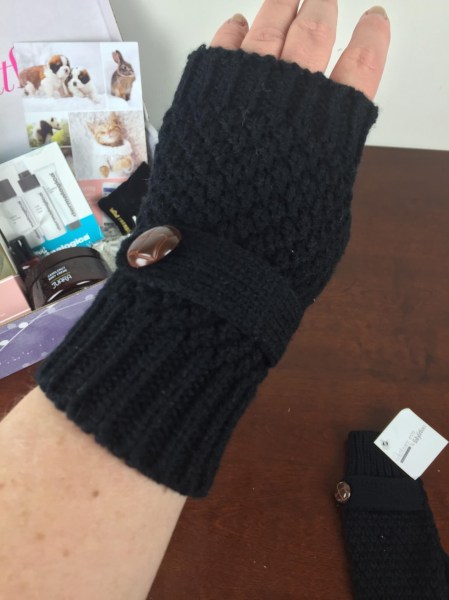 Whitney Eve x FabFitFun Fingerless Gloves ($26) I have cashmere fingerless gloves to keep my hands warm in my office for winter but I think these ones will be my riding the bus pair – I love the adorable button and I also love keeping as warm as possible while still being able to text and send email.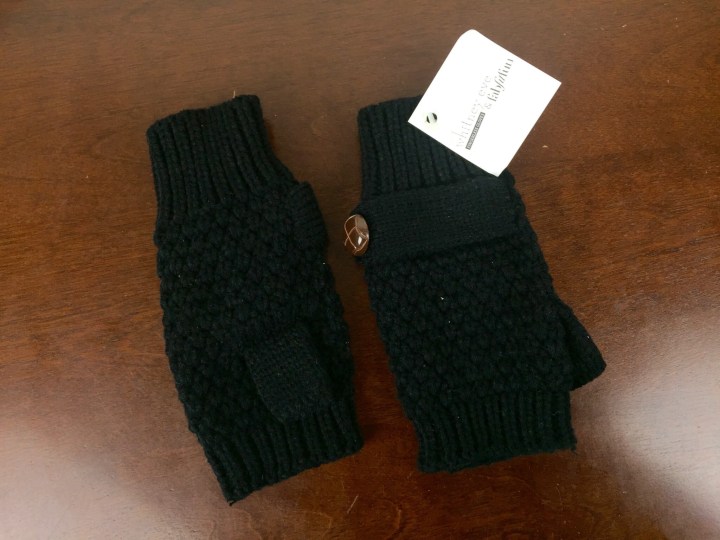 They were available in black and grey; I chose black because my other handwarmers are grey!
EJH Brand Diffuser in Cinnamon, Pomegranate, Sugar Cookie or Lavender ($37) I chose sugar cookie (how can I not?). The scent is great! I did have to use a pair of scissors to remove the protective cap (blunt kids' scissors).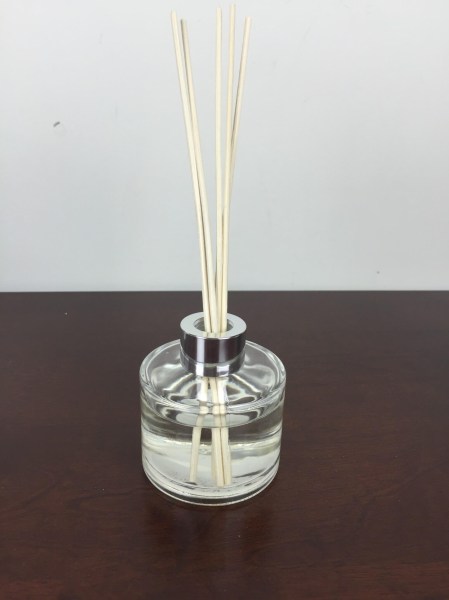 The design is simple and my office smells yummy!
Sweet and Spark $40 Gift Card Vintage jewelry – probably a lot of demand right now but if you wait a bit their inventory will be restocked!
Hello Fresh 3 Meals Free Code (FYI – Get 4 meals free with code 7UT7K8)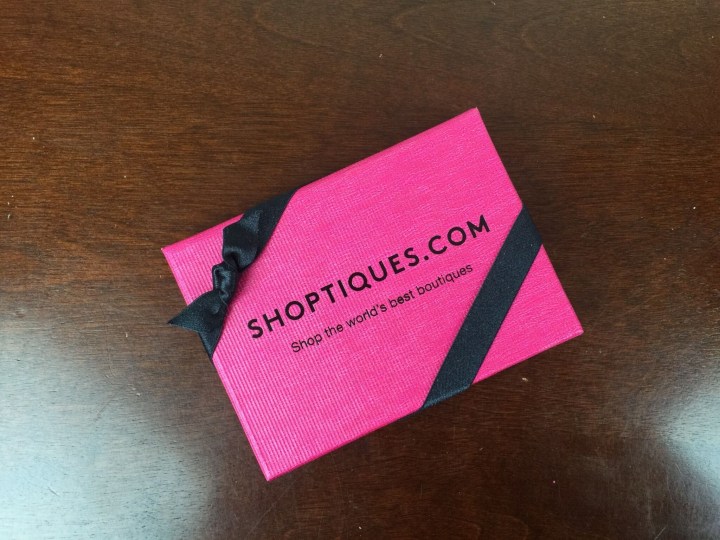 Shoptiques $25 Gift Card I loved this because I can totally gift it.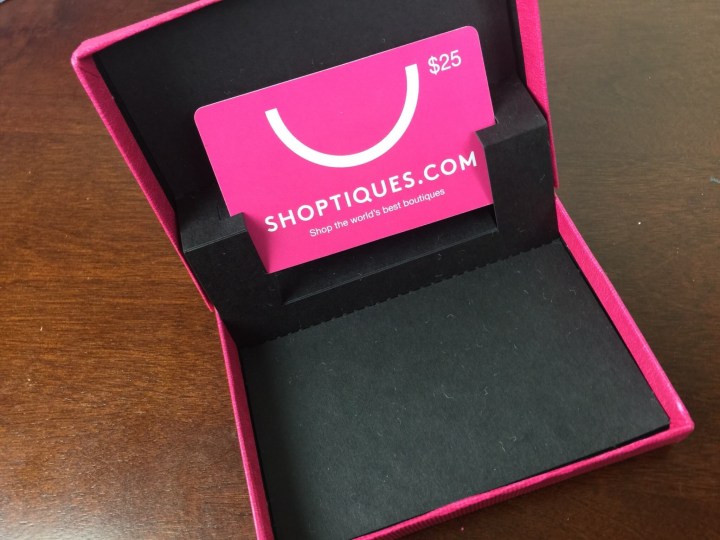 Look at the presentation! It's absolutely gorgeous. It's not a weird voucher – it's an actual $25 gift card!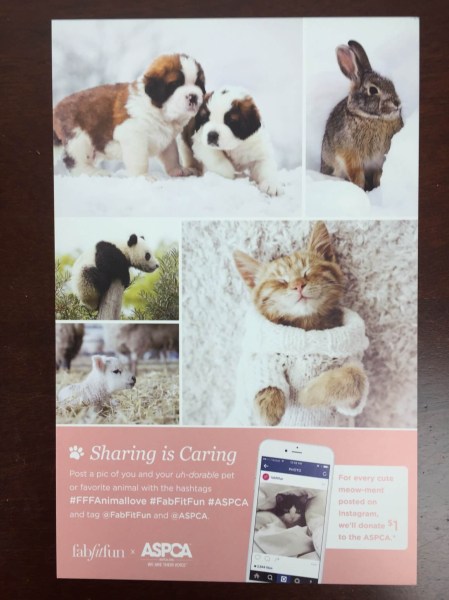 Post a picture of your pet or favorite animal with the hashtags #FFFAnimallove #FabFitFun #ASPCA and tag @FabFitFun and @ASPCA and for each of these photos FabFitFun will donate $1 to the ASPCA — up to $90,000! I love that FFF partners with a charity with each box now!
This box is always great but this one was totally amazing. It's a mind-blowing gift box and I would absolutely pick up another to gift a friend. You can also use this box to break up for gifts (see my "holiday breakups" gift guide for more boxes than you can split up!) which is a fantastic way to load up on presents for stocking stuffers and more. I've even heard from a reader that was just buying four of these and being done with shopping! If you did order this box and haven't received it yet, it's good to know that they send all of one variation at once, so if your box was exactly like mine, it should have shipped already, but other color combos may not have shipped yet.
The total value of this box was around $315, which is super exciting considering that before I saw the spoilers I was actually thinking about buying a new pair of headphones, so I pretty much just got a wad of free stuff along with my headphone purchase to make my holidays super merry!
Visit FabFitFun VIP Box to subscribe or find out more! Use coupon code FUTURE10 to save $10 on your first box!
The Subscription
:
FabFitFun VIP Box
The Description
: FabFitFun VIP subscription box is a quarterly lifestyle subscription box from FabFitFun. The VIP box features a mix of beauty, fashion, fitness, wellness and home products that help you feel good from the inside out. The box includes full-size products and premium items.