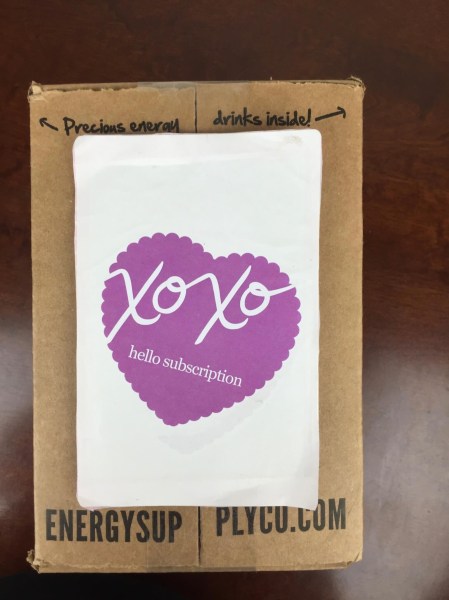 Energy Supply Co. is a monthly subscription box for anyone who likes to drink energy drinks to fuel their intense study, work, and play.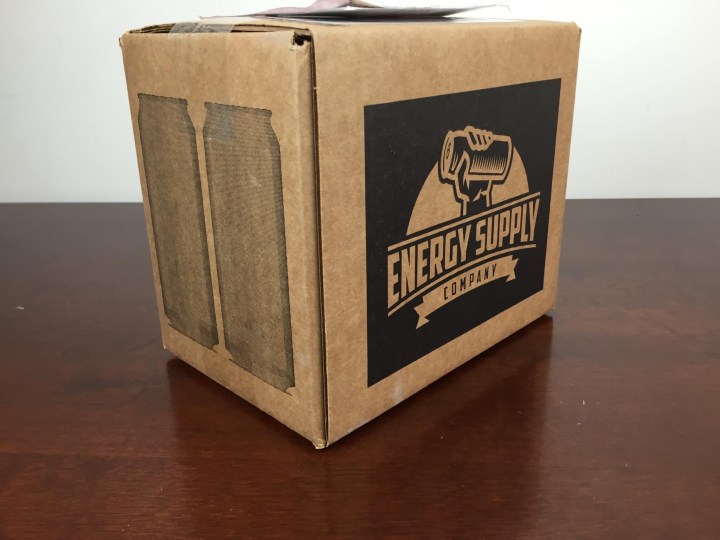 Each month, a fresh crate is delivered to your door (or campus Post Office).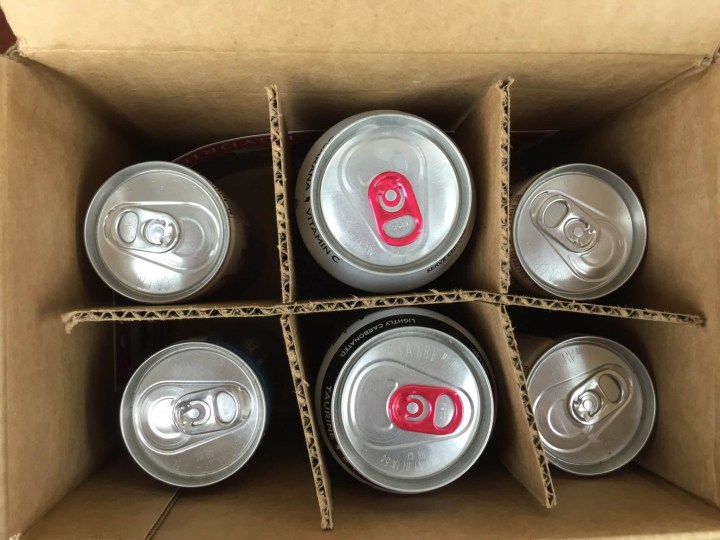 Each crate has six (6) large cans of drink from select producers.  This, our inaugural shipment, had two selections from each of three energy drink purveyors.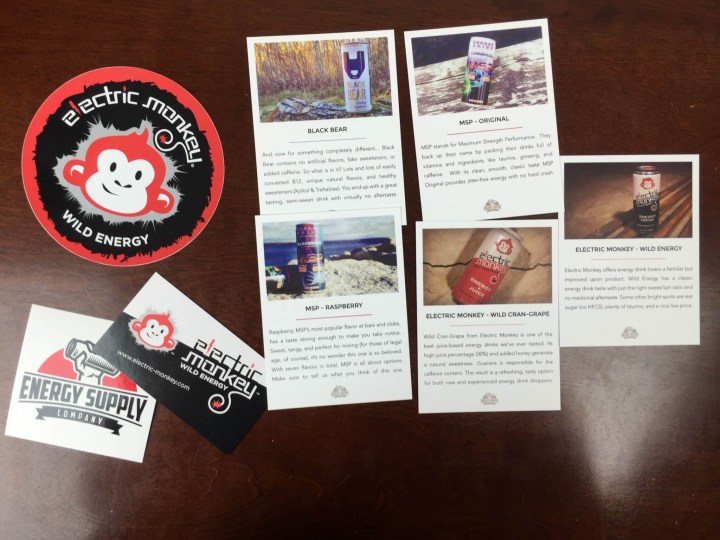 Info cards for the products, as well as swag, is included in each shipment.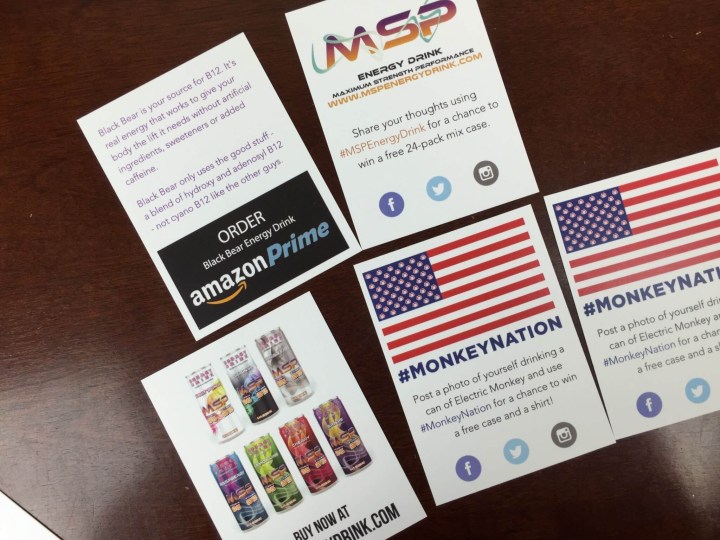 Each selection has its own proprietary blend — some focusing on B vitamins, others sources of caffeine — and the product cards provide a handy overview of your haul.
Electric Monkey Wild Energy Energy Drink:  Flavored with real sugar, this has a classic sour/sweet energy drink taste, but almost no aftertaste.  Each 16 oz can packs 160 mg of caffeine and a dose of B vitamins.
Electric Monkey Wild Cran-Grape Energy + Juice:  This variety has the same caffeine and vitamin profile as the original, but 30% is real juice.  The sweet and sour of grape and cranberry add some flavor.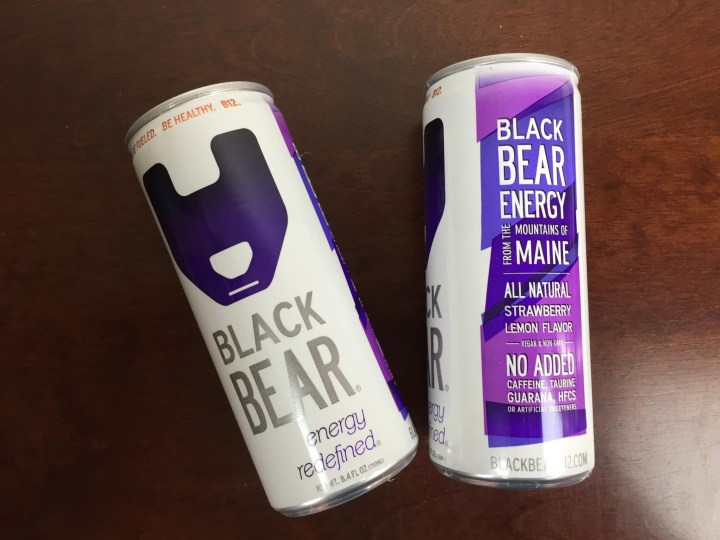 Black Bear Strawberry Lemon:  Black Bear is the no caffeine, no added sugar energy drink alternative.  It is loaded with quickly-accessible B vitamins (hydroxycobalamin & adenosylcobalamin), not the more dormant cyano-B12.  Black Bear appear to embrace the more holistic side of energy-bombing, skipping the caffeine and focusing of high-quality B vitamins.
MSP Raspberry:  Taurine, caffeine, ginseng, B vitamins power the energy surge from this drink.  Raspberry is one of several flavors available — currently available flavors include all manner of fruit flavors.
MSP Original:  MSP, or Maximum Strength Performance, more so than it's rivals, embraces the use of the energy drink as a mixer.  The suggestion is made right on the can, and their website even publishes recipes.  Original is the most versatile, even pairing with Midori and Vanilla Stoli to make a Green Martian.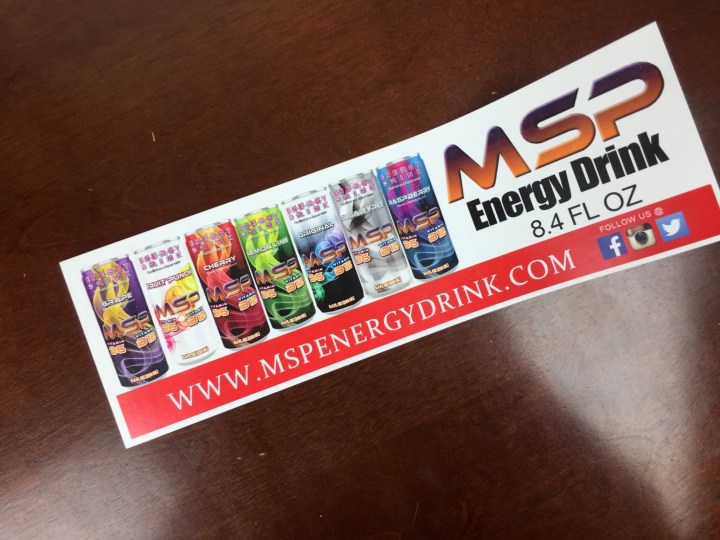 One of our swag items was an MSP bumpersticker!
This subscription is handy for anyone who regularly consumes energy drinks and wants to expand their horizons beyond what is available at their corner store.  It is particularly helpful for students and others who may not make regular grocery runs or are not able to lug a supply home.
I liked the variety of selections — the Black Bear, for example, being more health-conscious in its approach, using only select B vitamins for energy, while Electric Monkey includes some juice in one of their offerings, and MSP seems all about drink mixing.  For someone with diverse energy needs, or who is still searching for their thing, this is a good exploration box.
Visit Energy Supply Co. to subscribe or find out more! Save $10 on your first box with code CRATEJOY10
The Subscription
:
Energy Supply Co.
The Description
: Energy Supply Co. is the world's first and only Energy Drink Subscription Box. We find drinks from across the land and send you six of the best ones each month. Every monthly box means different brands. You will always receive something new and fresh. It doesn't get any better…or more simple.
The Price
: $24.95 per month