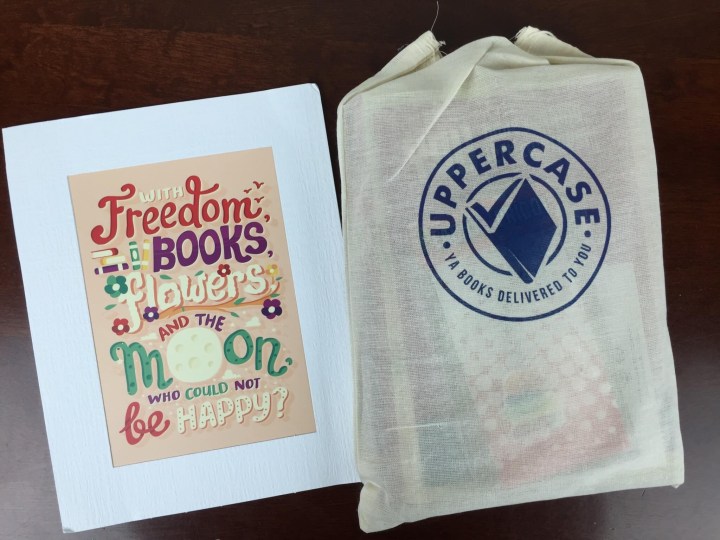 Uppercase Box is a monthly young adult (YA) book and bookish item subscription. Every month you'll receive a hand-selected book, bookish goodies, plus a special reading experience!
I knew who the illustrator was for this poster immediately! This box ships in a flat rate priority mailer and all the other items were in the bag.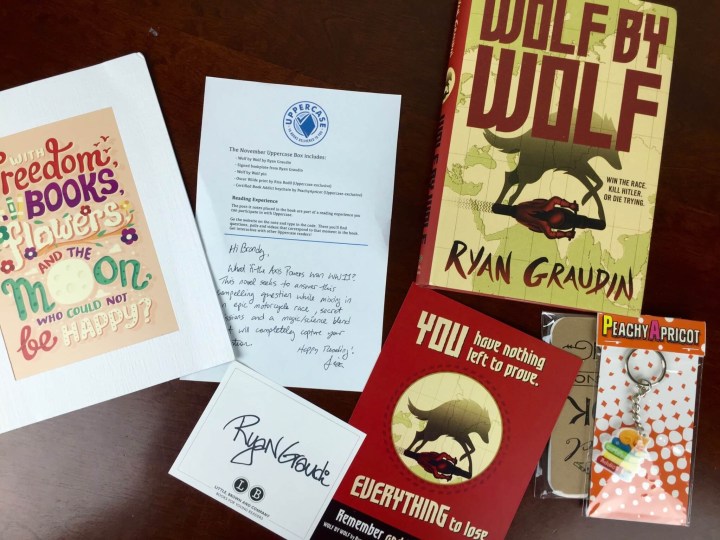 Everything in the box. I was a bit excited, because most of the book subscriptions are quite girly, and this looked like a nice change of pace – at least from first glance!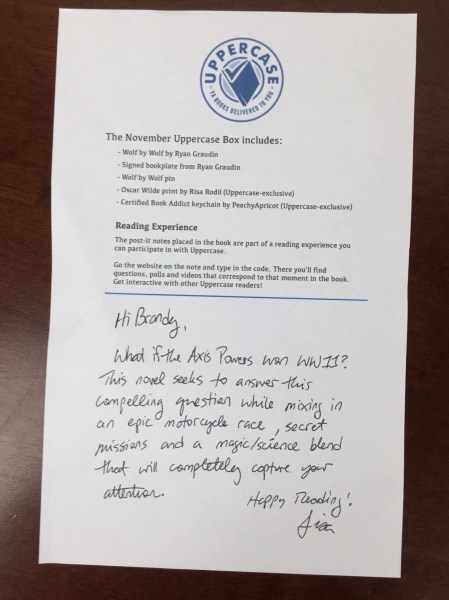 The subscriber letter tells you what comes in the box, an explanation of the reading experience included with the book, plus a curator's letter about the book.
Icey Designs A Good Book Has No Ending Mini Notebook ($4) A cute notebook to jot down your thoughts! Blank inside. This item wasn't on the sheet and I don't think regular subscribers received it. On Instagram I noticed that there were pins and I didn't have a pin, so maybe that was swapped out.
Peachy Apricot Certified Book Addict Keychain ($8)  It's a Harry Potter cat! It should be obvious just by looking at him but if you can't tell, zoom in on the photo – He has a lightning bolt! Maybe it's just me, but he screams Harry Potter!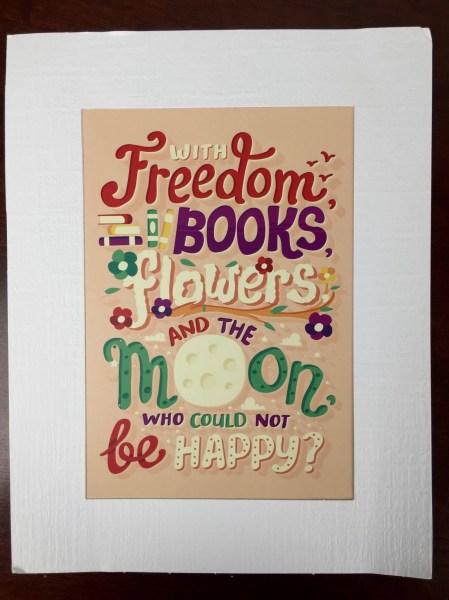 Risa Rodil Oscar Wilde Print ($15?)  Risa Rodil designed the shirt in the FanMail Supernatural themed box and it was so awesome that I poked around at a bunch of her things and even included her in my gift guide for book lovers. Anyone who includes her art in their subscription has great taste! Love this Oscar Wilde quote too. The edges were slightly rumpled because of the shipping method. I'd have liked to seen it be packed in cardboard. The back has a stand but I will insert this in a frame, then it won't matter.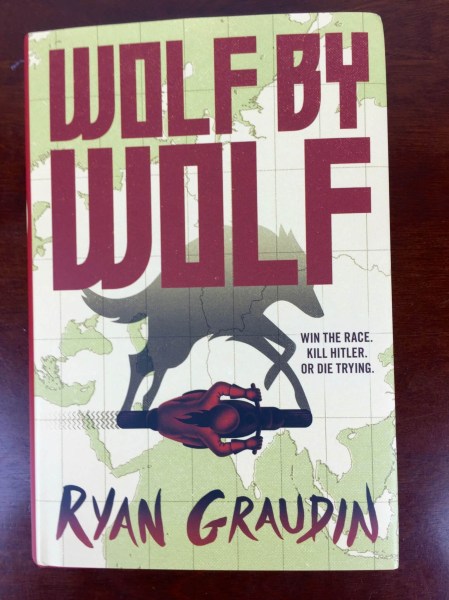 Wolf by Wolf by Ryan Graudin ($9.90)
The year is 1956, and the Axis powers of the Third Reich and Imperial Japan rule. To commemorate their Great Victory, they host the Axis Tour: an annual motorcycle race across their conjoined continents. The prize? An audience with the highly reclusive Adolf Hitler at the Victor's ball in Tokyo.

Yael, a former death camp prisoner, has witnessed too much suffering, and the five wolves tattooed on her arm are a constant reminder of the loved ones she lost. The resistance has given Yael one goal: Win the race and kill Hitler. A survivor of painful human experimentation, Yael has the power to skinshift and must complete her mission by impersonating last year's only female racer, Adele Wolfe. This deception becomes more difficult when Felix, Adele's twin brother, and Luka, her former love interest, enter the race and watch Yael's every move.
But as Yael grows closer to the other competitors, can she be as ruthless as she needs to be to avoid discovery and stay true to her mission?
Well alternate history that Hitler is still alive and has to be taken out, you should be quite interesting!
Here's the link to the reading experience I flipped to. Very neat idea!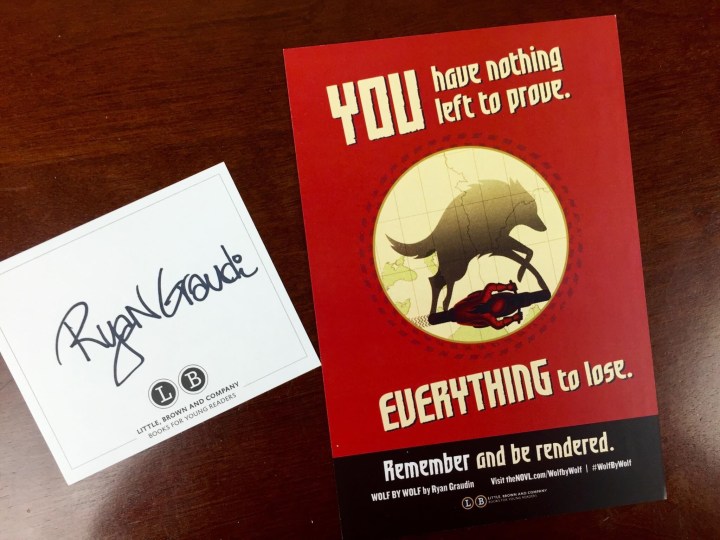 A signed bookplate plus a promotional poster card were included.
This is a great subscription! They also offer a just the book plan as well as a personalized plan (no reading experience) where they will check your Goodreads profile and ensure you don't get a book you've already read. That might be tricky to even do with the regular subscription – because they only send books that have been published within the last month.  I'm excited to read this book and loved all the fun extras.
Visit Uppercase Box to subscribe or find out more!
The Subscription
:
Uppercase Box
The Description
: Uppercase is a young adult book subscription box. Each month subscribers receive one young adult book plus a book accessory (funky items like bookmarks, posters, jewelry, totes, etc.). In addition, Uppercase provides an online area to talk with other readers and find exclusive book content.
The Price
: $29.00 per month