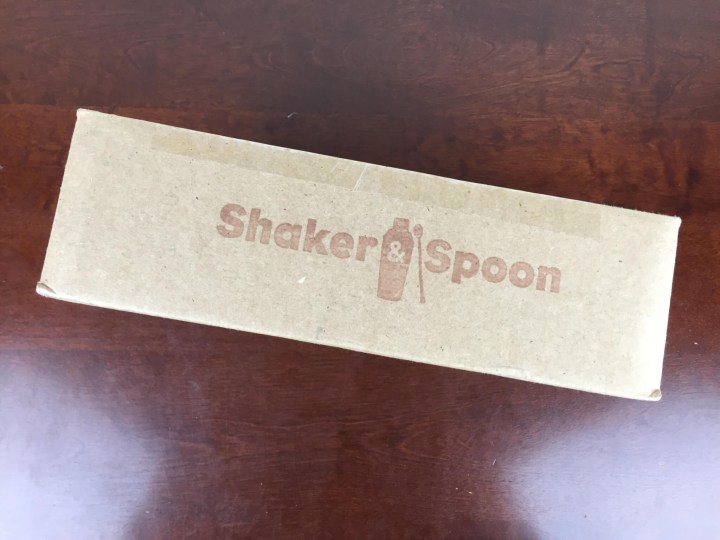 Shaker & Spoon Cocktail Club is a monthly subscription box that is a great way to discover new drinks.   It gives you all the ingredients you need (except the booze itself) to make high-caliber mixed drinks. This is a really awesome idea for people that prefer to procure their own liquor or live in a state where it cannot be shipped to them!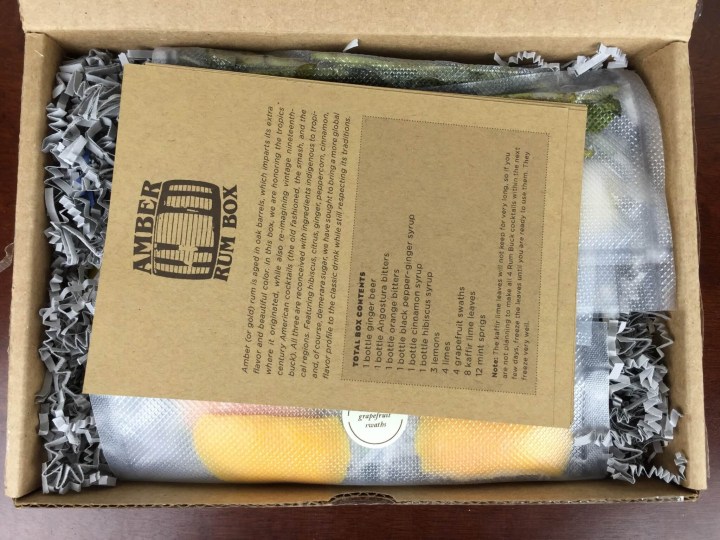 This month was the Amber Rum Box, containing three great recipes using gold rum.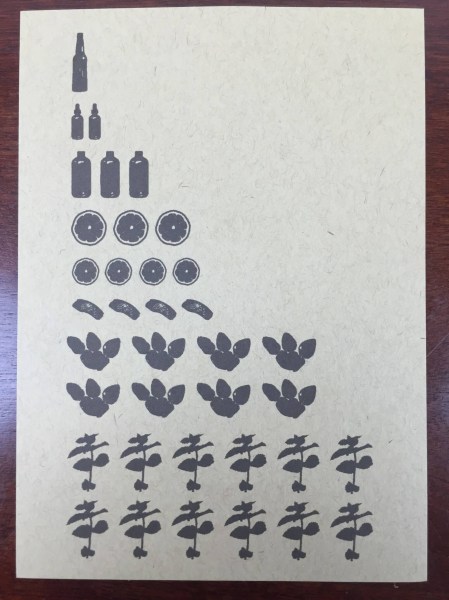 A visual inventory is provided, too!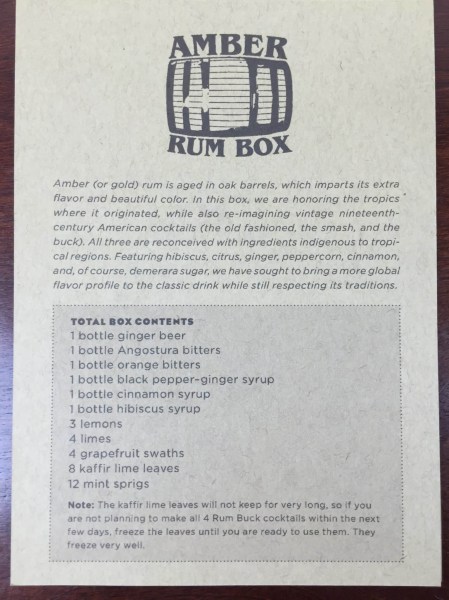 The card gives an inventory of the contents of the box and some information on the nature of the drink, as well as the recipes provided.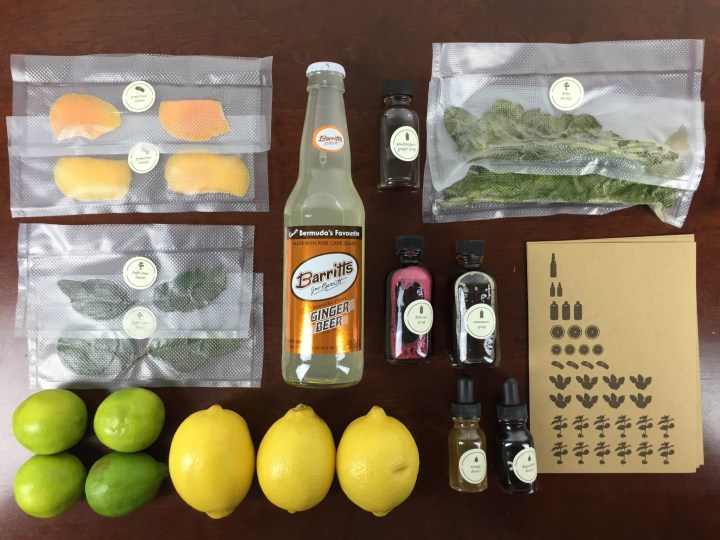 Everything in the box.  I loved the thoroughness of this box — it included the mixers, bitters, citrus, and even the garnish!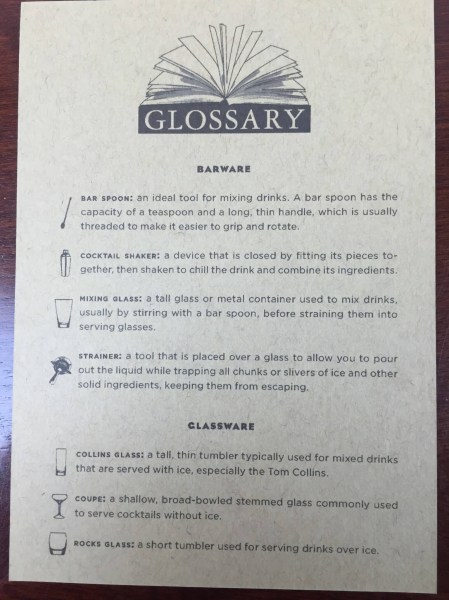 A useful glossary card introduces the novice barman to the tools and terminology that will be used in the recipes.
This card was super-helpful, describing the techniques and measurements peculiar to mixology.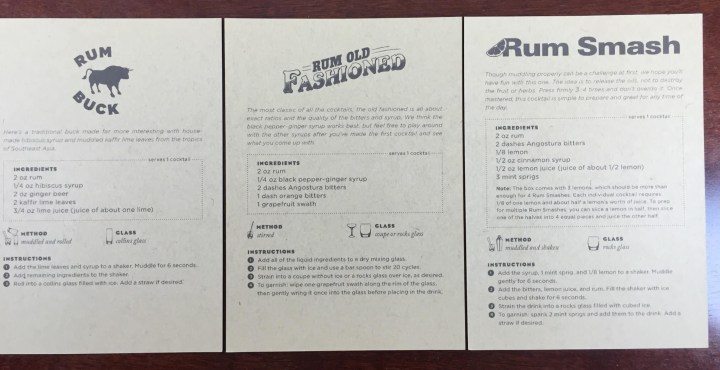 The three gold rum recipes.  They took three classic recipes, updating them by adding unique syrups and bitters.  I really liked the way they avoided substantial overlap in ingredients, so each recipe was very unique (e.g. they didn't put hibiscus syrup in every drink)!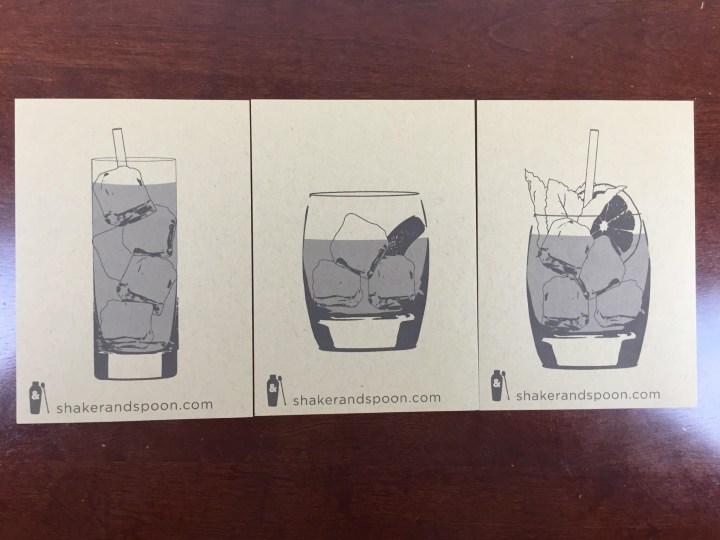 Pictures of the drink when served in the recommended glassware.  We just used a rocks glass for each recipe.
The whole citrus for making fresh juice.  There was enough for four of each of the two recipes calling for fresh juice.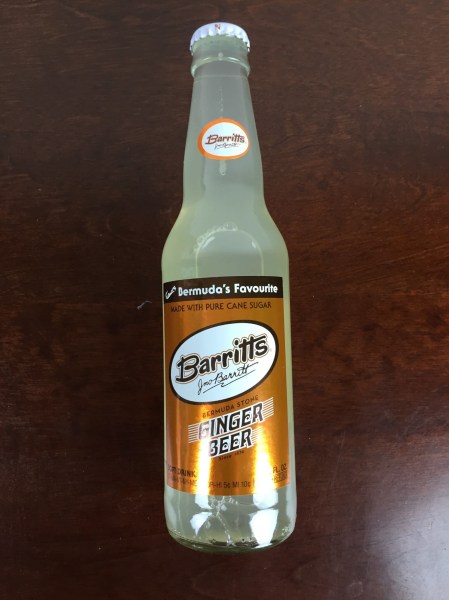 I will have to look for this soda at the store — it makes a great mixer, but it is awesome by itself, too!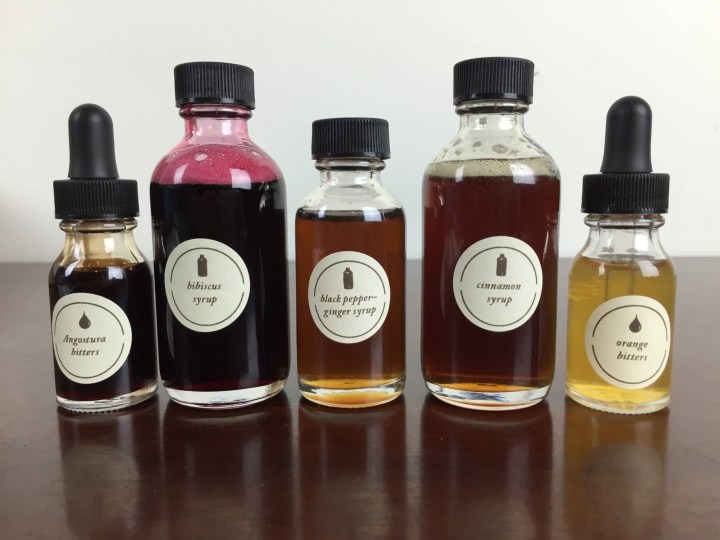 All the syrups and bitters that came in the box.  The bitters were along the classic mold, but the syrups were unique varieties that really packed some lovely flavor.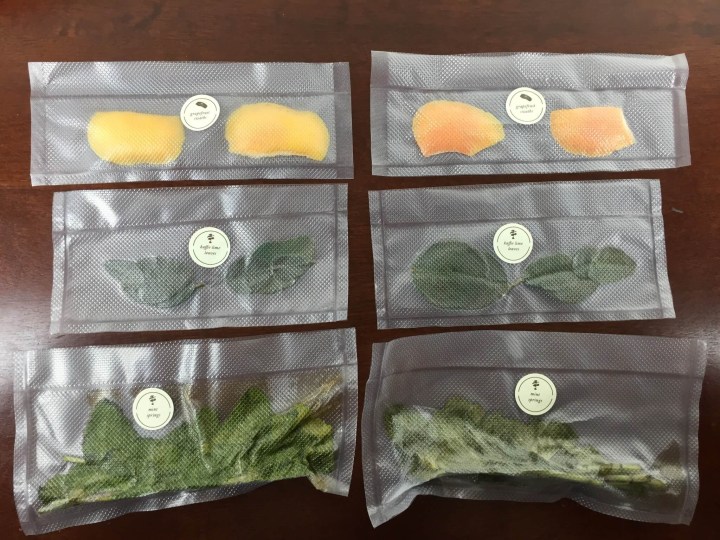 The fresh garnish and greens for muddling.  The card suggested we freeze the kaffir lime leaves if they were not to be used immediately.  This kept them in great shape until we got to them.  The only issue we had was with the mint — it did get a bit wilty.  We had some mint on hand, so we used that for the garnish in the Rum Smash recipe.
Here's what we made:
Rum Smash:  A little like a Mojito, with rum, mint, and citrus, but this had some nice Angostura bitters and lemon instead of lime.  The cinnamon syrup added a nice warmth.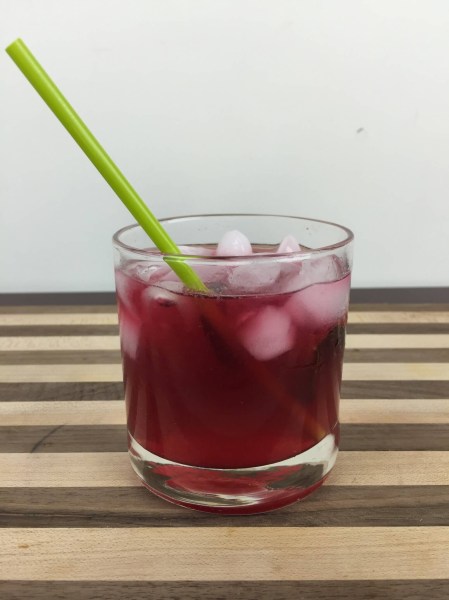 Rum Buck:  Our favorite!  The Hibiscus and Ginger Beer  combo is incredible and really drinkable.  The lime juice and kaffir lime leaves combined to give a great depth of flavor — the sour lime and sweet hibiscus create a Cape Codder-ish feel to it, but this drink is even tastier!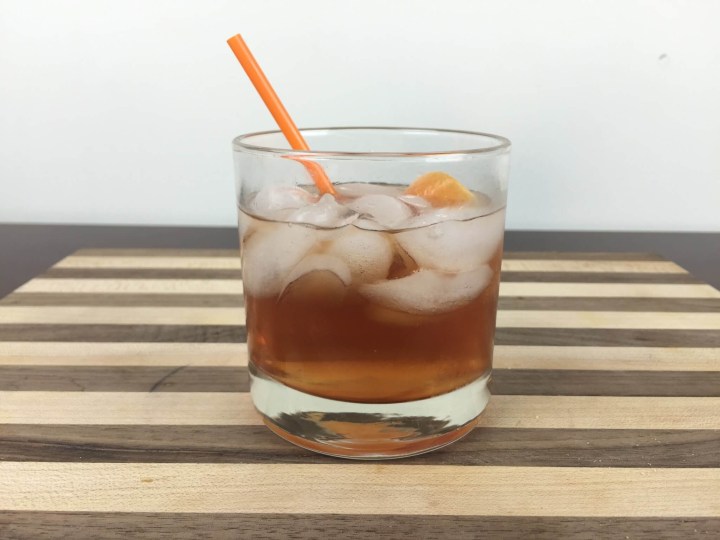 The Old Fashioned:  This classic was tweaked with the addition of black pepper-ginger syrup.  The syrup added a lovely flavor, thought the grapefruit swath and orange bitters tilted the drink a little too far to the citrus side.
Our favorite was the Rum Buck.  The hibiscus syrup was absolutely delightful, and the ginger beer really went well with it.  All the drinks were pretty strong!  The Buck was even better with an extra splash of ginger beer.  The Old Fashioned was tasty (and strong, of course), but the orange bitters were a bit powerful — I would dial them back a tad in the next batch.  The Rum Smash was full of mint and citrus, a good choice for mojito fans.
I loved this box — I thought it was awesome to get your recipes, mixers, syrups, garnish — everything — in one box. It totally blew my mind!  I really appreciated that the recipes were built on a single, readily available liquor, and they did not expect me to acquire or have on hand several exotic liquors (too many drink recipes have a splash of something I've never heard of that costs $50 a bottle). There are plenty of boxes offering great bar tools (like shakers and glassware), no shortage of recipes, and booze is better picked up in person than shipped when you are getting everyday stuff.  But this is the only drink prep box I've seen that didn't require me to gather all the fresh garnish myself, but I still got the experience of getting a subscription to create craft cocktails in a state (Pennsylvania) where we normally cannot receive a liquor subscription.  Shaker & Spoon Cocktail Club fills a void in the drink prep world, and they do a great job! This was one of my favorite subscription boxes of all time.
Visit Shaker & Spoon Cocktail Club to subscribe or find out more!  Save 15% off your first box with coupon code HELLO15.
The Subscription
:
Shaker & Spoon Cocktail Club
The Description
: Every month you'll get a box with 3 recipes for 12 drinks (4 from each recipe) and everything you need to make them—syrups, bitters, garnishes, citrus—besides the alcohol. You'll be exposed to new flavors and combinations, inspiring you to see your liquor cabinet in a whole new way. Subscribe today and be your own bartender before you know it.
The Price
: $40.00 per month