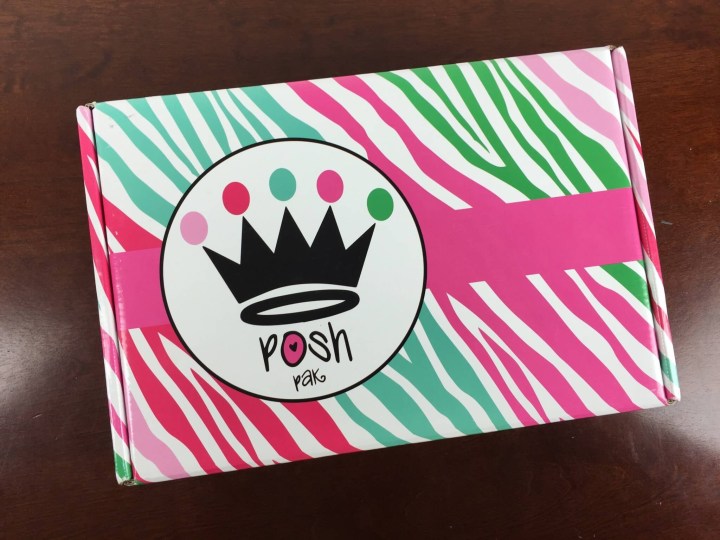 Posh Pak is a monthly subscription box for girls with three age ranges: Little Girl (5-8), Tween (9-12), and Teen (13+)!  It's the perfect box for your cute little girl up to your stylish teen and contains fun and trendy age-appropriate items. This is the teen box!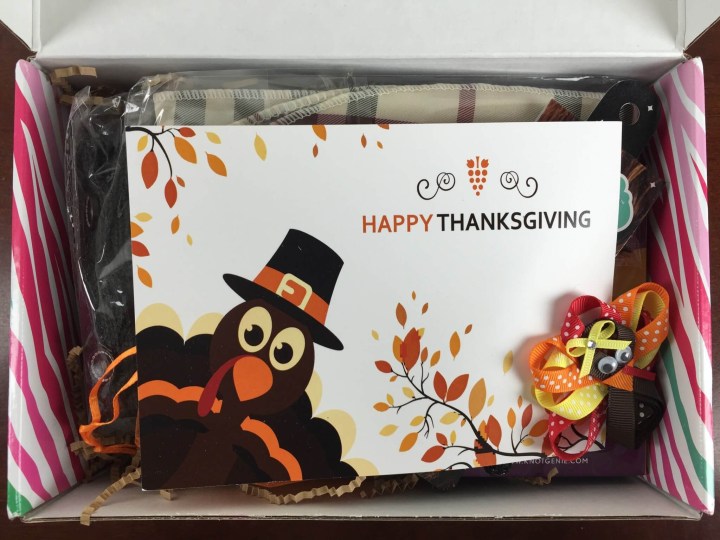 The theme for November is Thanksgiving!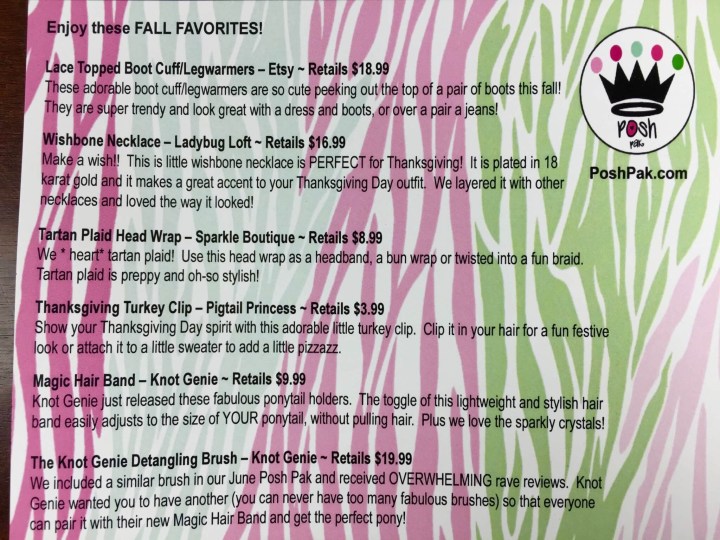 The information card has brief details on each item.
Everything in the November Box!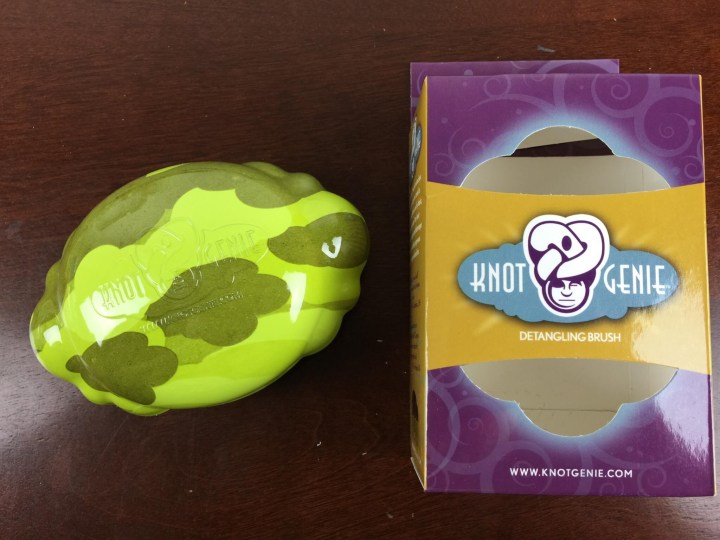 Knot Genie The Knot Genie Detangling Brush ($19.99):  We have one of these for our daughter, and they are a life-send!  The lack of handle cuts down on the torque and tug, making it gentler on knots.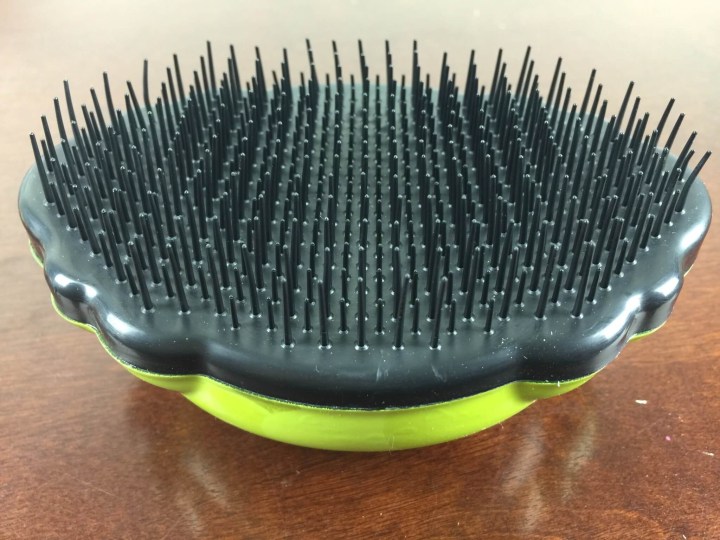 Much gentler than a normal handled brush, the plastic bristles tug on the tangles and then pass them to the next bristle — they gently free the tangle instead of tugging on it with a single, stiff bristle.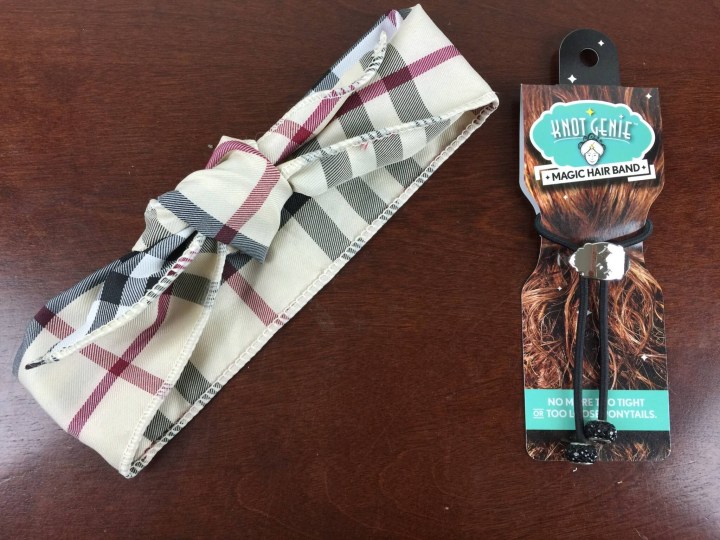 Sparkle Boutique Tartan Plaid Head Wrap ($8.99):  Reminiscent of the Burberry pattern , this cute wrap has an internal wire to help it retain shape and hold.  Ties easily into whatever kind of knot you wish.
Knot Genie Magic Hair Band ($9.99):  This is a cool concept that solves the problem of hair bands that end up either too loose or too tight.  The lariat-type design lets you tighten the band to whatever length is needed.  Plus, it is really cute, with he beaded ends.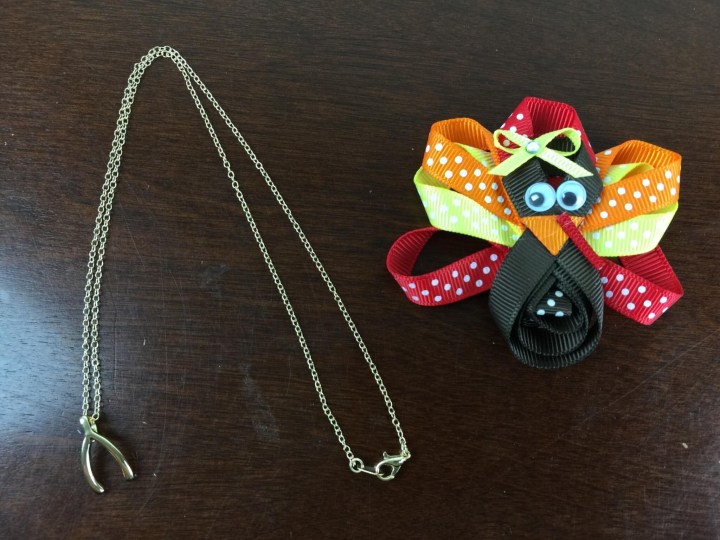 Ladybug Loft Wishbone Necklace ($16.99):  Perfect for Thanksgiving!  This sweet necklace looks just like a wishbone, slightly stylized to look cuter.
Pigtail Princess Thanksgiving Turkey Clip ($3.99):  Fun and festive, with a single clip on the underside.  I love that the turkey itself has a hair bow!
Three Bird Nest Lace Topped Boot Cuffs ($18.99):  A plush version of gaiters, these unbutton fully if needed, but can be slipped on to cut the chill where tights meet boot.  The brown sweater-weave material is Thanksgiving-friendly and will go with any earthy outfit.  The rustic lace keeps the glam factor to a minimum, increasing the versatility.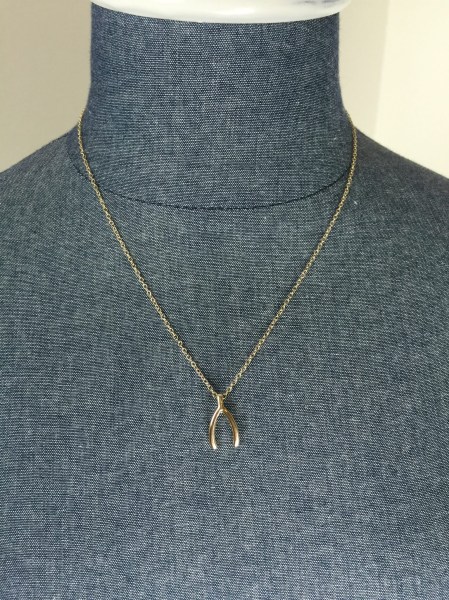 This necklace hangs at a great length — it should fall between the lapels of a cardigan or vest, or sit nicely atop a sweater.  The metal tone is half-way between silver and gold, like bright brass, making it suitable for wear with innumerable palettes.
This is a fun and fabulous subscription for tweens and teens.  The items are cute and have an appropriate level of sophistication for the age group.  I would feel comfortable with my daughter wearing everything in the box, as the items are cute and don't attempt to overshoot the target age.
Visit Posh Pak to subscribe or to find out more about this box!
The Subscription
:
Posh Pak
The Description
: Inside the Pak you will find 4 to 6 items ranging from health/beauty, fashion accessories, tech, school supplies, tasty treats and some designer labels, just for girls. Choose between the age ranges of 5-8, 9-12, and 13+!
The Price
: $29 per month