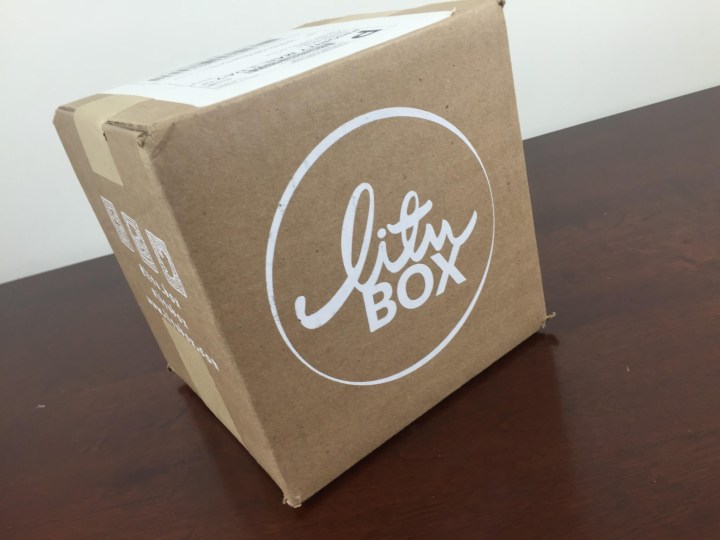 Litu Box is a new monthly artisan subscription box. The October box was their launch box, and this box is still available for purchase in their shop! Subscriptions will go live with the December box. Every month you can expect high-quality, handcrafted products made by local and international artisans plus delicious and healthy food items made from natural and organic ingredients. Boxes will include a total retail value of at least $35 of bath & home goods, women's accessories, eco-friendly products, jewelry & more!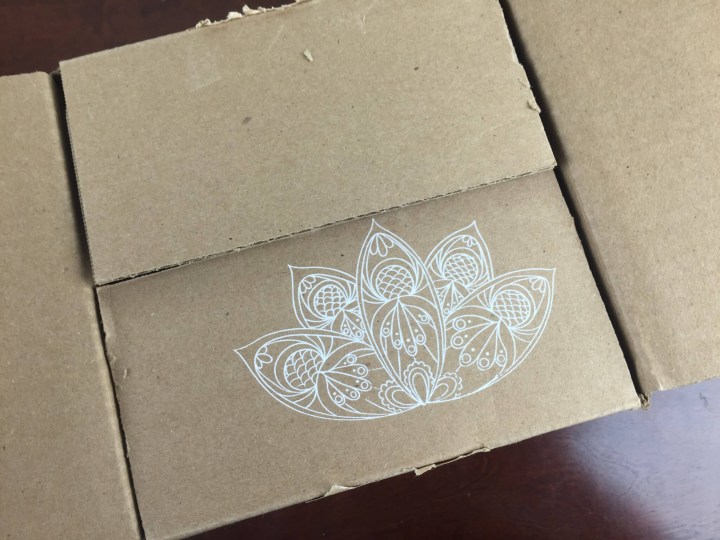 So pretty when you open it!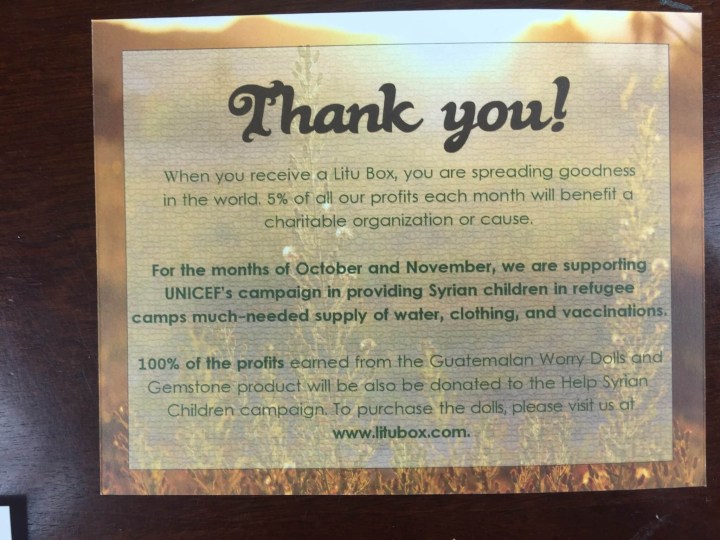 Litu Box donates 5% of their monthly profits to a charitable organization.
The card celebrates Halloween and Fair Trade month, and explains a bit about the fair trade concept – to compensate artisans fairly for their labor.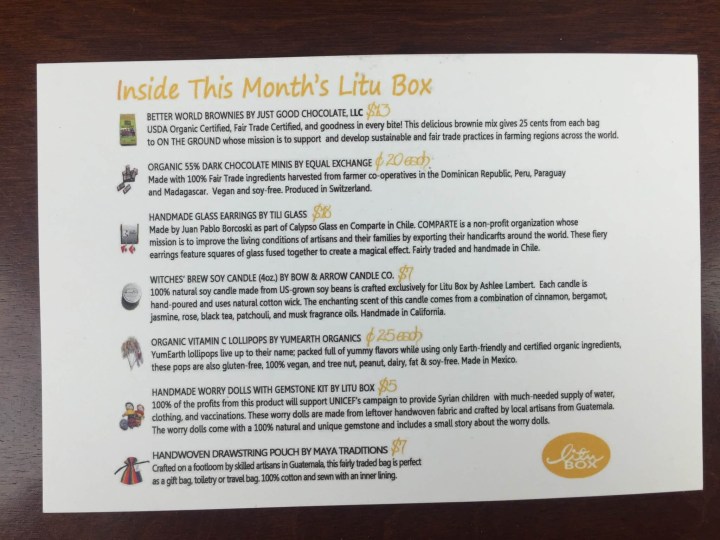 The card was a bit hard to read – I hope they enlarge the print for the next box!
Everything in the October Litu Box!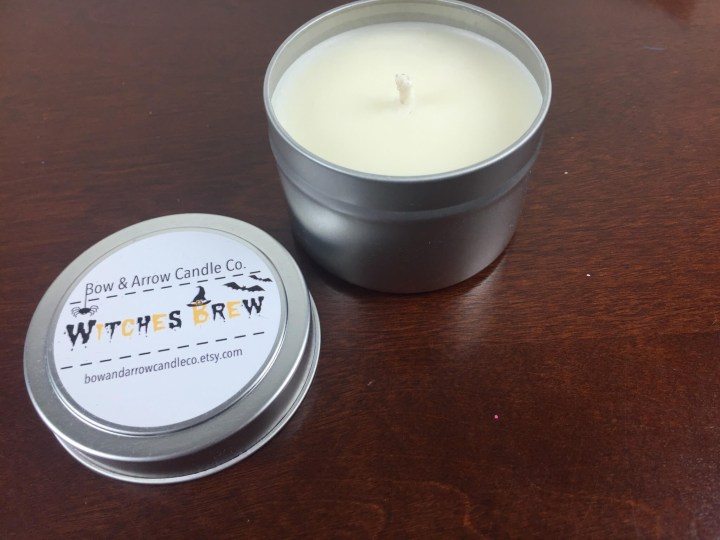 Bow & Arrow Candle Co. Witches Brew Soy Candle ($7) I love the scent of this candle! It's handpoured 100% natural soy wax and scented with cinnamon, bergamot, jasmine, rose, black tea, patchouli, and musk. I smelled the tea right away and it made me smile – Haha – brew! Perfect for October and November. And. So. Cute. FYI, this shop offers their own subscription!
Also included were two totally bonus votives in Tobacco & Bourbon and Pumpkin Spice. Loved 'em both.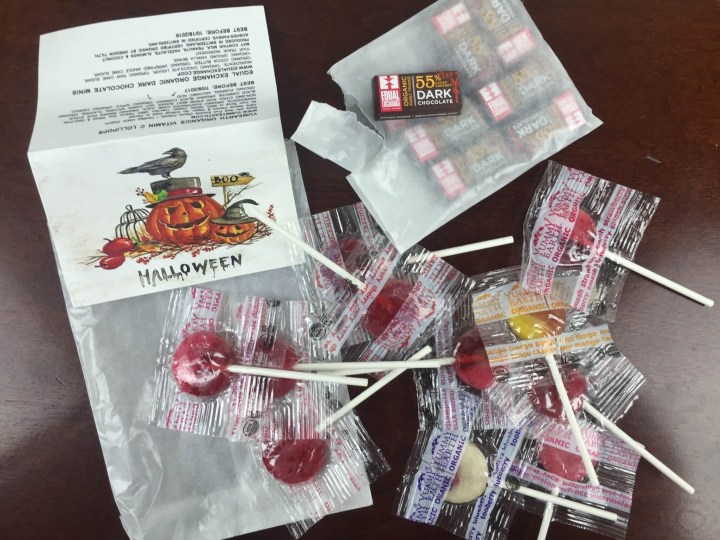 Equal Exchange Organic 55% Dark Chocolate Minis ($2)  I love these two bite bars! The chocolate is sourced from farmer co-operatives in the Dominican Republic and Peru. The sugar and vanilla are also from co-oops and fair trade.
Yummy Earth Organics Vitamin C Lollipops ($2) Ah, good for you organic candy! These have 100% of the RDA of Vitamin C, made with certified organic ingredients, and my favorite are the creamy side!
This was a fun way to get a Halloween treat bag!
Tili Glass Handmade Glass Earrings ($18) COMPARTE is a non-profit that exports Chilean handicrafts around the world, providing fair compensation for the owners of and workers in Chilean handicraft workshops. These fused glass earrings were made through this program in Chile, and are quite beautiful!
Maya Traditions Handwoven Drawstring Pouch ($7) Such a pretty pouch with a cute rainbow pattern. Maya Traditions works in Guatemala with Mayan communities and artisans. This pouch was made with fabric woven with a footloom, and it has a nice lining inside!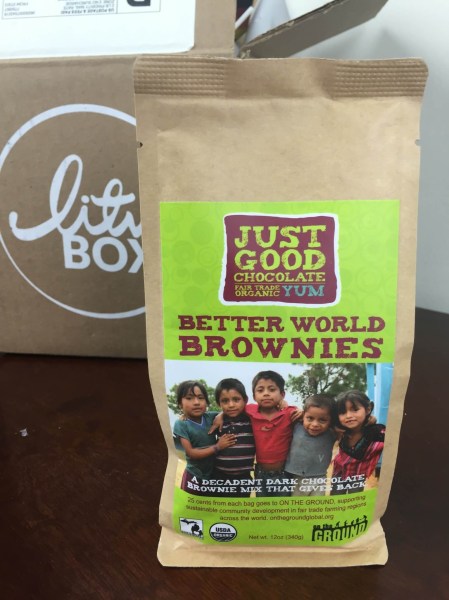 Just Good Chocolate Better World Brownies ($6.75) This really is a decadent and delicious brownie mix (I've had it before!) plus it's organic and supports sustainable community development.
Litu Box Handmade Worry Doll and Gemstone Kit ($5) 100% of the profits of this set will be donated to UNICEF's Help Syrian Children Campaign. You can purchase them on their site. You tuck the worry doll under your pillow at night, and the doll will worry in your place. I'm not really sure about the gemstone – it wasn't explained on the card. Just something else to worry on/stress relief.
This box had a value of nearly $50 and had some great artisan products from around the world. I particularly loved that it has snacks in it – I think there's definitely room for a fair trade/artisan subscription box that sends both beautiful products and yummy snacks, so I'm very interested to see what the December box brings!
Visit Litu Box to subscribe or find out more!
The Subscription
:
Litu Box
The Description
: Discover handcrafted and artisan goods from around the world, natural and organic food items, one-of-a-kind handmade jewelry and women's accessories, fair trade and Earth-friendly brands, and many more fun and gorgeous finds can be found in one LITU BOX!
We believe in spreading a litu goodness in the world by supporting a charitable organization or cause each month and donate 5% of all profits to them.
The Price
: $35.00 per month