Whew – it's been a while since my last Gwynnie Bee review.  I kept items for a while (because I was wearing them!), so there was nothing new to share.
Gwynnie Bee is a clothing rental subscription service. My body shape makes me a perfect candidate, as they specialize in sizes 10-32, and I am a solid 16.  I added about 25 items to my closet (it's a lot like creating a Netflix queue back when DVD subscriptions were their main business model, except there is no specific order) and they sent me the first three that were available. When I return items, they send more!
I really like that I have a lot of control – I pick the specific items that are in my closet.  I can go outside my comfort zone if I feel like it, or I can stay well within it. Overall, I put several items that would be a stretch for me in my closet, but also put plenty of items I think I will like so that any given shipment is likely to have something in it that I will wear.  
I am enjoying the items below currently.  I told myself I have to make a decision about them this week so I can get some new stuff in time for the weather change.  Happily, Gwynnie Bee has added the feature that you can prioritize items in your closet, so I noted that I want some of the longer sleeves and more casual items, since I don't have much work travel in the next few weeks – we shall see what they send me!  But in the meantime, here's what I have been enjoying for the last few weeks….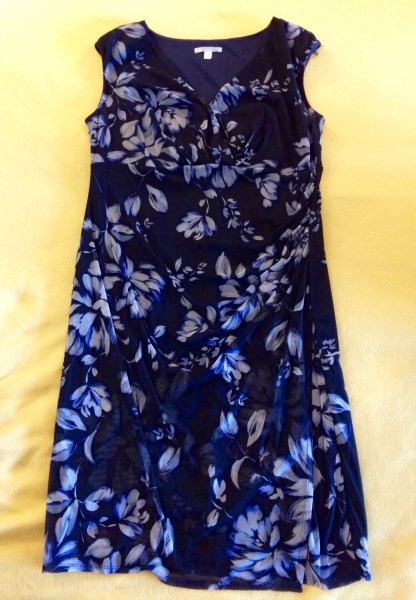 London Times Floral Print Sheath Dress with Side Gather
Other than having to pin it to cover up the girls a bit, this dress is perfect!  It's lightweight and packable (my biggest concerns for my work wardrobe since I travel) and it fits into my color palette (which also makes packing easier). 
It's navy and grey, perhaps some black in there.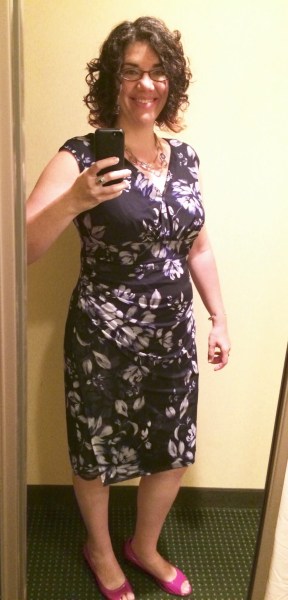 The floral fabric is a mesh overlay and disguises the tummy nicely.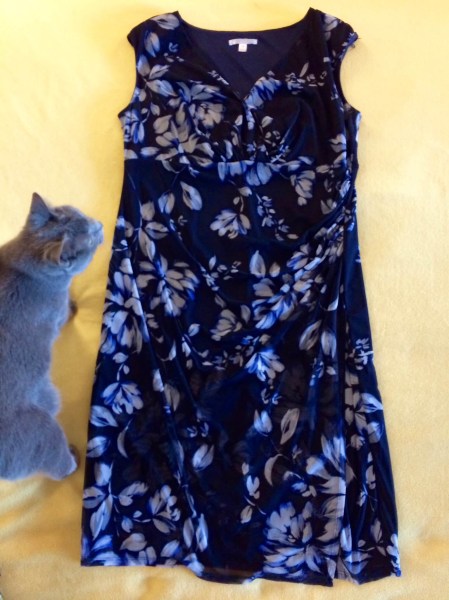 This is my biggest winner of the batch.  I have worn it on two different work trips since it showed up, and when my friend saw the photos, she told me I have to buy it.  So I am going to keep it.  Thanks Gwynnie Bee for this addition to my regular travel wardrobe!
Eliza J Mosaic Print Dress with Green Sash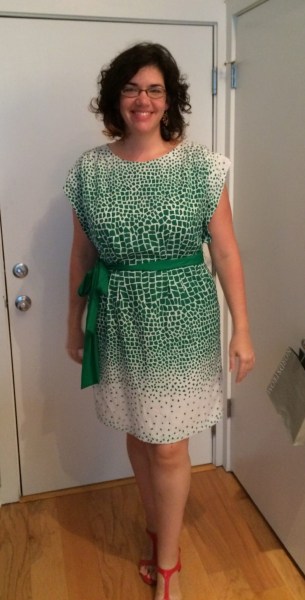 I have absolutely no reason to have this dress around right now, but I am still glad it showed up.  I loved the color when I saw it online, and I wanted to see how I would feel about the silhouette, since it is different from my usual A-line and Mad-Med styled dress preference.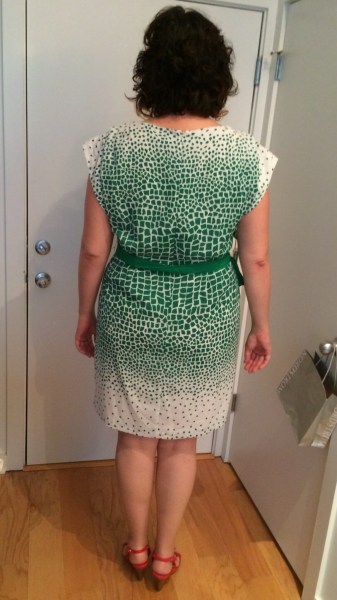 This is a great dress for a night out in warm weather.  The fabric is lovely – light but not too delicate.  I ended up loving the color in person, too (though my boy said he thought the print is weird, but what does he know?).  And hooray for the generous length of the sash – I hate getting dresses with ties that aren't long enough for us big girls!
I was worried there would be big gaps under the arms, but they thought of everything and there is fabric under there, too!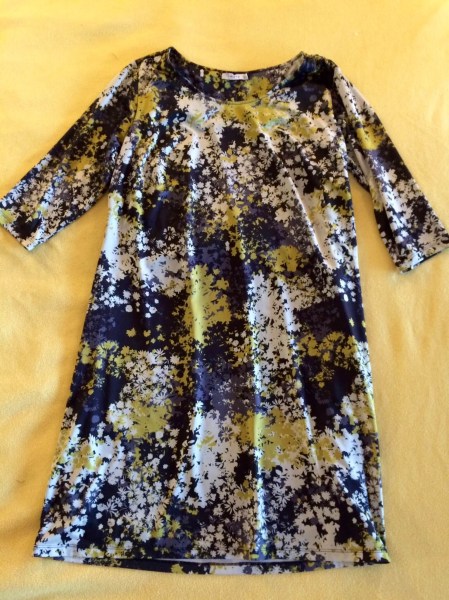 Triste Monet Meadow Printed Shift Dress
I wasn't sure how I would feel about this one, but I liked it more than I thought. I am on the fence about keeping it.
 It's a nice stretchy (and packable!) material, fits well, and I clearly own the accessories for it already! 
I wore it out to a super awesome event (Symphony playing Danny Elfman's music from Tim Burton films.  I love Danny Elfman!) and had the boy snap some shots of me out and about in it. It feels borderline too short for work, but with tights and boots, I think it would pass muster for my more casual site visits.  I do love the acid green (definitely a yellow-ish green, not a flourescent green-ish green).  I'll ponder a bit more.  Tell me what you think!
Spruce and Sage Polynesian Pastel Ruched Dress
I almost forgot this one because I had it so briefly! I had already received a similar dress, different print, so I knew how it would fit.  I wore it one day as a shirt, because I don't really like it as a dress, but somehow I think it works on me hiked up as a shirt. Same as its predecessor!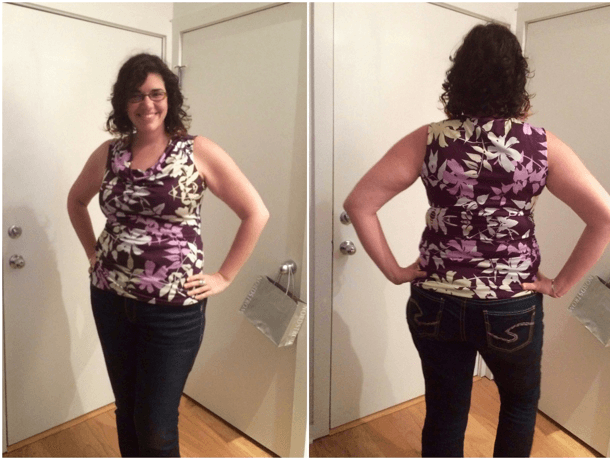 But this color palette is a long shot for me – I don't own anything that matches, so I sent it back pretty quickly.  Fun for a day!  This is why I am loving Gwynnie Bee.  It's low commitment if I am not in love with it, but I still get to expand my options and try new things.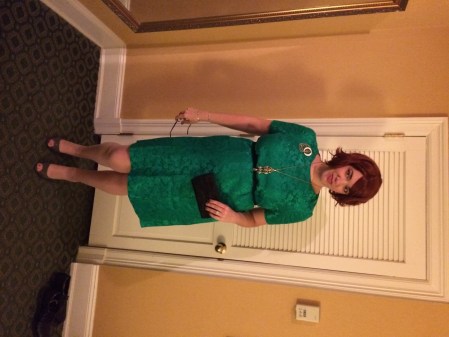 From Brandy: Since Jen mentioned Mad Men, I'm throwing in the photo of her Halloween costume she sent me last night! So awesome! Sorry everyone, this is a vintage dress, no rental for you! This lady knows how to accessorize!
Currently when you sign up for Gwynnie Bee you can get your first month for FREE, (no coupon code needed, just use the link) which is an awesome way to just try it out and see if you love it.
Visit Gwynnie Bee to subscribe or find out more!
The Subscription
:
Gwynnie Bee
The Description
: Plus size clothing subscription rental service. Unlimited exchanges, free shipping & returns. Hot brands for curvy ladies sizes 10-32!Because this is a rental service, this is not quite a plus-size Stitch Fix. However, you can purchase the items you love, usually at a significant discount. We recommend trying it out for a month!
The Price
: $35.00 per month
The Coupon
: Currently when you
sign up for Gwynnie Bee you can get your first month for FREE
, (no coupon code needed!)
A couple things to remember (besides free laundry!):
you can mark your shipment as outgoing so your items ship out faster
you can purchase items that you love at huge discounts
use the community at Gwynnie Bee to help you select the best items for your body and the right size for that garment.
All the garments are inspected and I've never really had an issue with anything I've received in terms of condition.
 It's also worth a mention that the clothes are higher end clothes, so they all have better construction and fabric than what you might normally purchase for yourself.
The plans are as follows:1 – $35 per month
2 – $59 per month
3 – $79 per month
5 – $99 per month
7 – $129 per month
10 – $159 per month