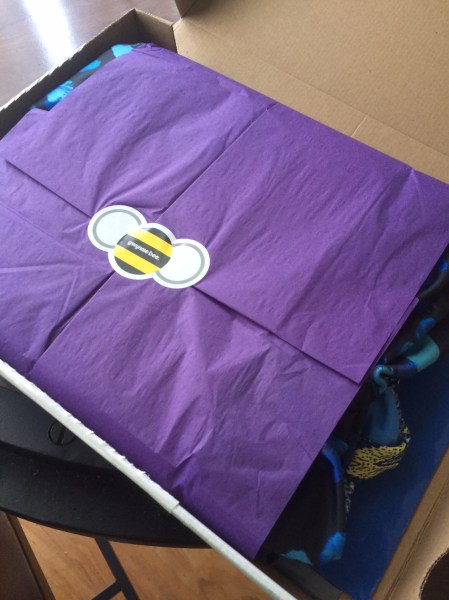 Lots of travel the last few weeks, but I am excited to say I got to bring one of my Gwynnie Bee items with me on the last trip! Gwynnie Bee is a clothing rental subscription service. My body shape makes me a perfect candidate, as they specialize in sizes 10-32, and I am a solid 16.  I added about 25 items to my closet (it's a lot like creating a Netflix queue back when DVD subscriptions were their main business model, except there is no specific order) and they sent me the first three that were available. When I return items, they send more!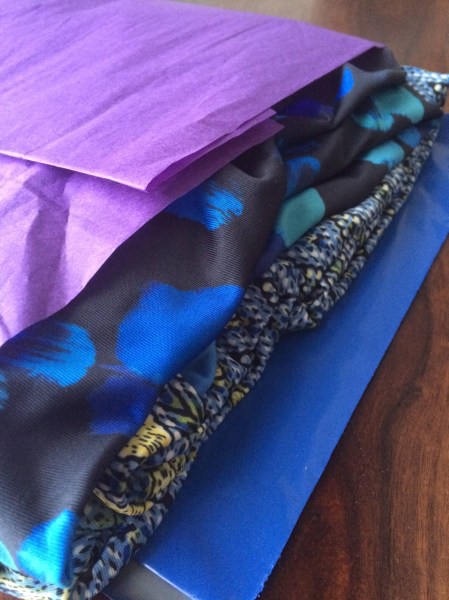 I really like that I have a lot of control – I pick the specific items that are in my closet.  I can go outside my comfort zone if I feel like it, or I can stay well within it. Overall, I put several items that would be a stretch for me in my closet, but also put plenty of items I think I will like so that any given shipment is likely to have something in it that I will wear.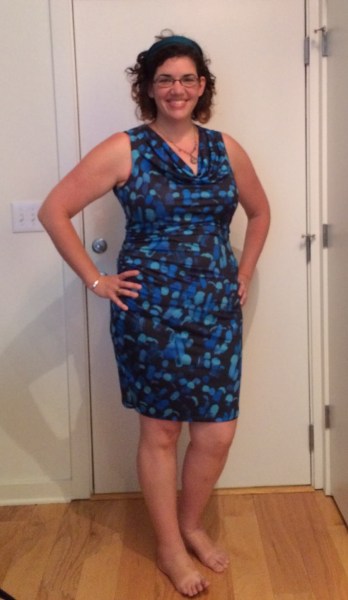 Spruce and Sage Monochrome Painted Ruched Dress (1X and 2X)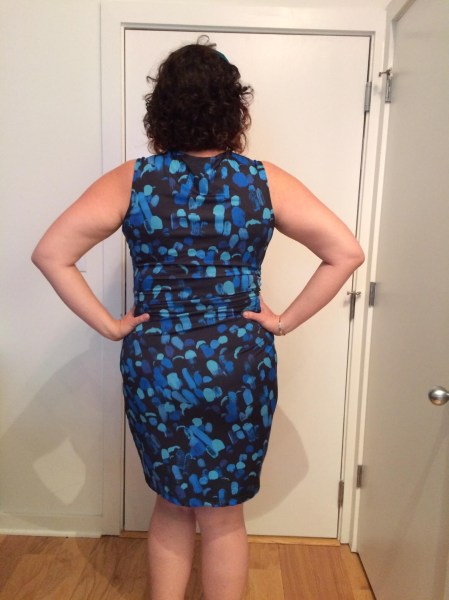 I love the color scheme and print on this dress, and I had high hopes for it when I put it in my closet.  I received the 1X and found it perfect on my top half and a bit snug on my bottom half.  The site does say to size up (and I can't remember if I did when I first ordered it!).  It isn't so tight as to be inappropriate, but I generally don't think the world is interested in that much insight into where my bulges and rolls are. I usually find that I am a 14/16 on top and a 16/18 on the bottom, so this fit is pretty much what always happens to me with fitted (non-flaring) dresses. I recloseted it in a 2X, which happened to arrive yesterday. I could get away with the 2X, but the top half on the 1x is more flattering.  Either way, the ruching and pattern of this dress are very flattering.  I love the neckline, the armholes are in a good spot and aren't too big, and the length is reasonable for work.
But wait, there's more! As I was putting it on, it was bunched up around my waist.  I did some rearranging, and voila!  It made an awesome shirt!  Plus, since I am so tall, I was able to adjust and make it a nice long shirt.  I often have issues with shirts being just a bit too short, so this was a most excellent discovery.  I dressed it up with my white skirt and my new black heels (that I found in a consignment store, a true miracle for my size 11 feet!).  I am pretty happy with it!  I am going to hang onto the 1X for a while.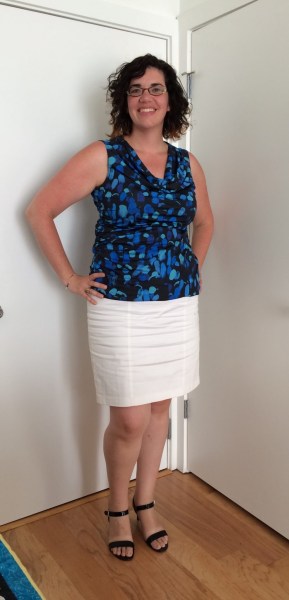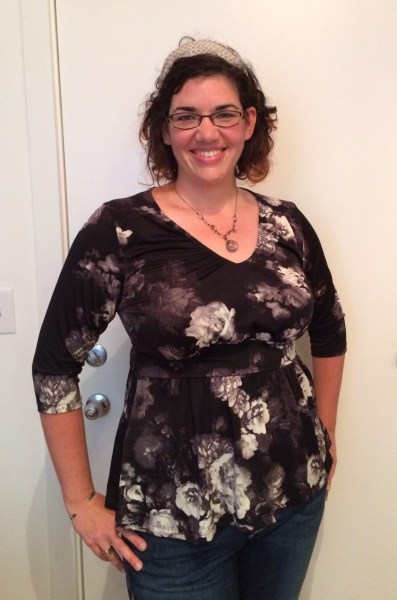 IGIGI Kloey Top in Floral Print (14/16)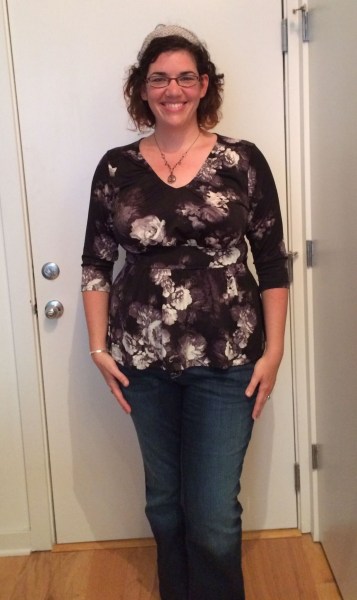 I have a thing for monochrome patterns, though I am not a huge fan of florals.  I do try to be open-minded about them, though!  This shirt is very comfortable, and it felt like it was the right size.  I wanted to like it more, and I did like it enough for one wear, but definitely not enough to keep.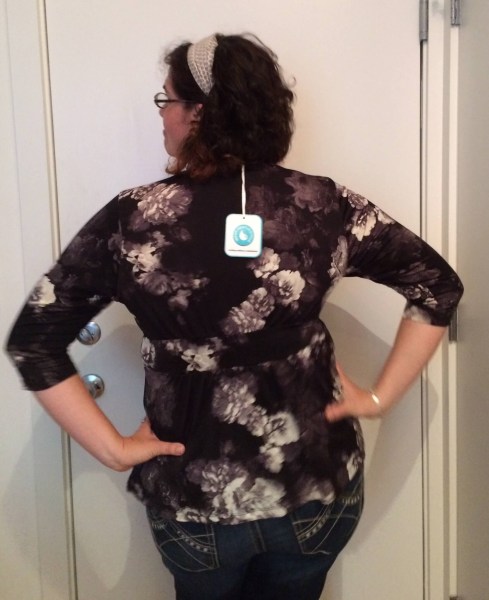 When I put it on, it just didn't quite feel like "me."  Well, that, and I think I looked kind of pregnant from the side, but my friend who took the photos said it wasn't as bad I was making it out to be.  I think if it were cooler out and I was going to wear it as pictured on the site (boots and skinny jeans), I might have liked it more. This is what Gwynnie Bee is great for, though!  It's so easy to try things, and it is pretty guilt free if you don't end up loving it.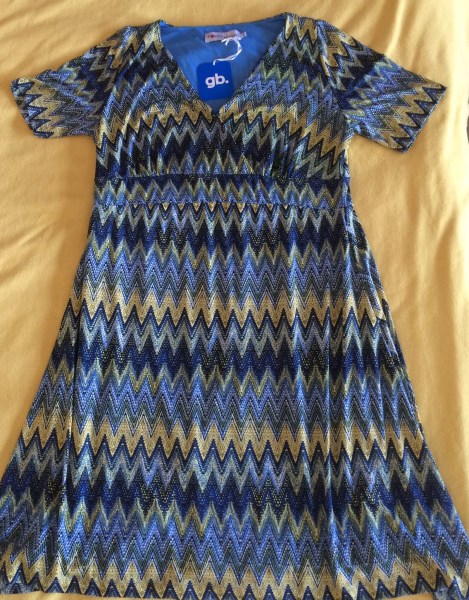 Poppy and Bloom Working Through Lunch Dress in Chevron

I could take or leave this dress – it is a pretty decent cut on me (I do prefer A-line and flaring dresses due to my bottom being a size up from my top!  I think the print is too busy for me to want to wear it regularly, but I am going to give it a try this week.  I don't really have a reason to wear a dress to work this week (my office is casual, so if I am not traveling, I am usually in a cute top and shorts or jeans), but I may wear it to dinner one night, just to be a little fancy.  I think I can tone it down with a cardigan.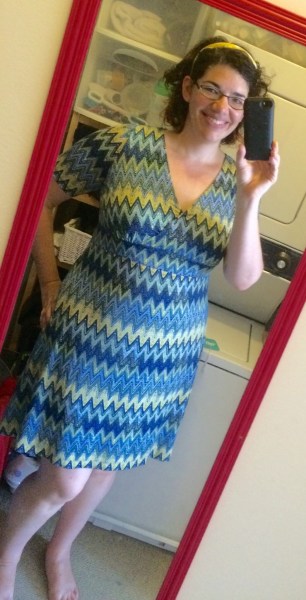 I have really been enjoying Gwynnie Bee!  It's easy to try new things, and it feels very low commitment to any given piece.  If anything, the hardest part is deciding if I want to keep anything, because the prices on the items I have received have been very reasonable.  I may hang onto the Spruce and Sage ruched dress! Currently when you sign up for Gwynnie Bee you can get your first month for FREE, (no coupon code needed, just use the link) which is an awesome way to just try it out and see if you love it.
Visit Gwynnie Bee to find out more or to subscribe! Check out all our Gwynnie Bee Reviews or see more women's clothing and fashion subscriptions in the directory and more plus size subscription boxes.
A couple things to remember (besides free laundry!):
you can mark your shipment as outgoing so your items ship out faster
you can purchase items that you love at huge discounts
use the community at Gwynnie Bee to help you select the best items for your body and the right size for that garment.
All the garments are inspected and I've never really had an issue with anything I've received in terms of condition.
 It's also worth a mention that the clothes are higher end clothes, so they all have better construction and fabric than what you might normally purchase for yourself.
The plans are as follows:1 – $35 per month
2 – $59 per month
3 – $79 per month
5 – $99 per month
7 – $129 per month
10 – $159 per month