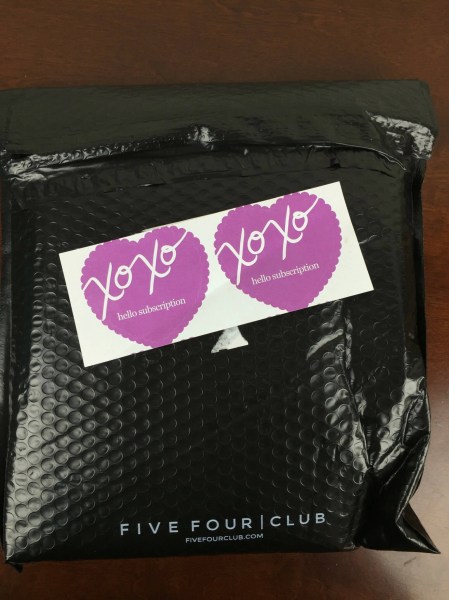 This Five Four Club mailing represents the second installment of three in our march through Fall.  Five Four Club is a men's clothing monthly subscription club – sign up, pick a style profile and your sizes, and get clothes every month. My style profile is a "mix."  This subscription ships at the end of the month.
The subscription is a $60 flat monthly fee, so you receive a variable number of items each month, depending on the value of the month's selections (months with several items usually include a tee shirt or other lower value item).  This month, I received a nice mid-weight fall jacket and scarf.

Last month, the bag contained a card with the clothes noting that each season will have three volumes of wardrobe. Five Four Club will now present more complete outfits through each season.
For reference: Month 1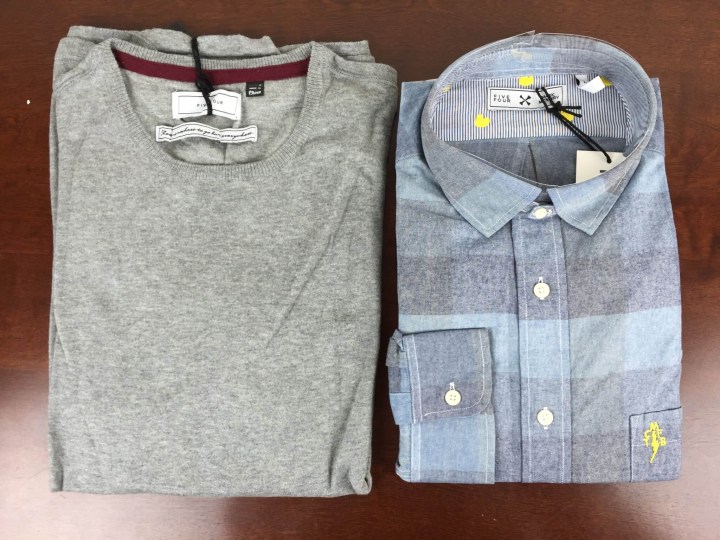 And this month – Month 2: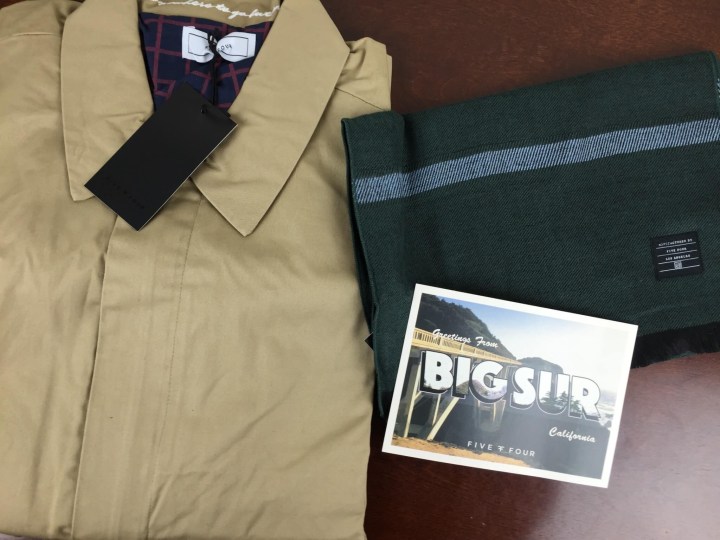 So far for the season I received a sweater, a shirt, a jacket, and a scarf.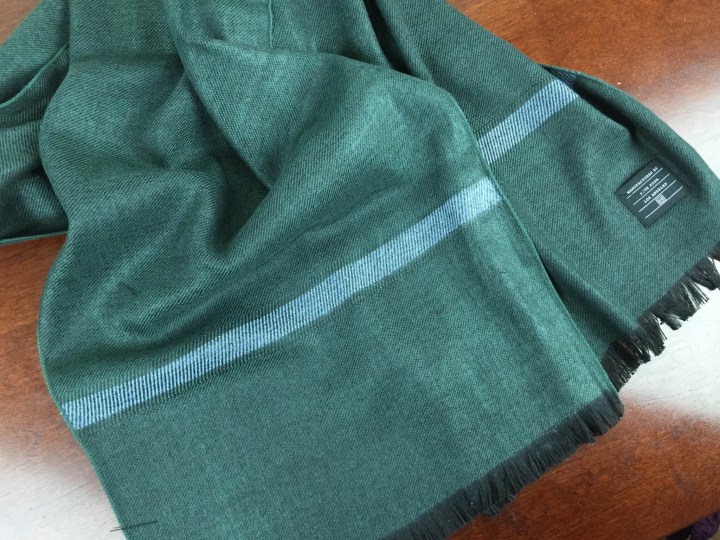 The Harvard Scarf:  I love the deep green of this scarf.  Most of my winter outerwear is in tones of gray and black, so this is a nice subtle bit of color.  The fabric is very soft and has a slightly fuzzy texture.
The ultra-long scarf is great for doubling up or knotting creatively.  It hangs low enough to look good with a trenchcoat-length jacket.  Handsome fringe adorns the edges.
The Blaine Jacket:  This khaki-toned jacket has a nice smooth, wind-resistant shell.  The overall look of the jacket reminds me o a classic tan trench coat, but waist length, with a slight touch of Members Only flair.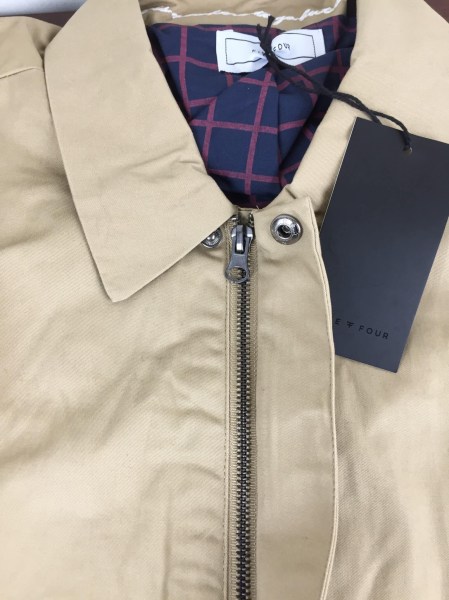 The front flap buttons down to hide the zipper.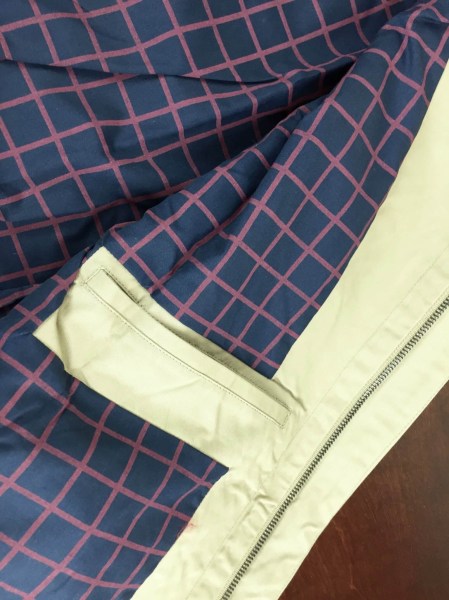 The interior breast pocket.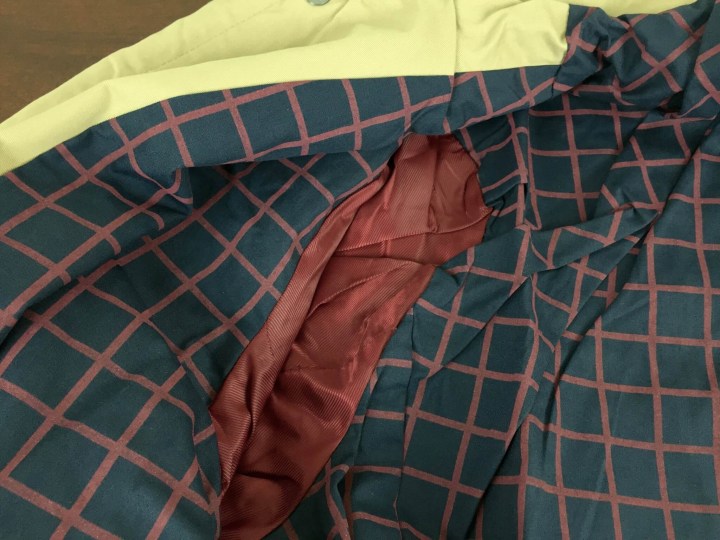 The interior lining has a non-traditional, bold pattern, and the sleeves are similarly lined with smooth fabric to wear well over your clothes.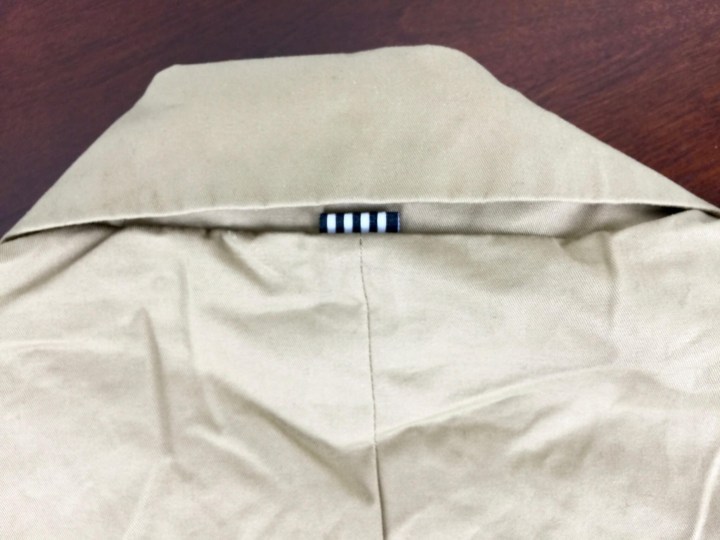 The jacket has the now-classic Five Four tag under the back of the collar.
The interior of the neck has an inspirational tagline stitched in script.
Five Four Club has always provided a variety of pieces across each season, so I suspect the relaunch is primarily an exercise in branding and communication of mission.  So far, we have received a light sweater, a shirt and a jacket and scarf.  I suspect some pants and possibly another shirt are next.
Visit Five Four Club to subscribe or find out more. Save $15 off your first month with coupon code AFMOMMY15.  Or get a FREE Limited Edition Gold Aviator Sunglasses ($75 value)! Enter AVIATORS at checkout.
The Subscription
: 
Five Four Club
The Description
: Five Four Club provides a subscription box for men with stylish, on-trend clothes. Upgrade and progress your wardrobe. Create a style profile in about 60 seconds and get monthly packages of clothing and accessories up to 75% off retail.
The Price
: $60 per month.
The Deal
: Get $15 off your first box with Five Four coupon code 
AFMOMMY15