The Hippie Hobby is a new bi-monthly craft subscription box. In every box you'll receive a complete crafting kit, which incorporates recycled, upcycled, or natural elements (the "Hippie" part!). Every box also includes a surprise DIY craft project with an upcycled, recycled or natural twist!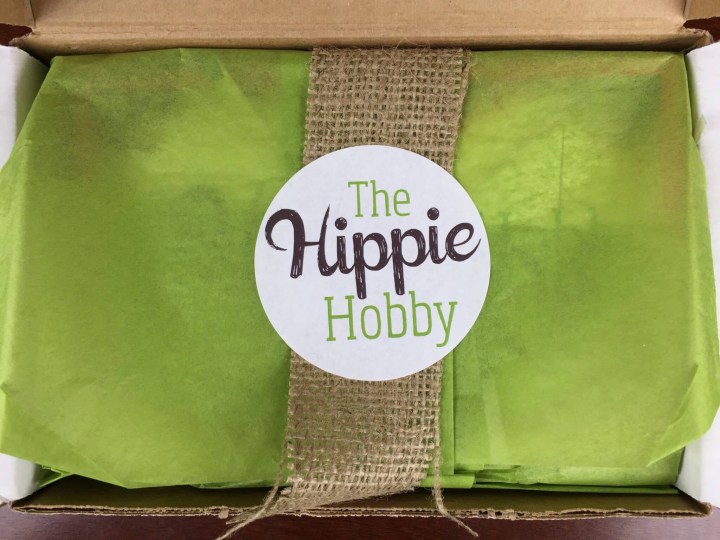 The presentation of this box was really cute for a crafting subscription, and would make a nice gift!
I loved the newspaper packing material – recycled!
Everything in the box.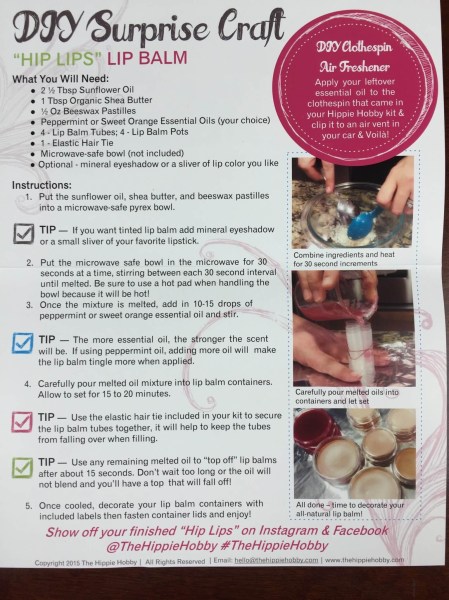 The information card provided the instructions for the craft and was full color with complete instructions. The printing on this was high quality. The craft for this month was "Hip Lips" Lip Balm.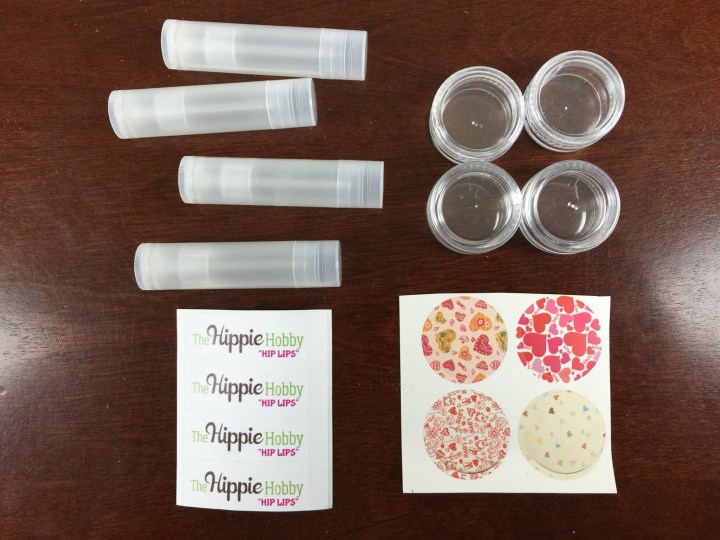 I received four lip balm tube containers, plus 4 pots, and stickers for all of them.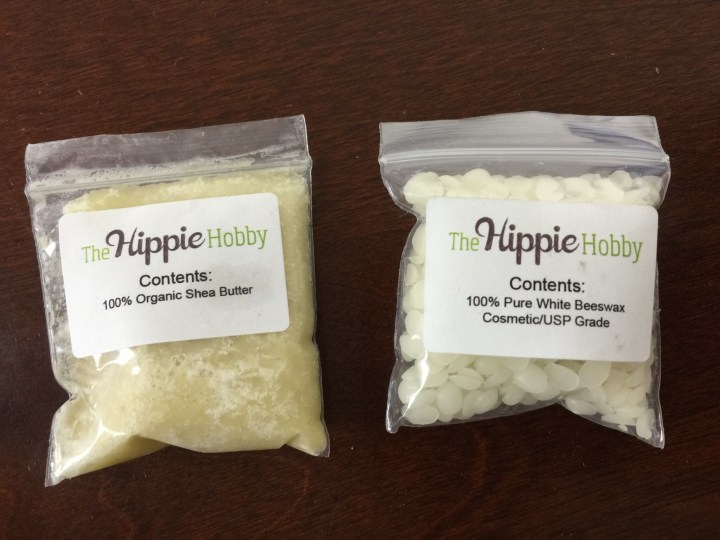 100% Organic Shea Butter
100% Pure White Cosmetic Grade Beeswax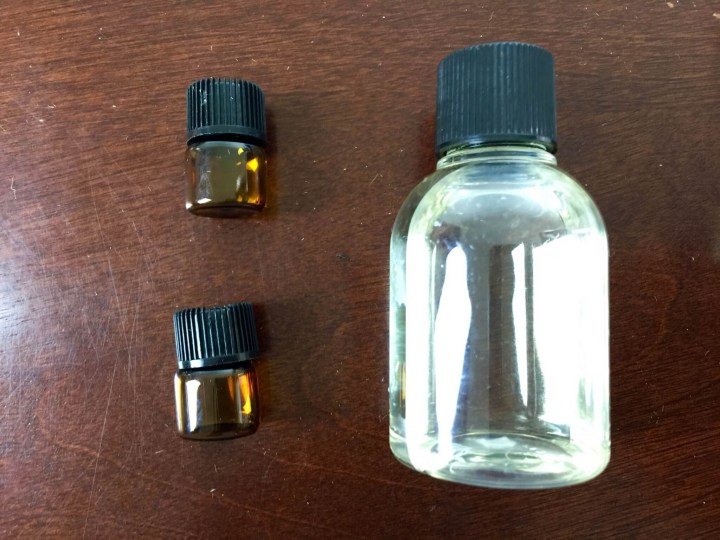 Peppermint Essential Oil
Sweet Orange Essential Oil
Organic, Non-GMO Sunflower Oil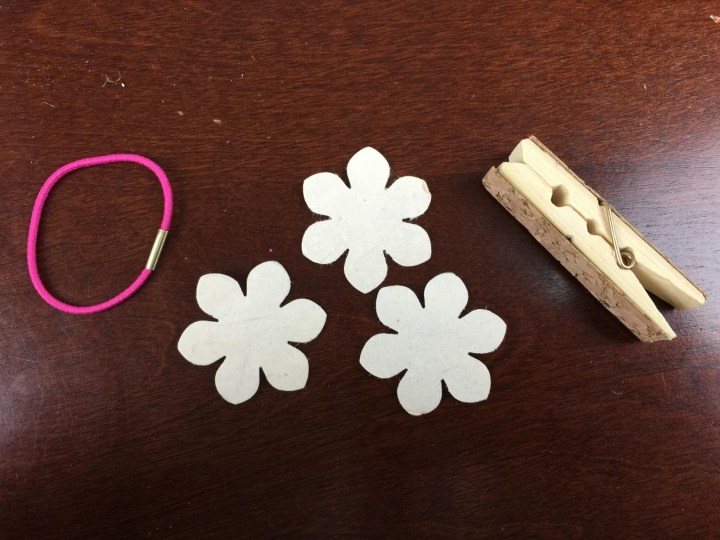 I also received a hair tie plus some paper seed cutouts and a cork-covered clothespin. I didn't understand what these were for until I really started going through the box! The hair tie was included as a way to keep your lip balm tubes upright after pouring in the melted balm. This was totally brilliant and a really great touch. You can use your leftover essential oils and make a mini air freshener with the clothespin!
The cutouts were related to the bonus craft!
My daughter and I did this craft on Saturday morning together and had a lot of fun. The instructions suggested using some mineral eyeshadow to tint the balm, and I happened to have unboxed some lip-safe pink mineral eye shadow the day before, so I decided to use that to tint it.
I poured the ingredients in the microwave safe container and melted/stirred/melted as directed. My daughter chose peppermint as the oil for our balms. After everything was mixed properly I poured the balm in all the containers, and there was still some left over. We let everything cool and my daughter added the stickers. This was a fun, easy craft.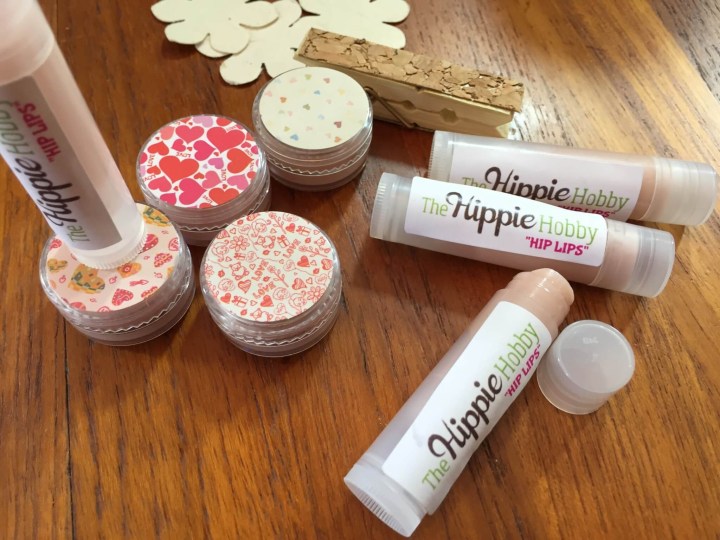 The only thing I would have added would be an alcohol wipe, because I was messy and the stickers would have stuck better if the lip balm tubes were cleaned up (a 6 year old also applied my stickers). The balm itself was very nice – probably one of my favorites from a box this month. It was soft and moisturizing instead of slick, which is what I prefer. I was impressed with the recipe.
And these little pots turned out super cute!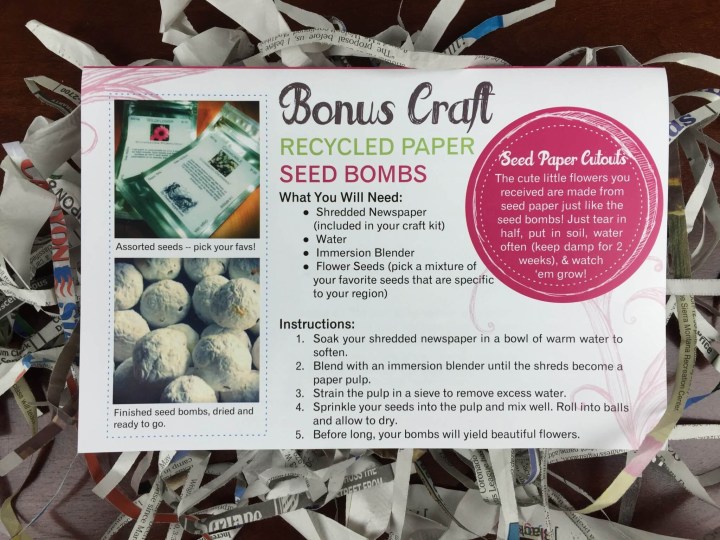 And to my surprise, the bonus craft used the packing material, which was a super cool idea. We soaked it in warm water…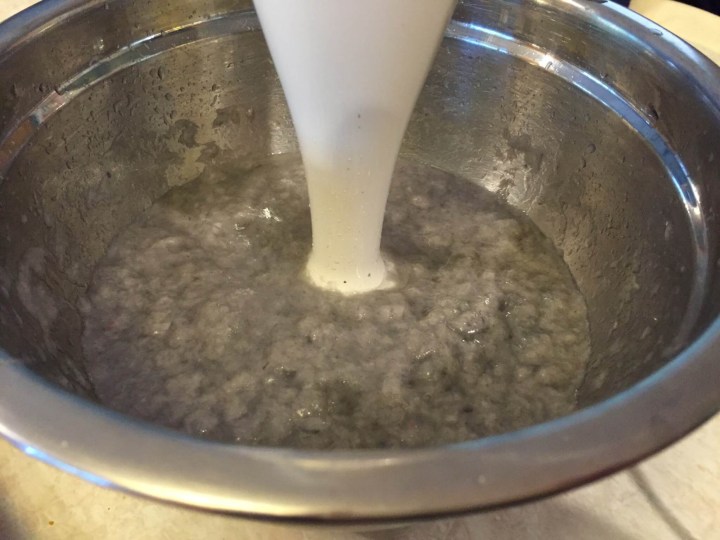 And then whirred it all up. The seeds weren't included – you use your own zone-appropriate seeds. We threw the pulp into a seive, let it drain for the day, then you add seeds, squish it all in balls, and then let them dry.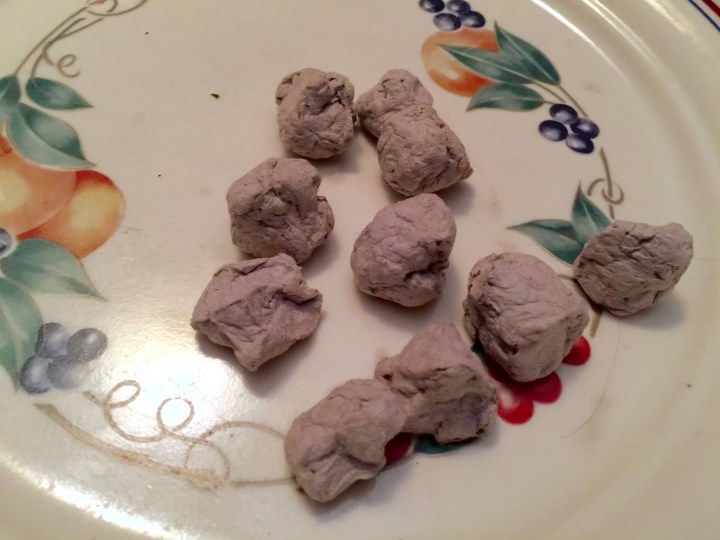 Our balls took a couple days to dry. This was fun and a great idea, and now it is so much easier for my kids to plant, or you can use them as throwies and do some guerilla gardening.
My daughter loved this box and she took all of the photos here. I had to include them in a collage as well – the top left one with the lip balm pot balancing on top is my favorite.
This was a good first box! I was incredibly impressed by the formula of the lip balm – I have done lip balms in other craft boxes before and they haven't been nearly as nice.  I loved how everything was included down to the hair tie to hold the tubes together.  I also noted that the price of this kit is less expensive than similar subscriptions and it ships free in the US. This is a bimonthly subscription and the next box ships November 15th!
Visit The Hippie Hobby to subscribe or find out more! You can save $7 on your first box with coupon code HELLO!
The Subscription
:
The Hippie Hobby
The Description
: When you sign up for The Hippie Hobby, every-other-month, you will receive a "hip" kit full of everything you need for your very own DIY crafting experience. We strive to incorporate recycled, upcycled, and natural elements in each kit. Get Hippie and get your Craft On!
The Price
: $23.95 every other month
The Coupon
: Save $7 on your first box with coupon code
HELLO