OmNomBox is a monthly Asian snack subscription box with snacks from Japan, Korea, Taiwan and more! Every month's box has 10-12 different Asian snacks including a drink and a mix of full-size and deluxe size products.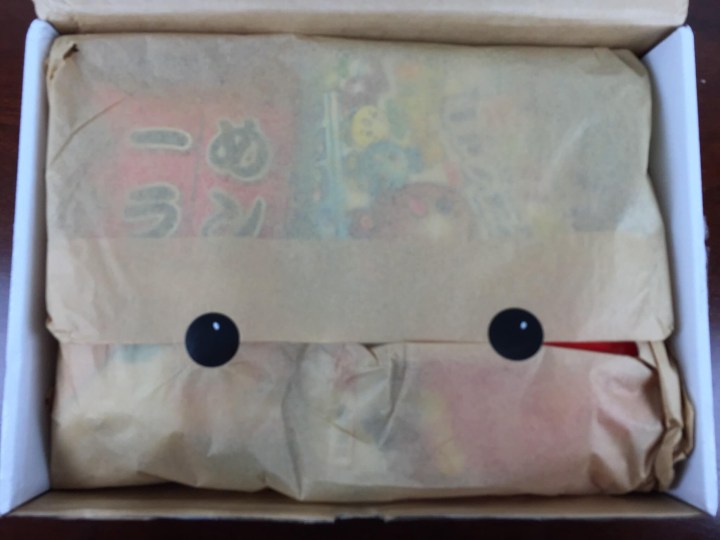 I love the packaging for this box, it's so cute!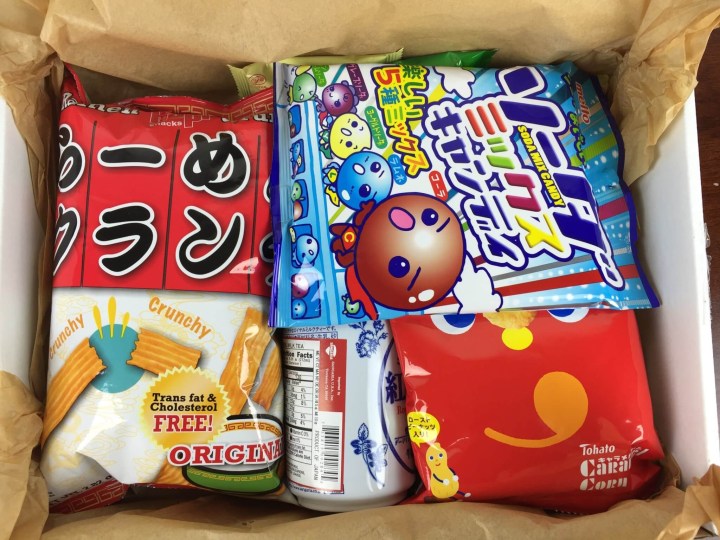 There's quite a lot of snacks in the box.
Everything in the September Box.  This was an exciting collection, because only the Pocky was something I had eaten before.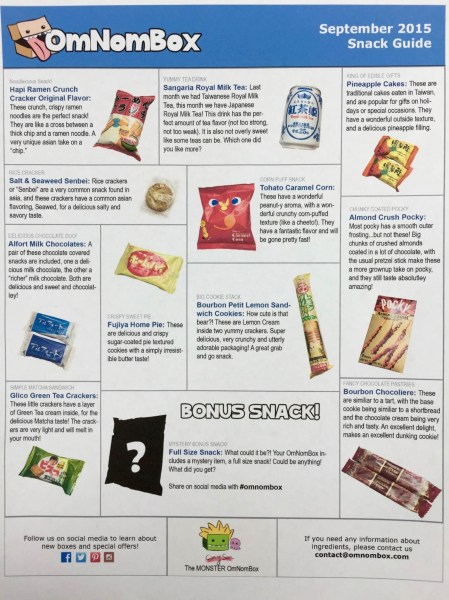 The information sheet has all the details on every snack. Well, almost every snack — this month had a mystery bonus snack thrown in, so that one was a a bit of, well, a mystery.  If you need ingredient information for any snack they provide an email address.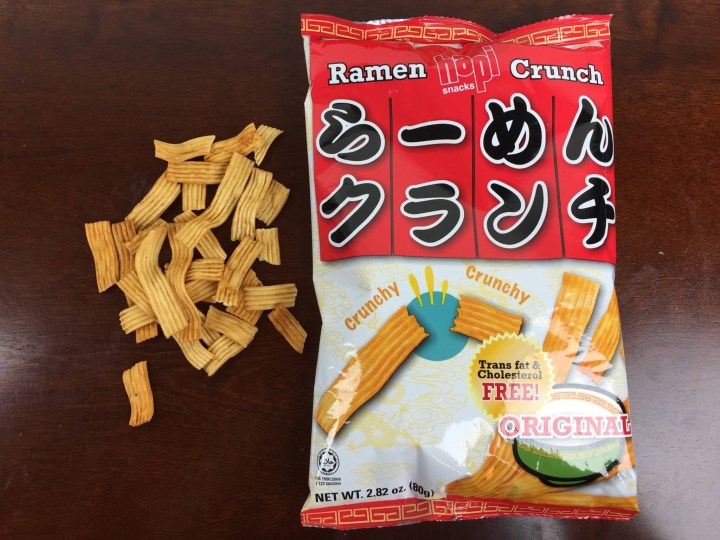 Hapi Ramen Crunch Cracker in Original Flavor:  These are called Ramen Crunch because the cracker dough is essentially a noodle prior to cooking.  These wavy ribbons have a snap to them and a cooked starch flavor — they remind me a bit of the flavor of canned shoestring potato fries and chow mien noodles, but with a bit of soy seasoning.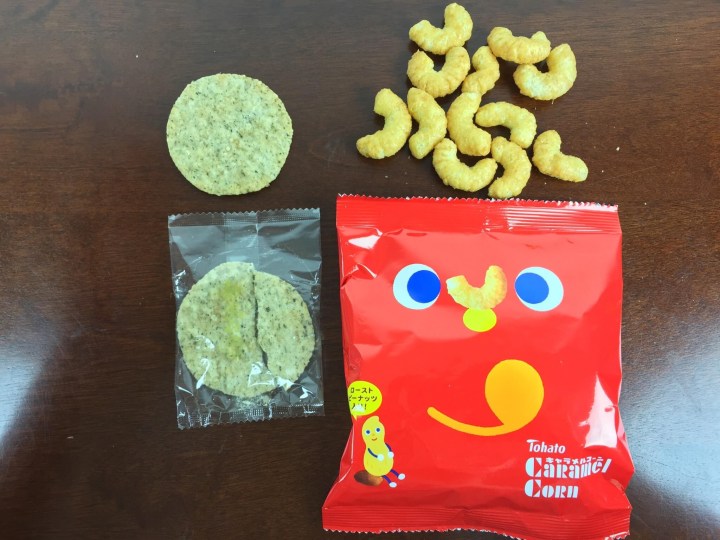 Tohato Caramel Corn:  Ahoy Cap'n!  These little curls may look like puffed Cheetos, but they taste like Cap'n Crunch, except they are just sweet and puffy, not razor sharp.
Salt & Seaweed Senbei:  The seaweed flavor is actually relatively mild, which I think makes these more appealing.  This disc is very crunchy — it is more of a crispy senbei than a puffy/crunchy senbei.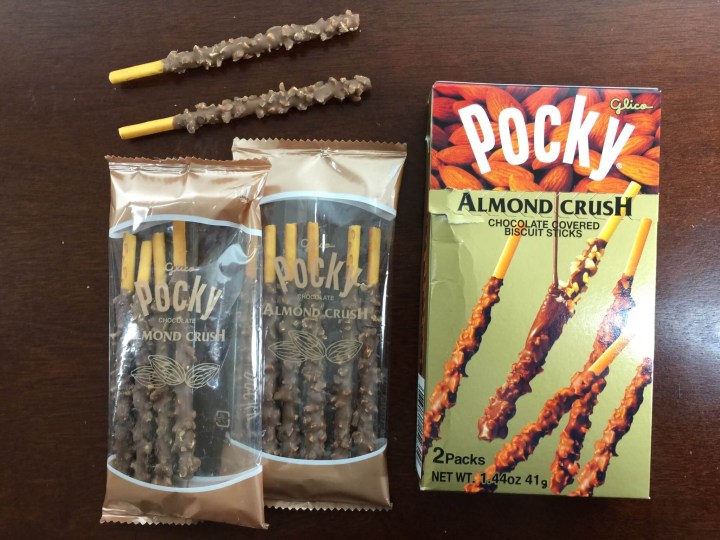 Almond Crush Pocky:  This is the premium version of Pocky.  The biscuits are a little bigger, and the coating is extra thick, encasing chunks of almond.  You get six per bag, many fewer than the smaller Pocky, but they are much more enjoyable.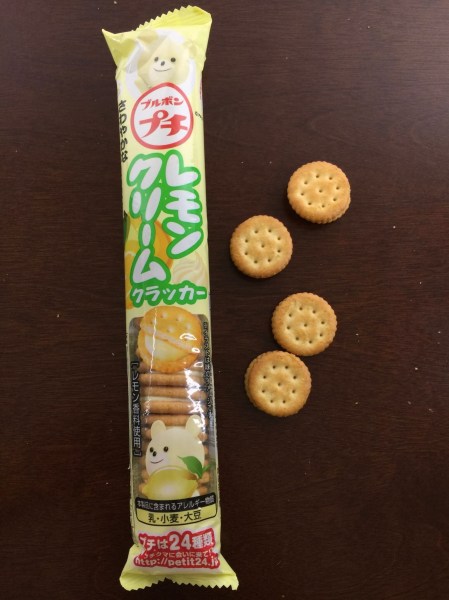 Bourbon Petit Lemon Sandwich Cookies:  The bright lemon cream is pretty much as I expected.  The "cookies" were actually indistinguishable from Ritz crackers, making these odd, but pleasant sandwiches a specie of lemon Ritz Bitz.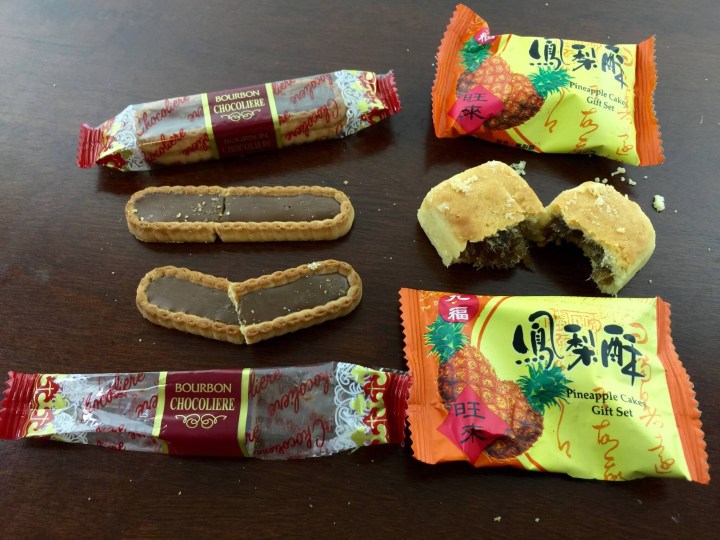 Bourbon Chocoliere:  Little biscuit cookies (butter/tea cookies) with a fudge stripe down the top.  The fudge is a soft icing-type ribbon.
Pineapple Cakes:  The pineapple filling is a sweet pineapple jam.  The cake is a greasy an crumbly pastry.  The style of the dough is such that it retains a bit of what seems like a raw flour taste (or possibly the leavening).  It tastes good, but its worth noting, as it imparts a distinctive taste (analogous to sourdough bread's odd but yummy charm).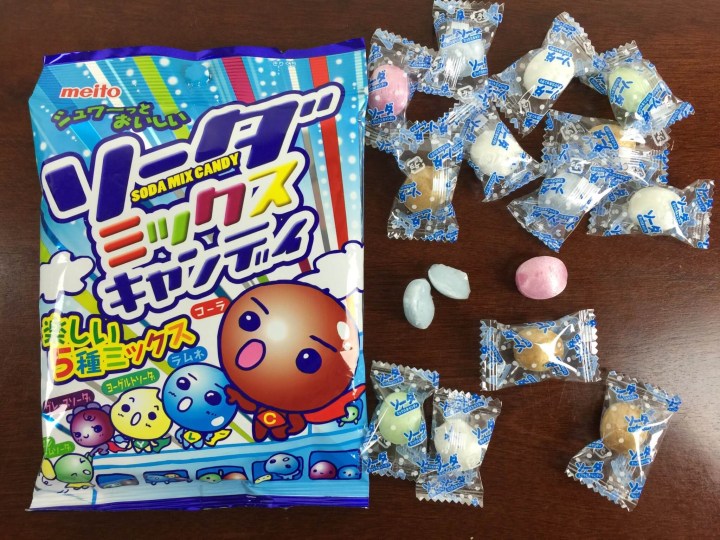 Mystery Bonus Snack:  Our bonus snack was Meito Soda Mix Candy (and a sizable bag, at that)!  This hard candy comes in several flavors, including cola, grape and what I think are supposed to be lemon, melon, and yogurt (!?!).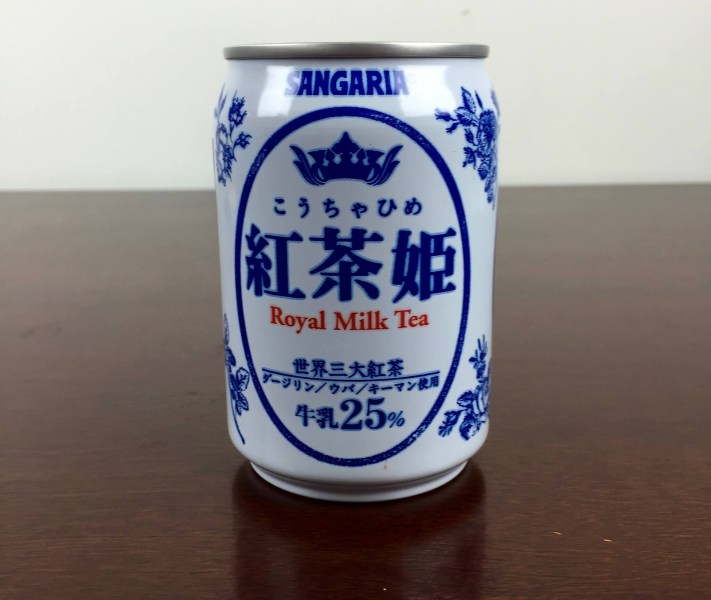 Sangaria Royal Milk Tea:  Black tea with milk.
Glico Green Tea Crackers:  A simple tea biscuit with green tea (matcha) filling.
Fujiya Home Pie:  Very unexpected type of cookie, given the name.  It is a sweet, crunchy palmier-style cookie.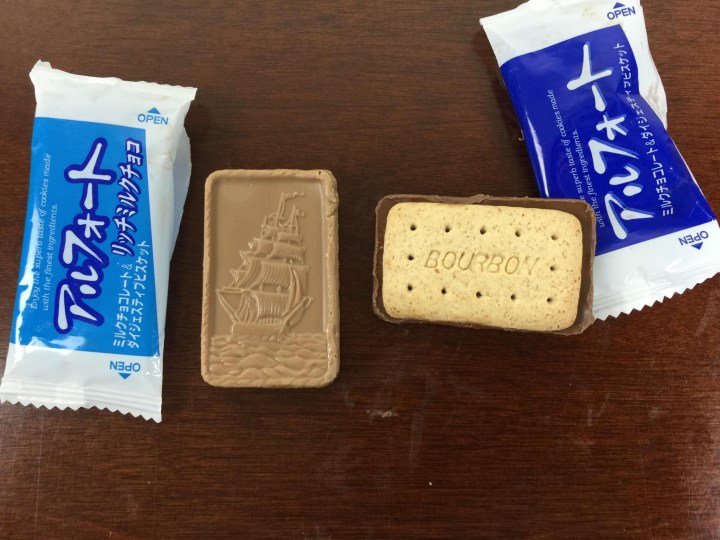 Alfort Milk Chocolates:  These came in a light and dark variety, each with a sailing ship imprinted in the thick chocolate.  The cookie was hearty, like a not-quite-sweet graham cracker.
This is a good snacker's subscription — the snacks are varied and not as cutesy or complicated as some of the Asian snacks that are fun and popular.  There was a good mix of traditional and modern flavors.
Visit OmNomBox to subscribe or find out more! Get $3 dollars off your first box. Use coupon code HELLOSUB3.
The Subscription
:
OmNomBox
The Description
: OmNomBox is a monthly subscription box that is packed with Asian snacks from Japan, Korea, Taiwan and more! Every box includes a drink and a mix of full size and smaller sized snacks! Free shipping to US, additional charge for international orders.
The Price
: $25.00 per month
The Coupon
: Get $3 dollars off your first box. Use coupon code
HELLOSUB3
.