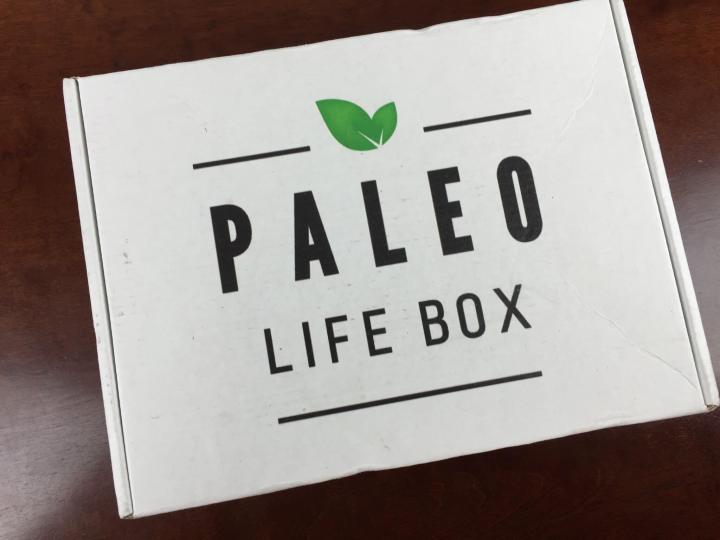 Paleo Life Box is a monthly subscription box full of great-tasting paleo snacks every month. Each month they'll send 8 to 10 snacks – a few new and other returning favorites, so you can be sure to get the snacks you want on a regular monthly schedule. You can expect a mix of meat snacks, bars, cookies, veggie chips, granola, chocolate treats, seed and nut mixes, dried fruit and more – but never grain, gluten, legumes, or artificial ingredients.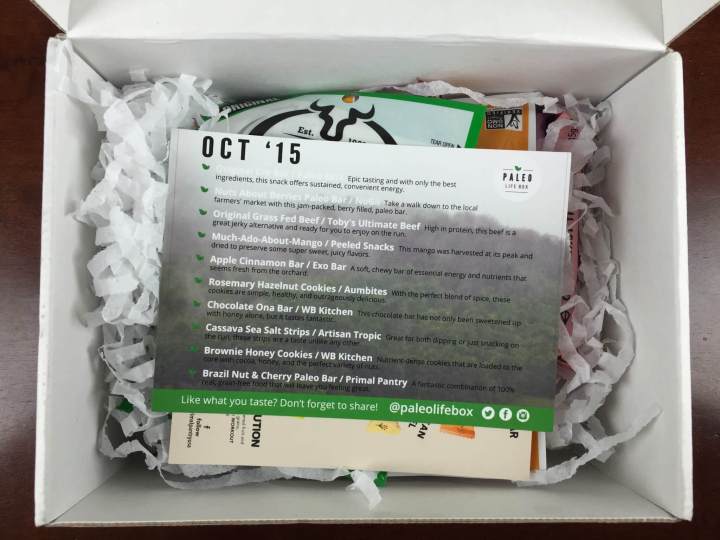 The box is not overly fancy, but it comes with discount codes and an info card.  Each snack is described briefly on the information card.  I liked the selections this month, as they included many nut and fruit bars, saving the beef for jerky.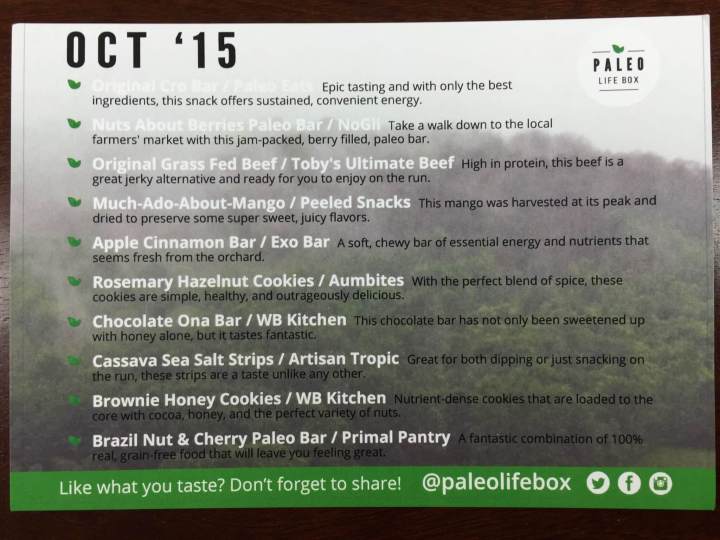 The info card lists the contents of the box — the descriptions don't really contain much in the way of detail but does give insight as to why each was selected.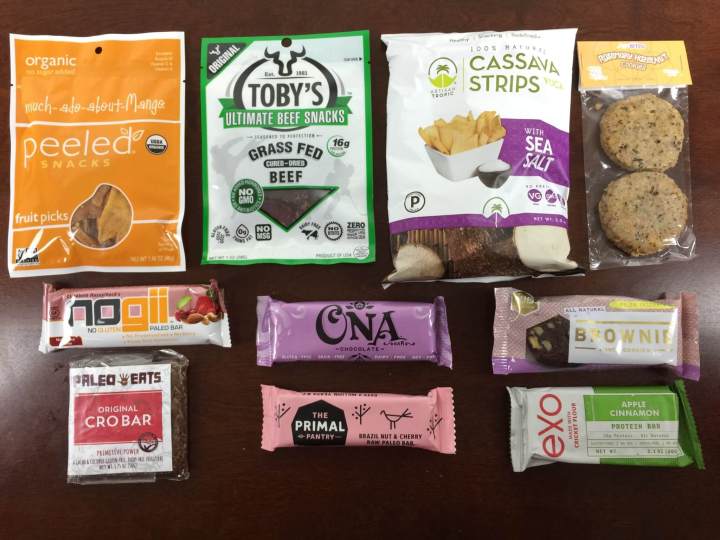 Everything in the October Paleo Life Box!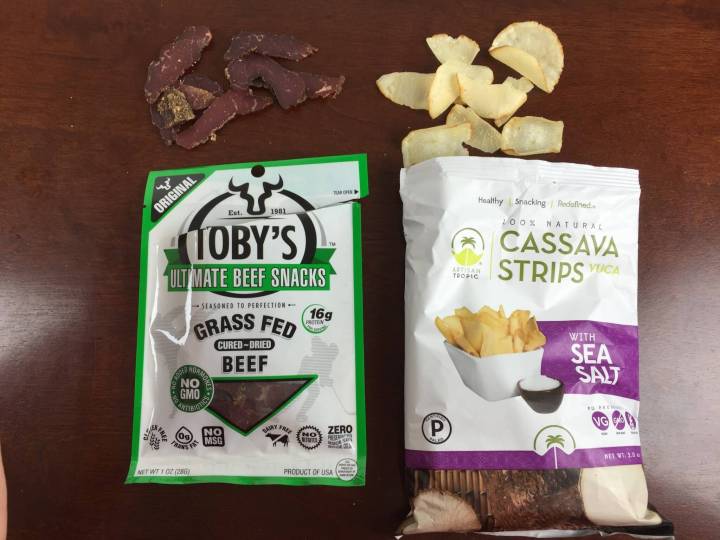 Toby's Ultimate Beef Snacks Grass Fed Beef:  The style of this jerky reminded me a bit of biltong (connoisseurs of the South African treat will curse me for making the comparison) — this thin-sliced, grass-fed beef has some fat still intact and has a cured flavor that is slightly reminiscent of salami, but it is far less gamey than commercial biltong tends to be.
Artisan Tropic 100% Natural Cassava Strips with Sea Salt:  Cassava (or yucca) makes a great substitute for potato chips.  They cook up with the same degree of crispness but have a much richer and tastier flavor.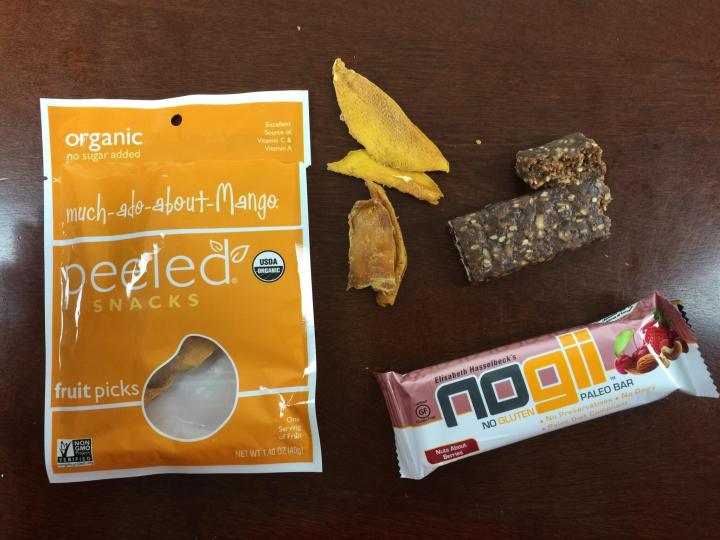 Peeled Snacks Fruit Picks Organic Mango Strips:  Fruit is a great snack when you need some natural sugar, because it brings fiber along for the ride.  These organic mangos have a natural, not-too-sweet flavor and a wonderfully dense texture.
Nogii Nuts About Berries Paleo Bar:  Cherries, cranberries, and strawberries add some tart and sweet to this gluten-free bar.  Nogii has a nice texture, with the seeds adding bits of crispness — the bar also avoids being overly dense and gooey.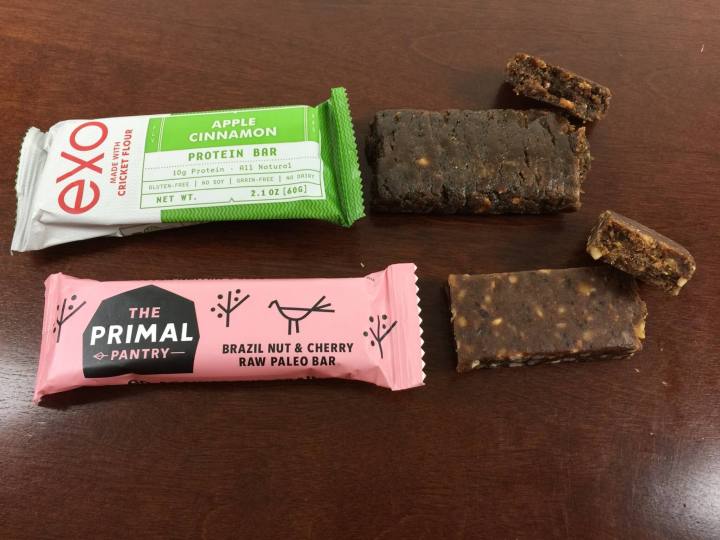 Exo Apple Cinnamon Protein Bar:  There is always a meat bar or other odd item in every paleo-themed box — in this month's Paleo Life Box, it is a cricket flour protein bar!  I actually tried this before even noticing that it had cricket flour.  I found it surprisingly light and tasty.  I didn't notice any peculiar taste, just a really great cinnamon apple flavor.
The Primal Pantry Brazil nut & Cherry Raw Paleo Bar:  Dates, Brazil Nuts, Cherries, Almond Oil, nothing else!  The distinct flavor of Brazil nuts really shines through.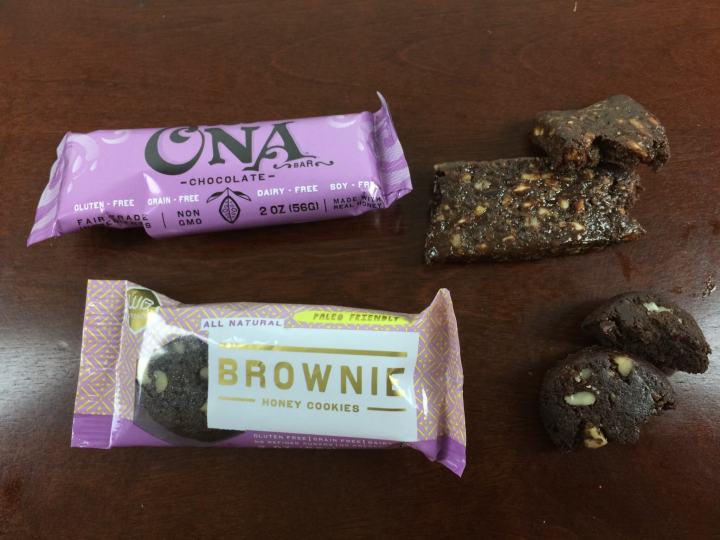 WB Kitchen Chocolate Ona Bar:  Sweetened only with honey, this bar features 4 different nuts and seeds, plus coconut meat and milk, and loads of cocoa powder.  A great chocolate fix!
WB Kitchen Brownie Honey Cookies:  Deep chocolate flavor and a soft texture make these honey cookies truly more brownie than cookie.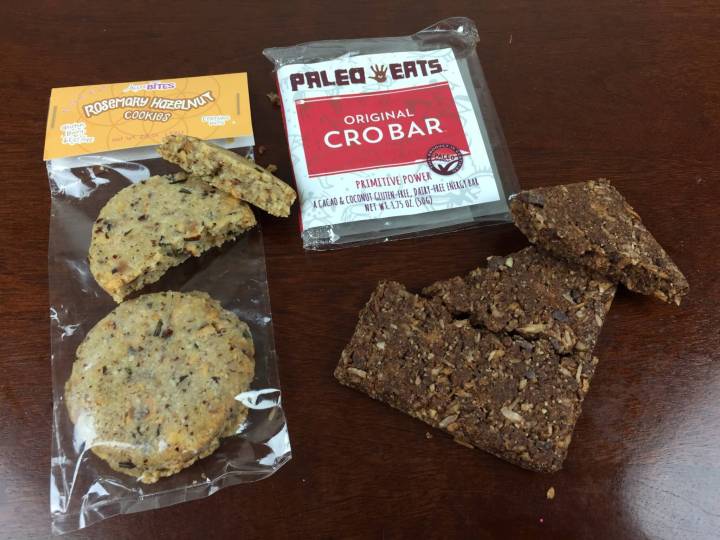 Paleo Eats Original Cro Bar: Cacao & Coconut are the headliners in this hearty granola-esque bar.  Dates, sunflower seeds, raw honey, and a host of organic ingredients provide natural energy.
Aumbites Rosemary Hazelnut Cookies:  Crisp and tasty, these cookies rally benefit from the aromatic rosemary and rich hazelnut flavor.  They have a great butter cookie sensibility, as well.
I started this review crowing about the absence of a meat bar, and they went and snuck cricket flour into it!  Looking for Paleo-friendly snacks leads down some strange roads, but Paleo Life Box does a great job of collecting only the tastiest.  I thought this month was particularly delicious — the cricket flour bar was really good, too!
Visit Paleo Life Box to subscribe or find out more. Use coupon code HS15 for 15% off your first box.
The Subscription
:
Paleo Life Box
The Description
: Paleo Life Box is a convenient box of paleo snacks! We deliver the best snack products to your door each month to give you a unique tasting experience that fits within the confines of your diet and is still a great bang for your buck. We ship on the 1st of each month, so join today and fuel your body with the good stuff!
The Price
: $35 per month
The Coupon
: Use coupon code
HS15
for 15% off your first box!