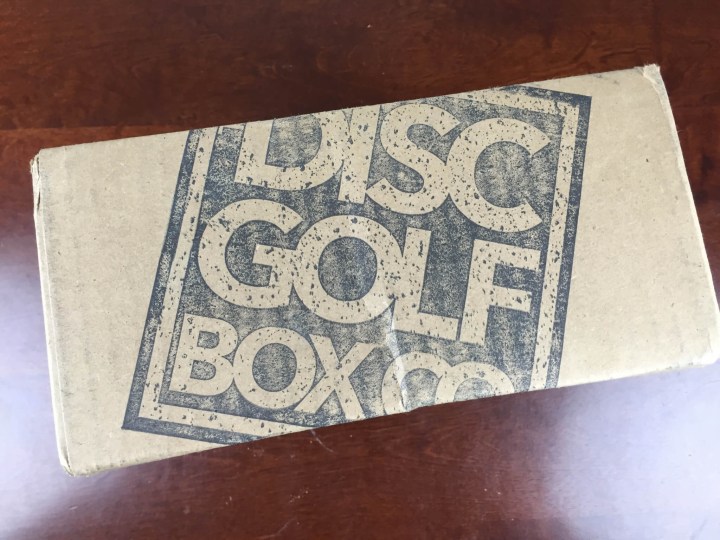 Disc Golf Box Co is a monthly subscription box created just for disc golfers!  When you sign up for The Disc Golf Box Co you'll choose either the Flight Box or the Classic box on a monthly, bimonthly, or quarterly plan. With the Flight Box ($29.99) you'll get two discs in every box plus bonus swag. The Classic Box ($39.99) includes two discs plus loads of swag! The shipping schedule makes it easy to customize your frequency whether you're a casual enthusiast or a die-hard pro. You can also visit the store and pick up a one time box – The Ace Pot – we received The Ace Pot for review.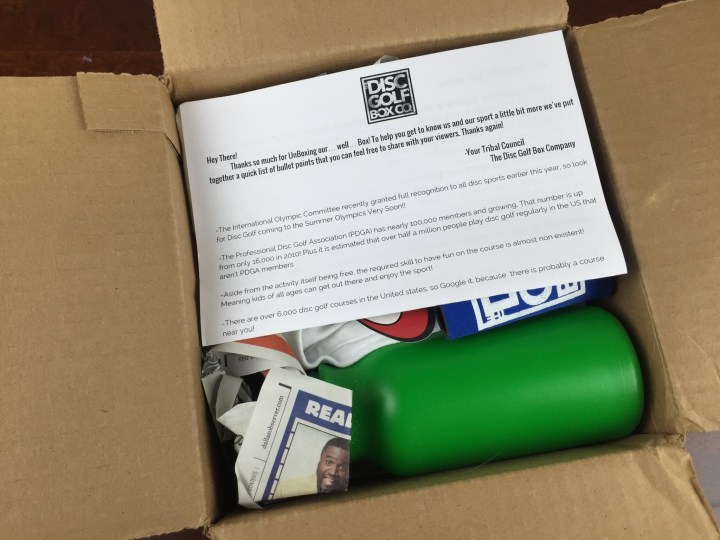 The Ace Pot comes with 1 disc selected at random, some solid swag, happiness, joy, excitement.
Usually there's no card but they did include an information sheet for us lest we be unfamiliar with the sport. While my husband and I are pretty much the opposite of athletic, a small branch of my family is comprised of fitness fanatics including a Master Ironman who regularly represents the US on the international ultramarathon circuit, a cross-country runner that went on a quest to work at Nike and made it, and short distance runner and professional race organizer who is also an inveterate hipster and loves disc golf !  Trust me: I've heard all about it and the recognition by the IOC – you'll see Disc Golf as a medal sport soon. (And also sometimes I gotta brag on my fam. They're pretty awesome!).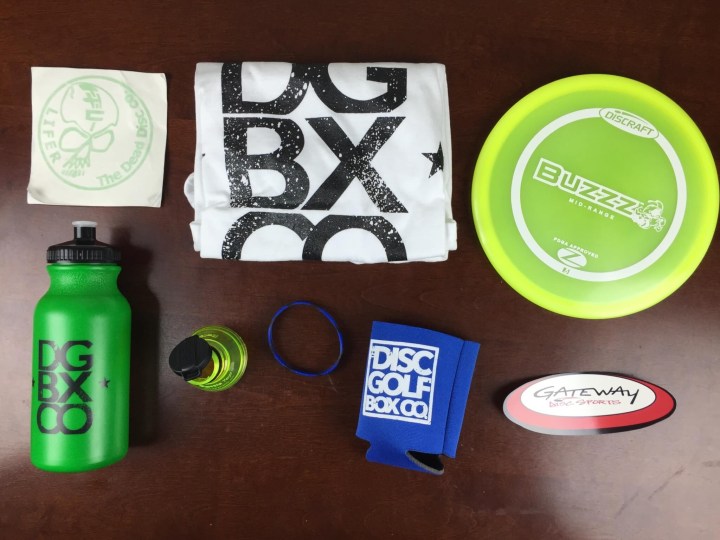 Everything the The Disc Golf Box Co's One-Time Box!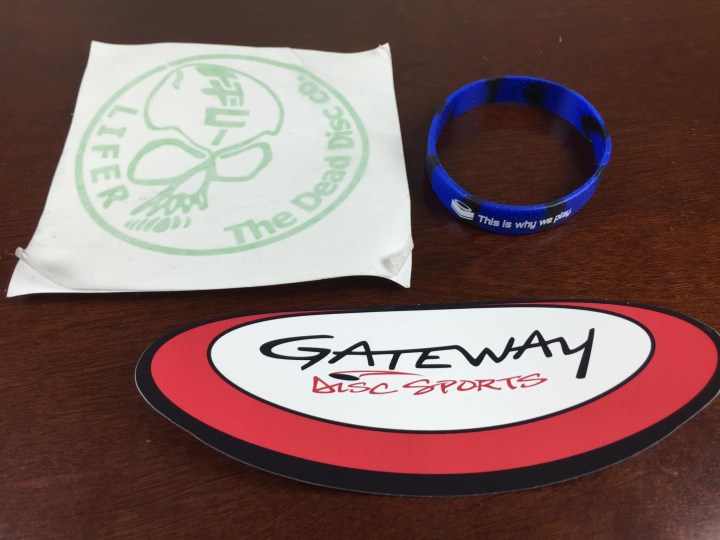 The Dead Disc Co. Lifer Decal
Disc Golf Wristband
Gateway Disc Sports Sticker
This is just some fun swag that you can use to signal your commitment to the sport – and maybe find new people to play with!
DGBXCO Water Bottle
Can Topper
The Disc Golf Box Co Can Cooler
Drinking Swag! Everyone needs water outside and I really like the DGBXCO logo – it's edgy and just cool looking. The can topper is to seal off the top of a can and of course you can stick it right in the koozie!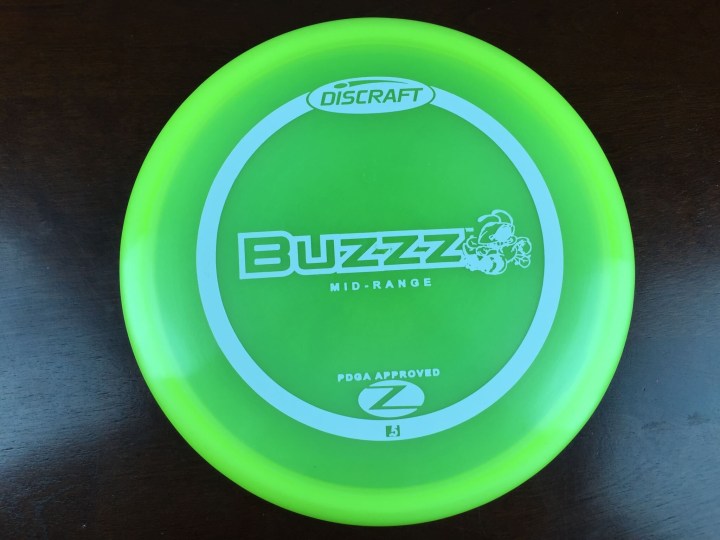 Discraft Buzzz Mid-range Golf Disc ($15.99) This is described as the most dependable disc on the market – it will do whatever you tell it to, and it's manufactured by a company that's been making these discs for 30 years. Pros describe it as their favorite disc of all time and totally unbeatable. It has superlative professional reviews and is an excellent introduction to the sport or a perfect monthly replacement. This disc makes a great putter – especially for longer putts.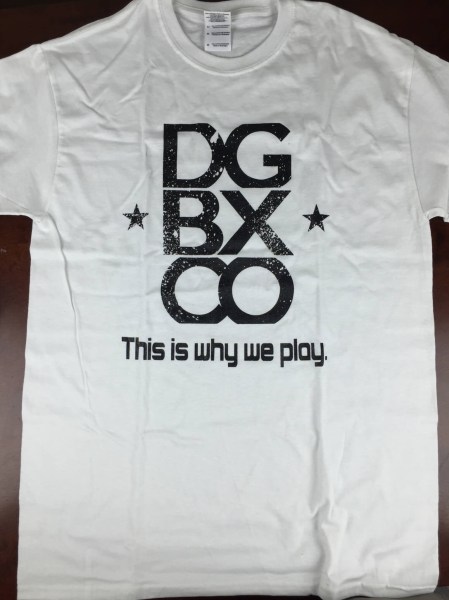 DGBXCO Shirt ($15) 100% cotton and perfect for kicking around or every day wear. Again, I think the logo is extremely well done.
I think this was an excellent box and I appreciated that they went for the top of the line pick for the one-off box instead of some cheap imitation (not all boxes would!).  The monthly subscription of either box would probably be perfect for the frequent and intense disc golfer who needs a lot of gear. Because this is a Cratejoy subscription you'll be able to switch what box you get – sometimes you might just want the discs, other months you may want more swag! I think both are great options and it's nice to see a subscription box catering to this growing sport! And if you know a disc golfer and have no idea what to get them for Christmas, I assure you that my cousin is extremely excited to get a box o' disc golf stuff from me!
Visit The Disc Golf Box to subscribe or find out more!
The Subscription
:
The Disc Golf Box
The Description
: This new subscription box puts together a customized box of disc golf awesomeness loaded with contributions from retailers all across the country just for you. Their purpose is to introduce new brands, products, and designs to players all over the world by connecting them to the companies, designers, and people that share the same passion for growing our sport.
The Price
: $29.99 per month
The Coupon
: Use coupon code
THISISWHYWEPLAY
to save 10% on your first box!