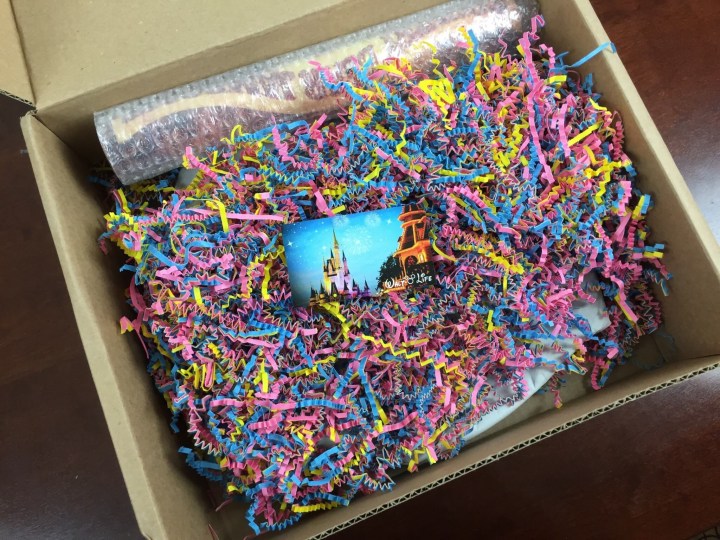 Walt Life Addiction Subscription is a monthly Disney-themed subscription box. Every month you'll receive 3-4 pieces of authentic Disney Parks merchandise. While boxes aren't themed to allow for the best variety of merchandise, the October and December boxes will have the appropriate holiday themes! The box itself isn't decorated, but the items arrived in fun rainbow squiggles!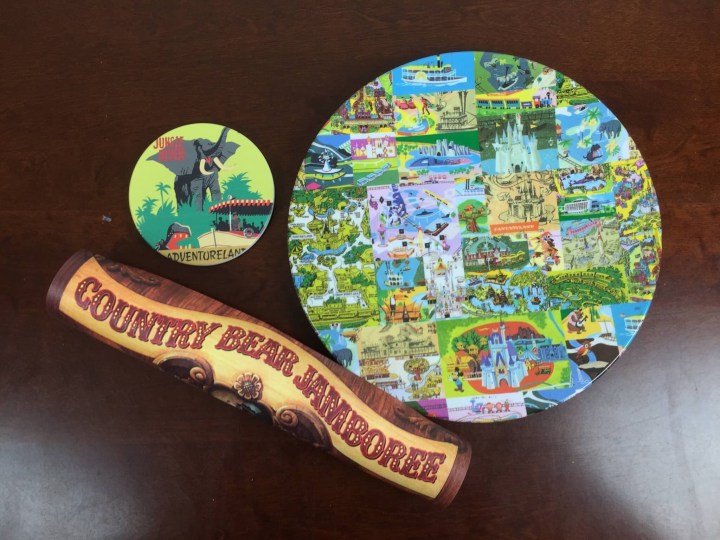 There were 3 items in our August Walt Life Addiction Subscription box!
I recognized two of the items from our last trip to Disney World! All three items are authentic and 2 of them have barcodes.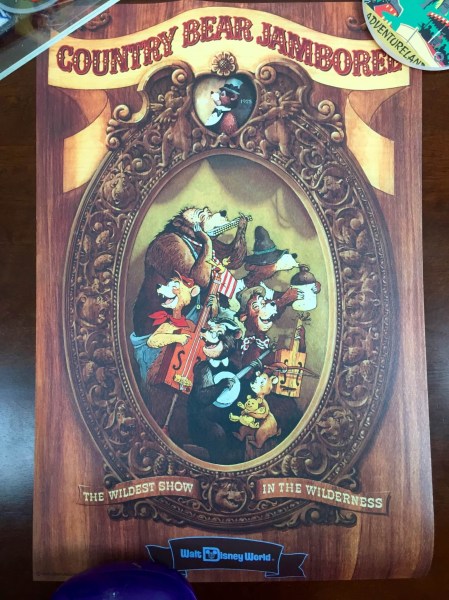 WDW Country Bear Jamboree Poster ($1.66) I was excited when I saw this poster! I love Country Bear Jamboree, it's hilarious, old-school, and I hope they never take it away (they will, because it's Disney). This is part of a 12 poster set which is available for $19.95, which is kind of shocking, because these posters are printed on extremely high quality acid-free paper. It's a quality print. They also make them for Disneyland. These are the posters you see when you walk in the park and they're a great find, I didn't know they made them! I might get a set of them to have a couple more to hang in my kids' Mickey-themed bathroom.
Magic Kingdom Map Plate – 11" ($6.95) This melamine plate features a collage of art from vintage Disneyland and Walt Disney World maps.  It's vibrant and fun, and a great way to have a family snack while poring over all the places on the plate!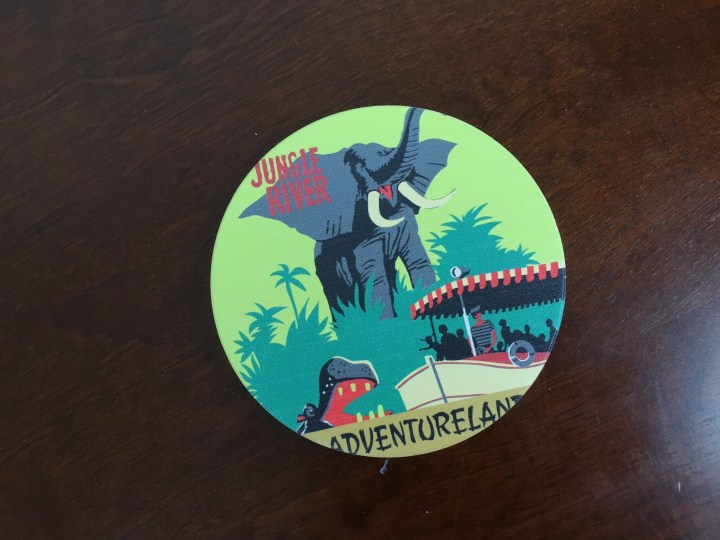 Disney Parks Attraction Poster Coaster – Jungle Cruise ($6.95) I cannot wait for the new Jungle Cruise restaurant to debut! It will be called "Jungle Navigation Co., Ltd. Skipper Canteen" and open at the end of 2015. Like most of the Disney home items, this is a high quality coaster with a nice cork back! My kids love this attraction and it will help encourage them to put their drinks on a coaster!
I liked the non-theme retro theme of this box quite a bit.  Everything was retro and vintage styled and it fits in nicely with my decor with a cute wink and a smile to the happiest place on earth! It did have quite a low value. I could have purchased these two items and the entire set of posters at the Disney Store for the price of the box. See our note about the value of Disney-themed boxes specifically – it perfectly acceptable for a Disney themed box to have a lower value than the cost and nobody should expect to receive tons of retail value in this type of box because the items cannot generally be sourced as a discount, but this seemed lower than the other Disney-themed boxes I've reviewed. I would actually like to see more "inspired" items like we see in the other fan boxes (specifically the geek boxes) in Disney-themed boxes. I think it would provide more value to the end consumer at the same price to the box.
Visit Walt Life Addiction Subscription to subscribe or find out more!
The Subscription
:
Walt Life Addiction Subscription
The Description
: A monthly box of hand picked goodies from the most magical place on earth, Walt Disney World! It's like a trip down Main Street in a box!
The Price
: $34.95 per month
The Coupon
: No coupon codes, but you can save 15% with a 3 month subscription!