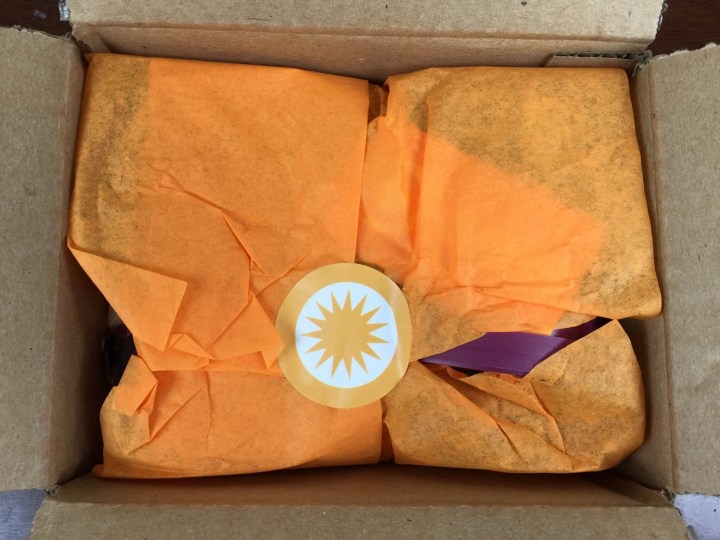 Burst Box is a monthly health and fitness subscription box for Crossfitters and other athletes. Every box contains apparel, gear, a playlist, a recipe, plus snacks and other goodies. Gear ranges from water bottles to foam rollers to grip tape and snacks could be anything from energy goo to bars to other nutrition. Each box also contains a little fitness inspiration and motivation!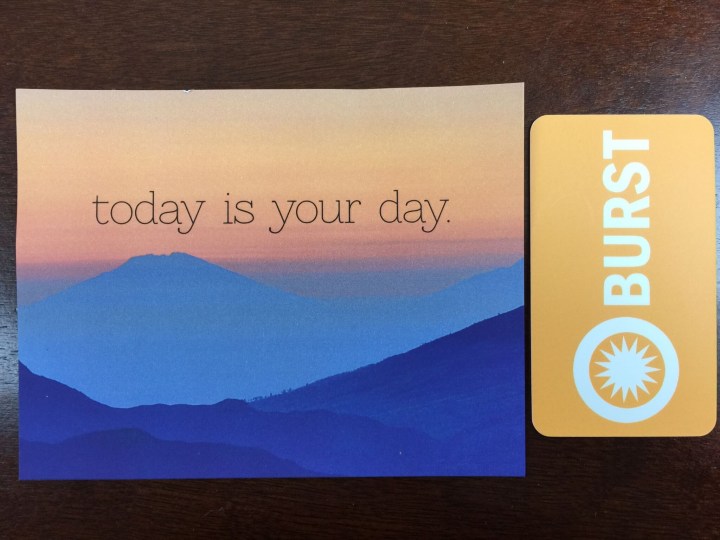 There was no information card, just a little fitness inspo. You can tape this on your mirror and swap it out next month!
Everything in the August Burst Box! This month included a recipe for Power House Greens Salad, and a Summer Run playlist.

RAP Protein Gummies  These are mine mine mine! They're whey protein so a bit odd, but for anyone needing to intake protein, they are absolutely fantastic – and not sweet or yet-another-greek-yogurt.
Food Should Taste Good Real Good Bar in Hazelnut Sea Salt  Um, I didn't know this brand made sort of sweet things?? This is totally new to me and super good – like a KIND bar! Great product find!
Dr. McDougall's Fruit Flax & Nuts Oatmeal The brown sugar packet inside lets you customize the sweetness/cut down on the sugar and includes cranberries, apples, and currants plus flax seeds, sunflower seeds, chia seeds, and almonds for a burst of flavor plus lots of antioxidants and a protein boost. This is getting stored in my desk!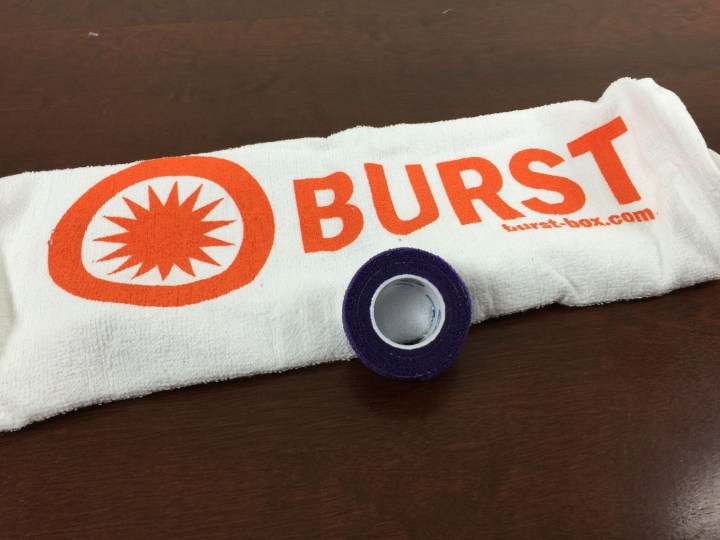 Burst Box Towel
Dynarex Sensi-Wrap Self-Adherent Bandage Roll
These are both totally essential gear – a towel is always necessary and the tape is perfect for taping up without any hassle. I love this kind of tape because you can tear it easily and it sticks to itself.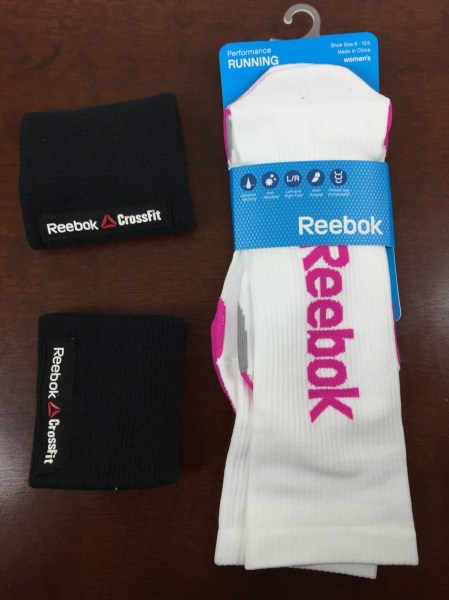 If you're not familiar with CrossFit, you probably wouldn't know that Reebok has a giant deal with CrossFit and is the official licensed apparel retailer for CrossFit. So don't look for CrossFit items from other brands!
Reebok CrossFit Wristbands  "Perfect for any WOD" these are soft terry with CoolMax wicking technology. My husband will probably try to take them, but we'll see if my daughter doesn't want them first – she's a CrossFit junkie (her parents are too lazy but she does CrossFit Kids twice a week). She's so cute! Or I may steal them for the treadmill. I get sweaty and they really do help!
Reebok Performance Running Socks: And the funny thing about CrossFit is that everyone is obsessed with tall socks. Ok, this isn't true but it's kind of a trendy thing in th CrossFit crowd so whether you get use out of them just for running or wear them to your box you'll be totally cool.
This was a fun box from Burst Box and it seemed right on point with the needs of athletes and fitness nerds whether or not you like to CrossFit. I was particularly impressed with the fact that they found three new-to-me snacks, that's practically unheard of (and only one is a GNC-type item!). I think it would be fun to get a shirt (not CrossFit branded) that was a great in-joke! I think a "Think Inside The Box" shirt or towel or something of that nature would be a great item for this box in the future! Do you CrossFit? Do you think the owners of our gym will ever get my husband and I off our lazy butts to join?
Visit Burst Box to subscribe or find out more!
The Subscription
:
Burst Box
The Description
: The ultimate subscripton box for crossfitters and athletes! We want to make your workouts the best they can be! Each box will give you five-star gear and apparel, wholesome nutrition, but also motivation, inspiration, and encouragement to be your absolute best.
The Price
: $34.99 + $5.99 shipping per month