Escape Monthly is a monthly travel-themed subscription box of full-size luxury products – each month from a new destination! The box always includes a travel guide to assist in your daydreaming, as well as pampering and relaxation products.  I was extremely excited to review this month's box – I haven't taken a look at Escape Monthly in over a year – because Escape Monthly has a new owner that is committed to customer service and putting out great boxes.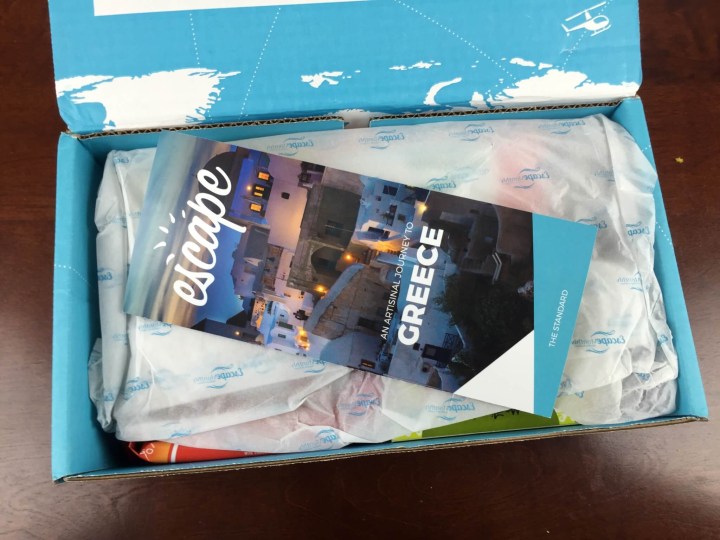 The September destination was Greece!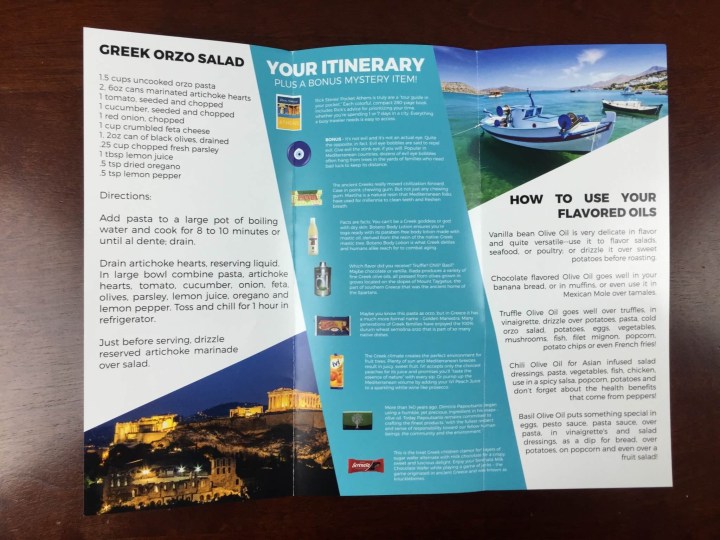 The information booklet details all the items in the box – plus it included a recipe and how-to for 2 of the artisanal items in the box.
This was a really really heavy box and as soon as I opened it I knew why!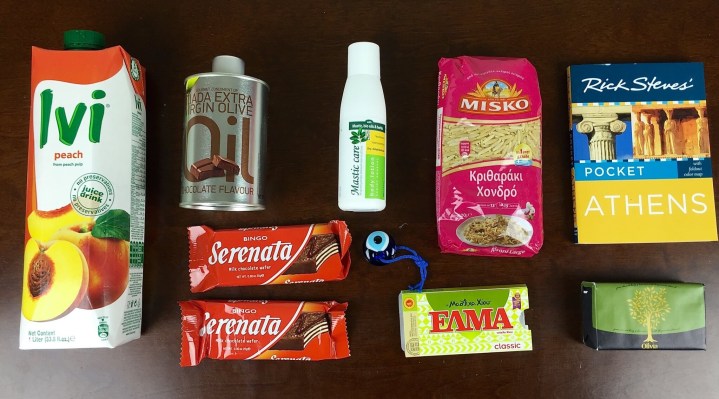 All the items in the September Escape Monthly!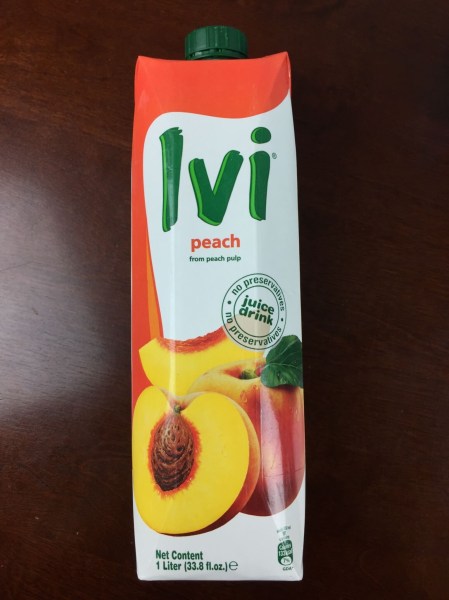 IVI Peach Juice Drink ($8.25) I am not a juice drinker (for the most part except a few times per year no beverages with calories besides alcohol go in my body!) b ut I'm excited to try this because it's made with Macedonian peaches from Greece! Just like wine the terroir of the land should be evident in this juice and I am sure it's delicious! And for once I can say that I'm really happy that it's not Greek alcohol in this box, because I hate ouzo!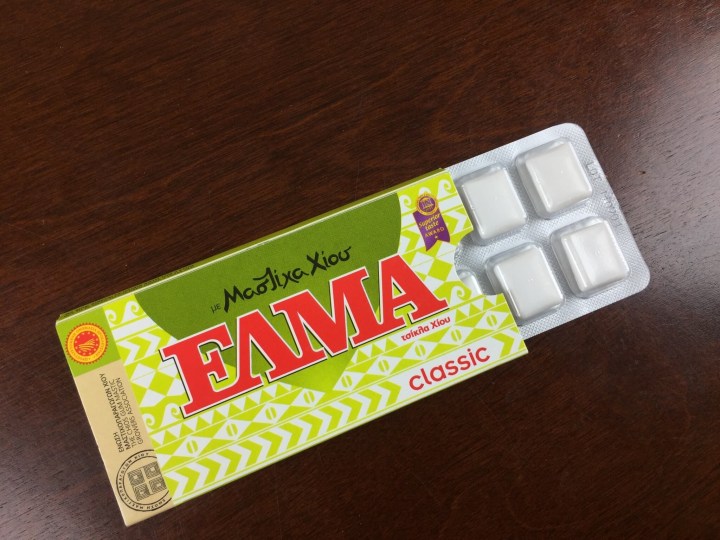 Elma Mastic Chewing Gum ($1.95) Mastiha resin is a natural breath freshener from Greece and has been used for millenia! This gum is plaque-fighting (it also has a large amount of xylitol) and breath freshening and natural.  I liked this flavor! I've tried it before and didn't like it as much – either this is a better manufacturer or the taste has grown on me! Mastiha produced on Chios, where the mastic trees are native to, has a protected designation of origin in the EU and I believe the stamp on the left indicates that, but I'm not certain.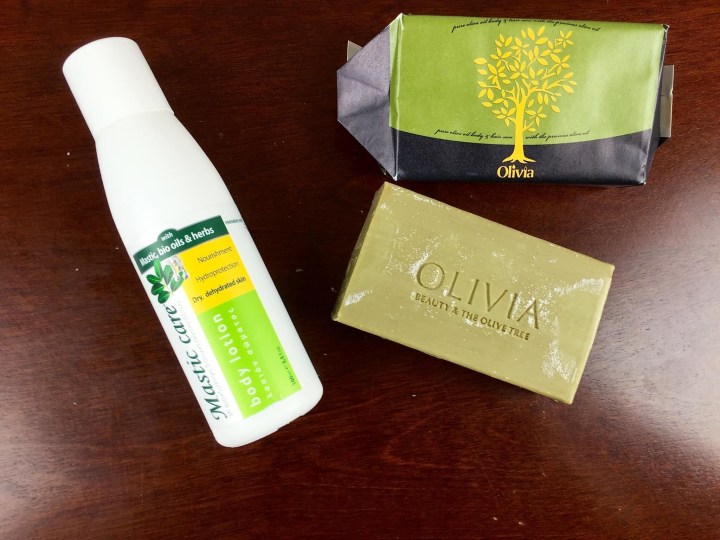 Botano Mastic Care Body Lotion ($4.50ish) More mastic! This lotion is for dry and dehydrated skin, but it's not too heavy. It uses panthenol plus organic avocado oil, sesame seed oil, aloe vera, chamomile, calendula. (FYI – "bio" in the EU = organic). It has a hard-to-place fragrance that's somewhat soapy, but the back of the label says that the perfume is allergen-free.
Papoutsanis Olivia Beauty & The Olive Tree Bar Soap ($3.83) This bar is olive oil & honey and is 100% natural! It smells really nice and is a big sturdy bar – it should be ultra moisturizing too.
Misko Orzo ($7.09) I love orzo! Misko is made with greek wheat and I am hoping that I will be able to tell the difference from my usual store brand. Orzo looks like rice but is pasta! I believe that it's very traditional to make a beef and tomato sauce for orzo in Greece, but my favorite orzo recipe is from Weight Watchers' Great Cooking Every Day Cookbook – it uses parmesan, spinach, and red wine vinegar. I kept the cookbook in order to save that recipe.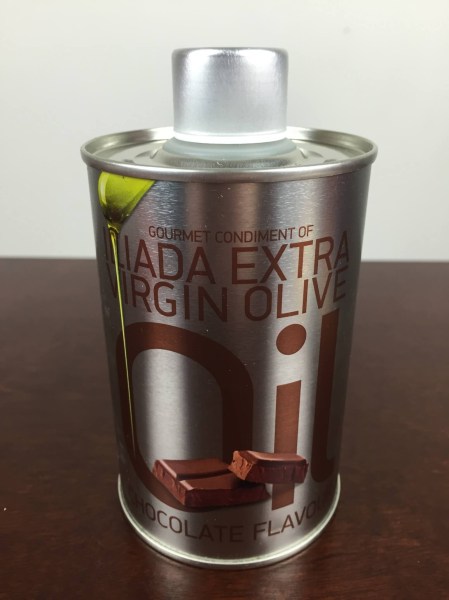 Illiada Extra Virgin Olive Oil – Chocolate Flavor ($14.95) Well this is unusual! Subscribers received one of five flavors – chocolate, vanilla bean, truffle, chili, or basil – along with hints on how to use it. I can't say that I can really say there's a big chocolate flavor, but I've been chewing mastic gum! From what I have read online it's just a hint of flavor, and I can definitely detect that – and it's not nearly as weird as it sounds. Illiada wants me to try it with my cookies, but I don't really bake cookies with oil, so I'll need to find a recipe or get adventurous – I'm thinking it would be good in a beef and tomato dish to deepen the flavor!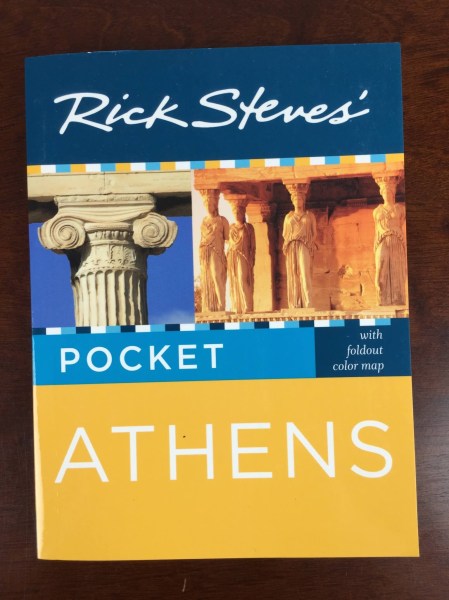 Rick Steves' Pocket Athens ($9.92) Escape Monthly always sends a travel guide, and I love it when they have the Rick Steves ones because they have color pictures and are more of a story than the regular sort of guide. I think they're fun and useful, though I am still wishing that this box might include some destination-inspired novels sometimes!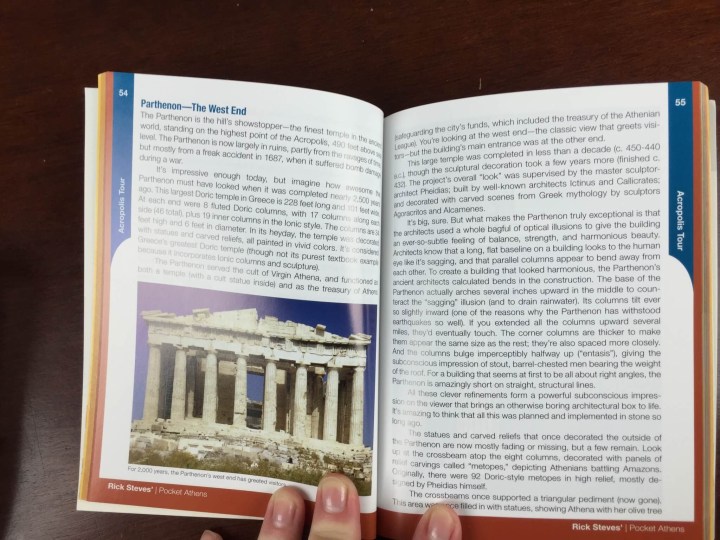 I would love to visit!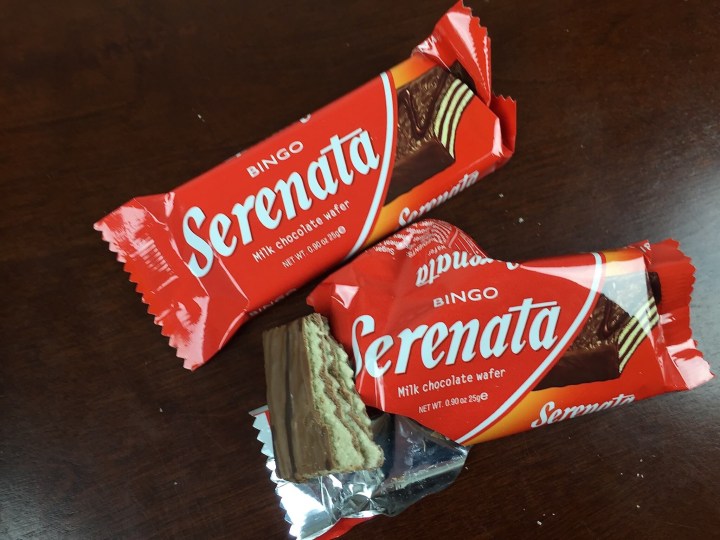 Bingo Serenata Milk Chocolate Wafers ($2) Made in Greece and they are absolutely delicious! Sometimes these wafer candies have a tendency to be a bit stale or the chocolate somewhat funny tasting, but these were best in class for wafer bars.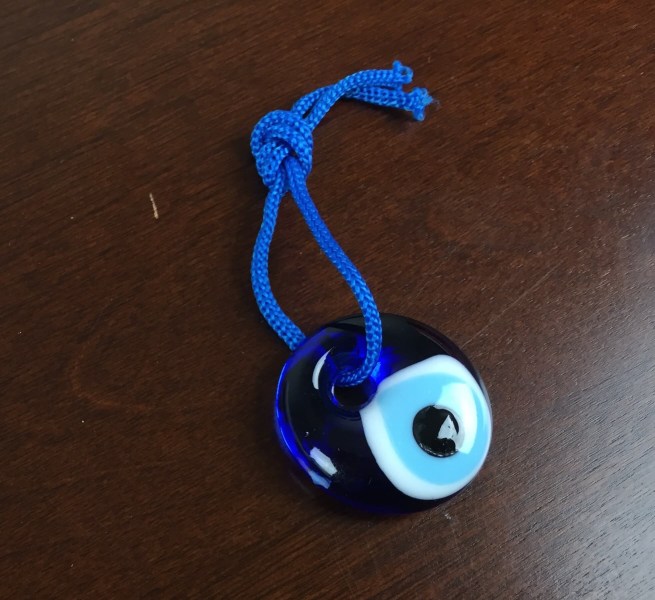 Evil Eye Bobble Charm – Bonus Item: This helps keep evil at bay – it's a traditional ward against terrible things all across the Mediterranean.
This was a great box with a lot of charm – and a lot more food than I remember Escape Monthly having. I thought there was great attention to the curation and sourcing of items  and everything besides the travel guide was made in Greece. This was one of the problems in boxes put out before and I was delighted to see that it had changed. This box had around $43-53 in value (I used Amazon for the food items and if you do find yourself in a Greek food shop you can probably buy them less expensively) plus a bonus item – so I'd say that it met the cost of the box, but you can save 20% on your membership as long as you subscribe, so the value was also very good. I thought there was a fun mix of unique items and it was interesting to see how traditional botanicals like mastic (and of course the olive!) are used in both food and body products.
Visit Escape Monthly to subscribe or find out more! Use coupon code MYESCAPE to save 20% off on the life of your membership!
The Subscription
:
Escape Monthly
The Description
: Escape with destination-inspired themes. Pamper & indulge with full-size luxury products from bath, spa & beauty to gourmet snacks & gift certificates plus travel guides & entertainment.
The Price
: $49.95 per month
The Coupon
: Use coupon code
MYESCAPE
to save 20% off on the life of your membership!