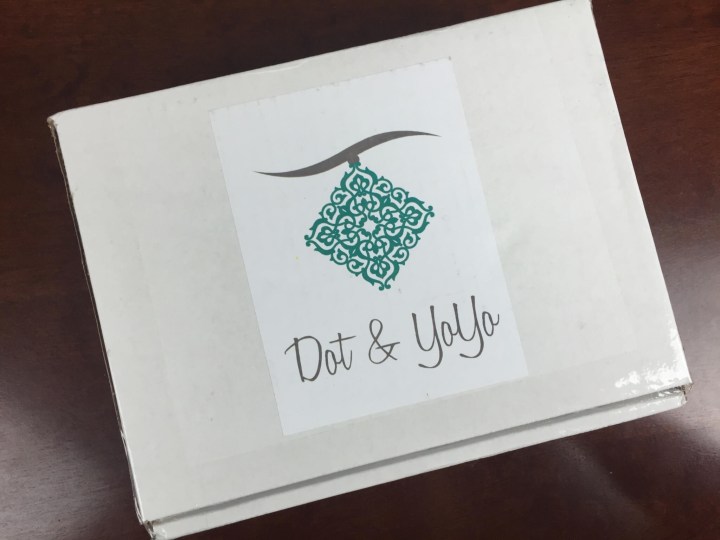 Dot + YoYo is a new monthly jewelry and accessories subscription box. Every month you'll receive a selection of 4-5 pieces of jewelry and accessories with a focus on bold statement pieces with daintier and coordinating pieces mixed in!  This is indeed the October debut box, which you'll be able to grab for yourself!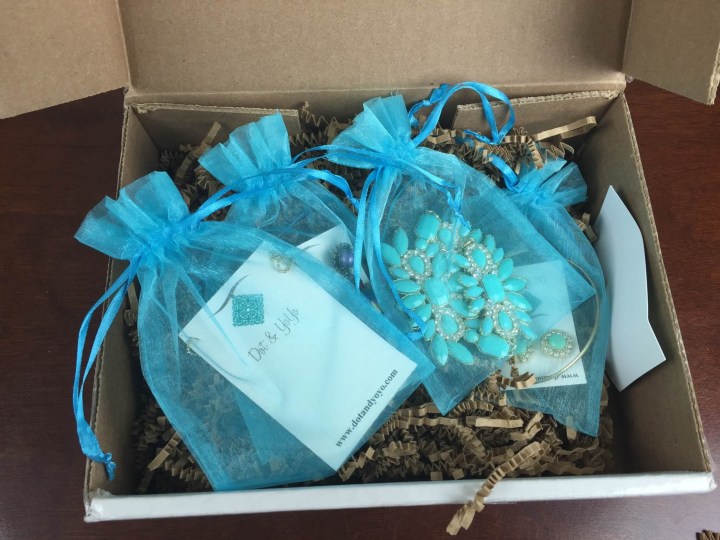 All the pieces were individually packed!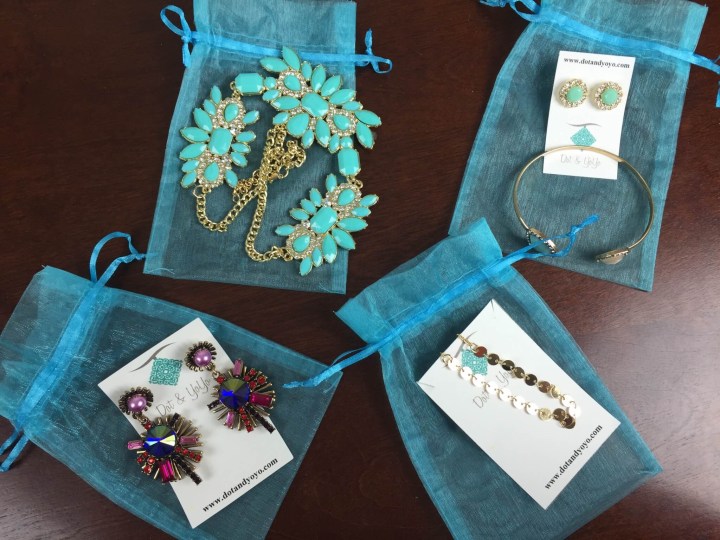 All the items in the box!
These earrings set are super cute, sparkly, and have great colors! I think the earrings and the bracelet, which were bagged together so they're sort of a set, coordinate with tons of styles and colors and they are just very versatile while still having a throwback vintage style.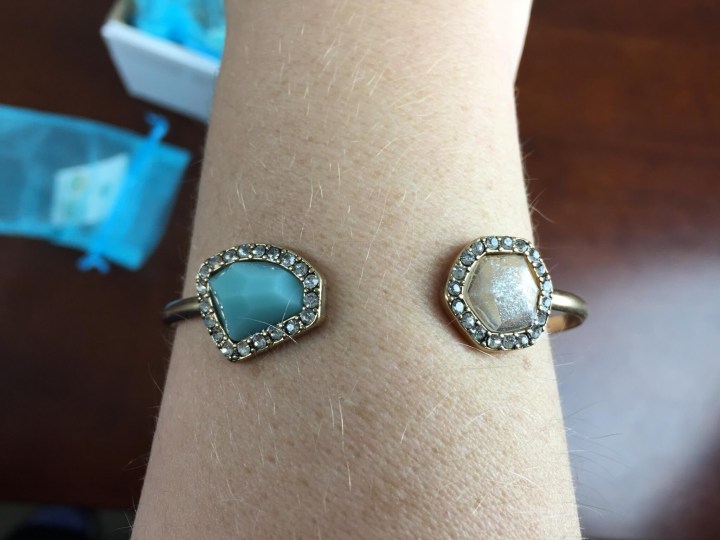 The earrings semi-coordinate with this bangle bracelet, which has great organic lines, plus lots of sparkle. This was more like a cuff – it was large on me, so I pushed it back on my arm. I may pinch it together when I wear it – it depends on what else I am wearing with it!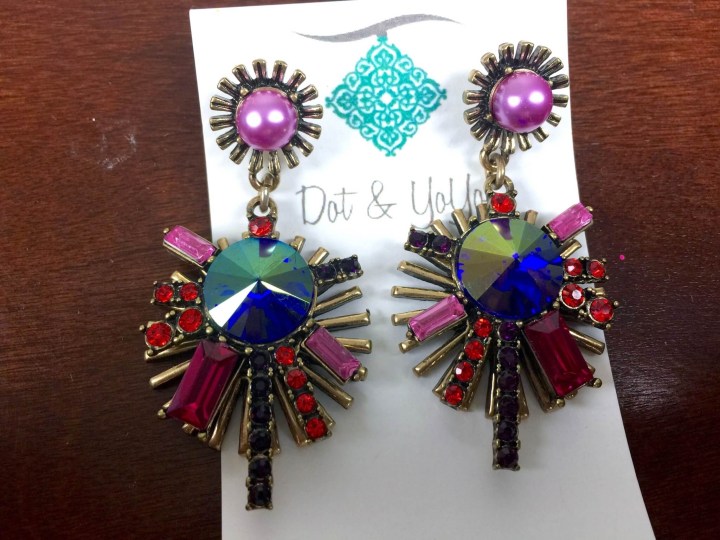 I adore these statement earrings! They are incredibly unusual and unique and they were an auto fave for me! They are unlike anything I own, period.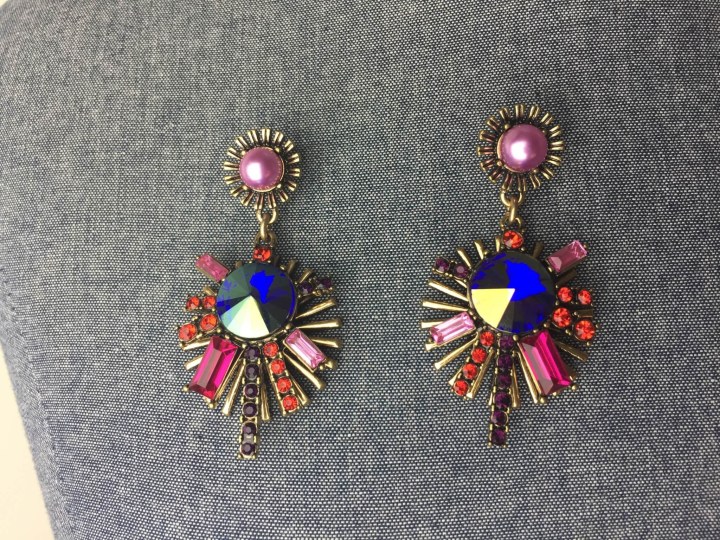 I love the geometric look, the flower button at the ear, the iridescence, the asymmetry (but matching!). Everything. They are perfection.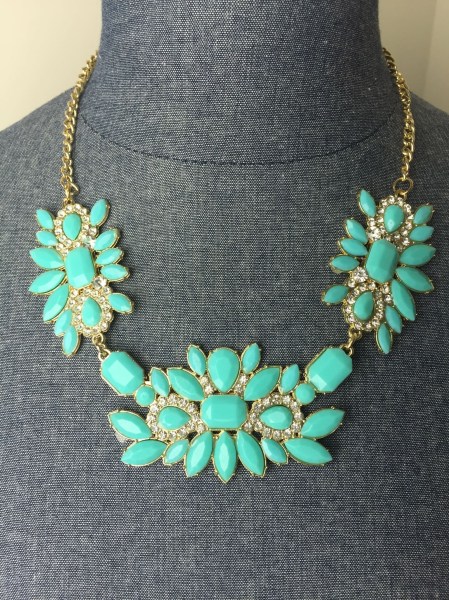 This is a serious statement! The mint color really matches the vintage style of this piece. I would wear this with a simple collared top – which I always wear open. It's a style I really like for large pieces.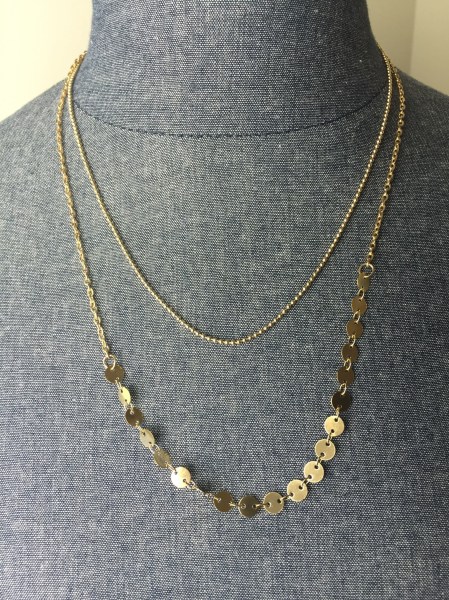 This gold disc and bead necklace was different than the other items – much more delicate. I like a variety of looks in my jewelry cabinet and this was a great style and length for loading up a bunch of layers or wearing separately. 
This was an amazing first box and I can't wait to see more of what they curate, because it was a pile of great jewelry for a relatively low price! I would love to see a card with names for the pieces and maybe some style tips as Dot & YoYo grows. You can get this exact box through October 10! Which obviously you need to – because #thoseearrings! 
Visit Dot + YoYo to subscribe or find out more! Save $10 on your first box! Use coupon code FACEBOOK10.
The Subscription
:
Dot + YoYo
The Description
: Receive 4-5 jewelry and accessory items hand selected by our stylists. Expect bold statement pieces, gold plated items and an occasional minimalist piece for everyday wear.
The Price
: $35 per month
The Coupon
: Save $10 on your first box!Use coupon code
FACEBOOK10
.