A Little Bundle is a monthly curated box full of unique products for mom and baby.  Their mission is to bring laughter, excitement and love to the journey of motherhood. FYI when you subscribe, the size of your child is the age that your box will be curated for (even though there's a birthday entry on the next page).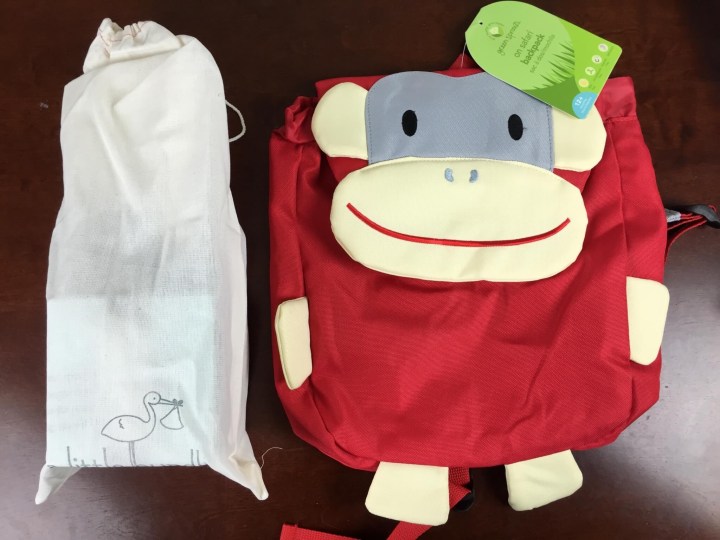 This month came in an actual bundle again! Cute. And a whole backpack!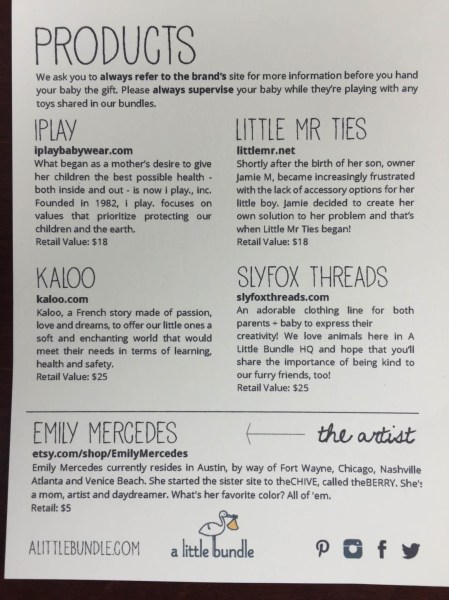 The information card.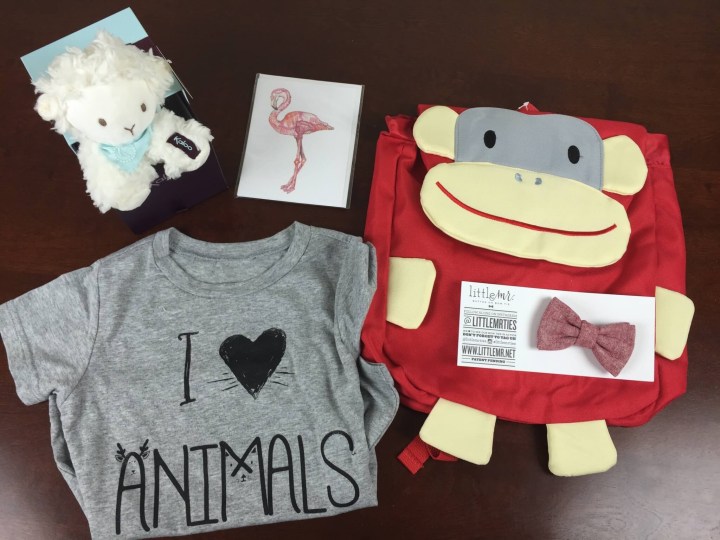 The August A Little Bundle!
SlyFox Threads T-Shirt ($25) This is a cute fun shirt and I love the little animals snuck in on the lettering! There's sort of a cute hipsterish tee in every box.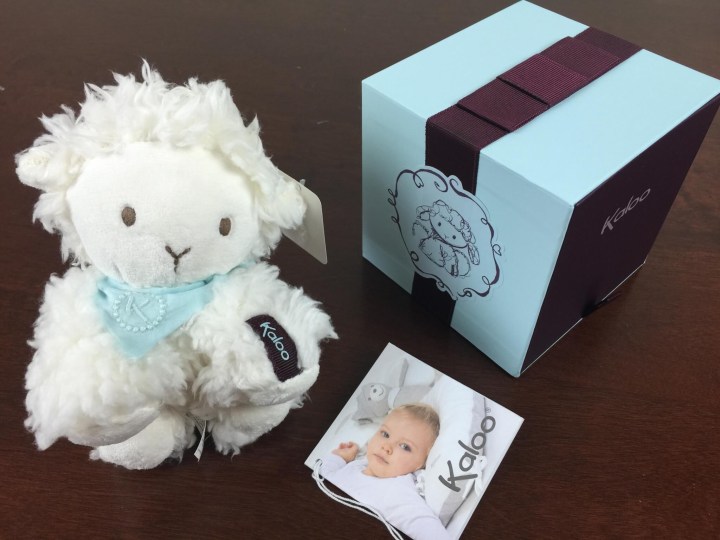 Kaloo Les Amis Lamb ($18.61) OMG I die. He's so soft. SOOOO SOFT.  Kaloo is a French company that makes all sorts of lovies and this is a cute item for this box, and not necessarily just for small infants.
i play On Safari Backpack ($19) Well, this is a bit odd for my 11 month old, but I have him sized to 18 months-2T. I suspect everyone got this one though – you'll just have to save it for later. Check out the video – Tom shows the inside!
It has a great magnetic closure. Perfect for toddler (pre-folder) years.
Little Mr. Button On Bow Tie – Rust Chambray ($18) This is darling and such a novel design – there's a button hole so you just button it over the button! Safe too. Great item.
Emily Mercedes Flamingo Card ($5) Mine was creased up and they're sending me a new one, which is a good thing, because I'm going to frame this baby for my gallery wall. Which will happen in my lifetime, I swear!
This was absolutely my favorite box ever and they immediately replaced my card, which was great. The box had around $86 in value. Unfortunately, unlike other Cratejoy boxes, they don't give you a renewal notice, so I got nailed with a 6 month renewal even though I had a free box from referrals. That was really disappointing to me, and they wouldn't fix it. I would have preferred to just have been really thrilled with this box instead of super grumpy about that renewal (I checked my account, saw I had a free box, and ignored it). I probably would have allocated that money on a different subscription to review. However, I did really like this box, and I love the little lambykins. So did my husband – check out his video!
Visit A Little Bundle to subscribe or find out more. No coupons for A Little Bundle – but you can save $6 per month with a 6-month subscription.
The Subscription
:
A Little Bundle
The Description
: A Little Bundle provides curated bundles of products for both mother and her baby, choosing from products from around the world that meet only the highest quality and design standards. Bundles are now available for children up to 2 years old!
The Price
: $49 per month – save $6 per month with a 6-month subscription!