Surprise Ride is a monthly activity subscription box for kids. Every month you'll receive a curated monthly adventure for kids ages 6-11. Activities center around a theme like art, geography, outer space, food, and more!
This is such a nice presentation – perfect for a gift!
You'll get a Surprise Ride guide in your box with the essentials (2 activities), plus all the extras you need for your adventures!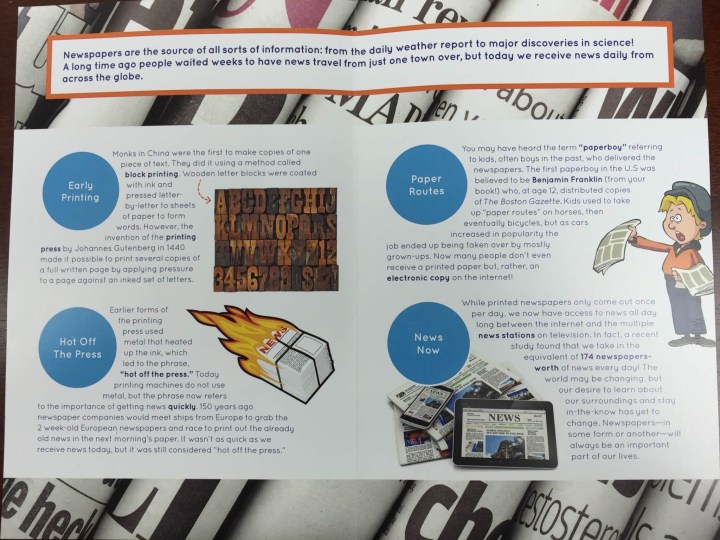 The theme was Newspapers! Each box has a guide to the month's theme which contains fun facts and ideas, and serves as an intro to the actual activities.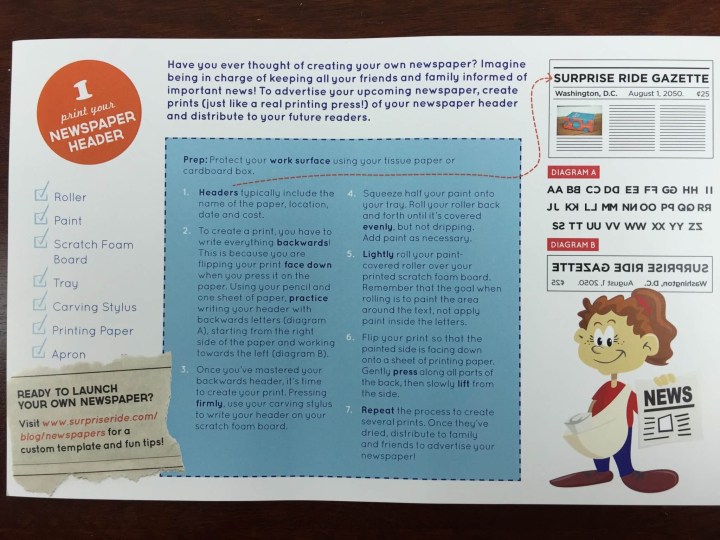 The information card is the guide to the activities – there's one on the back, too!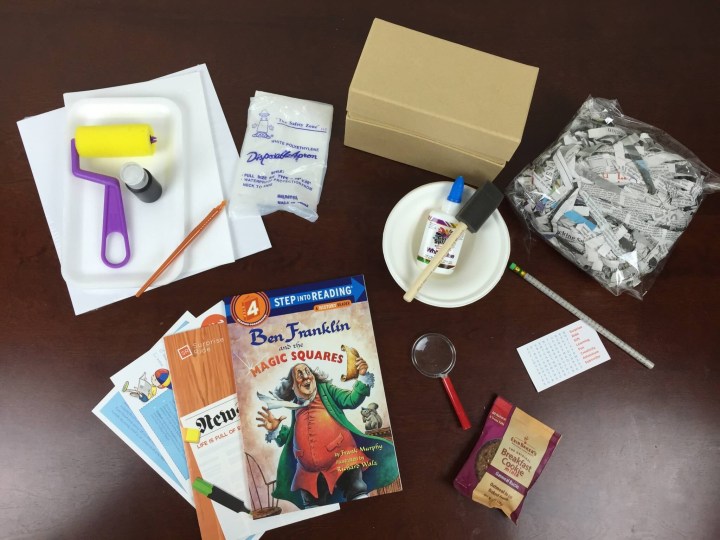 Everything in this month's box!
Each box contains Extras to go along with the 2 main activities and book. This month included a word  hunt, magnifying glass, newspaper pencil, and Erin Baker's Original Breakfast Cookie Minis in Oatmeal Raisin! Our daughter really had fun with this pencil – when you sharpen it, the paper unrolls off of it – it's newspaper!
Ben Franklin and the Magic Squares Book: This is really a great book with an interesting story about Franklin and magic squares – square grids of numerals in which all the numbers in any vertical, horizontal, or diagonal row adds up to the same sum. Since our daughter read this book we have found sheets of solved puzzles all around the house!  I thought this was a great bit of history that encouraged an innovative spirit and inquisitiveness!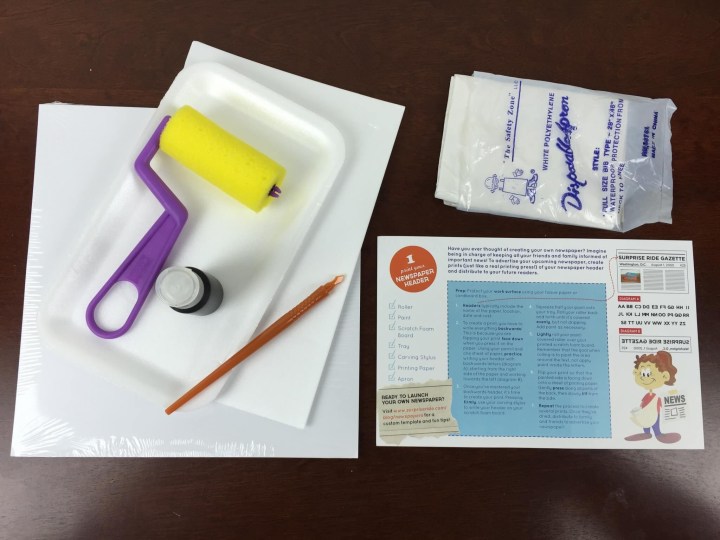 Print Your Newspaper Header Activity: This activity was a print your own newspaper header. Children had to create the header in reverse and print it on multiple sheets using the brayer and ink!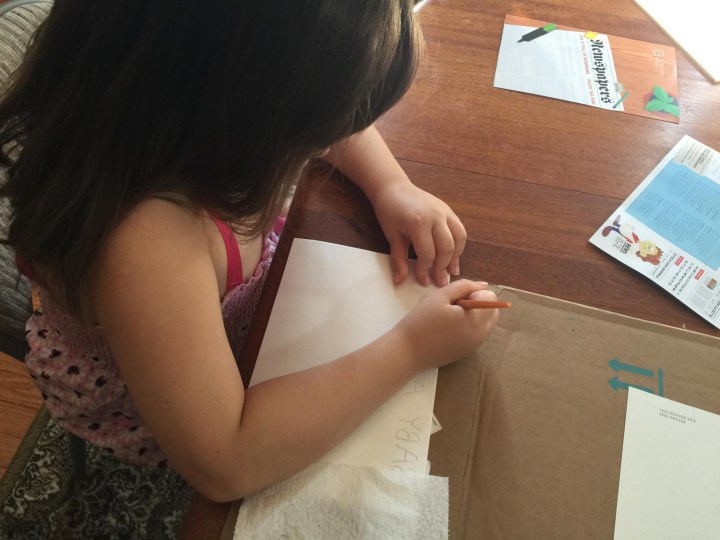 She made her header…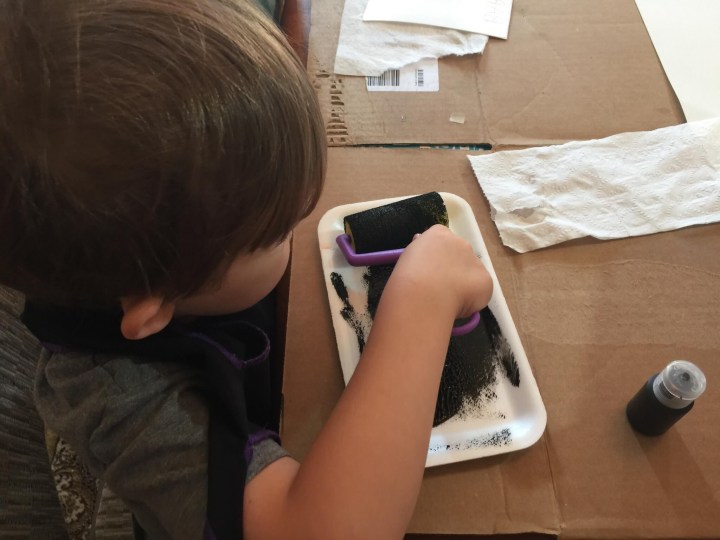 Little Brother rolled out the ink…
And printed!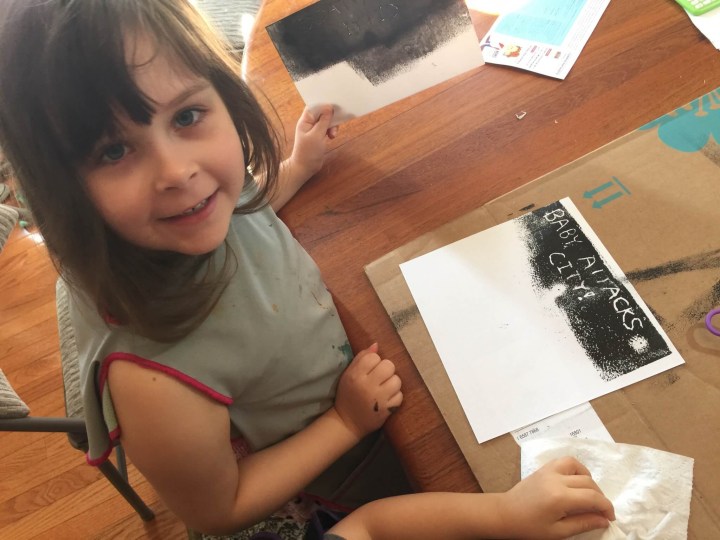 Tada! We're ready to print newspapers! We're going to add some photos of the baby with blocks and send it to the grandparents. What a great activity and a fun idea!
Design A Newspaper Memory Box Activity. This activity was more crafty and involved gluing the newspaper strips ala papier mache onto the box.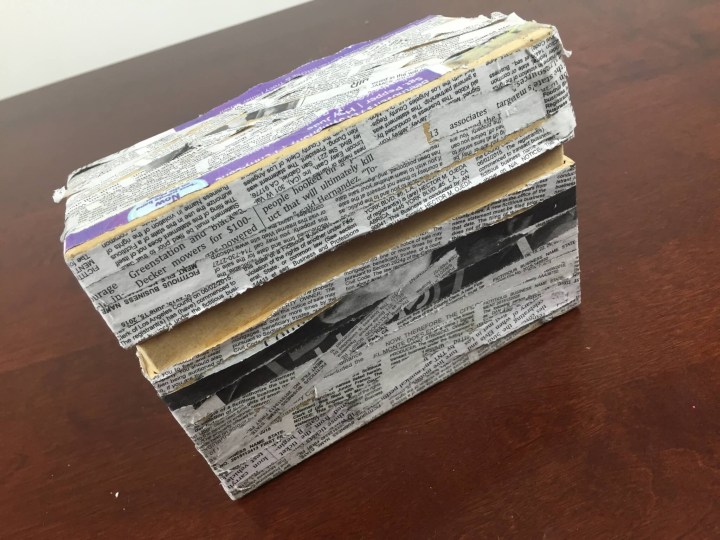 You can store your favorite headlines in the box when you're done! Our kids enjoyed this activity, and it wasn't even that messy! We followed the instructions to separate the darker colors (and we got some purple too!) to make a cute pattern.
Check out the video review of this box, too! This was a fun box – and the two main activities focused on extending the theme while also providing techniques that can be extended to other media.  There was also a lot of opportunity to discuss the changing nature of media (hey kids, we didn't have the internet when we grew up!), advertising, and all sorts of interesting modernities.
Visit Surprise Ride to subscribe or find out more!  Save $5 on your first box with coupon code BESTGIFT5.
The Subscription
:
Surprise Ride
The Description
: SurpriseRide is a theme-based monthly activity subscription box for kids ages 6-11. SupriseRide boxes come with everything you need to do the kid-tested projects, right down to extra paint. SurpriseRides are themed not only by activity, but by the travel experience.
The Price
: $29.99 per month
The Coupon
: Get $5 off your first box with coupon code
BESTGIFT5
.