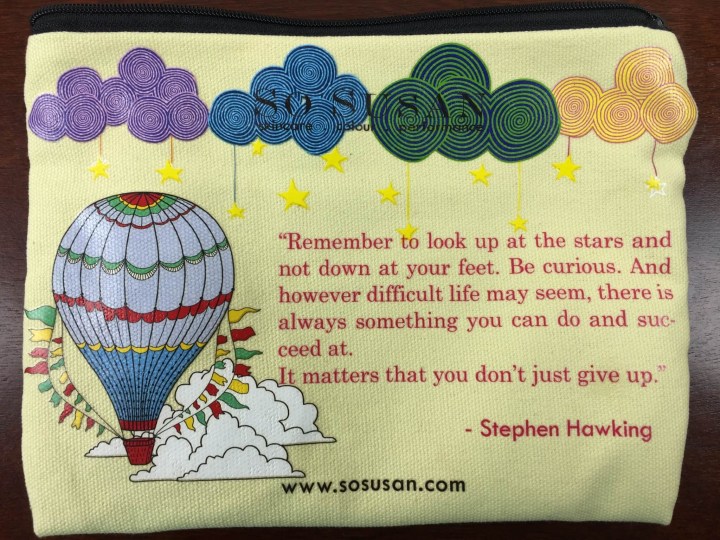 So Susan Lip Love is a newer monthly lip product and makeup beauty subscription. Every bag includes 4 items: 3 items + 1 BONUS makeup product + 1 BONUS accessory!  From May 2015 onwards, you will be able to preview 2 items. The other 3 items (including the 2 BONUS items) will be revealed after the bags ship.
Note that I did not receive a June or July bag, even though I was charged for each.  I honestly didn't notice that I didn't receive the bag in those months until I got this one. I requested that they cancel and refund me for those months. They're working on it (they wanted my details to look up my subscription while simultaneously confirming that they were shipped – a little odd!)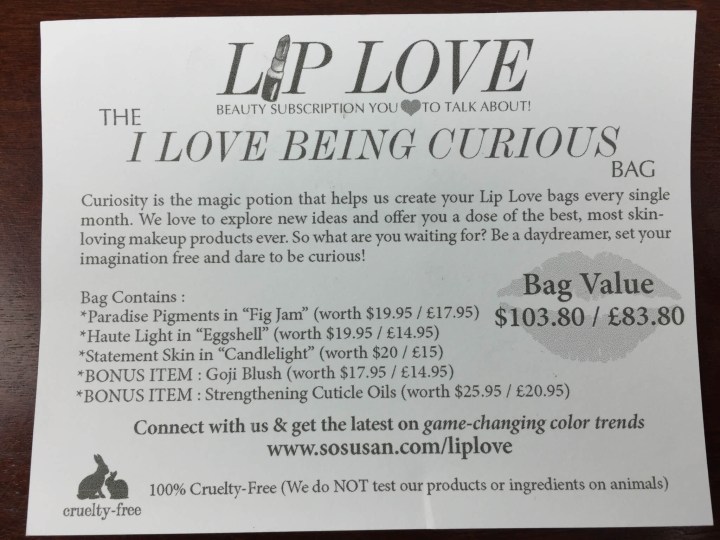 Every month includes an information card with the details on every product. Instead of a jewelry bonus item, this month it was cuticle oils!
I love the packaging and style for everything they do!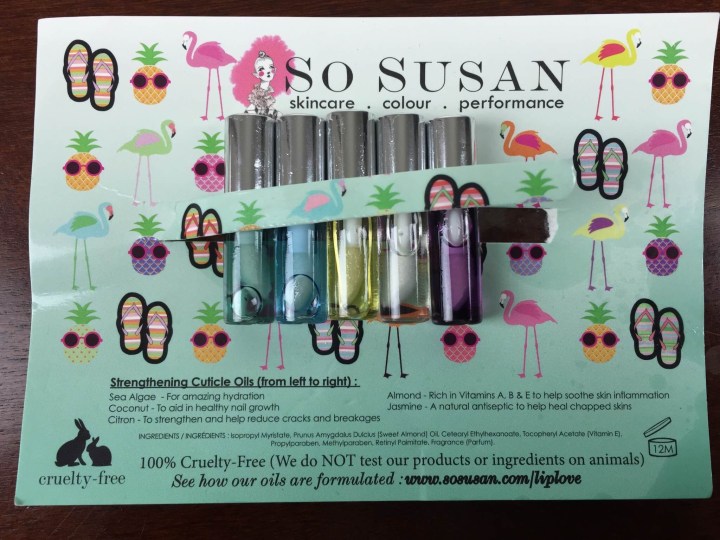 So Susan Strengthening Cuticle Oils
Sea Algae, Coconut, Citron, Almond and Jasmine: These are just so sweet, have different properties, and are just a fun sort of twee item. Super cute. One got a little leaky but it wasn't a big deal. I will use all of these!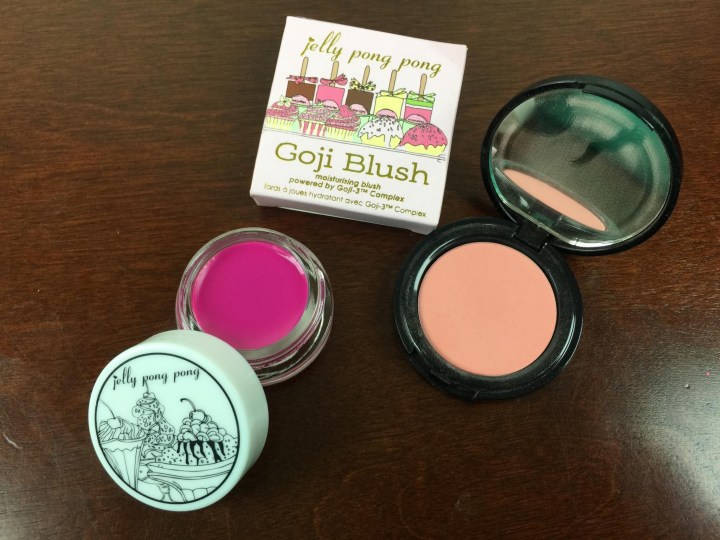 Jelly Pong Pong Paradise Pigment Lip and Cheek Cream in Fig Jam: This is really a nice moist lip and cheek cream. It's definitely full of pigment and has great staying power. The main thing I can say is don't be afraid of a pot of fuchsia, try it out, it's why you subscribe to the box 🙂
Jelly Pong Pong Goji Blush in Lotus: This is a moisturizing blush and was indeed quite creamy when on (I did a video review, check it out below for the swatches of all the colors!). I think this is a pretty universally flattering shade and is quite nice on. The blush pan wasn't quite glued in though!
So Susan Haute Light in Eggshell: This is pretty much just like a Chella highlighter pencil. You can use it for contouring, highlighting, the corners of your eyes, a shadow base, whatever you typically use your highlighter pencils for.
So Susan Statement Skin Highlighting Crayon: I also received this in my August Boxycharm! Two highlighters in one box is a little weird, but they are really totally different, this is more like an illuminator/luminizer crayon, and So Susan is really famous for their luminizing products.
https://youtu.be/DIvfjL4IJ6o&rel=0
Visit So Susan to subscribe or find out more. Check out all our So Susan Lip Love Reviews or see more beauty and makeup subscriptions in the subscription box directory.
The Subscription
:
So Susan Lip Love
The Description
: Every month get 4 So Susan cosmetics products: 3 lip items and 1 bonus item for another part of your face. Bags are available to view before shipment and you can skip the month or send to a friend.
The Price
: $15.95