Well back to school season has certainly arrived! Last week Honest Company announced new backpacks – a collaboration with STATE – and I ordered one of each right away!  Unfortunately I don't think these backpacks are right for our family – read on.
Backpacks are $54.95 – $41.21 for Honest Company bundle subscribers and are available in two colors: Coral and Navy. If you are a new customer, use coupon code GET10 to save $10 off of $25 (but don't use it on this, add it to the bundle because your savings will be so much more!).

For each backpack made available on Honest.com, a backpack will be hand-delivered to a child in need – filled with school supplies! To me, this is the best thing about this item!
The backpacks are made with water-resistant polyester canvas and feature adjustable straps. The backpacks are Free of: PVC, latex, brominated flame retardants, polyurethane foams, glues, chlorine processing, phthalates, PBA, BPS & AZO dyes. Also excellent!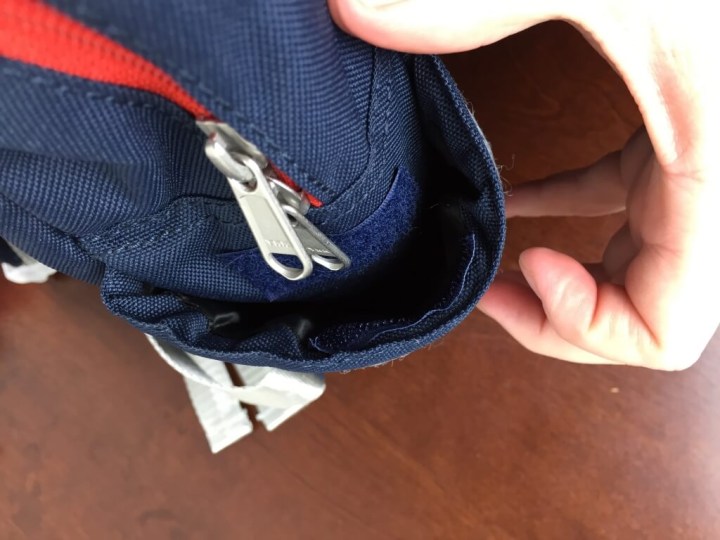 There are velcro side pockets, which will get used exactly once and then whatever is stored in them will be forgotten. (haha if you have kids you know it's true!) In all seriousness, I don't know why they spent so much attention on the side pockets, which are also padded. It was fine, but it seemed like a lot of effort was spent on these side pockets.
I didn't read this before I bought them. Are you kidding me? I really don't look at all the pictures or read the whole detail page before I buy something.  I probably should, but I don't.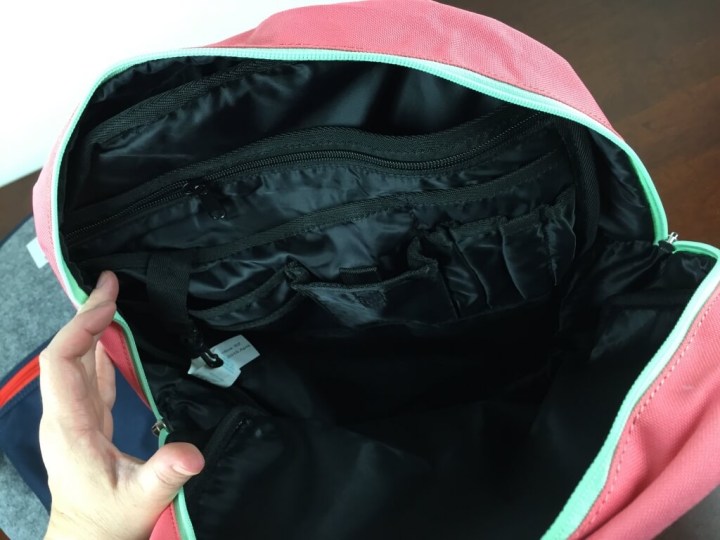 I wasn't impressed by the inside at all. It's pitch black!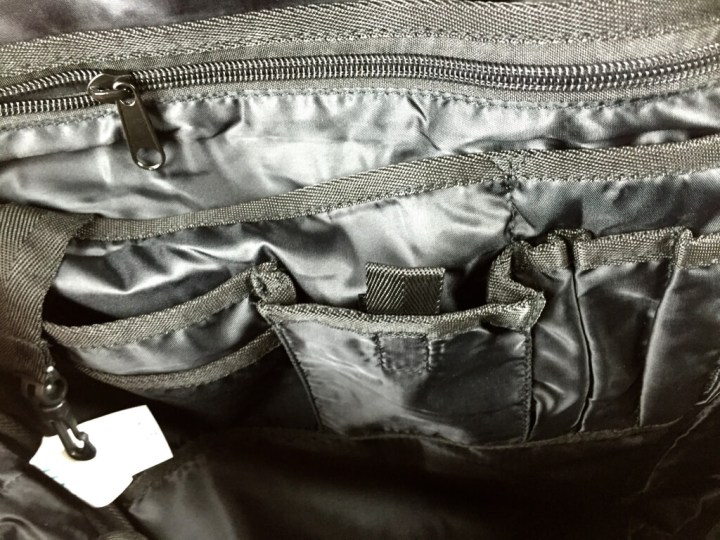 Note that I adjusted the lighting to illuminate the bag so you can see the details.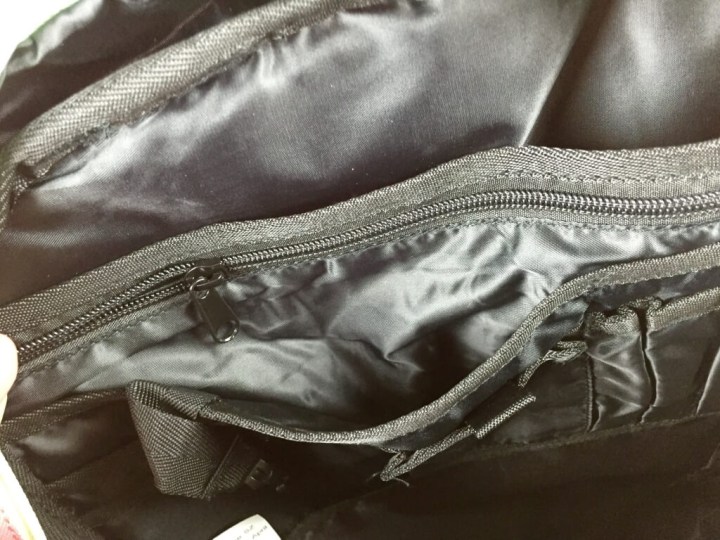 The inside is described as a spacious inner storage compartment that features supply organizers, key clip, iPad® pocket and pencil slots to keep all school supplies (and toys) organized! To me it seemed very adult and not really set up for kids – like they just transplanted the inside of an adult bag to a kids' bag. What child needs little business card pockets?  The iPad pocket is a nice touch.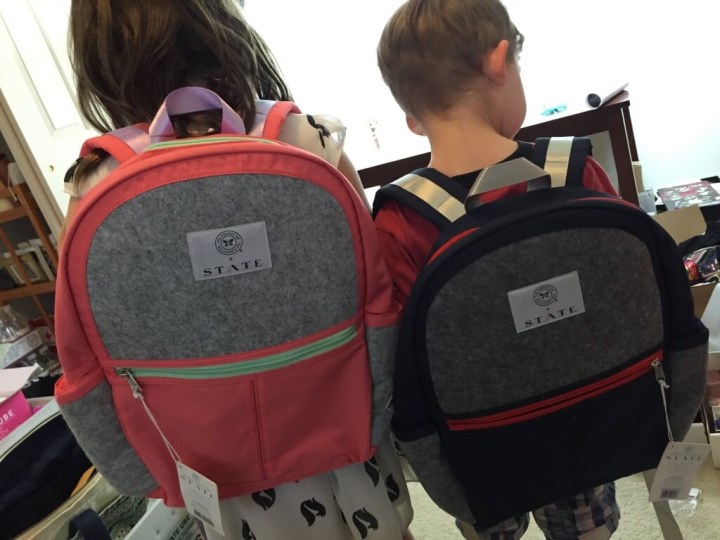 The bags are rated as age 3+ years. Obviously backpacks for kids aren't one size fits all. My daughter is 6.5 and my son is 4.5.  This is an ok size for her – but really too large of a backpack for my son. I didn't test it out, but it's obvious that this backpack will hold a folder.  I also wished that the logo label was much less prominent.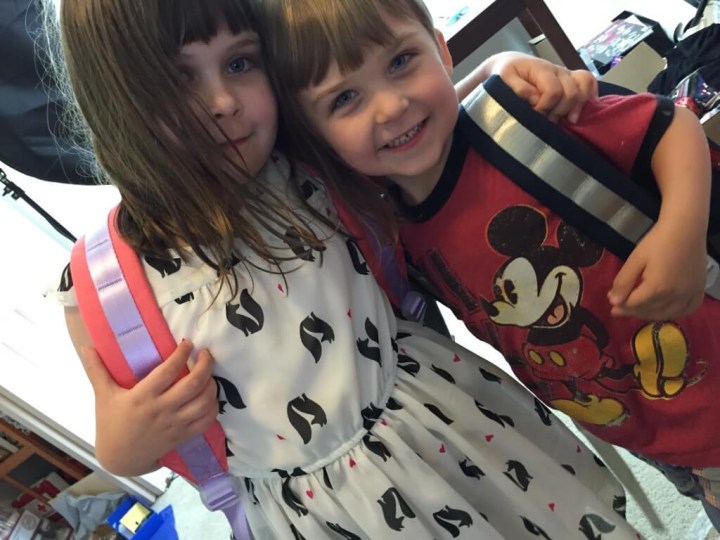 These bags were basically gigantic fails for me, except for the gorgeous colors (and smiles).  I cannot believe they thought it was ok to produce a kids' backpack that isn't machine washable!  That overshadows everything else in my opinion – even those really modern colorways. 
Visit Lands End, LL Bean, or your favorite retailer to buy a reasonably designed and washable backpack.  Pottery Barn Kids has covetable designs, and although not super heavy duty, my daughter's Gymboree backpack (with rainbow unicorns!) lasted all year. I personally get the most bang for my buck at Gymboree with their rewards program and Gymbucks).
You won't spend any less money (backpacks are really quite pricey) but you'll probably find one that's better designed for children by shopping elsewhere. If you would like to purchase this backpack, you can visit Honest Company.
See all our Honest Company reviews. If you are a new customer, use coupon code GET10 to save $10 off of $25, or grab one of the free Honest Company trials.