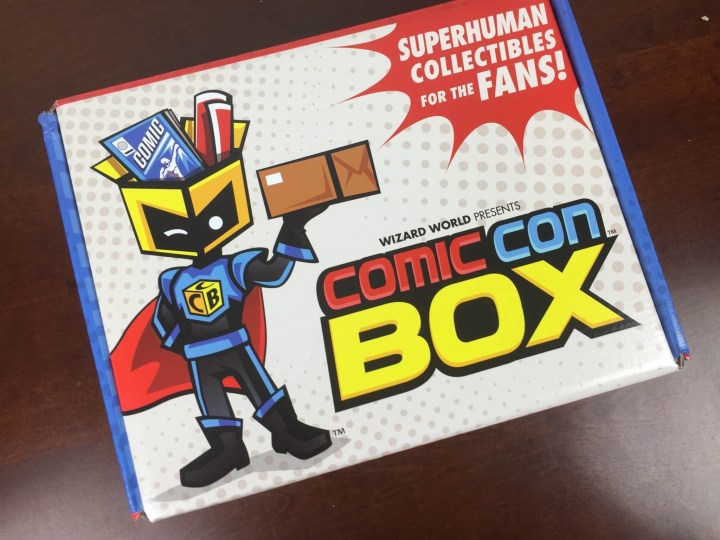 Comic Con Box is a newer geeky monthly subscription. This one brings you Comic Con in a box – and is perfect for anyone who loves the kind of toys, tech, and gaming you would see at a ComicCon convention. Boxes are $29.99 per month plus shipping ($7 for me). Boxes include exclusives, collectibles, autographs, and many other amazingly awesome things you would severely geek out to at a Comic Con including toys, comics, artwork, shirts, and various discounts.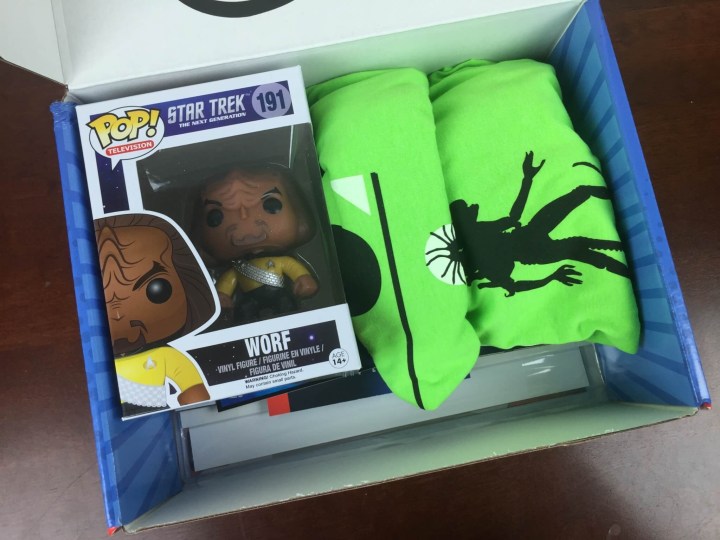 I finally watched Edge of Darkness last night (yes, really, I am a bad geek). My husband laughed at me the whole time because my jaw was hanging open about some the crazy stuff they were doing!  Obviously a different generation (haha) than Worf but… I thought I'd share.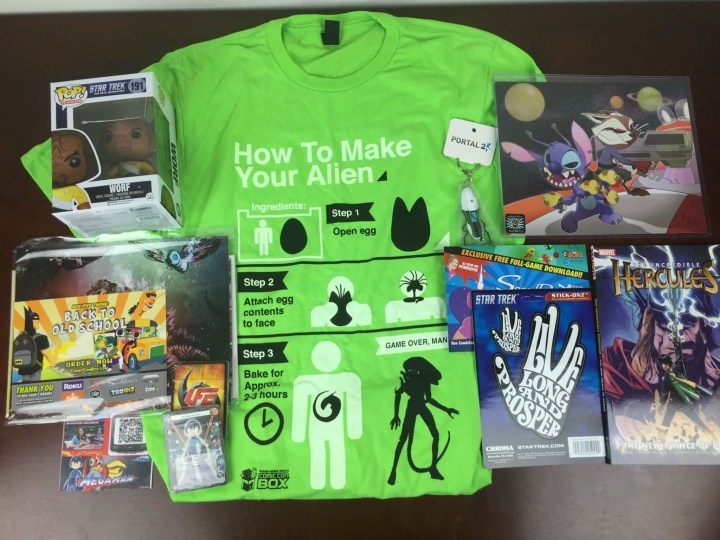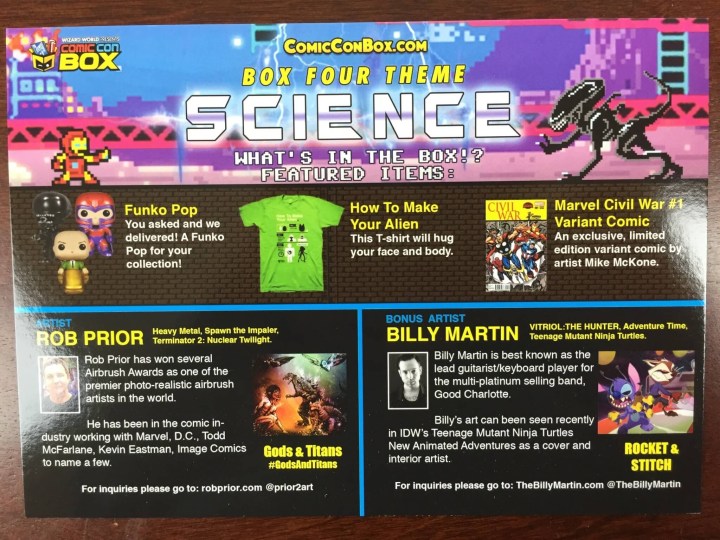 ComicConBox has chosen not to put all the items on the cards – just the featured items, plus the featured artist – who has been the same all four boxes. The theme for August is SCIENCE. For reference, the spoilers on the card from last month were: Terminator, Iron Man, Mega Man, Mario, Donkey Kong, and Alien.  Spoilers for September are below the next photo, but you will see that they are fairly meaningless.
Marvel Secret Wars #001 – Civil War ($4.99) Came bagged and boarded, with an exclusive variant cover. This was published only about a month ago. The artist for the cover is Mike McKone.  I received this (with a different cover) in my July Geek Fuel box.
The Civil War never ended. Welcome to the Warzone, where six years of non-stop battle between the forces of the Blue and the Iron have split the nation down its center, utterly transforming it. In a world of new alliances and strange enemies, President Tony Stark and General Steve Rogers meet to make one last attempt at peace.
Rob Prior's Gods & Titans ($10) This is definitely not my personal thing, but I'm guessing that this is a riff on classic Japanese sci-fi with Mothra and Godzilla!
The theme for the September box is Back to Old School. The card has Batman, the Joker, Leonardo, Wonder Woman, Harley Quinn, Green Power Ranger, and some sort of shadowy flying dude with a trench coat.
How To Make Your Alien Shirt ($15) This is a great shirt! My only complaint is the Comic Con Box logo on it. I dislike having the box logos on shirts intensely.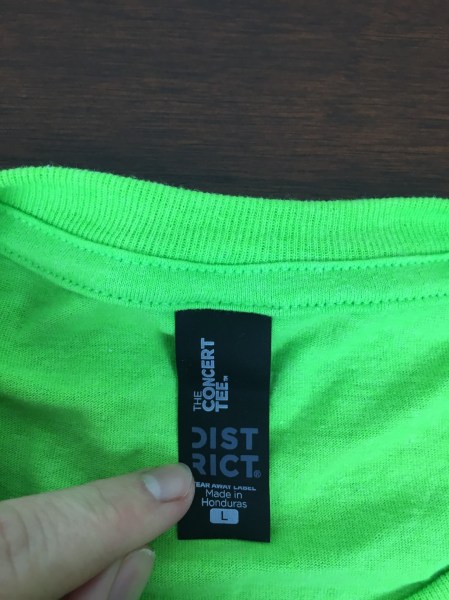 I will note that this shirt is excellent quality – super soft, with a tear away label.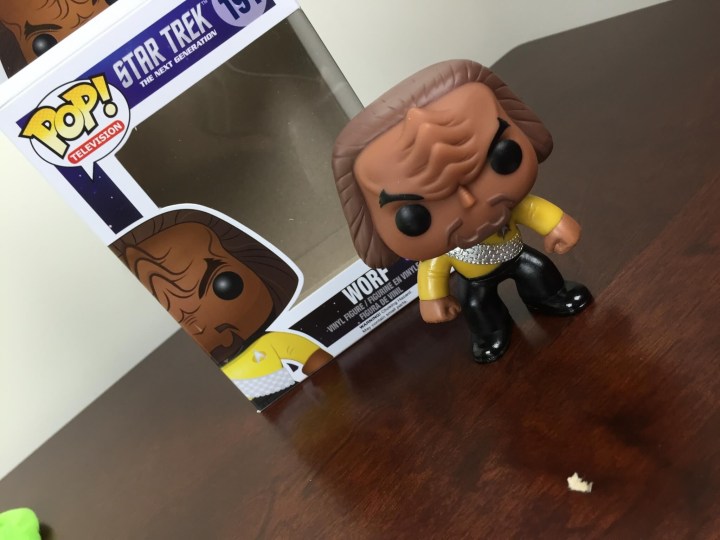 Funko POP! Vinyl Figure ST:TNG Worf ($9) TBH, I'd be happy with any Next Generation Funko, or any Star Trek figure probably. Except for Troi. But Worf is pretty awesome!
Portal 2 Portal Gun Key Chain by Crowded Coop ($10.78)
Universal Fighting System Card Decks (~$10?)
Who do you think would win in a fight between Mega Man and Iori? Felicia and Kyo? It's time to stop wondering, and find out for yourself with UFS: The Universal Fighting System. Our ever-expanding card game pits the world's best fighters and characters against one another in a fight for ultimate glory and to finally settle the dispute of who would win in battle. Design a deck around your favorite character, master your strategies, and prepare to fight.

UFS enjoys a vibrant competitive scene, filled with fierce competitors and friendly competition. Players compete for spots in prestigious tournaments either at the National level or World level. Winner of these events will receive what we think is The Best Prize in Gaming: the ability to customize your own playable character and immortalize your style forever. Tournament winners will work with our card designers to create their own card, which will be legal to play in upcoming events.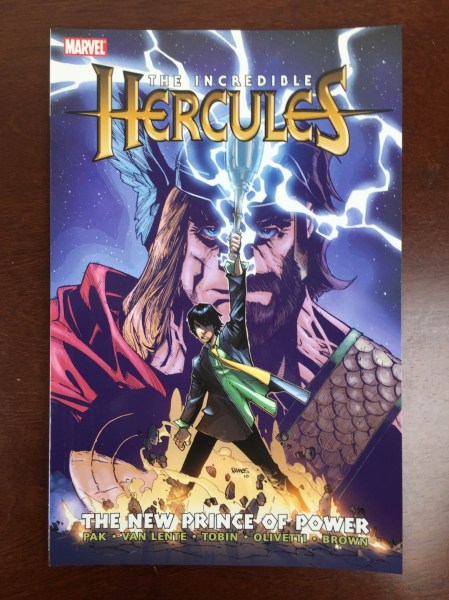 Marvel The Incredible Hercules: The New Prince of Power ($4.77) This is a little older (about 5 years) but a full-length graphic novel!
The Lion of Olympus has fallen. And as the Heroic Age dawns, the Golden Mace of Hercules passes to a new Prince of Power…who just happens to be Herc's best friend, Korean-American kid genius Amadeus Cho. But when Amadeus fi nally reveals what he plans to do with his new power, the heavens themselves may shatter as Marvel's mightiest pantheons are shaken to the core! And wait a minute…what's THOR doing here? Fan fave writers Greg Pak and Fred Van Lente and beloved "Thorcules" artist Reilly Brown bring the thunder with the next essential chapter in the mind-blowing, heart-wrenching, and gut-busting epic that is the "Incredible Hercules" experience! Plus, when the most beloved Olympian of all time falls, who will mourn him?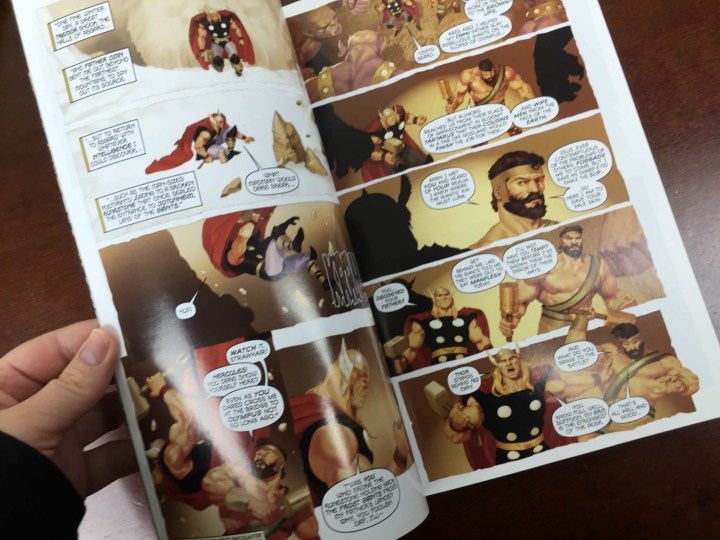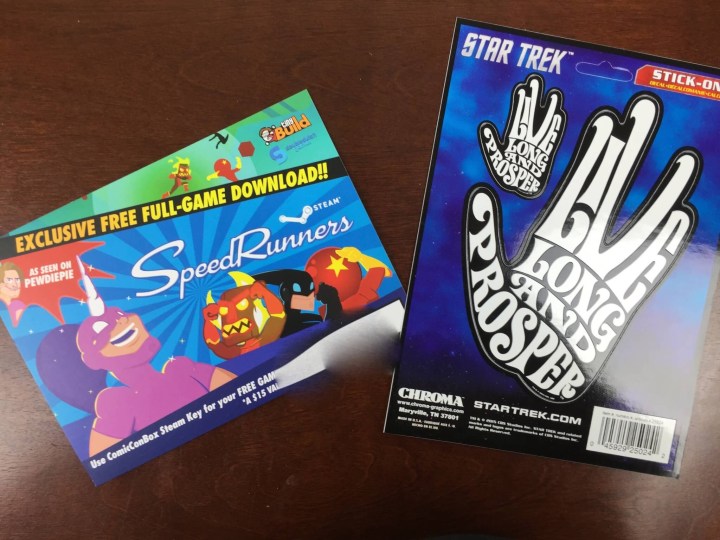 SpeedRunners Team Download ($15) Windows Only.
In a city filled with superheroes, getting to crimes becomes a competition on its own. Fortunately there are enough rockets, bombs, grappling hooks, spikes, and other goodies lying around — to make the competition fun and fast. Welcome to SpeedRunners.

SpeedRunners is a 4 player competitive platformer with grappling hooks, power-ups, and interactive environments. Run, jump, swing around, fire rockets, grapple onto people to knock them off screen.
Chroma Star Trek Live Long & Prosper Vinyl Stick-On ($5) The groovy styling on this one is a little odd, but I still like it!
 This month featured bonus art from Billy Martin. It's in a very hard, thick, and durable cover and fittingly named "Rocket & Stitch." ($10) The logo on the bottom left is on the case, and the art features only the signature, so I consider it suitable for framing!
The August box was a giant improvement over last month's box, which was kind of a train wreck. I cancelled my subscription a few days ago because I wasn't sure how this box would be based on the previous month.  Everything in the August was solid, and there was a lot of it, with a total value of about $95 (some of it is my standard value assignments – $15 for geek shirts, $10 for quality 8.5×11 posters, etc). This is a really good box and good value for this genre and included Funko Pop, excellent quality shirt, etc. I'm not sure yet if I'll resubscribe, because there are so many great boxes right now, I may want to try something new!
Visit Comic Con Box to subscribe or find out more! See all our ComicConBox reviews or even more geek, gamer, and nerdy subscription boxes in the directory!
The Subscription
:
Comic Con Box
The Description
: Comic Con in a box! Boxes include exclusives, collectibles, autographs, and many other amazingly awesome things you would severely GEEK-OUT to at a Comic Con including toys, comics, artwork, shirts, and various discounts.
The Price
: $29.99 per month + shipping